Travel by Interest shares with Hotelier Academy, four exciting Case Studies from Hotels around the globe, that use their special Christmas Campaigns to make a statement.
6 mins read
Creating unique Christmas content is not simple. It requires a significant amount of inspiration and tons of planning to come up with the perfect Christmas campaign. All Hoteliers must keep in mind several things and look for the most clever tips and advice, that will ensure a dynamic and engaging Hotel Christmas Campaign for their properties.
In addition to the Travel by Interest's list of the eight most promising techniques for creating the most engaging Hotel Content around the Holiday Season, we have selected in this article 4 truly inspiring hotels from all over the world, and present their dedicated Christmas Campaigns. These Hotels, follow original and extremely clever ways of communicating with their guests (past, present and future), before and during Christmas. Keep reading, to discover what other Hoteliers do for their properties, through these successful case studies of Hotel Christmas Campaigns.
1. Lux* South Ari Atoll: Disney-Inspired Christmas Events

First comes a fantastic hotel in the Maldives: Lux* South Ari Atoll is one of the very few hotels that put so much effort in creating unique experiences for their guests. For this Christmas, Lux* has created a series of special events, that start on December 22nd and last until January 7th. But, this is not the most exciting part of the story.
All events at Lux* South Ari Atoll are based on the exciting theme of "Disney-Inspired Christmas." Among the most fun events, the hotel's guests will have the opportunity to take part in the Gingerbread House Making Competition, where they can create a replica of the famous Disney Gingerbread House. Also, the Disney Carnival at Veli Beach will allow travellers to dress up as their favourite Disney hero, while at the Disney Cupcake Decorating Competition, the best amateur baker will be crowned the winner. Finally, the interactive Tree of Wishes will make all of your dreams come true!
TBI Expert Tip
Instead of organizing random Christmas events, come up with a specific theme (e.g. all-white Christmas, Tropical Christmas etc), and develop all your events around a common subject. This will guarantee your guests' bigger engagement with your various festive activities.
2. The Emblem Hotel: A great Christmas offer supports the upcoming low season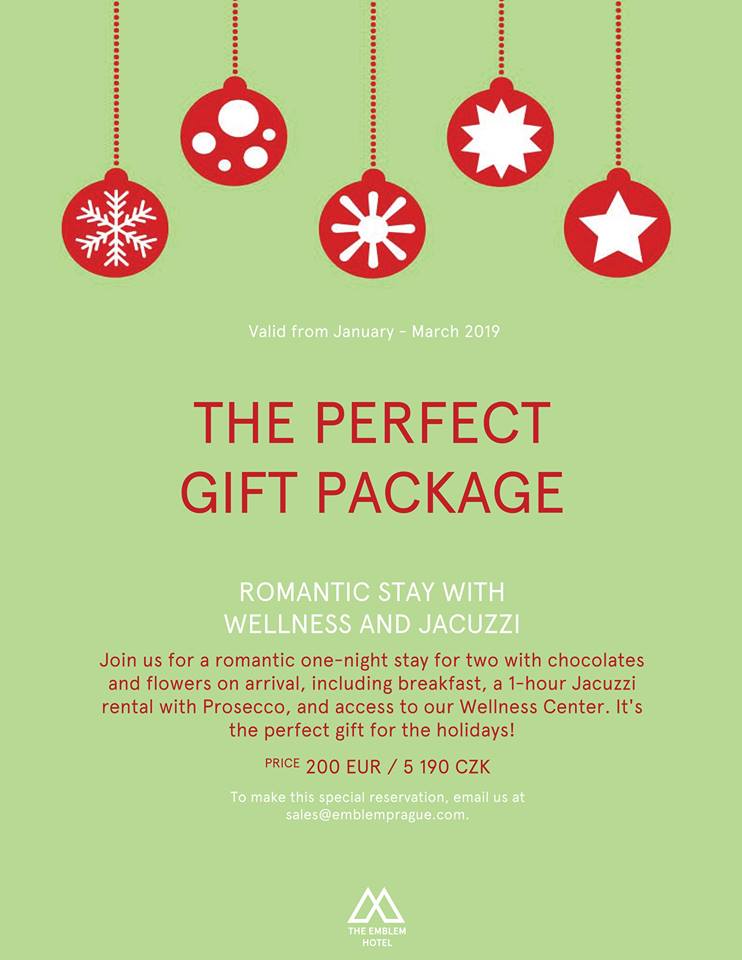 The Emblem Hotel in Prague has come up with a perfect Romantic Package for two, promoting it as the 'perfect gift for the holidays'. With their offer, the hotel becomes an appealing option for a romantic gift during Christmas. However, the redeem period was for January – March 2019. This instantly boosts the hotel's sales during a usually lower period of the year, in a very clever and efficient way. The Hotel's Holiday Gift Package includes a romantic one-night stay for two with chocolates and flowers on arrival, breakfast, 1-hour Jacuzzi with Prosecco, and special access to the hotel's Wellness Center. So simple, yet so enticing.
TBI Expert Tip
In addition to creating exciting offers & packages for the Holiday Season, make sure to follow the Emblem Hotel's example and use this period to enhance your overall sales — particularly the usually lower seasons for your Hotel. You can read more about this idea (as well as other useful tips for increasing your sales during the Holiday Season) in this Hotelier Academy article.
3. Nandini Jungle Resort & Spa: The Power of Video
Your Social Media profiles are your hotel's online facade. And what is a better social media material nowadays, than a powerful, engaging and impressive video? Understanding well the power of moving images, Nandini Jungle Resort & Spa in Bali created a special video for the holiday season (and, more particularly, for New Year's Eve 2019), achieving to pass their message to global travellers in the most exciting and contemporary way.
The video follows the "Nandini in Wonderland" topic, blending images of the hotel's surrounding nature with information on what's scheduled for the festive days. It's flashy, spectacular, and highlights the importance of high quality and original social media material.
TBI Expert Tip
A special, themed Christmas photo shooting is always a clever idea to capture the magic you have created in your Hotel and spread it with the rest of the world. Even if you don't have the budget for a grande video production, you can always make short videos that show the holiday experience in your property — for example, backstage videos of your chef baking his favorite Christmas delicacies. Together with your lovely photos, these short videos are sure to make a huge impact!
4. Naladhu Maldives: A festive Christmas-on-the-beach brochure

The usually expected images of Christmas, include snow, fireplaces, and cosy dinners in warm dining rooms. However, at Naladhu Maldives, Christmas is all about laying by the beach! Taking advantage of this special feature, the Hotel has created a special Holiday Brochure, where the only reference to the 'usual' Christmas style are small graphic elements likes stars and hanging ornaments. Other than that, the Christmas activities are presented through some of the hotel's most appealing images, highlighting its fabulous location and breathtaking setting on the beach.
TBI Expert Tip
Don't worry if your Hotel is not located in a place full of snow and winter activities around. Make sure to focus on your property's most characteristic features and present them in a way that is more appealing and attractive. Keep in mind that an 'alternative' suggestion for Christmas Holidays, could have a great success among travellers who are getting bored of spending Christmas in the same way every year.
What does Hotelier Academy have to say?
Travel by Interest has chosen four really successful and inspiring case studies, to present them as examples to all of our readers. We are excited to see that Hotels from all over the world are dealing with Christmas in the most effective way, not just by dressing up their properties and creating a unique festive atmosphere, but also by arranging a series of special events, thoughtful offers, and dedicated campaigns, that win their guests' hearts and bring more sales and revenue.