Six useful tips that will transform your hotel mini-bar into a premium experience, further upgrading the accommodation style and increasing upselling.
10 mins read
Although it is one of the most outdated room services, hotel mini-bars have proven to be a great way for a property to increase its revenue and enhance its overall guest experience. On the other hand, the management and operation of a mini-bar require significantly extra time, which most small and medium hotels do not possess. In order to sustain a mini-bar, which will be attractive to the customer, excellent inventory management skills, proper ordering flow, constantly updated consumption reports, and thorough cleaning are required.
Due to the above, many hotels have stopped paying attention to this facility, while some have even abolished it from their services. However, the fact that mini bars are an excellent source of extra income for any hotel still holds true, while it is still crucial for a truly upgraded room experience. At this point, the key question of this article comes forth: how can you enhance your mini-bar into a premium experience for your guests?
Below, we have picked a selection of smart ideas and solutions that mainly concern upgrading the mini-bar experience, which can be applied to any type of hotel, improving its accommodation experience, and increasing the Upselling.
Include high-quality wines in your mini-bar, but also invest in a special Wine Preserver, that will keep wines at the right temperature, maintaining them fresh for longer periods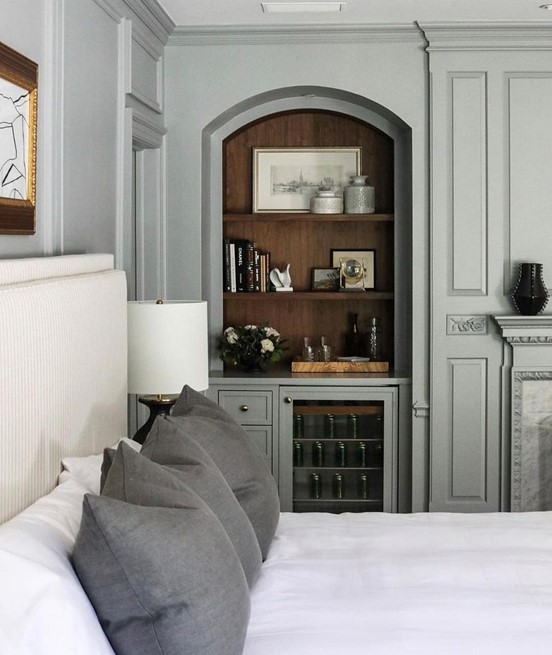 Wines are quite popular, and most travellers nowadays can appreciate a good wine. Why not take advantage of this trend by offering them a diversity of unique labels in their own room? Make sure that the wines you choose are of good quality (not necessarily expensive) and accommodate all tastes.
Include at least one choice of each color (white, rosé, red) and sweetness, while if there is a particular wine for which your destination is famous for, opt for it. This way, in addition to supporting local producers, you will also provide your guests a unique, local tasting experience.
The second most important thing about the wines is their preservation. Unfortunately, a conventional mini-bar fridge does not provide the ideal conditions for a wine to be stored. After all, each wine variety requires specific storage conditions. It is therefore important, in order to extend the life of your wines and provide a high-quality taste result to your guests, to invest in a good wine preserver.
*Sponsored
Save time and money with Coppa Cocktails, the ideal solution for hoteliers
Premium Brands' Coppa Cocktails are 100% natural alcoholic cocktails, made with fresh fruit, delivered ready to serve or in individual packages for use in a mini-bar.
What makes them so special?
They have a balanced, fresh taste as they are made from 100% natural ingredients.
They contribute to the reduction of manufacturing costs, but also of the waste, as they are made without wasting raw materials.
Each 700ml bottle contains 7 cocktails to be served.
They are award-winning products from authentic recipes, with 14 available flavors – from the old-time classic Mojito to Espresso Martini.
They can be easily stored at room temperature and do not deteriorate.
You do not need to have specialized knowledge to serve them, as you only need to add ice.
By adding Coppa Cocktails to your hotel unit, guests will enjoy quality cocktails as if prepared in front of them by a bartender. At the same time, you have the opportunity for fast serving, perfect presentation, and cost reduction.
Create a personalised collection of local products for your hotel mini-bar, allowing the visitor to taste local products.
The common mistake hoteliers make when it comes to the products of their mini-bar is that they choose popular brands readily available in their destination. The two main disadvantages of this are that most of the time the prices are double or even triple the market's, something that consumers can easily perceive just by visiting the nearby store. While, at the same time, you are missing the opportunity to support your destination by presenting local products, or products created by local producers.
This tip is also based on the growing demand for travellers to enjoy local experiences. Especially the search for local food is probably one of the most favorite activities when travelling, so including less popular, local brands in your mini-bar menu will excite your visitors.
Invest in state-of-the-art mini-bar equipment, and appliances with upgraded features – even if they come at a higher cost
Nowadays, a mini-bar consists of more appliances than a well-known refrigerator. Even the mini-bar fridge, however, should be modern and support all the latest features that will enhance the room experience. For example, there are now refrigerators that go into silent mode while guests are in the room, while the defrosting and other noisy processes occur while they are not in the room. On the other hand, in terms of functionality, it should be small and spacious at the same time, so that it can fit as many products as possible.
However, the necessary attention should be paid to the rest of the equipment of the mini-bar as well, which, of course, may differ in relation to what the accommodation wants to offer. In case you offer wines, for example, it is necessary to include a modern bottle opener in the room, as well as wine glasses so that guests can enjoy their drink without contacting reception. Or if it is possible to create a cocktail, there must be all the necessary tools to create it, which must facilitate the process as much as possible.
Emphasise the design of the mini-bar and make sure to integrate it in such a way that it does not seem out of place in relation to the whole room
When referring to the Mini Bar, most hoteliers think only of the mini-fridge. This is why many mini-bars are placed in old-fashioned cupboards, or in these well-known office desks with the larger cupboard just for that use. This habit must slowly change. In a design-driven era, when most travelers are looking for high aesthetics from their accommodation, it is important that you can fully meet their expectations.
There is a diversity of mini-bar furniture available on the market, which vary in both design and sizes. The one you choose is important to match the design of your hotel, but also of the room that it will be placed. Of course, the size of your rooms will also play a key role in the mini-bar you choose. It is therefore important that it does not overcrowd the space, and that its size is proportional to the size of the room.
Finally, in case you would like the mini-bar of your rooms to be more unique, opt for one of the companies that create custom-made designs, a tip that is especially recommended to boutique hotels or hotels with a specific design concept.
Add options for all kinds of eating habits / dietary restrictions including gluten-free, vegan, lactose-free, gmo-free, etc.
People's eating habits are changing, and the hotel industry should be more actively involved in options that meet the requirements of their guests. Many travelers who follow a specific diet such as Vegans, will look for hotels with vegan options in their restaurant, while they are more likely to have their meals in the hotel, thus increasing the Upselling. Similarly, in the case of the Mini Bar, if there are options that respect their lifestyle, they will most likely prefer them.
Add some "unique" products to your mini-bar that you think would be useful to your audience but are not common in mini-bars
To implement this tip, you need to have a good knowledge of your audience and their needs. A mini-bar can include all kinds of products, and the only limitation is literally your imagination. Do a survey of your audience, find out if a particular product would be useful to them, and include it in your mini-bar. Otherwise, add a special product that will make an impression.
To understand a little better what we mean, a typical example of application of this tip is Tree Ringha Resort & Spa, a hotel at an altitude of 3200 meters that offers oxygen tanks in its mini-bar. Or The Loews Hotel, a pet-friendly hotel that provides gourmet treats for dogs. Other weird products that have been added to mini-bars are selfie sticks, bow ties, luxury jellies, or even hangover kits.
In Conclusion…
These are six smart and creative ways that will give an added value to the mini-bar of your rooms, while, at the same time, upgrading your overall accommodation experience. Concluding this article, we would like to emphasize that you should think outside the box, listen to your guests, what they are missing and looking for in your accommodation, and adjust your hotel's services/facilities to meet their needs.
*Sponsored
Meet the unique products of Premium Brands and boost the sales of your hotel bar
Premium Brands in addition to quality Coppa Cocktails, Premium Brands is also an importer of non-alcoholic beverages such as Iced Tea Arizona and Premium Aloe.
How can you integrate Premium Brands products into your hotel?
With the products of Premium Brands, you can fill a mini-bar with chocolates with ecological character, decoctions with pure ingredients, and well-known brands up to individual packages Coppa Cocktails, thus creating the perfect mini-bar for your hotel rooms!
You can enrich your hotel bar with products such as Arizona & Premium Aloe and create promotional strategies to increase your sales, from customers who want a refreshing drink while staying at your hotel pool or beach.
By adding Coppa Cocktails to your hotel unit, guests will enjoy quality cocktails as if prepared in front of them by a bartender. At the same time, you have the opportunity for fast serving, perfect presentation, and cost reduction.