Meet WebHotelier's upgraded service that allows hotels to close new contracts & deals with more than 18.500 Travel Agencies around the world through their booking engine, while easily providing their NET prices and availability online
8 mins read
Meet WebHotelier's upgraded service that allows hotels to make new contracts & deals with more than 18.500 Travel Agencies around the world through their booking engine, while easily providing their NET prices and availability online.
Even though direct bookings are the Hotel Market's number one goal, it is a fact that the sales through B2B networks, such as Wholesalers, Tour Operators, and Travel Agents, continue to hold an important part in the overall Hotel Sales. Evaluating the need for modernizing the B2B Contracting procedure, WebHotelier has created a pioneer service for B2B Contracting, which allows hotels to promptly and easily close new contracts with Travel Agents, through WebHotelier's Booking Engine. Hoteliers are now able to connect with more than 18.500 Travel Agencies around the world and develop a dynamic B2B network that will significantly boost their sales.
B2B Contracting: Faster, easier, and significantly simpler for Hoteliers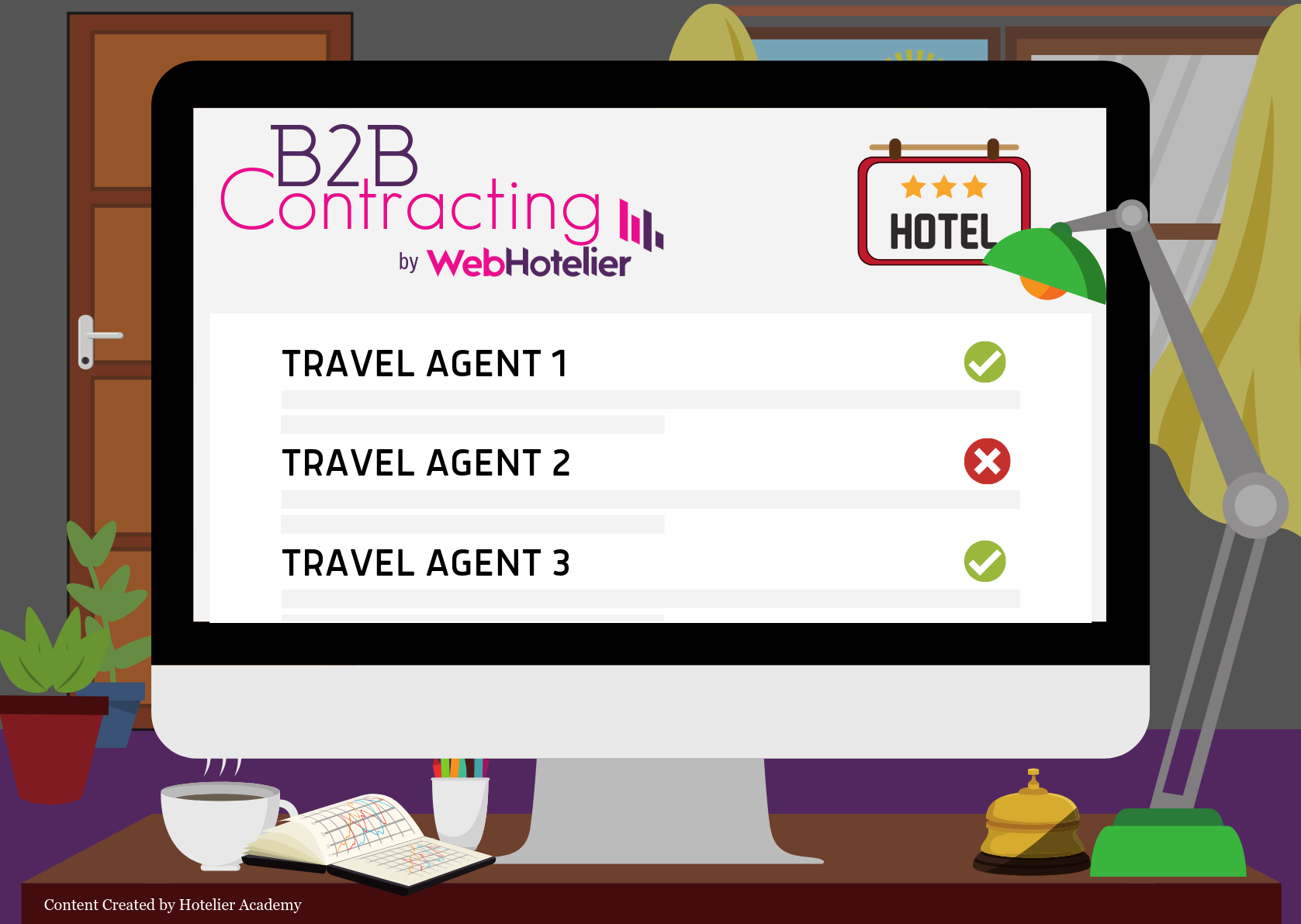 Through WebHotelier's back-end environment (extranet), hoteliers can see the Contract Requests they have received from Travel Agents and accept the new deal with just a few clicks, setting the cooperation terms they wish. Likewise, they can easily "reject" partnerships that do not present any interest, since they can access WebHotelier's special rating system, that provides important information for each Travel Agent through dedicated Agent Profiles.
Prices are always provided on a NET Basis, while the commission discounts (based on %), can be customized based on each hotelier's strategy, and depending on the type of collaboration with each Travel Agent. At the same time, hoteliers are able to give different price levels even to the same Agency, e.g. price per room category, type of reservation (BB or HB) etc. This allows the hotels to be completely flexible regarding their collaboration type with different Travel Agents, as well as regarding their price distribution.
Travel Agents can see a hotel's online availability — as it has been uploaded on the property's WebHotelier Booking Engine — and can book directly. When a booking is completed, the online availability is immediately updated, avoiding over-bookings and reducing reservation administration.
The hotels can adjust their availability and rates according to Guest Nationality — a typical practice followed in B2B partnerships, that protects your various agreements in different markets and regions.
Rooms can be provided in any type of agreement the hotelier wishes (e.g. on allotment basis). At the same time, the system provides full flexibility on the payment method used for each deal.
The development of a network of partners becomes easier for the hotels, as they can invite all Travel Agencies they already work with to connect to WebHotelier's B2B system free of charge. At the same time, the hotels can receive new Contract Requests from Travel Agents that are registered with WebHotelier's B2B system, but have not worked with the hotel in the past.
For more information regarding B2B Contracting and for activating the service for your Hotel, you can contact WebHotelier at +30 210 8981910 or send an email to b2b@webhotelier.net
Free activation and immediate connection with the Hotel's extranet and official Booking Engine
The activation of B2B Contracting service is very easy, and is completed by WebHotelier's B2B department at no cost for the hotel. After you express your interest at b2b@webhotelier.net, the WebHotelier's dedicated team will:
Set up the price lists you wish to enable or create for Travel Agencies.
Adjust the desired payment methods and set the relevant cancellation policies according to your instructions.
Activate the special "Travel Agents" button on your official Booking Engine, and make your property visible in searches through WebHotelier's Travel Agent Extranet.
After activating B2B Contracting, hotels will start receiving new Contract Requests from potential partners. In the process of accepting a new partner, the hotels choose the rates and payment method they wish for each collaboration. Once the new deal is accepted, the hotels begin to receive B2B online bookings in the same way as they do for the direct sales through their WebHotelier Booking Engine.
After activating B2B Contracting by WebHotelier, send a Newsletter to your B2B Partners database, inviting them to connect to your hotel via WebHotelier. Using B2B Contracting doesn't have any cost for Travel Agents, while the system will make your bookings easier and facilitate their sales as well, since they will be able to easily receive online availability and prices.
Useful and smart tips to instantly enhance your Hotel Deals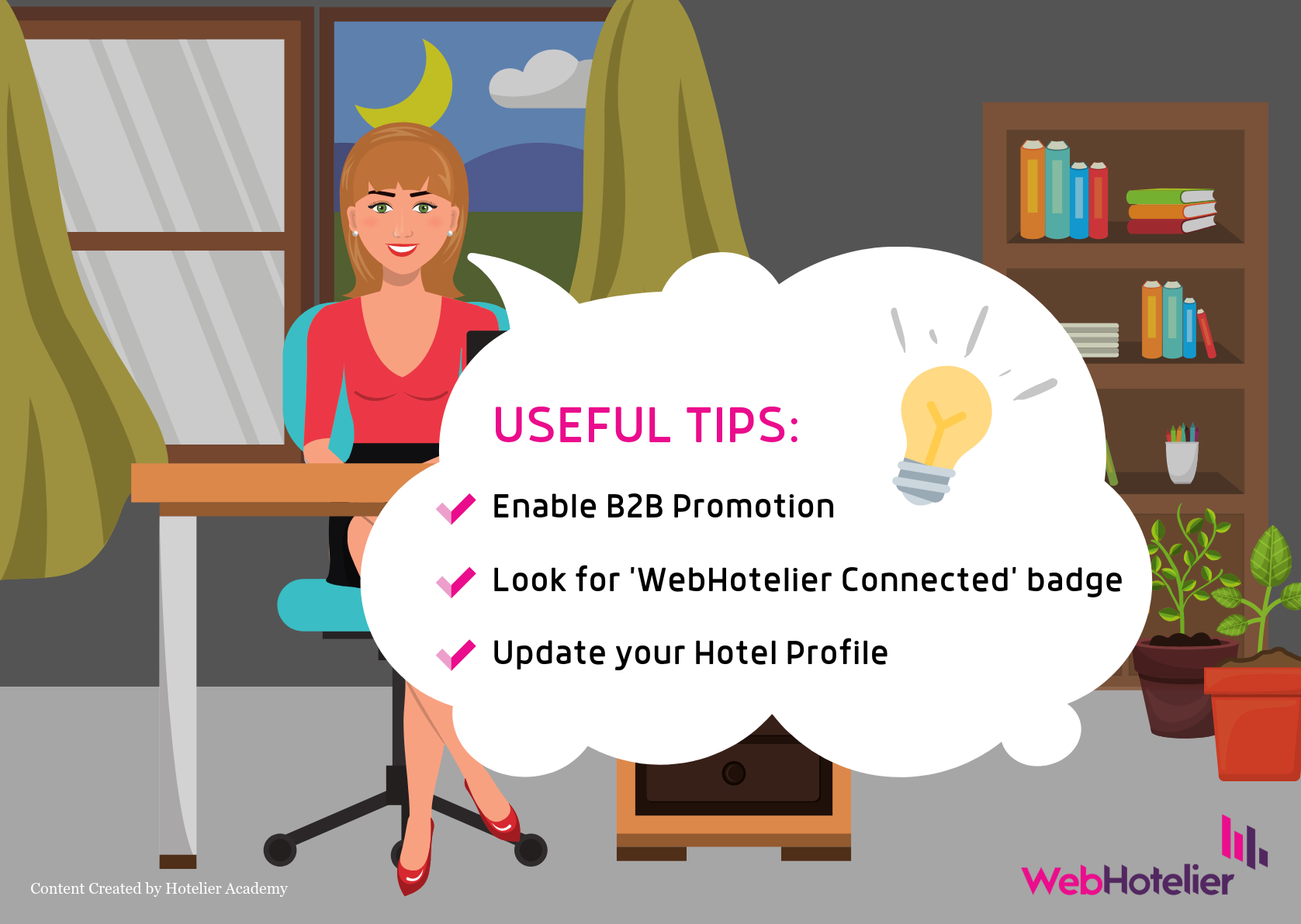 In order to promptly increase the contracting requests you receive from Travel Agencies, WebHotelier recommends the following:
Activate the 'B2B Promotion' service: Hotels can appear in pre-defined advertising spaces (banners) within the Travel Agents' extranet, increasing their visibility and therefore their contract requests.
Update Your Hotel Profile: The more complete your WebHotelier hotel profile is, the easier it is for Travel Agents to locate you, increasing the chances of new partnerships.
B2B Contracting by WebHotelier: An ideal tool also for Travel Agents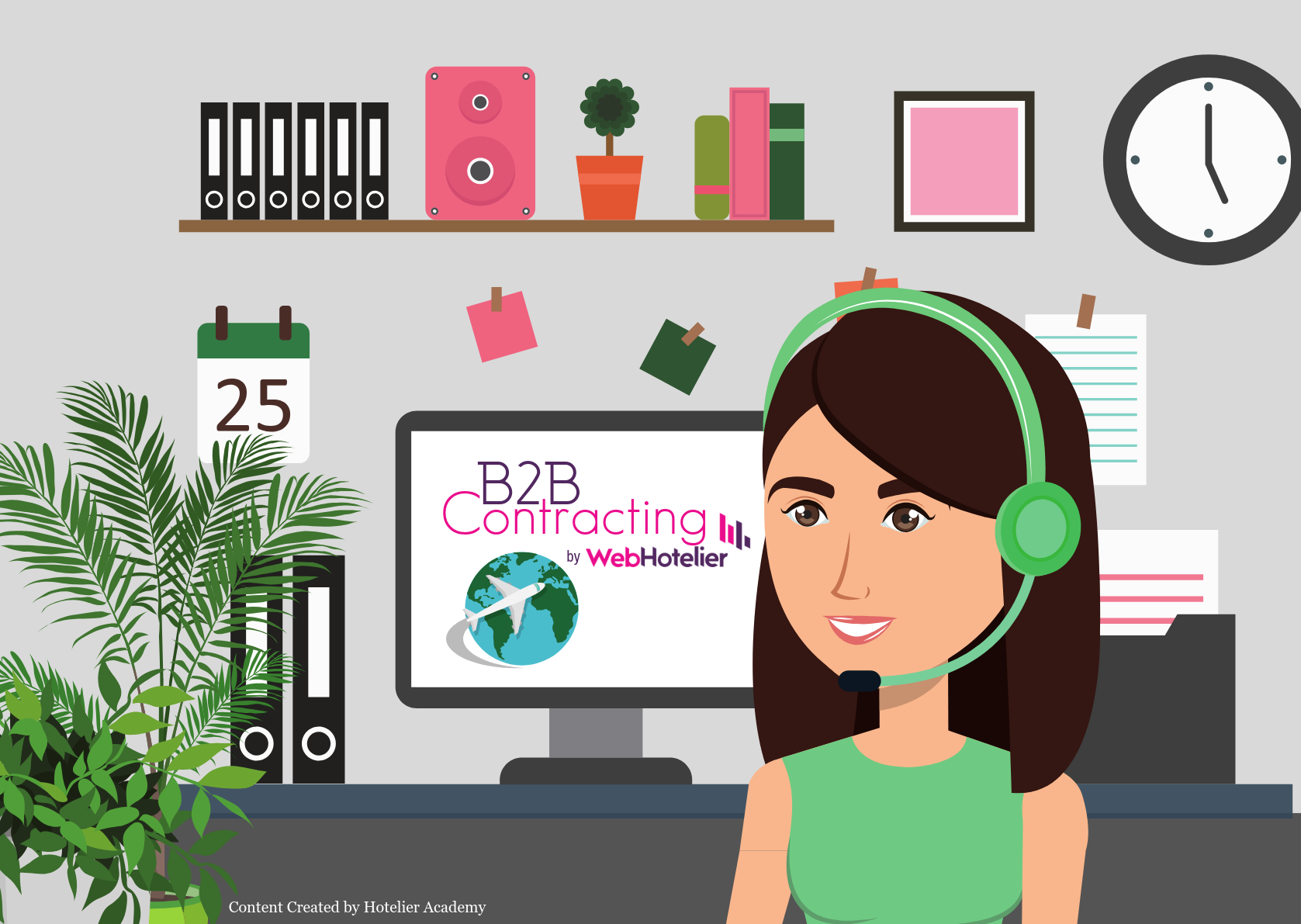 As for hoteliers, the need to modernize B2B deals is a key issue for Travel Agents, too. The "B2B Contracting by WebHotelier" service is a great tool for Travel Agents, as it allows them to easily develop new partnerships, as well as to have online access to the hotels' online availability and prices, enhancing the flexibility of their sales and the variety of accommodation choices.
Travel Agents can search by hotel or even by destination, star rating, and price level, and provide high-quality service to their customers, quickly and reliably. Also, through the enhanced API connectivity of WebHotelier's properties with their own system, Travel Agents can now have an increased and dynamic product. Finally, searching for new hotels is easier than ever through WebHotelier's special search environment, while the communication with the hoteliers is instant and reduces the usual costs for developing new partnerships.
Travel Agents that wish to join WebHotelier's B2B Contracting Network can complete their registration for free in this link
F.A.Q. about B2B Contracting by WebHotelier

▸ What is the cost of B2B Contracting by WebHotelier service?
There is no cost to activate B2B Contracting by WebHotelier. The relevant charges for Travel Agent bookings are substantially lower compared to the charges applied under your existing contract with WebHotelier for B2C bookings.
▸ How many Travel Agencies are already associated with B2B Contracting by WebHotelier?
More than 18.500 Travel Agencies around the world are already connected with B2B Contracting by WebHotelier, making the service one of the fastest growing B2B communities in the world.
▸ I have exclusive partnerships in various countries, with specific agencies. How can I protect these agreements, since Travel Agents will now receive immediate rates and availability through B2B Contracting by WebHotelier?
B2B Contracting by WebHotelier offers the ability to customize your availability as well as the NET prices you offer per geographical area (e.g. country), ensuring that your deals with agencies around the world are protected.
▸ How will the use of B2B Contracting by WebHotelier increase my B2B Network?
The use of B2B Contracting by WebHotelier will not only facilitate your B2B operation, but will also enhance the development of new partnerships, since your hotel will now be easily accessible through the Travel Agents' extranet, allowing you to constantly receive new Contract Requests.
▸  Will I be able to accept online payments for the B2B reservations or will the Travel Agents have to make their payments manually?
WebHotelier's B2B Contracting service is fully compatible with our Payment Assistant Manager tool (PAM), which allows you to accept online payments and complete the whole procedure effortlessly, without having to manually insert the Travel Agents' credit card details to your systems. The Travel Agents will be able to pay online for any new bookings using their dedicated price lists (according to your hotel's contract with each one of them), saving precious time for both parties and providing an even better service to their end clients.