Read clever & useful tips by Mary Sfiraki, interior designer, on how to achieve a talk-of-the-town Christmas decoration for your Hotel.
9 mins read
The Holiday Season is full of glamour, colours, tastes, smells, music, joyful feelings, fun, play and sharing. These are the days when people usually live the strongest experiences of the year. Throughout the season, everything is characterized by the word 'decoration'. Christmas decorations are practically everywhere, capturing the feeling of joy & excitement and celebrating the coming of the new year.
Hotels are the main stars of the season, hosting people's holiday trips and parties. Traditionally, the hotels' Christmas decoration has been a source of inspiration and a topic of discussion. Luxury Hotels, in particular, assign the task of festive decoration to specialized teams, who work several months in advance in order to create a truly magical setting. Who can forget the iconic images of Four Seasons Hotel George V in Paris, decorated by the super-talented Jeff Leatham? A Christmas decoration that was the ultimate implementation of luxury and glamour, in the most original and eye-catching way.
In this article, we will go through all the elements that we should keep in mind so that our hotel can reach the Christmas decoration and ambience it deserves.
Set a specific style, in-line with your Hotel's concept
|
Each hotel's design concept is defined by its general concept. Therefore, each decorative task must be keeping up with the specific style that has been defined by the concept. It is essential that the common line that was followed during our hotel's design and development, will be also followed in our Christmas decorations.
Christmas Tip! For example, an art hotel, could ask an artist to create a special, Christmas-inspired art installation, which will become the centre-piece of our entire holiday atmosphere.
Choose between natural and artificial Christmas trees and flowers
The Christmas trees, flowers and wreaths you use in your decorations, should be either natural or artificial, in order to achieve design consistency. Christmas decorations are by definition maximal and plural, so it is always advised to use items and products of the same or similar kind.
Christmas Tip! Choosing natural trees and flowers, in addition to an enhanced feeling of cosiness and warmth, will also fill up your hotel spaces with the characteristic smell of the trees, so closely connected to the Christmas feeling.
Set your decoration zones as well as the points you want to emphasize most
You must choose which parts of your hotel (entrance, reception, bar, lobby etc) you want to focus on with your Christmas decorations and lead your customers to your designated Instagram spots. Or, even better, you can create new Instagram spots using your Christmas decorations! It is highly recommended that the travellers are accompanied by the Christmas feeling throughout their path within the hotel — from entering the building up to getting to their rooms. Of course, you must always be careful not to exaggerate.
Christmas Tip! Create and decorate the most special Instagram corner in your hotel, making sure it is as fun and fancy as possible. You can also use interactive elements, like wearable ornaments or big cards with wishes, to ensure that your customers will definitely take at least one picture there and share it on their social media.
Choose a specific colour palette
Following your hotel's design concept will automatically lead you to the colour palette you should use in your Christmas decorations. Keep in mind, however, that 'colour palette' does not mean that you must only use one flat colour and become boring and monotonous. You should use all of your imagination and creativity and enrich your Christmas decoration with different elements that share the same character and style.
Christmas Tip! Who said that red has only got one shade? There are numerous shades of every colour, as well as fascinating colour combinations that match each palette.
Christmas lights, Christmas lights, Christmas lights
Christmas is closely connected to Light and all the magic that comes with it. And warm white light is the chicest and most elegant version of Christmas lights. It always nice to see as many lights as possible, wrapped up in the tree branches, in wreaths and festoons. It is something that always brings out a 'fairy-tale' experience.
Christmas Tip! Be careful when setting up your Christmas lights, as it is not nice to see the electric plugs and cables hanging underneath the trees or decorations.
Candles, candles, candles
Candlelight always makes a room more cosy and elegant, creating a peaceful ambience. Either within big lanterns, used in impressive table candle holders or even within flower arrangements on the coffee tables, candles are definitely one of the biggest decoration trends.
Christmas Tip! Arrange your Christmas and New Year's Eve dinners in the light of candles. This will create such a romantic and warm atmosphere, that your guests will definitely want to capture in their photos and remember forever.
Objects & items that reflect light
No matter which style you choose for your Christmas decoration, it is always necessary to have objects and items that can more effectively reflect light and create shining and sparkling effects (for example, crystal tableware, silver items etc).
Christmas Tip! Put reflective items next to the spots you have used Christmas lights (e.g. a mirror opposite the Christmas tree, a metal candle holder within a festoon decorated with lights etc). This will enhance your hotel's cosy atmosphere and make your guests take more creative pictures.
Christmas details even on your tableware
The way we offer our breakfast, lunch or dinner (if our hotel has a restaurant), will get a festive character if we use special, festive items in our 'art de la table' setting. Naturally, our 'art de la table' style should follow the colour palette and design lines of our broader decoration.
Christmas Tip! If it's not possible to use a whole new set of tableware, you can use festive place mats, coasters, and towels, that will get you closer to the desired result.
Taste
What completes the Christmas experience in the best possible way, is the delicious taste of Christmas treats, food, and drinks. You can create, especially for the Holiday Season, a menu of your original Christmas sweets, food or even cocktails. And all these must be, of course, served in the most festive and elegant tableware!
Christmas Tip! If you are not able to create original recipes especially for Christmas, you can use clever ways to transform your current dishes into festive ones. For example, a red cocktail sprinkled with powdered sugar can be instantly transformed into a 'Christmas Cocktail'.
Smell & Aromas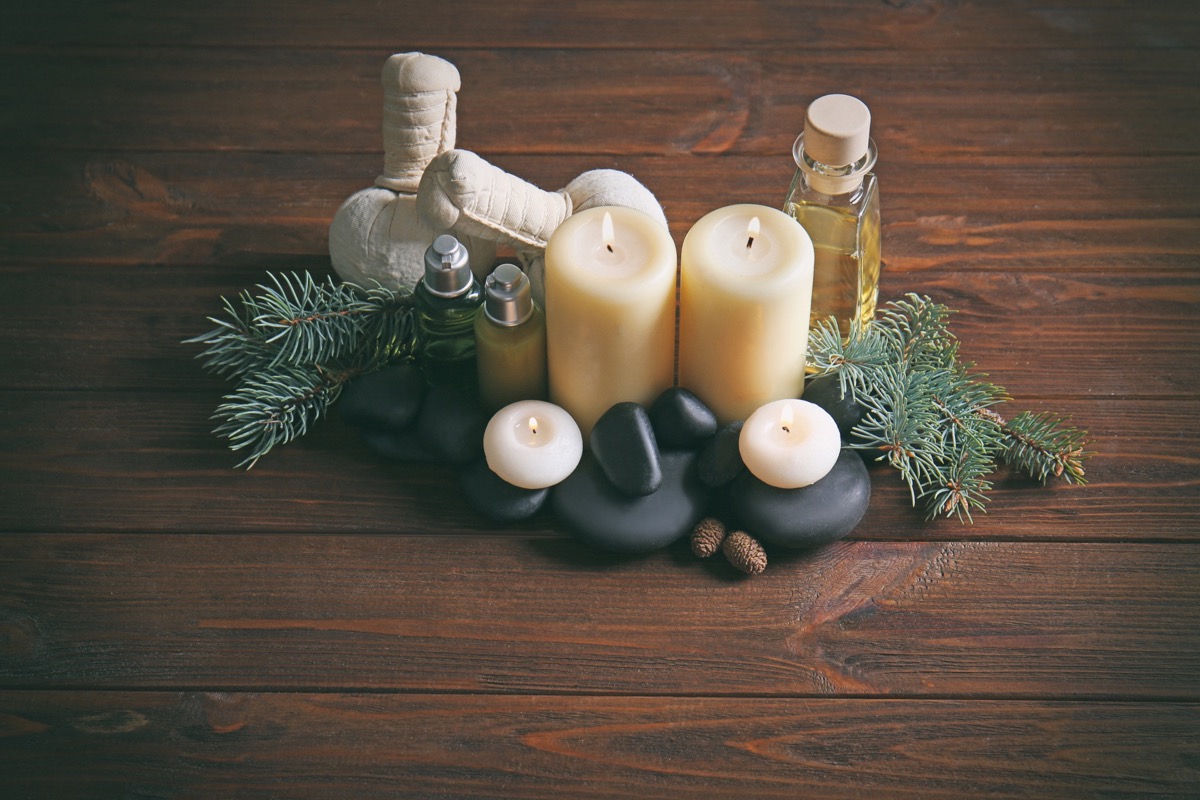 You must make sure that throughout your hotel, your guests can 'smell' Christmas. The human brain can instantly link an experience to Christmas, through the distinctive smell of cinnamon, orange, clove, and roasted chestnuts. It is, really, that simple!
Christmas Tip! Make sure that your hotel rooms also have a special scent during the Holiday season, as this will enhance your guests' experience during all of their moments within your property.
Handy accessories for your guests
Your guests will be definitely excited when they realize that your hotel's Christmas spirit follows them in their room as well. In addition to the special scent, you can also add a small Christmas treat in the room or even some small decorative details, such as a small Christmas pillow on the bed.
Christmas Tip! Since your customers pay a lot of attention in your bathroom facilities, you can add a small festive detail in the towels or use special boxes for your bathroom accessories, decorated with Christmas patterns.
Presents
Make sure to always welcome and say goodbye to your guests with a custom-made festive present, which follows your hotel's Christmas decoration style. A card with a special pattern, an ornament — anything that can link your guest to your property's festive concept.
Christmas Tip! As the most intense and memorable moments within a hotel are usually created through taste, your present could be a small basket of those delicious Christmas cookies you served during breakfast.
And of course… Music is the ultimate experience
Holidays without music is a no go. Music in your hotel should fill up even the most boring space, upgrading it into a cheerful place. Imagine fine melodies that complete the magical Christmas setting you have created in your hotel. Perfection!
Christmas Tip! Have a soft Christmas music play in your guests' rooms after each visit of the housekeeping. Entering a freshly cleaned, tidy room with a nice smell and a relaxing soft music, is something that can definitely cheer you up.
A Christmas thought by Hotelier Academy
All the tips that Mary Sfiraki shared with us in this article, highlight the importance of a complete and special Christmas decoration in your Hotel. The tips show also that it is relatively easy for all Hoteliers, to create a unique and memorable atmosphere in their hotel. An atmosphere which must be captured and shared with your past, current and future guests, through original and impressive Christmas content.
What you must do, is to have a correct and timely schedule, that will allow you to enjoy, together with your customers, a truly wonderful Christmas time, within your magically decorated Hotel!