How does a hotel in Vienna take Austrian food and turn it into a winning gastronomy formula?
10 mins read
Hotel Gastronomy is big business these days. Not only are F&B departments significant sources of additional hotel revenue but they can be the difference between a guest having a 'Good' or 'Great' stay at a hotel.
When we came across the Grand Ferdinand hotel in Vienna, we were excited. What we saw was an example of hotel gastronomy excellence.
This boutique style luxury hotel in Vienna showcases an excellent approach to the food experience. We're not just talking about menus but a complete gastronomic experience.  They offer three distinct spaces to enjoy the city's culinary culture, and they promote them not only to guests of the hotel but the public in general.
How many times do guests ask "where do the locals eat"?  The answer is simple: "Here, at the hotel!"
We asked Ms Stephanie Schellerer, Director of Sales & Marketing at Weitzer Hotels, which the Grand Ferdinand is part of, to share their story with us.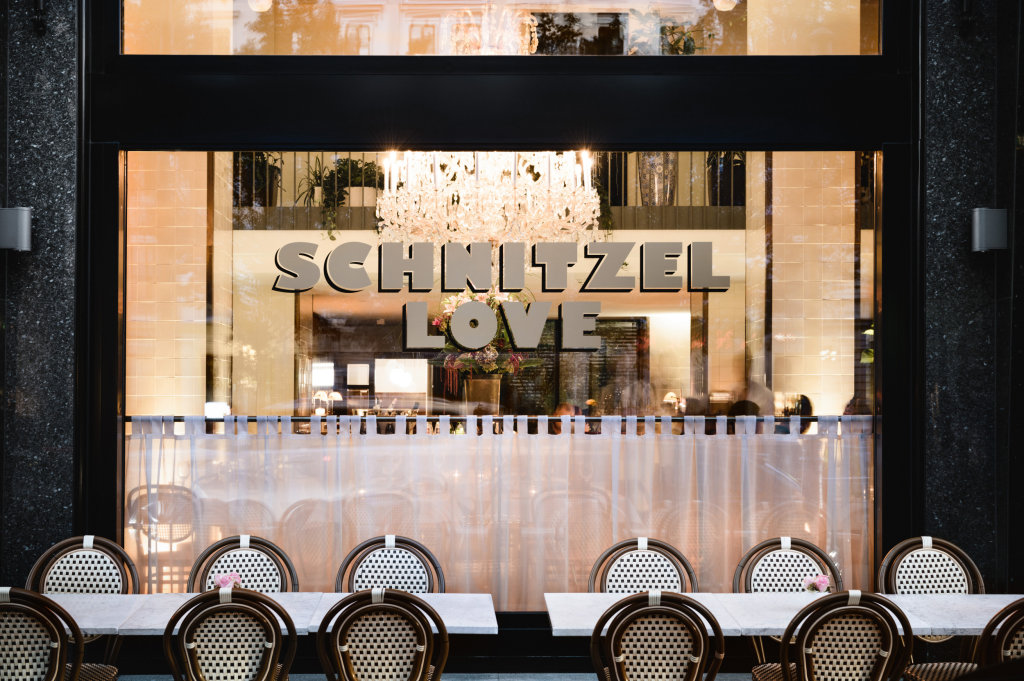 *sponsored
What did we love about the Grand Ferdinand gastronomy story?
We asked Destsetters one of the top Hotel Concept Strategy companies to comment on what they liked about the culinary aspect of Grand Ferdinand
They created different restaurant concepts that highlight specific local cuisine as well as styles of eating.  These concepts offer travellers different choices during their stay, and all three restaurants have a clear objective and identity.
The cuisine of the restaurants is inspired by the local culture and recipes allowing the curious culinary traveller to experience the destination on a plate. Let's not forget that Vienna is the only city in the world that has had a food named after it: Viennese schnitzel!
The restaurants are open to the general public and locals too, which further enhances the 'local' experience that many travellers seek.  One of the restaurants, however, is exclusively for hotel guests and this creates an exclusive feeling.
The food photography on the website is extensive and of the highest quality, with fantastic photos of dishes, the venues and the staff.
Their overall brand identity reflects the hotel's gastronomic focus.  A brief glance at the hotel's website instantly shows what culinary experiences you can expect at the hotel. The fact that each restaurant has a dedicated website shows that the hotel takes gastronomy seriously.
We recommend you visit the impressive hotel websites to see how Grand Ferdinand presents its overall gastronomical culture.
What is your role in Grand Ferdinand and what do you love most about your position?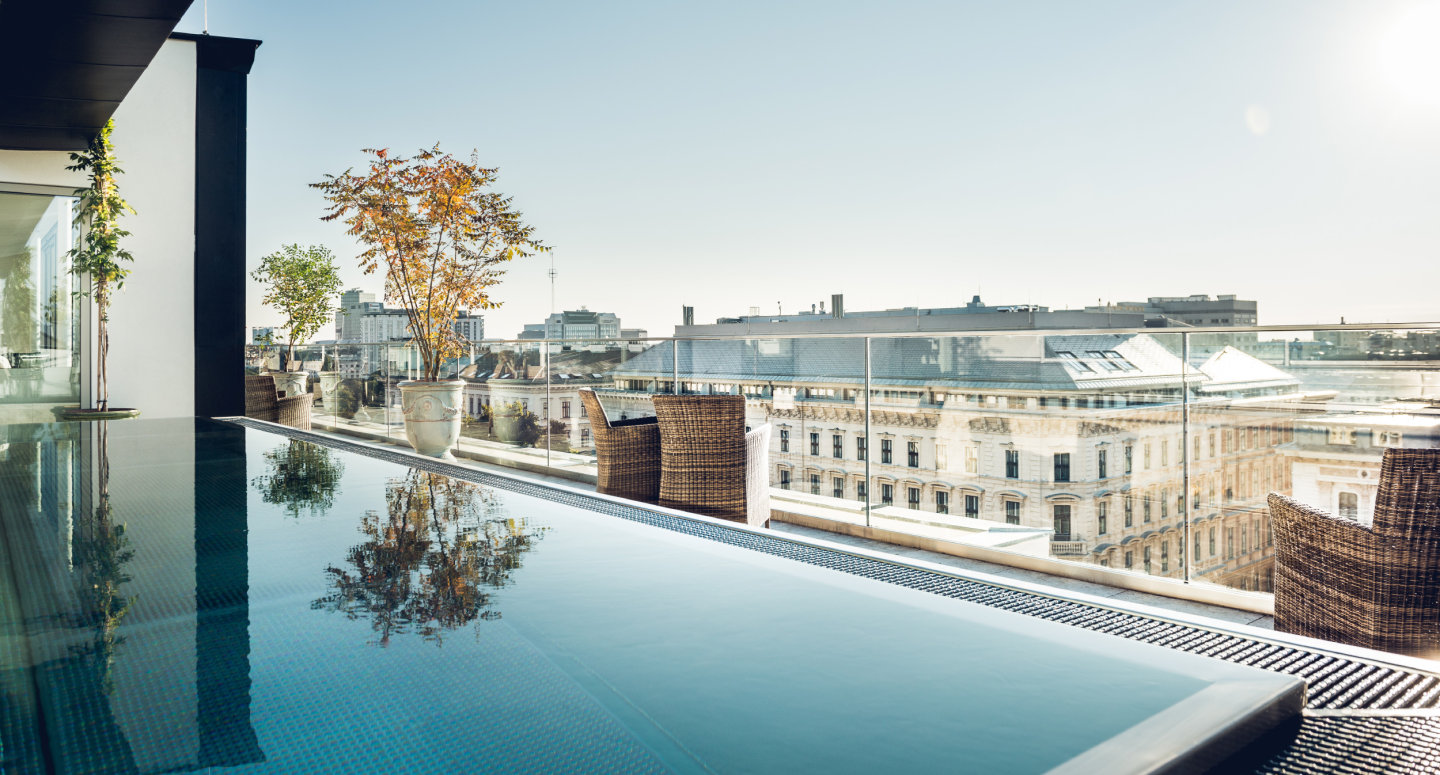 I'm the Sales & Marketing Director of the hotel. I love to work in a hotel that celebrates tradition and history playfully with unusual ideas and a contemporary style. In Vienna, the majority of the hotels are traditional and imperial. The owner of the Grand Ferdinand, Florian Weitzer, wanted to breath new life into Vienna's hotel scene. Opening the Grand Ferdinand on Vienna's most famous street, the Ringstrasse, gave him the opportunity to realise his ideas and I love to work in such a unique place.
When we visited your website, we noticed that you highlight features relating to gastronomy such as the photo of the impressive Grand Etage Restaurant and your 'Food & Drink' menu. This is a clear promise for food lovers, don't you think?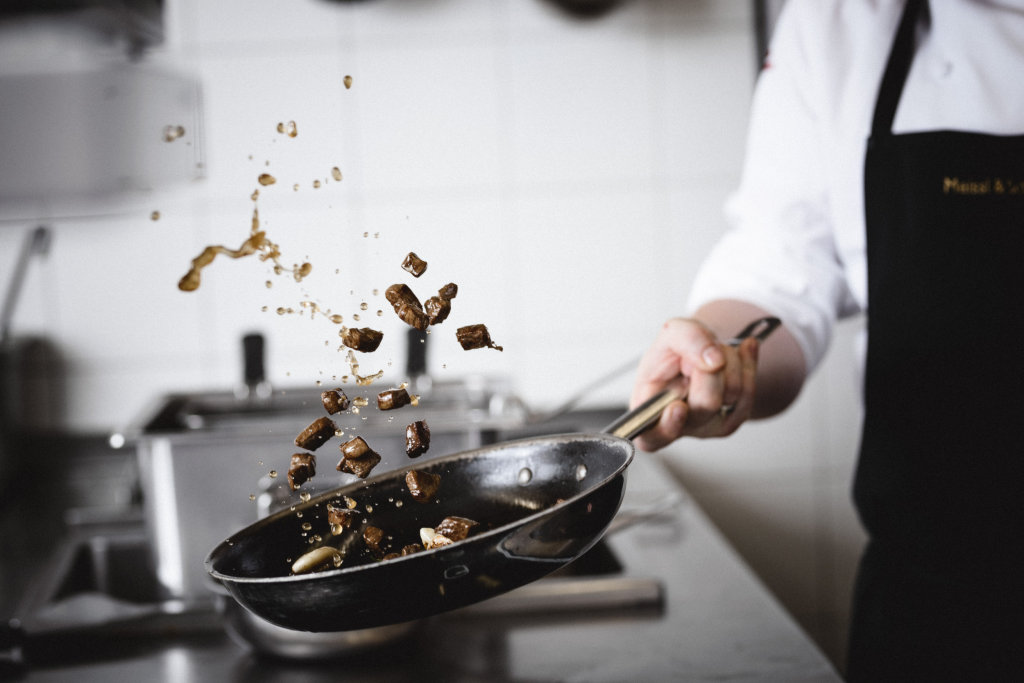 Gastronomy is one of the key elements of the Weitzer brand and the hotel. That's why we promote it this way on our website. We want our customers to know that we're serious about food – it's not an afterthought.
Having three Restaurants in a city hotel is, indeed, something worth mentioning. But what are the characteristics that make each of them stand out?
The Meissl & Schadn on the ground floor showcases everything great about Viennese cuisine, including the world-famous schnitzel.  It's a perfect match for the Grand Ferdinand – a hotel dedicated to a contemporary interpretation of Austrian tradition.
There are two other culinary options at the Grand Ferdinand. At Gulasch & Söhne, guests can rub shoulders with Vienna's in-crowd and savour small plates, local specialties like goulash and the classic apple strudel. Of course, champagne flows freely along with freshly brewed coffee and the finest beers.  Lastly, there is the Grand Étage serving international dishes high above Vienna.
We like the fact that each one of your 3 Restaurants has a different concept connected to a specific gastronomic experience, as well as its own website. Can you share with us these three concepts?
The philosophy of each restaurant is reflected not only in the choice of food and drinks but in the distinctive atmosphere each one provides.
Showcasing honest Viennese classics, Meissl & Schadn, combines an elegant atmosphere of a bygone era with today's modern comforts.
Gulasch & Söhne is an intimate space, accessible from the street, where the general public and guests mingle and savour Vienna's fast-food style cuisine. It's a cozy place with style, where eating goulash and Debreziner sausages and drinking champagne sit happily side by side.
Grand Étage serves international dishes high above the city. The design of the restaurant portrays private salons that were typical in Vienna at the end of the 19th century. The Grand Étage is an exclusive space, reserved for hotel guests, visitors, and club members.
Meissl & Schadn is a top spot in Vienna for schnitzel, the most famous Austrian food. Is there any other particular dish that we should try?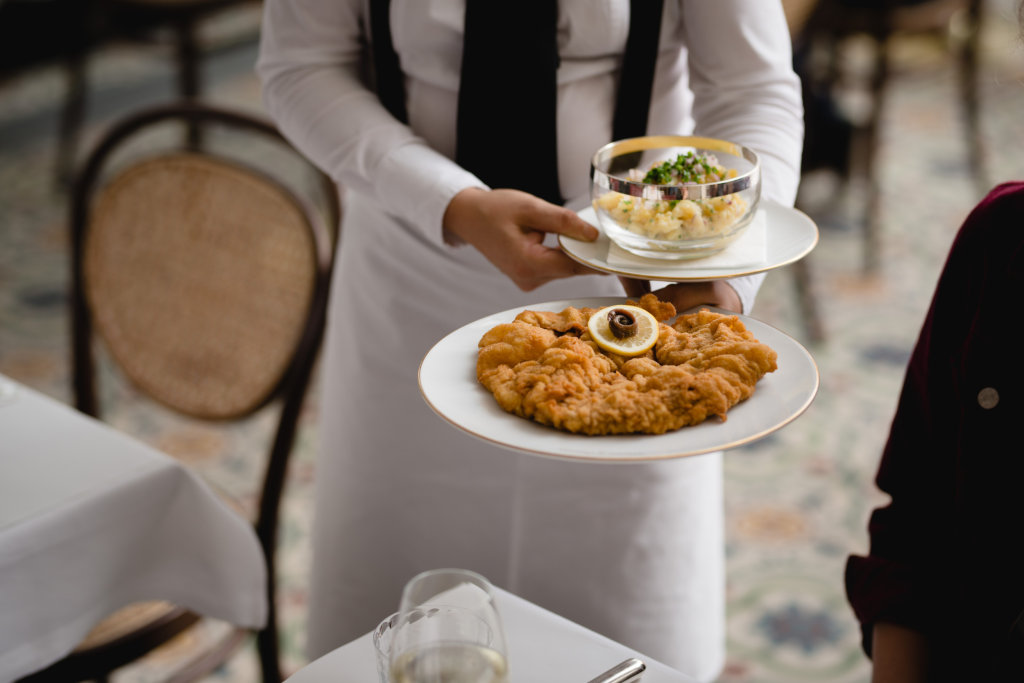 Meissl & Schadn offers traditional beef dishes, such as Tafelspitz, flat iron steak and short ribs, as well as some other great Viennese classics like "Kaisersuppe" or "Apfelstrudel". We even offer a schnitzel and strudel class once a week, where you can learn the art of making these Austrian classics.
We think that it is a smart idea to keep Grand Etage as an exclusive restaurant for your hotel guests.  Is there a way for someone not staying at your hotel to visit it?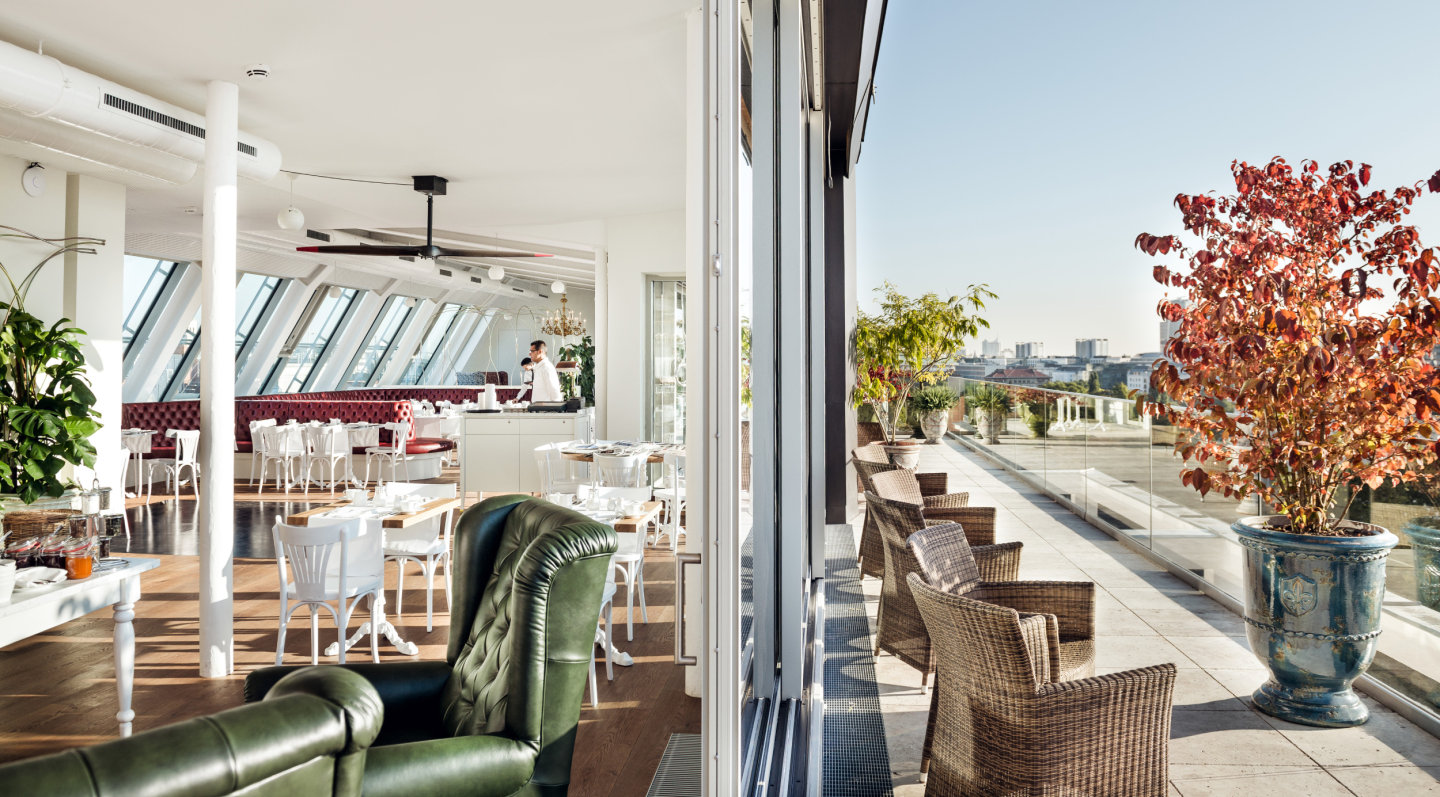 The rooftop restaurant is exclusively open to hotel guests, their visitors and external guests with special club membership. However, on selected days, the Grand Étage open its doors for an exclusive brunch and for special events such as 'Open House" on Tuesday evenings in the summer and 'Grill & Chill' on Sunday evenings from June until September.
Hotel breakfast is an important culinary experience for travellers. What makes Grand Ferdinand's breakfast so unique?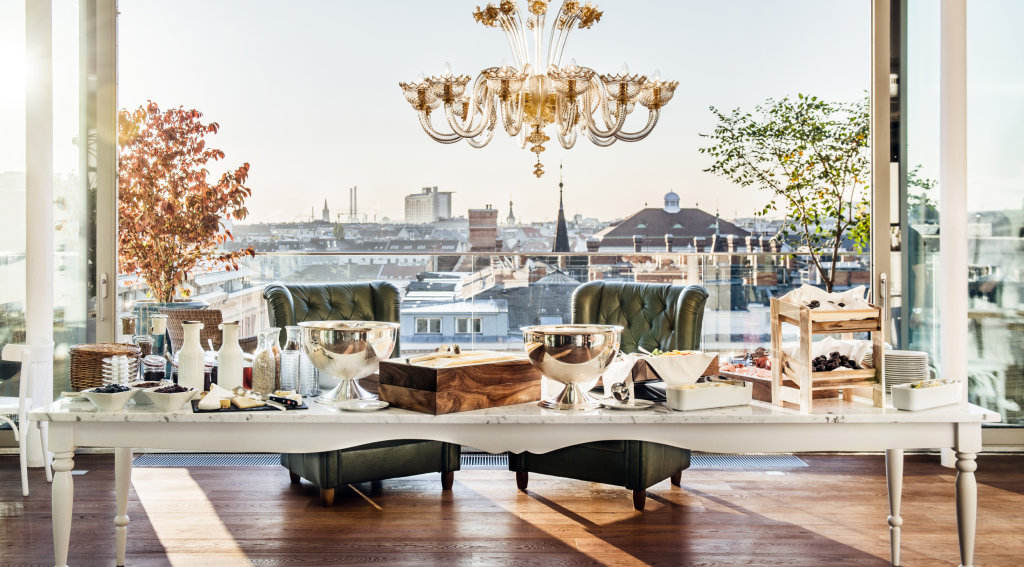 To say we provide top quality breakfast products and an a la carte service is a given.  In the case of the Grand Étage, it is undoubtedly the unique atmosphere overlooking the rooftops of Vienna together with music, light and plants that create a wonderful breakfast experience. What's more, our team are always on hand to provide useful tips and ideas to guests as they plan their day.
The name of your third restaurant, Gulasch & Söhne is amusing.  The bistro serves goulash and sausages with the finest Champagne. Does this concept – traditional combined with a luxury twist –  reflect your hotel's easy-going character?
All-time fast-food classics like sausages served with goulash broth and Debreziner sausages share the menu with Veuve Clicquot champagne and refreshing beers.  This small restaurant proves that goulash and champagne are not mutually exclusive. It's really 'carefree dining at its best.'
I see that you don't offer room service in the hotel. Can you explain the reason for this?
We don't offer in-room dining for a reason. We want our customers to completely be immersed in the gastronomic experience in our restaurants as we believe this enhances the overall food experience.
Let's take a look a the hotel's rooms. It's clear that you've focused on timeless elegance with contemporary touches. What is the design idea behind the rooms?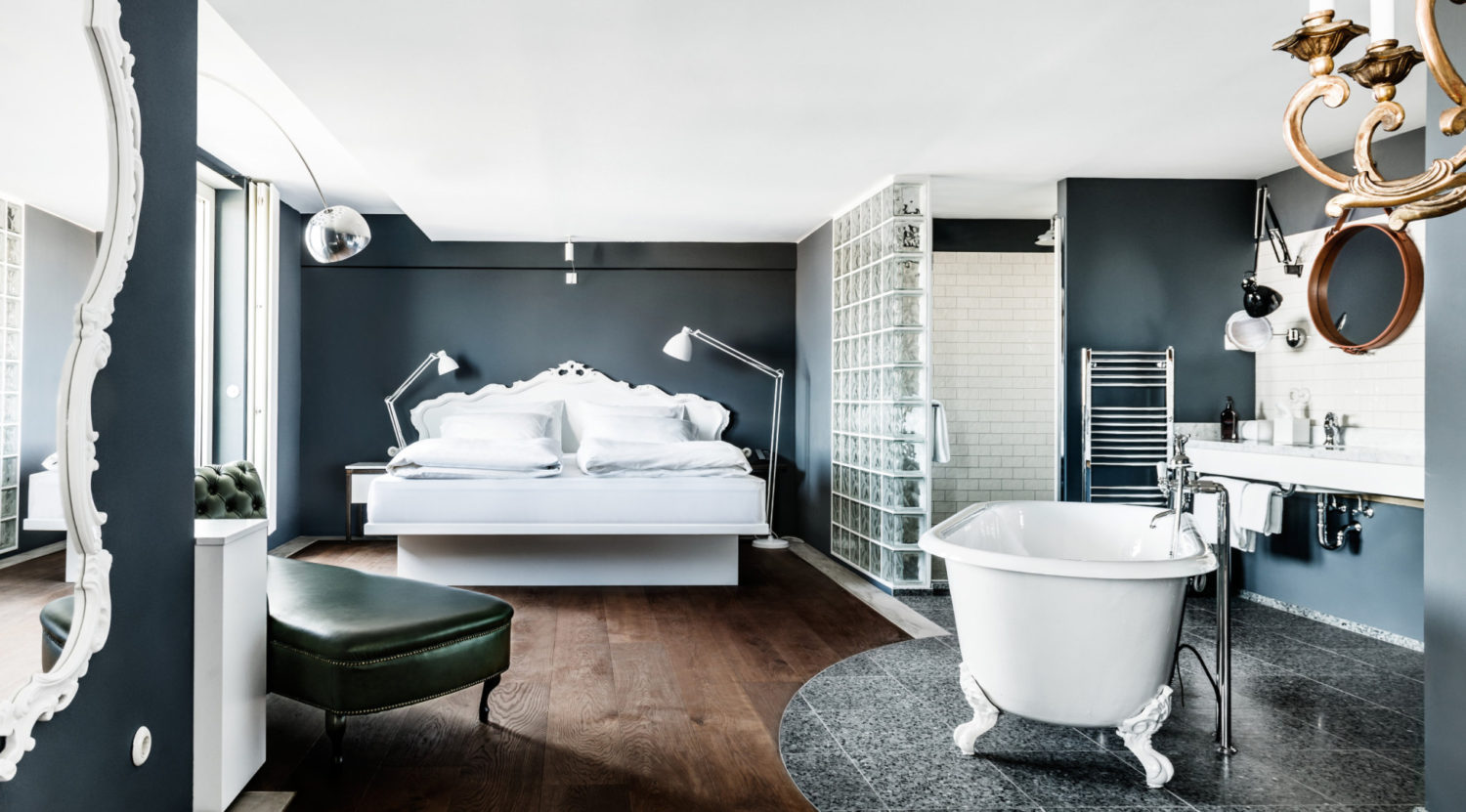 All public spaces including the rooms in the hotel combine Austrian tradition with a modern twist. Taking centre stage in the rooms is a huge white bed with a romantically carved white headboard. Luxurious dark wooden floors and charcoal grey walls provide contrast and a modern twist. The rooms also have rain showers behind glass cubicles, leather chaise-longues and roll top baths in the suites.
What is the Instagram hotspot in the hotel and why do you think your visitors love to share it?
Probably the open kitchen where the Schnitzels are prepared right in front of you. Although Schnitzel is Austria's most favourite dish, these days it's rarely prepared in the traditional way – pan fried – with the attention and commitment to quality it deserves. At Meissl & Schadn it is fried golden brown in the finest butter, rich lard or vegetable oil and served with a wide variety of garnishes and side dishes.
Another hot spot is undoubtedly the Grand Étage, where the rooftop pool and the view over Vienna offer the perfect backdrop for Instagram shots.
Can you share with us one of Grand Ferdinand's achievements that you are most proud of?
I am proud of our overall philosophy which is that culture should be available to everyone. Everybody can enjoy Austrian life and culture at the Grand Ferdinand on their own terms. Yes, we have suites costing 1500 Euros per night but also beds in a beautiful 8-bedded room for 30 Euros a night. You can sip champagne or enjoy a delicious beer whatever room you're staying in.
By the way, the Grand Ferdinand by Weitzer Hotels happens to be the only Austrian-run hotel directly on the Ringstrasse.
And to end our discussion, can you tell us when we should visit the hotel and Vienna?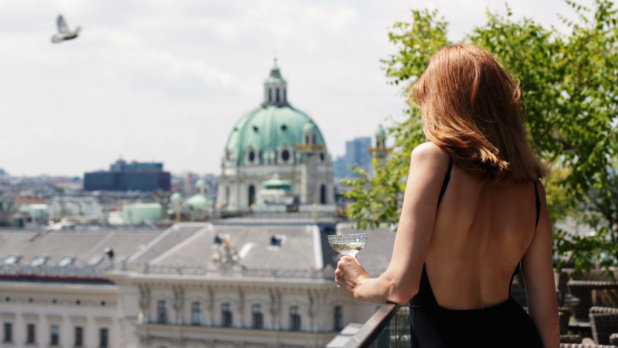 Vienna is an all-year-round destination. If cultural sightseeing is your primary objective, then the colder months are ideal. If on the other hand, Vienna's nightlife is important to you, the summer months are perfect for enjoying riverside bars on the Danube, open-air events like the Danube Island Festival or the Film Festival on the Vienna Rathausplatz. My favourite time, however, has to be the Christmas period, where the traditional Christmas markets give a truly unique "Vienna feeling".
A few words from us…
Gastronomy is now a key motivation for travelling. Travellers want to connect with the place they are visiting, and gastronomy is a perfect way for them to do this.
More and more hotels are focusing on food as a unique selling point and incorporating gastronomic experiences into their product offering. Hoteliers are constantly on the lookout for new hotel restaurant trends, tips and best practice.  Local food experiences significantly contribute to a hotel's appeal, enhance the overall customer experience and increase revenues.
Furthermore, the power of the internet and social media allows consumers and businesses to share their experiences with others. Open up Instagram or Facebook and you are bombarded with photos of food, restaurants and recipe ideas.  Herein, lies an opportunity for hotels to share their gastronomy story easier than ever.
The Grand Ferdinand Hotel in Vienna has created a smart and successful gastronomy formula. By developing different restaurant concepts inspired by the local culture and cuisine, and promoting this at every opportunity, it positions itself perfectly to the curious culinary traveller.