Avaton Luxury Hotel's successful integration of technology in its room service highlights the need of change even at the hotels' most fundamental services
8 mins read
As technology further infiltrates the travel industry, shaping travellers' habits and sense of hospitality, a wind of change has begun to blow for room service. It is one of the few hotel "services" that hasn't received any upgrades since its first introduction in 1931, at the luxurious Waldorf Astoria hotel in New York, and travellers are no longer willing to ignore it.
In fact, food ordering applications have surged the past few years on a global scale and digital (online and mobile) ordering has become part of peoples' reality. Statistically speaking, a recent National Restaurant Association Study showed that 37% more restaurants opened up to digital ordering only in 2019. While a second survey indicated that the events of 2020 resulted in a whopping 33% increase in the total restaurant orders placed by online applications.
The above trend, combined with room service's declining popularity, led to the need for radical change for the hospitality industry; a change that could only be achieved through digitalization. Recently, we published an article with ways you can improve your room service, stressing the importance of technology in-room service.
Thus, we found only fitting for this article to focus on a hotel's success story on digitalizing its room service, with the help of a tech company called SuitePad, which specializes in digital guest communication.
*Sponsored
Learn how the Digital Customisation of The Avaton Luxury Hotel & Villas succeeded through its collaboration with SuitePad
SuitePad´s digital in-room tablets offer guests a better ordering process and streamline hotel processes for the staff using the innovative backend. That promoted the digital customization of the Avaton Luxury Hotel & Villas and offered guests a personalized luxury experience.
This way, the hotel promotes upselling and facilitates in the best possible way, each guest's stay in the hotel.
Download the free Avaton Success Story
Learn more about SuitePad and its products
The Hotel: The Avaton Luxury Hotel & Villas – a luxury resort that dared to digitalize its room service and succeeded
As a proud member of the Relais & Chateaux chain, the Avaton Luxury Hotel & Villas is a luxury hotel in Greece, that strives to provide its guests a fulfilling destination experience within its hotel grounds, constantly improving its services and further upgrading its guest experience.
The Avaton Luxury Hotel & Villas boasts one of the finest service menus in the Southern Mediterranean. Yet, fully aware of travellers' ever-changing needs and despite its excellence, the resort management still thought the experience was not enough and kept exploring ways to further enhance it. So, this is when they decided to digitalize it.
Given that Avaton is a luxury hotel that boasts a premium staying experience, its management team knew from the very beginning that they could not go with a conventional solution like a hotel application. And, this is where SuitePad came into the picture.
*Sponsored
The Avaton Luxury Hotel & Villas
The Avaton Luxury Hotel & Villas, a proud member of Relais & Châteaux, is a stylish and contemporary beachfront escape, overlooking the sparkling turquoise waters of Athos Peninsula in Halkidiki, Greece.
It consists of an exclusive collection of 36 luxury rooms, suites, and villas. Most of them have private pools with in-built sunbeds which tantalize the feeling of relaxation in our Mediterranean gardens.
Enjoy a meal of creative Greek cuisine in the private, residents-only restaurant. Accompany it with a refreshing cocktail tailor-made by our on-site mixologist and food pairing expert. Indulge into a journey of taste on the hill in front of the beach, overlooking the crystal waters.
Feel unique with the VIP services which add pleasure to your holidays. Enjoy a refreshing massage or yoga session. Cruise around Holy Mount Athos, a UNESCO World Heritage Monument on a yacht. Feel the ultimate holiday experience to create memories that last a lifetime…!
Download the free Avaton Success Story
Learn more about SuitePad and its products
The Tech Company: SuitePad – Digitalizing Room Service in a Luxury way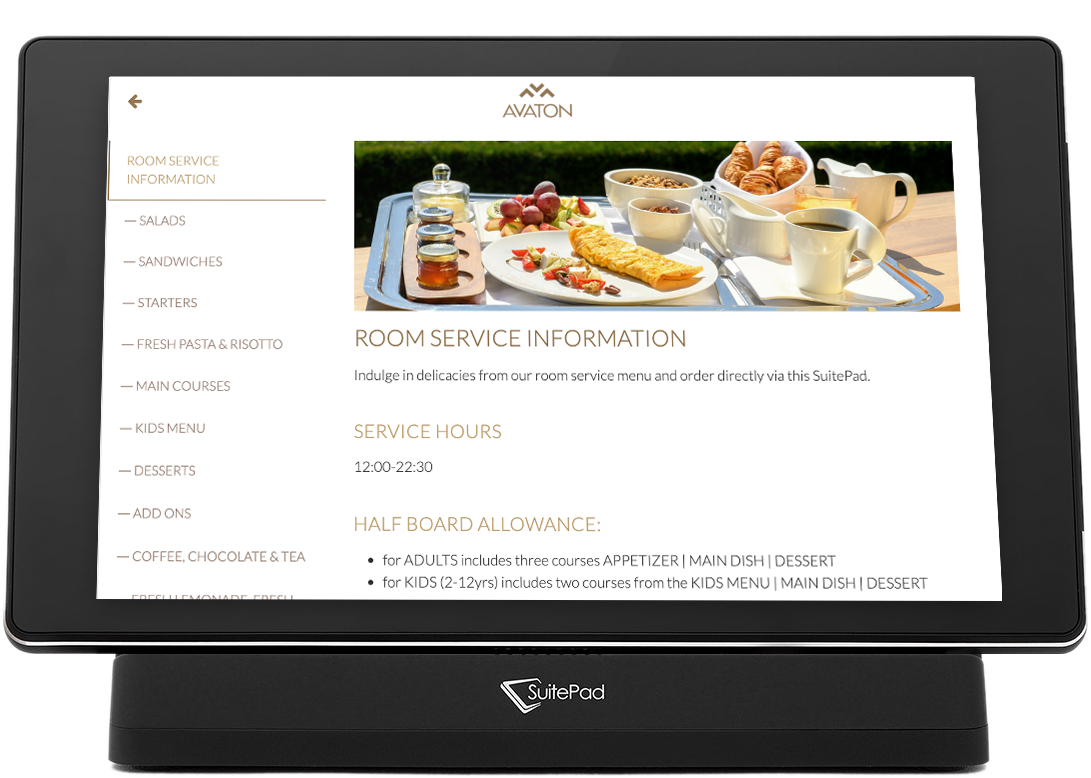 SuitePad offers in-room tablets that allow guests to interact digitally with the property through one device. They are the upgraded solution to the typical hotel applications, that solve crucial issues like possible hardware limitations from clients' end or other limits associated with the application option.
Moreover, SuitePad's tablets are backed with a plethora of features like room dining menus, activity booking services, a built-in phone, even a built-in TV remote. The device literally becomes the central control of every room, resulting in an entirely digitalized room experience.
And this was the kind of solution that Avaton was searching for. The inclusion of a tablet with advanced features in every room did not only boost the hotel's prestige but also increased the property's annual revenue, with a whopping 40% of the total revenue coming from the SuitePad application.
However, among the available features, the one that stood out for the Avaton Luxury Hotel & Villas, customer-wise and operations-wise, was the food ordering system.
The Perfect Food Ordering System: Easy to navigate and communicates directly with the Kitchen
SuitePad's food ordering system is the service that fascinates Avaton's guests the most. This feature allows the hotel to showcase its extensive room service with high-quality photos, formatted to fit in the tablet's interface, resulting in a mouthwatering product that can persuade even the most discerning guests to try the menu.
At the same time, the application's clean interface makes navigation easy, even for travelers who are not familiar with such technology. The menu can be separated into categories; thus, guests can easily navigate through its various food sections from a useful and sleek side panel and decide on what to eat fast, and without any hassle.
Of course, the application's direct connection with the kitchen allows all orders to be completed without the involvement of the reception, freeing time for more meaningful things to do like building guest relations. All the above resulted in the food ordering system being the guests' most beloved feature.
The food ordering system might be the application that stole the guests' hearts, but the Avaton Luxury Hotel & Villas' team was fascinated by another feature, that allowed them to study their guests and make all the necessary adjustments based on their likings.
Data & Statistics Reports: Studying guest behavior and adjusting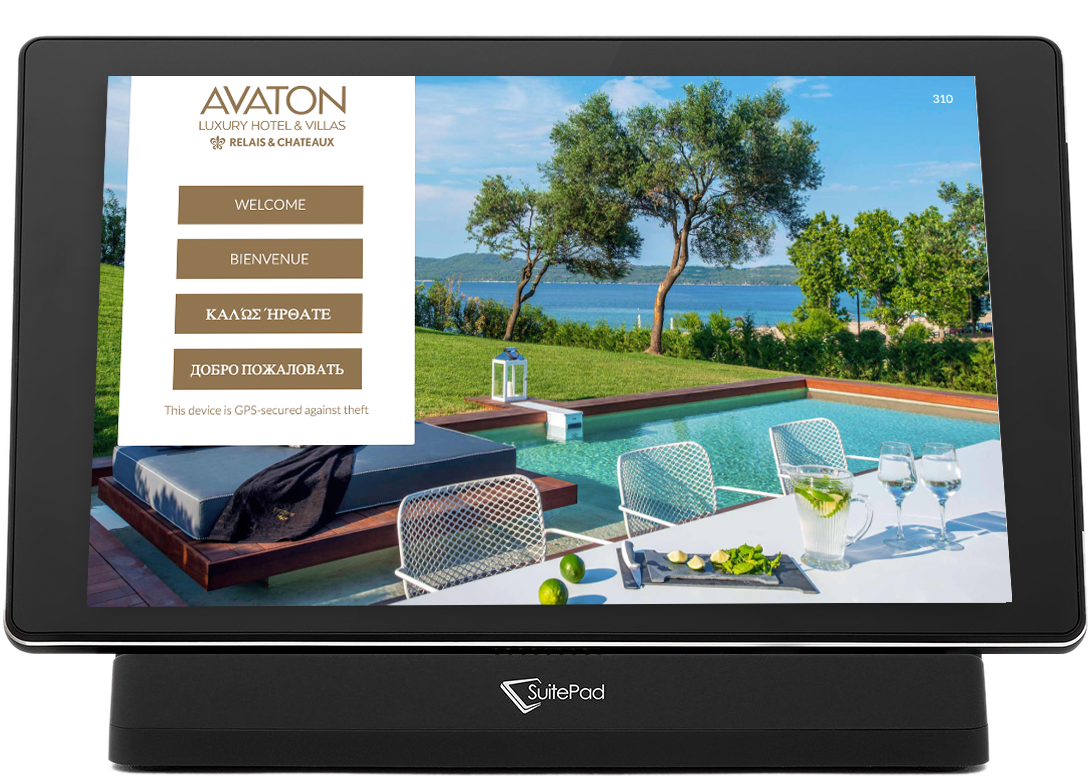 Data are a hotelier's best friend, as they provide valuable information about guests' habits and what works better based on their needs, resulting in a better evaluation of the product and more accurate adjustments. The SuitePad devices gather data from clients' usage and create informative reports that give an idea of what works and what should be changed in the menu.
Avaton uses this data to design its menu based on the most popular dishes, driving clients to pick them, thus resulting in a more satisfactory experience for the client, and increased sales for the resort. At the same time, based on the performance of each dish/drink, they create special offers to boosts its sales, again ensuring limited food waste and revenue loss.
The Result: Avaton's success story leads the way to Room Service Digitalization
Avaton Luxury Hotel & Villas' inspiring success story highlights travelers' demand for digitalization. Sooner or later, technology will be fully integrated into the hotel experience (there are already fully automated hotels around the world), so digitalization is unavoidable for any type of hotel. So, why don't you pioneer and become one of the first hotels to join this new, upgraded, and more digitalized era of traveling?
*Sponsored
How does SuitePad help Hotels look more eco-friendly and promote Room Service as a key-feature for their upselling policy?
SuitePad is a company that provides in-room concierge tablets with built-in high-level software that facilitates your in-hotel communication with your guests. But how does this technology help you reduce costs while being more eco-friendly?
No More Printed Material: The SuitePad tablet solution replaces the use of room directories, menus, and promotional material with high-level digital information. The use of technology in the hotel's room service can also boost your in-hotel sales and promote a more eco-friendly status.
Promote in-dining Sales: Being in line with the new global hospitality trend that invites guests to "stay in", follow health protocols, and maintain social distancing, it is important to boost your in-room dining sales.
Guest Room Tablet Buyers Guide: The data presented in SuitePad's latest Guest Room Tablet Buyers Guide, give an exclusive insight into the latest trends in guest room tablets and key benefits of this technology, that hoteliers may not be aware of. Hotels can apply those findings in their Room Service Upselling methods.
Learn more about SuitePad and their products
Download for free the SuitePad's latest Guest Room Tablet Buyers Guide