21st century Room Service is more demanding than ever. Learn how you can upgrade the room service in your hotel and boost your sales, by following four special tips
10 mins read
Room Service has been a key part of the traveller's luxury hotel experience since its first appearance in 1931 at the then-New York luxury hotel Waldorf Astoria. Over time, however, and more specifically in the early 2000s, room service has become one of the most common services in accommodation, and has ceased to exclusively symbolize luxury.
The increase in the popularity of app-based delivery in the last decade has highlighted the high prices of the room service menu, but also the limited options it offers, with the result that visitors lose interest in this service and look for alternatives – even delivery from third-party delivery applications such as Uber Eats.
The hotel market is closing in on the changing trends, either by upgrading the room service or by integrating third-party channels; just like the example of Wyndham Hotels & Resorts, which have partnered with DoorDash for free delivery on over 3,700 properties. Or, by leaving the race, like New York Hilton Midtown Hotel did, which decided to stop offering room service since 2013, due to the low revenue it offers.
At Hotelier Academy, we believe that room service is an integral part of the hotel experience, so we have decided to give you smart tips through this article, on how to boost your room service, increasing your customer's satisfaction, and improving your hotel's upselling revenue.
*Sponsored
Learn how to Boost your Room Service Sales at Your Hotel
Go through all the data from SuitePad that show how you can improve your room service at your hotel. This information is more important than ever, due to the 2020 global pandemic that has been such a major financial hit for hotels.
Download the Guide on How To Boost Room Service Sales
Learn more about SuitePad and their products
TIP #1:
Fully equip your hotel rooms with the necessary spaces and equipment for a complete in-room dining experience, that can even compete with a restaurant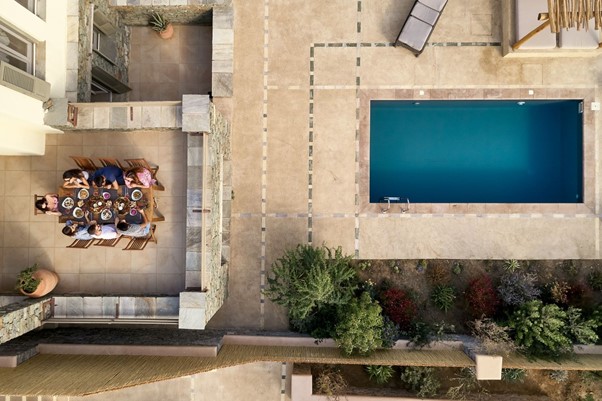 In order to create a complete in-room dining experience, all necessary "elements" must be included within the hotel's room, a fact that could shape a complete and unique experience. But which are the fundamentals for the optimum in-room dining?
First and foremost, it is important to include a dining table (ideally for up to four people) and designate the area where the customers can enjoy their meal. It is therefore suggested to ask your interior designers to specify their renovation designs in such a way that there is enough space for the in-room dining area, in order to better promote the service. When it comes to a private dining experience, customers expect to be offered a high-end facility that will also follow all health and safety protocols. Therefore, it is very important to provide your customers with special treatment over this. The Room Service staff should set the table at the customer's presence, and make sure it resembles a dinner table at a nice restaurant. Tablecloths, towels, a fine set of plates and glasses, and even a small table decoration like a vase with fresh flowers, can surely increase the satisfaction and the overall experience.
You should always keep in mind that regardless of how pretty a dining table looks before the meal, it is always an unpleasant image to have a table full of used plates and leftovers, especially in the limited spaces of a hotel room. Therefore, it is important to determine the housekeeping procedure that removes the used plates and food from the guests' room the soonest possible. For example, you can serve the meal in special room service trolleys, that the customers can roll out of their rooms once they have completed their meal.

TIP #2:
Set up a special menu with lighter meals that the customer can consume throughout the day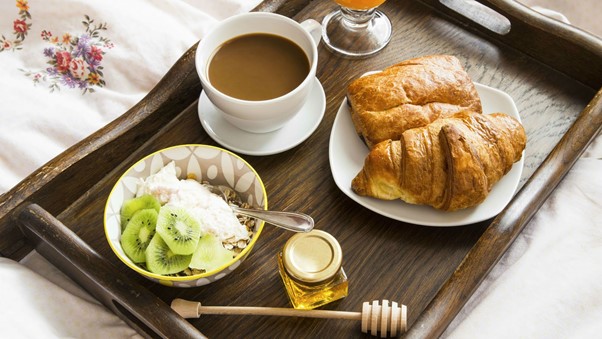 Room Service should promote the philosophy "I can eat whatever I want, wherever I want, and at any time I want", and this must be reflected in the offered menu. It must have the flexibility to offer dishes that can be consumed throughout the day and in some cases even at night. It is, therefore, important, that the menu includes light meals such as salads, finger food options, and even fast food, and not only 'restaurant-like' dishes. In addition, there should be dishes that are consumed quickly for the most 'hurried' customers. In other words, it is always advisable to offer an exclusive Room Service menu, and not 'borrow' the same menu that you use in your Restaurants or Bars.
A recent SuitePad survey showed that the most preferred and most frequently ordered types of food within hotel rooms are Burgers, which rank first in preference, followed by club sandwiches, french fries, salads, and pasta. You can see the results of the survey in total, or even by hotel type, at this link.
In case your rooms feature mini wine cellars, allowing you to sell regular-size wine bottles to your customers, make sure to accompany each wine label you sell with a recommended 'Cheese Platter' that would upgrade the wine experience even more. This way, you manage to upsell over the – already upsold – bottle of wine!

*Sponsored
How does SuitePad help Hotels look more eco-friendly and promote Room Service as a key-feature for their upselling policy?
SuitePad is a company that provides in-room concierge tablets with built-in high-level software that facilitates your in-hotel communication with your guests. But how does this technology help you reduce costs while being more eco-friendly?
No More Printed Material: The SuitePad tablet solution replaces the use of room directories, menus, and promotional material with high-level digital information. The use of technology in the hotel's room service can also boost your in-hotel sales and promote a more eco-friendly status.
Promote in-dining Sales: Being in line with the new global hospitality trend that invites guests to "stay in", follow health protocols, and maintain social distancing, it is important to boost your in-room dining sales.
Hotel Room Service Upselling: The data presented in SuitePad's latest White Paper, give an exclusive insight into guests' ordering patterns and practices, that hoteliers may not be aware of. Hotels can apply those findings in their Room Service Upselling methods.
Learn more about SuitePad and their products
Download the Guide on How To Boost Room Service Sales
TIP #3:
Integrate Technology into Room Service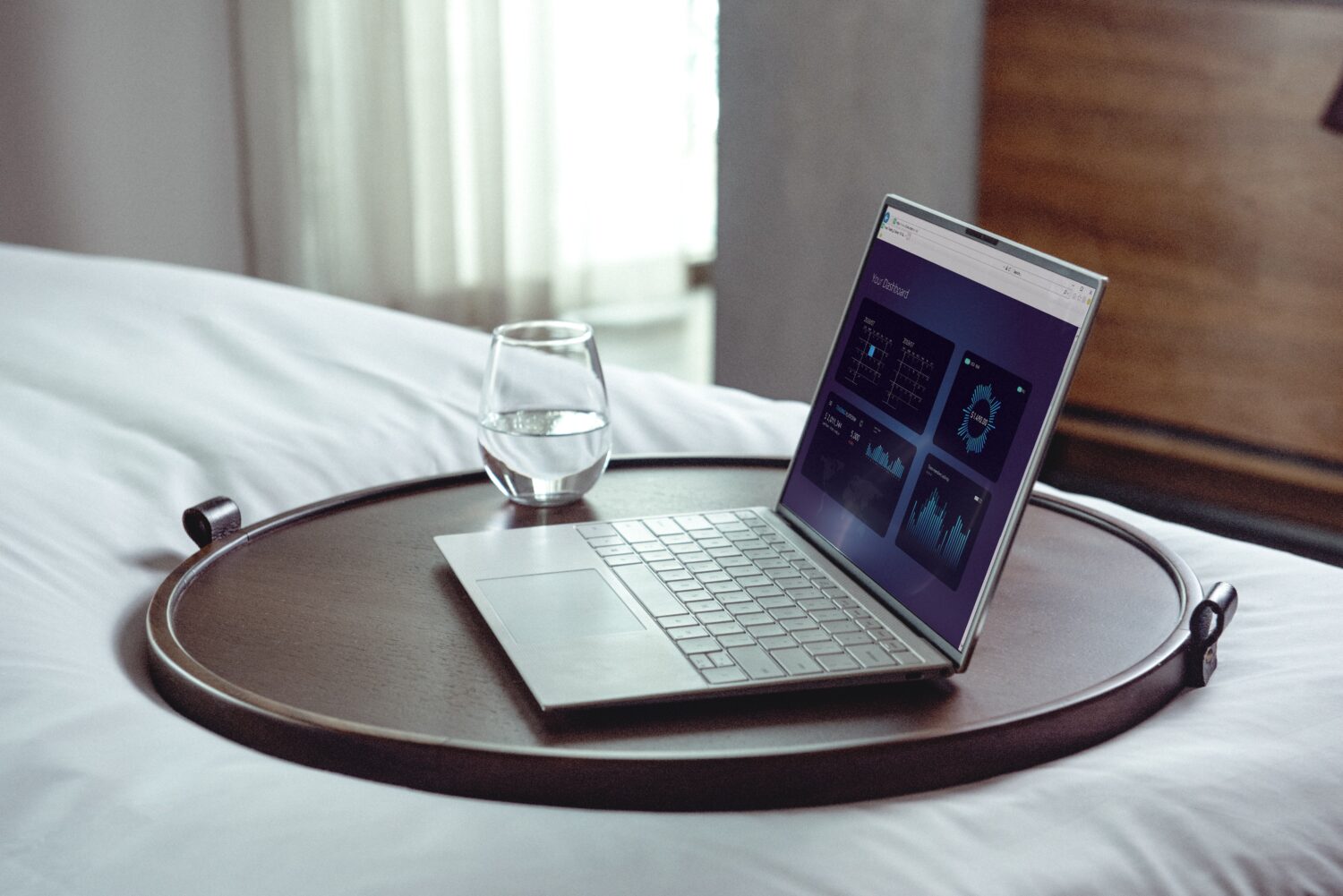 Did you know that 65% of your hotel guests connect to Wi-Fi within the first seven minutes of entering the room? Technology is an integral part of the hotel experience, and employing it to the benefit of the hotel, is a major issue. In terms of Technology and Room Service, it can greatly facilitate the ordering process for the customer, but also reduce the operational costs.
The paper catalogues in the rooms and the need of customers to call the reception for their order is obsolete. The era of app-based delivery has been here for long and it shows no signs of slowing down. It does not only make it extremely easy for visitors to choose the food they want, but it is also more eco-friendly as a solution. There are already several Delivery applications on the market that offer their services in the hotel industry.
However, this doesn't mean that third-party apps are the only (or the right) way-to-go. Incorporating concierge tablets in your Rooms (like the ones offered by SuitePad) can help digitalize your menus and facilitate the guests' communication with the Room Service through click-to-order buttons. In the same context, the TV monitors in your hotel rooms can also feature your menus and promote the guest's interaction with the hotel, enhancing your room sales even more.
There are many more ways to incorporate technology into your Room Service, but before you do so, make sure you listen to your guests' needs. For example, in New York, there is a hotel that offers the "Emoji Room Service", which allows guests to order with emojis. Or the La Quinta Inn & Suites hotel, where the order is transferred to the room by a small service robot.
TIP #4:
Create Special Promotion Packages that highlight the Room Service experience like Netflix & Chill Evenings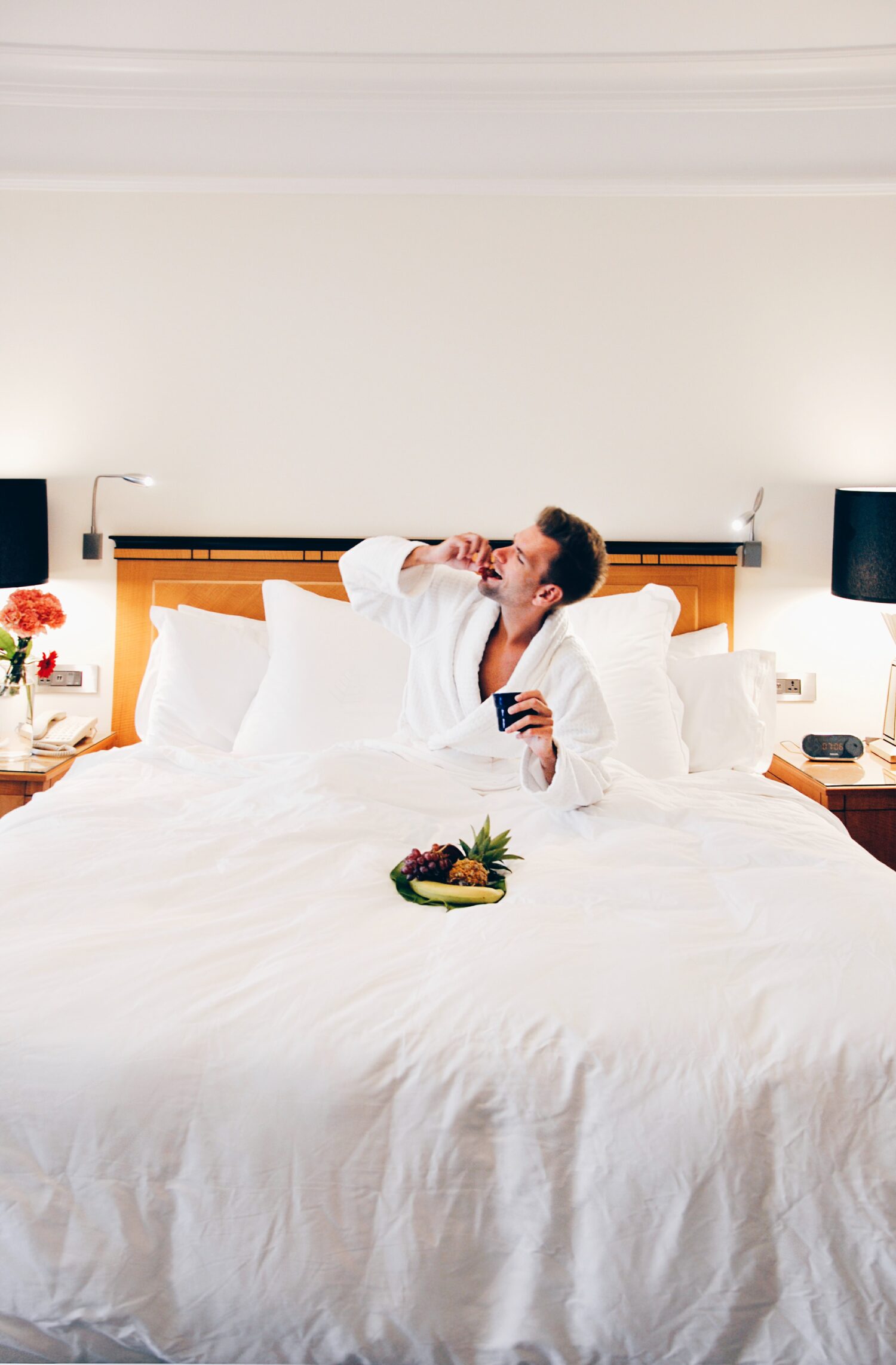 Travellers are always looking for new travel experiences, but this does not mean that they should necessarily be related to the destination. Different experiences can take place within the hotel itself, or even inside their rooms. Of course, it is important to convey this information to your guests, since it could boost your hotel's revenue streams. And this is exactly what the 'Room Service Packages' are for.
For some, Room Service does not seem to offer much experience. But, if we create for instance a package called "Netflix & Chill Evenings", which would include access to the Netflix service combined with a "finger food dinner" that could be eaten in bed, such as burgers or pizza, and supply the room with soft drinks, popcorn, and more, that could be an interesting promotional act. By applying such practices, we immediately create an experience that many travellers would like to enjoy!
It is always exciting to check on what other hotels do, in order to generate inspiration for your properties. For example, the Monument Hotel in Barcelona is an excellent example of tailor-made packages, since they have created a 'food pack' for every deadly sin. Each package is a different experience, while all of them highlight the room service.
Even the best Room Service needs promotion!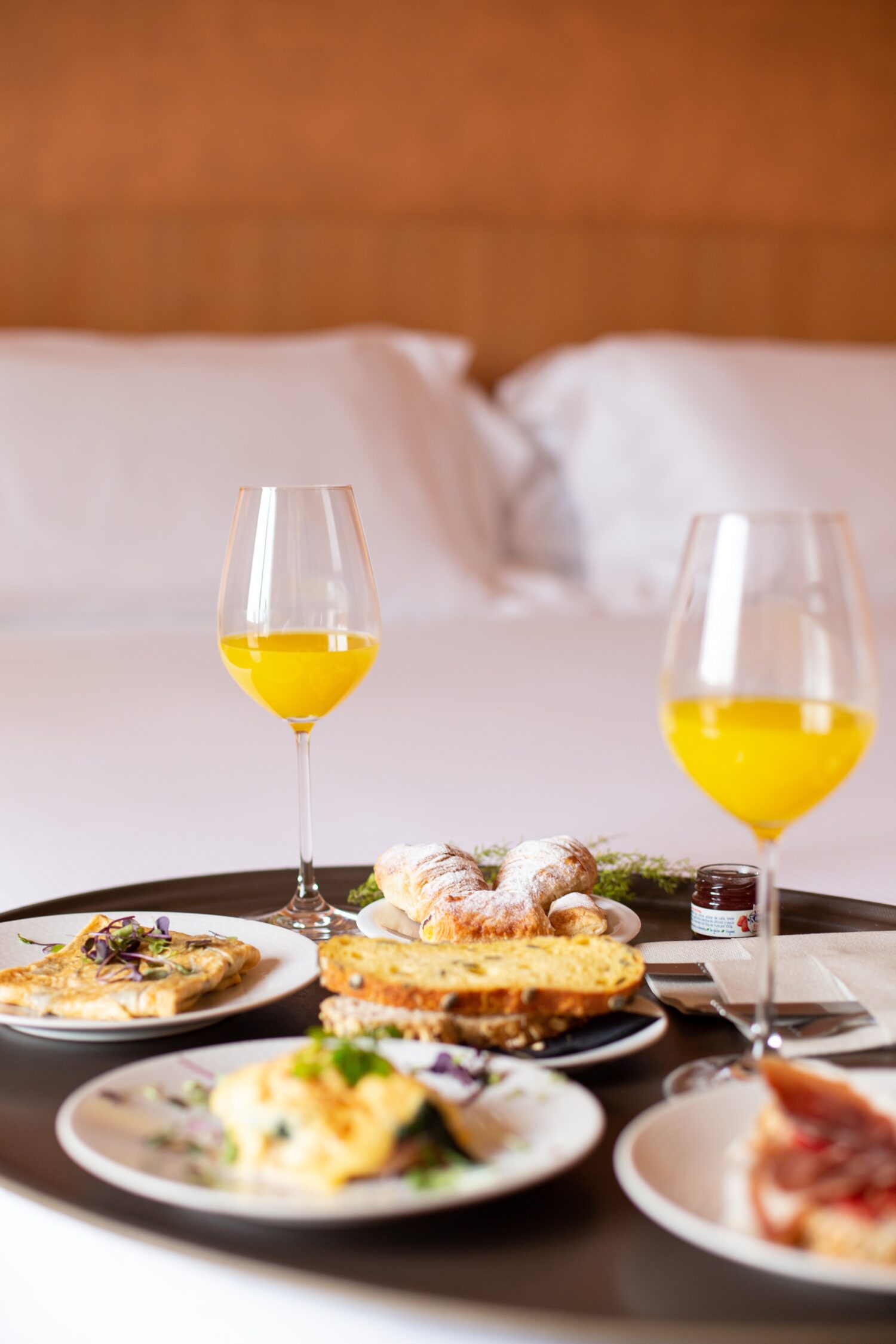 These were four easy ways that can help you upgrade your hotel Room Service. Of course, keep in mind that no matter how good the room service is, it will not work without proper advertising and promotion. Be sure to publish articles that highlight your service in third party media, or even on your hotel blog (if you have one – which you should!). Another way to promote – which is free, is your answers to the reviews, where you can highlight the benefits of your Room Service, and include various in-room experiences tips as well. Finally, it would also be a good idea to have control over what works in your hotel and what doesn't, and make changes to the menu whenever needed, so that you always keep your customers completely satisfied.
*Sponsored
This is a Free Educational Article made with the contribution of SuitePad
Hotelier Academy publishes educational articles with the contribution of hospitality brands like SuitePad, which support the production of free content for the Hotelier Community. Being one of the top Hotel Technology Brands in the field of in-hotel communication, SuitePad sponsored this article that presents smart ideas for boosting your hotel room service sales, increasing your overall revenue.
Contact us to learn how you can promote your company in Hotelier Academy