4 exquisite hotels in Greece teach us proper hotel food branding through their inspiring success stories. Let's explore them!
9 mins read
Food, and most specifically, good food, is an integral part of the holiday experience, as it allows travellers to explore cultures and customs through their senses. However, travellers do not just suffice on the food options provided by the destination but also pay special attention to the food opportunities within the property they decided to stay. After all, studies have confirmed that food, and even breakfast alone, can be one of the most important booking factors.
So, if you want to truly succeed in catching the travellers' attention, you will need something more than just a good chef. You will need a strategy; this is when Hotel Food Branding comes on stage. But, what will this strategy include? The answer is Everything. From a targeted photoshoot to articles in 3rd party media, individual marketing, and social media strategy, or even the decision of opening the restaurant to the broader public. There are several ways to promote your hotel's food culture, and this is what we will explore in this article.
As experts in creating "Hotel Collections", we couldn't think of a better way to spread inspiration than through a collection of successful hotel food case studies. So, we present here 4 handpicked hotels in Greece that showcase a competitive hotel food branding strategy, emphasizing on the features that impressed us the most, that will give you ideas on how to implement similar features at your own property!
 *Sponsored

Hotel Collections: Making the Travellers' Hotel Research easier!
Travel by Interest is a content-generating platform that creates high-quality, Search Engine Optimized (SEO) Content that currently targets four important Niche Markets: Gay, Food, Luxury & Wellness, as well as themed searches and popular keywords. One of our most popular pieces of content for achieving this is the 'Hotel Collections'.
In Travel by Interest, Hotel Collections receive the required attention and focus, since our Hotel Experts handpick the hotels that are included in each collection, ensuring a high-quality experience for the travellers.
What are the benefits of your Hotel?
Registration in TBI & inclusion in the Hotel Collections is totally Free.
Your official Hotel Booking Engine is directly connected to your listing.
You can track your analytics through your personal account in TBI.
Register your Hotel for FREE
or contact us directly at info@travelbyinterest.com
Kensho Psarou: Capturing the beauty of Food
THE MARKET APPROACH
Photos and videos are undoubtedly the 'kings of content' in the 21st century. The extended use of online 'scanners', which is a type of online readers that quickly run through your content paying attention only to images, videos, and headlines, further confirms this statement. Fortunately or not, the number of online 'scanners' is steadily rising, since people do not have time to waste on information that might not be of their interest. This is why marketers in all sorts of content, and so in the food content, convey their strongest messages through catchy headlines and proper visualization — either moving or steady.
THE CASE STUDY
Kensho Psarou accomplished a successful food branding strategy by creating a stunning video that highlights the food experience within the hotel (the video was created by the leading production house NEEDaFIXER, which has already given us some excellent hotel videos). In addition to the video, Kensho Psarou created an exceptional photoshoot to further support its food experience. Of course, this is only a part of a broader strategy, as this material can be used for 3rd party articles, OTA Profiles & other promotional activities.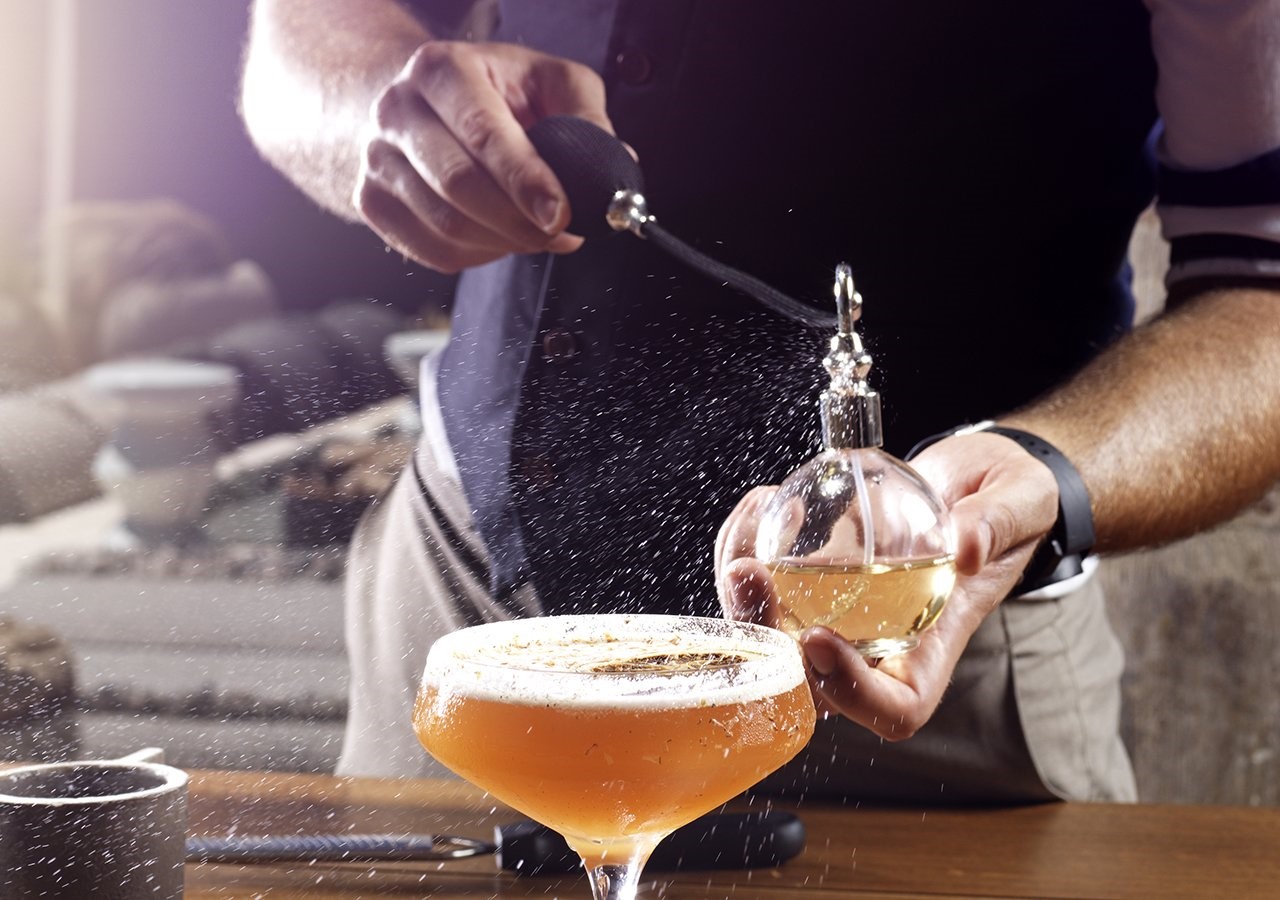 Diles & Rinies: It's all about the Experience
THE MARKET APPROACH
A hot debate among global hotels is the general perception of hotel dining. Is food in a hotel a necessity, a desire or a luxury? For us, the answer is none of the above. Food is an opportunity. An opportunity for the hotels to upgrade their visitors' experience through their senses. An opportunity to connect with their feelings and give them a satisfactory experience to remember. And, if you need proof of the opportunity that food provides, we dare you to take a look at random (or even your own) hotel reviews. Count how many people referred to food, either breakfast, lunch or dinner. You will quickly figure out, if you haven't already, that food is the only service that travellers seem to be consistent in writing about in their reviews.
THE CASE STUDY
Diles & Rinies took advantage of this opportunity and presented food in Greece (and their hotel) as part of the overall holiday experience. They have created a special section on their website with the simple and straight-forward name "Food", where they describe the various food experiences they provide through special sections like Signature Breakfast, All-Day Pool Brunch, Fancy Dinners, and In-Villa Dining. They have also created a special page for the products they use, their signature dishes and the people that make up their team. Of course, they have included details about the restaurant, but they have made sure that the experience prevails on the top at all times.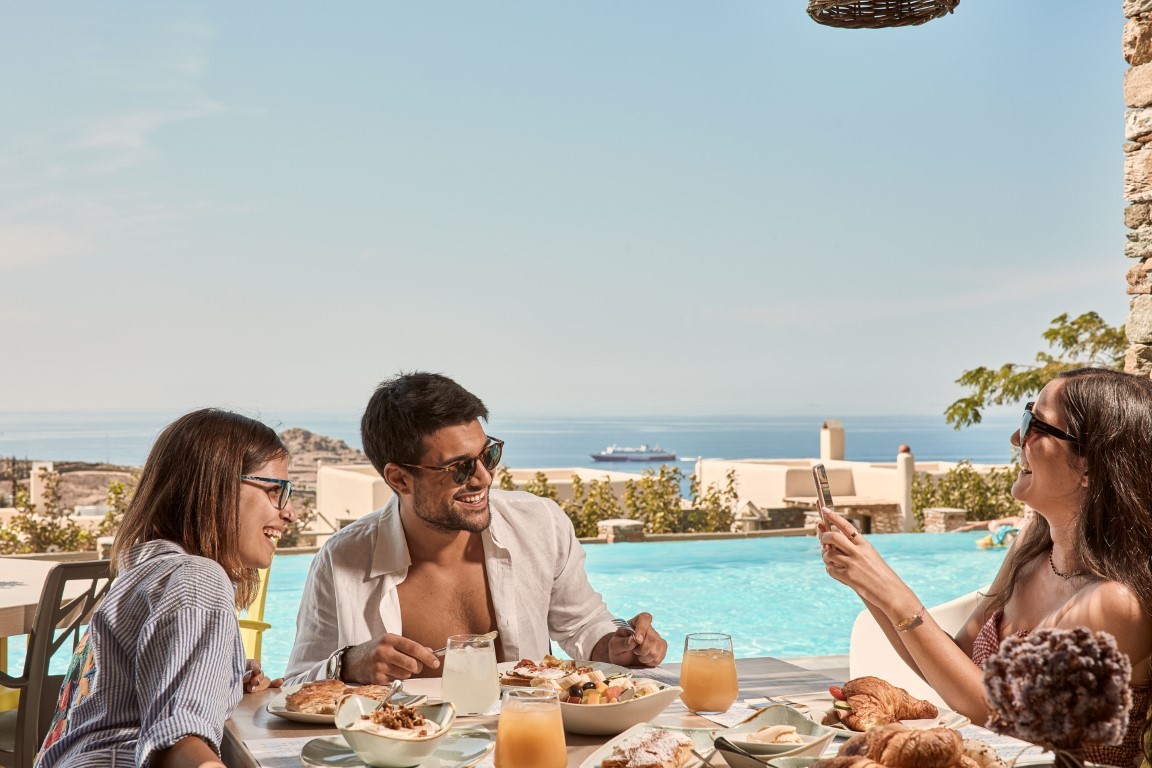 Marbella Nido Suite Hotel & Villas: Blogs are the hotels' new best friend
THE MARKET APPROACH
So, let's suppose that you have created the perfect food content and you are ready to bring the upside-down in the Gastronomy Market with your innovation. The next vital step, in order to succeed in your specified food branding strategy, is to find the right ways to communicate your content to people. Thankfully, there are plenty of ways to promote your content through the Internet, one of which is having exciting blog articles or other types of content (e.g. videos and photos) created for you in third party media and platforms, as well as content created by popular Food Bloggers or Social Media Influencers. Depending on the method you choose, such actions can not only prove to be budget-friendly but will also allow you to target an already engaged audience that you wouldn't be able to do so easily, otherwise.
THE CASE STUDY
Marbella Nido Suite Hotel collaborated with Travel by Interest, in a 'Hotel SEO Article that is a perfect example of guest-blogging. The article highlights the culinary aspects of Marbella Nido Suite Hotel, giving a rough overview of the food options within the hotel grounds, alongside recommended recipes and a few words about the accommodation. The article is SEO-optimized, performing greatly in Search Engines, which means that it will receive long-lasting results. The hotel also asked for special attention to be paid on the article's visualization which makes the importance of high-quality photography rather clear.
 *Sponsored

Hotel SEO Articles: Driving Traffic through High-Quality Keywords
Hotel SEO Articles are keyword-dense articles, based on popular queries that people search per destination. Each topic is decided after our Hotel Experts' Keyword Research through Keyword Planner (powered by Google).
What are the benefits of your Hotel?
You are promoted in an already engaged audience.
You receive valuable backlinks to your website thus increasing your Google Ranking.
The articles receive organic traffic for years after their publication date.
Contact our Hotel Editors

New Hotel: Breakfast as a Unique Selling Point!
THE MARKET APPROACH
At a recent survey of Google regarding the feature travellers search for the most when visiting a hotel, breakfast came in first, with 42.4% of the participants craving for free breakfast. The importance of hotel breakfast is undeniable, and there are actually several articles on the internet explaining why it's so important. The most significant, of course, is the convenience that it offers (as guests do not need to search for places to eat or leave the hotel to enjoy it). So, it's quite clear by now that breakfast is a crucial part of a successful food branding strategy and as such, it requires a dedicated photoshoot and promotional material.
THE CASE STUDY
New Hotel is a great example of a hotel that has paid the required attention to this very special and necessary facility. It provides 5 ways in which travellers can enjoy their morning meal: Breakfast A la Carte, Continental Breakfast, Buffet Breakfast, Healthy Breakfast, and Breakfast To Go. With this strategy, New Hotel manages to cover all needs, from travellers who want to enjoy a traditional breakfast to travellers who want to grab something quick and head to explore the city. To support their approach, New Hotel also created a special photoshoot of its breakfast and published an article on Travel by Interest's Blog to spread the word and let people know about it.
4 Case Studies, Countless Implementations on your hotel!
These four case studies are surely inspiring, however, you should always keep in mind that every hotel has its own needs, so you must make sure to give it some serious thought before proceeding to your final food branding strategy. Depending on your Hotel status, features, facilities, and — of course — targeted audience, your choices may vary. What you must always have in mind, nevertheless, is the fact no matter who your guests are or where they come from, Food is a determining factor for your their overall experience and satisfaction!