How can a hotel acquire a sustainable identity with direct and easily applicable practices? We present you a "sustainability-kit" that will make your hotel stand out in searches about eco-friendly travel experiences.
7 mins read
With surveys showing that 81% of travelers prefer eco-friendly accommodation, it is clear nowadays that the hotel experience should be not only unique but also sustainable. It is widely known that travelers put keywords such as sustainability, environment-friendly, and zero waste first on their list of priorities when planning their holidays and especially when choosing a hotel, as they are looking for and expect to apply sustainability throughout their stay. 
The challenge is great since hoteliers are called to combine the luxury, comfort, and proper operation of the property with sustainability. To help you achieve that, we've gathered applicable ways to upgrade your hotel to a sustainable destination.
Combine the wellness aspect of your hotel with sustainable experiences
In recent years, people have increasingly taken a holistic approach to every aspect of life, which also affects the way they travel. A typical example is that wellness experiences now have a central role in many hotels. Taking advantage of this upcoming trend, give your guests wellness services that will bring people close to the environment and nature.
Recommend experiences based on the hotel's surroundings. Activities outside the property that allow them to be in nature, such as bike tours, hiking, birdwatching, usage of environmentally friendly wellness products, and eco-friendly amenities, are just some ideas that will allow you to combine wellness with sustainability.
Extra Tip: Take advantage of modern digital technology with the use of in-room tablets and digital concierge, through which the visitor can discover your suggested activities as well as their environmental meaning. After all, the use of a Digital Guest Directory is itself a sustainable initiative.
*Sponsored
How SuitePad makes hotels look more eco-friendly while considerably reducing their costs?
SuitePad is a company that provides tablets with built-in high-level software that facilitates your in-hotel communication with your guests. But how does it help you reduce costs while being more sustainable and eco-friendly?
No more printed material: The SuitePad tablet solution replaces the use of room directories, menus, and promotional material with high-level digital information. The reduction in printed material results in cost depletion and a more eco-friendly status.
Skip housekeeping feature: Being in line with the new global hospitality trend that invites guests to skip housekeeping for environmental reasons, SuitePad has designed a dedicated "Button," making it easier for guests to use the Housekeeping service only when they really need it.
Hotel eco-upselling: Hoteliers can contact all their guests without any effort, by just sending a difficult-to-ignore pop-up message on their tablets' screen, effectively promoting the available Outlets & Services.
Apply environmental awareness practices in the Food & Beverage department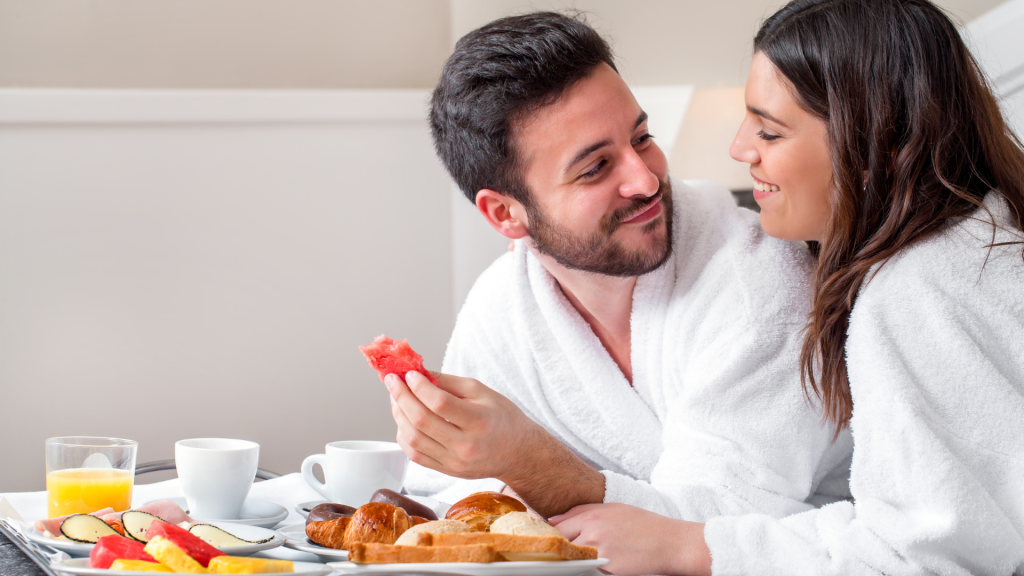 Go local, go green. Localism is now a necessary choice, since it increases environmental awareness and reduces transport pollutants, while at the same time strengthening local economies, small local production, and the sustainability of the region.
Low food waste and composting practices as well as fair trade initiatives in products, such as the coffee offered at the hotel, play an important role here. Reduction of waste during preparation and efficient recording of waste are just a few ideas you can immediately and easily apply to the operation of your kitchen.
Extra tip: Don't forget to promote your environmental initiatives to your customers. Indications of fair trade, zero waste, and even the acquisition of a sustainability badge from approved agencies now have a place both in your restaurant's catalog and in the hotel's overall signage.
Emphasize zero waste & eco-friendly practices during the stay
Sustainable practices can be integrated into various aspects of a guest's stay. For example, you can place special waste stations in specific spaces of the hotel, such as the common-use areas, the pool, and areas only for personnel. "Smart" waste stations highlight the awareness and environmental initiative of the hotel, while they can even be an element of decoration, if they are designed in a smart way. You can also apply Call to Actions for a stay with the smallest possible environmental footprint in the rooms. Inform guests about the possibility of eco-friendly housekeeping, which they can opt for through the in-room tablet.
Extra tip: Choose an environmental footprint measurement app, which will help guests collect reward points and check the environmental footprint per stay or per day. At the end of the stay, you can redeem the points with a discount on the purchase of eco-friendly products from the hotel store. At the same time, these details can be shared on the hotel's social media, reinforcing its environmentally friendly character.
Make Sustainability part of your hotel concept
Many hotels now choose (re)branding in order to acquire a specific character and unique advantages that will increase sales and direct bookings. A clear concept is the most efficient way to achieve that, since it turns the hotel into something more than simple accommodation. Include the unique characteristics of the natural environment in the hotel concept and invite guests to experience them during their vacation. Your hotel's concept should include landscape design that is in complete harmony with the surrounding nature, which will highlight your sustainable philosophy and make visitors truly experience it.
At the same time, create green spaces within the property. Choose natural materials for the decoration, and emphasize the natural lighting so that nature becomes an integral part of the stay experience.
Extra Tip: Even in a city hotel, actions such as nearby tree plantings, visits to regeneration and green areas of the city, or proposals to participate in environmentally friendly community initiatives reinforce a sustainable identity and make the guest part of it.
*Sponsored
What is sustainability and how does it impact Guest Experience?
Suitepad's new white paper dives into the fundamentals of hotel sustainability, from its main pillars and benefits to expert tips and ideas to creatively incorporate eco-friendly practices into your hotel. Learn how to significantly improve your guests' experience while at the same time reaching your property's sustainable goals, with the help of the latest hotel technologies.
Make your team part of the initiative
Your staff is the driving force that brings your hotel to life. Every new initiative can be a motivation for your team to stay updated and progress. The sustainability practices you choose need to be shared with your team and implemented by every member. This way, every department will follow sustainable operation processes, which will result in reduced costs while being a living example of the hotel's sustainable philosophy for guests.
You can also include paperless check-in & check-out, ensure proper training for the housekeeping department so that they apply limited-waste practices, and train the kitchen and room service departments to do the same.
Lastly, combine team building initiatives, which are now necessary for the proper functioning of an operation, with environmentally beneficial practices. Organize a group activity, such as cleaning up the nearby beach or participating in tree planting. This way, you will not only promote the spirit of teamwork but also raise your employees' awareness to stay true to your eco-friendly philosophy.
Extra Tip: Do not forget to keep photos and videos of such actions, which will provide you with rich and meaningful content for social media.
Concluding
These were some simple practices that can bring every property closer to sustainability. Of course, there are larger-scale approaches, such as a total renovation and application of modern materials and sustainable energy sources, or even actions in collaboration with the local community and institutions.
We have shared solutions that can be immediately implemented and that can highlight the sustainable identity of your hotel, turning it into a part of a holistic ecosystem. The hospitality industry can contribute to the protection of the environment, so why not start today with small and effective steps?