Learn how Radisson Blu Beach Resort Milatos claims the title of a "Gourmet Hotel", through its 6 restaurants and its special gastronomic week
7 mins read
Over the past few years, the hotelier industry has been looking into the topic of gastronomy more intensely. The Food & Beverage outlets are clearly the most profitable department after the accommodation sales, while food defines the overall guest experience in a significant level. That said, hoteliers are turning into the dynamic enhancement of the gastronomic experience they offer within their properties, wishing several times to even claim the title of a "gourmet hotel". But how is this term really defined?
Radisson Blu Beach Resort in Crete, Greece, is a living example of a "Gourmet Hotel", that teaches the way in which hoteliers can develop a strong gastronomic character and stand out of the competition. In the following interview, the hotel's Operation Manager, Ms Elli Geniataki, explains Radisson Blu Beach Resort Milatos's culinary culture and talks about the special gastronomy week that took place in early July 2018, and which underlined the property's gourmet philosophy.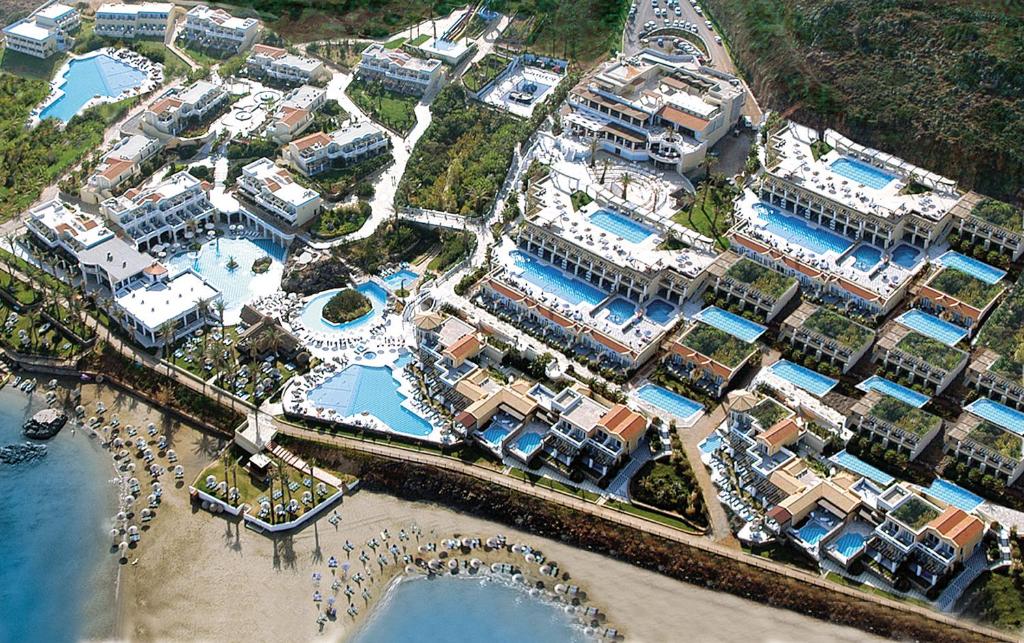 *Sponsored
What makes Radisson Blu Beach Resort Milatos, a true Gourmet Hotel?
Through its 6 unique gastronomy concepts, the hotel offers a versatile and multi-level experience. Each one of the hotel's restaurants has clear lines and a uniquely distinctive cuisine, offering quality choices.
The local Cretan cuisine dominates the experience with a dedicated restaurant presenting the destination's culture — which is what the travellers are actually looking for. The rich Greek cuisine is not only represented through this dedicated restaurant, but has also a strong presence in the hotel's breakfast and dinner buffets.
The people of the hotel are closely connected to the property's gastronomy, since the staff are offered the opportunity to taste all the dishes served in the restaurants. After all, a gourmet hotel is characterized by its people's passion for sharing its unique experience!
In addition to the extensive variety of restaurants, the hotel's gastronomy week turns into an event that underlines the property's enhanced gourmet character, giving yet another reason for visiting to the global travellers.
Working in a hotel in Crete must really be a strong gastronomic challenge. How do get in touch with the hotel's gastronomy during your daily working schedule?
Every day we are dominated by menus, dishes and new recipes! Our goal is to try our new creations as often as possible and talk with the hotel's chef, in order to constantly increase our level of service.
6 different restaurants in a single hotel! What was the inspiration for these 6 unique concepts and how are they connected with their names?
Inspiration comes as a result of our continuous work with the Food & Beverage department. Trends are constantly changing, so we need to know in advance what our guests would choose today. Our different concepts reflect Radisson Blu Beach Resort's main goal, which is to satisfy the wishes of all of our different target markets. Let's start with Ariadni Taste of Crete, an authentic Cretan restaurant that combines pure ingredients in a hotel with guests from all over Europe. Moving on to Italian Deli, where our guests can taste Mediterranean dishes inspired by the environment, right next to our swimming pools and with a magical view to the sunset. Bellevue Restaurant combines French cuisine with an extended wine list including labels from Burgundy, Tuscany, Spain & Chile. Payot Bar has a street food concept for delicious treats next to the sea. Our customers can also find endless choices at Mosaic Main Buffet Restaurant, where we mainly focus on show cooking. Every day, we choose different recipes for decoupage, Italian cuisine, pizza & pasta, Indian tandoori, Japanese tastes, sushi, and so much more! Finally, our On the Rocks BBQ offers a great variety of fresh fish, seafood and selected meats, which, in combination with Greek and international appetizers, promise a truly unforgettable experience.
Are there any recipes that rally stand out and which are the "must-try dishes" in each restaurant?
Oh, we have several must-try dishes! From Ariadni Taste of Crete, we choose the octopus with fava purée and caramelized onions in a sea shell with handmade green olives jam. Ariadni's desserts are also a pleasant surprise for all our guests! At Bellevue Restaurant, we have the red Saint – Jacques with Verbena oil and red curry. At our Italian deli, our customers seem to love the Risotto a La Milanese with Italian cold cuts, caramelized hazelnuts and mushroom jelly. A Spanish paella completes a tasty night at the On the Rocks BBQ. This year, we have introduced at the  Mosaic Buffet Restaurant the special Indian tandoori corner, where are cooks prepare delicious recipes from New Delhi, in front of the guests' eyes.
Such a big resort, welcomes a huge number of unique and versatile visitors every year, from every corner of the earth. What do they think about the Cretan gastronomy that you are offering at the various restaurants of Radisson Blu Beach Resort?
Cretan gastronomy is something that most of our guests know well even before their arrival. Globally known as 'Cretan Diet', the local culinary culture inspires us for promoting our island's wealth, always combined with modern cooking techniques.
The upcoming gastronomy week underlines your hotel's strong gastronomic character. How did you come up with the idea of collaborating with the two times Michelin-star awarded chef,  Yves Mattagne?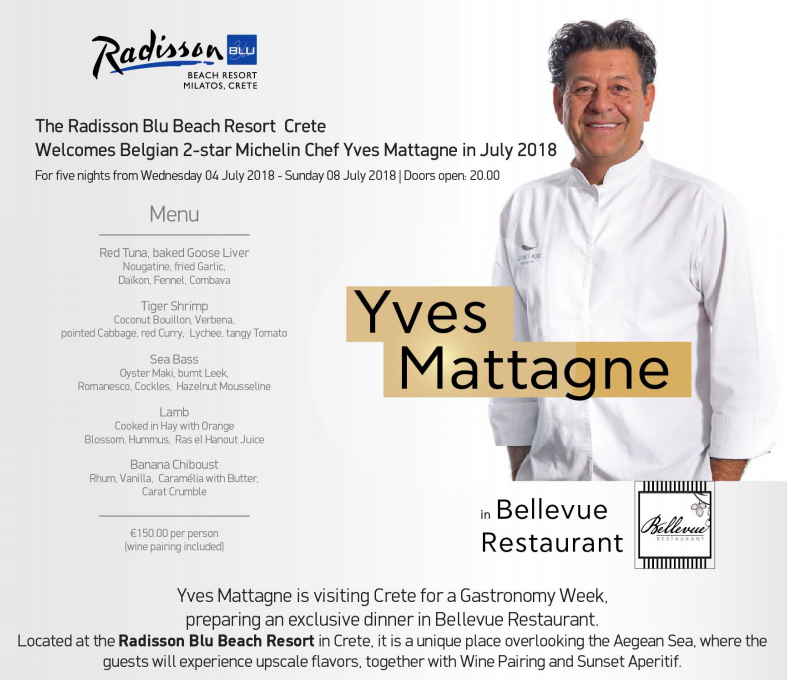 Yves Mattagne is Radisson Blu Beach Resort's Chef consultant for the last three years. Our successful collaboration is now moving to the next level, introducing the dynamic Gastronomy Week. We met Yves for the first time in Belgium, and since then, Radisson Blu and Crete have become his favorite destinations for inspiration and new tasty creations.
What will be included in this five-course menu?
The five course menu is actually a "small trip".  Yves Mattagne brings Brussels' haute cuisine to our plates, during five special nights overlooking the Aegean Sea. We will have dishes like red tuna, tiger prawns in coconut soup, and lamp cooked in stray with an essence of orange. Included in the price, we will have 5 different wine labels, from local and international varieties.
Do you intent to make these recipes permanent in Bellevue Restaurant's menu?
The whole menu of Bellevue Restaurant has been inspired and created by Yves Mattagne, thus all the recipes reflect the renowned French cuisine. The gastronomy week will have a unique menu just for these five days in July, including uniquely prepared dishes from Yves and his team.
During the gastronomy week, will you target non-residents in the hotel or will you limit the experience just for the people staying in your property?
Our gastronomy week is for everyone who wishes to spend a truly unforgettable evening at Radisson Blu. We take reservations from people not staying at the hotel, but also from Radisson Blu guests. After all, we must not forget that nothing that brings people closer, than good food!
The Gastronomy Week at Radisson Blu Beach Resort Crete, took place on July 4 – 8, 2018. For more information, please visit the official website of  Radisson Blu Beach Resort Milatos.