A Hotel in Copenhagen, which has kept its flower traditions and special hotel history alive, uses beautiful creations to enhance its guests' stay!
5 mins read
What's important about this Hotel Story?
In this Hotel Story, we will discover the special flower concept of d'Angleterre Hotel, in Copenhagen. It is always worth mentioning and studying a hotel's unique service, which is an inspiration to all hoteliers. When a hotel does not stick to just offering high-value assistance and staying experience to its guests but features a facility or service that is not common, then it surely enhances the travellers' experience, contributing to the overall property's image. Moreover, special facilities or services, such as the flower concept we describe in this article, are something the guests will most definitely talk about and share online.
The romantic origin of d'Angleterre Hotel
d'Angleterre Hotel is a historic landmark in Copenhagen, which was established in 1755 as a result of a love story between two young people. The daughter of a royal chef, Maria Coppy, fell in love with Jean Marchal who was an expert on serving the privileged. This dynamic duo established a restaurant on Kongens Nytorv in 1755 and that's how it all began. Today, and throughout its 262 years, this superior 5-star establishment in Denmark has served the world's elites and has always been driven by a deep passion for world-class service delivered in beautiful surroundings.
Here come the flowers!
Apart from the beautiful story of d'Angleterre's origin, there is another interesting fact about this hotel, which revolves around a special service it provides. We are talking about d'Angleterre Creations, and more specifically, the flower arrangements, flower boxes and various unique syntheses the hotel creates. These arrangements are used for enhancing the hotel's interior spaces décor or become available to people who want to purchase a flowery gift for their loved ones. After all, flowers match perfectly with the establishment's romantic history. We got in touch with d'Angleterre's Creative Director, Alan Evensen and asked a few questions. Enjoy!
What is your role in d'Angleterre?
As the Creative director of d'Angleterre, I am the Creator, Inspirer, Designer, Stylist and Flower Architect!
Where does the flower tradition root and how did it develop? 
As many noble households of the period, the flower tradition at d'Angleterre began by bringing in flowers for the Dining & Sitting room areas as well as the Ladies Parlors, from local flower markets. The flowers came from parks and gardens of the nearby countryside. Along with everything else, the tradition has developed since then, and now flowers are brought to the local markets from all over the world. I do, however, prefer locally produced flowers, from local garners, as they tend to have a much stronger scent since they have not been processed by artificial light and harvested very young in order to develop & grow during the "journey".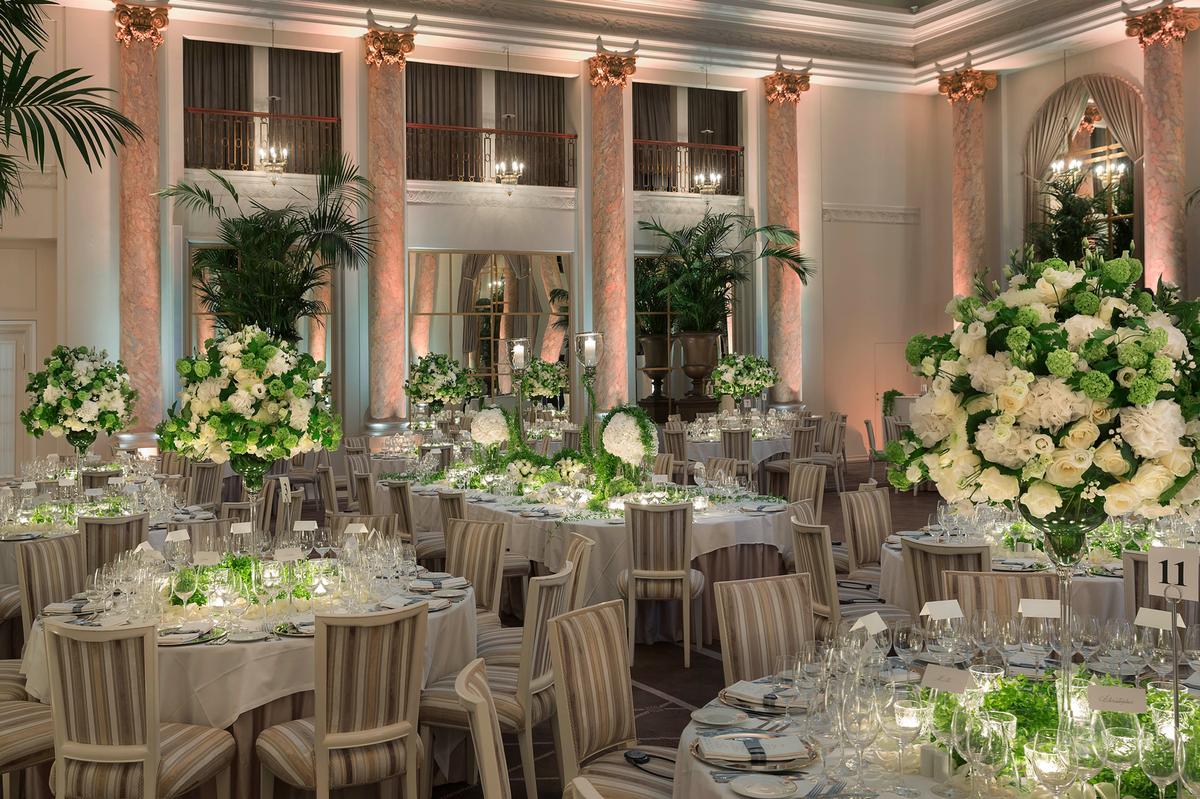 What is unique about being a flower specialist hotel? 
The uniqueness lies in the fact that flowers are such a big part of the Hotel's DNA. I think of flowers before I either choose a specific textile for rooms & suites or before choosing a wallpaper for the public areas! They will have to match the colour schemes for the chosen flowers of the season. Flowers have a very big part in the unique greeting and welcoming of our Guests and most certainly help them feel elevated.
How do people react to the flower concept of your hotel?  
I think our guests react very positively. Very often, when we are redecorating the large centrepiece table at the entrance, guests actually take a seat at the little velvet sofas in the foyer, and just watch the process — and we receive many interesting questions during those sessions. You can simply see the flowers bringing a smile to their faces and that is a good beginning for a new day.
Do you have a personal favourite flower arrangement?
Well, if ONE image had to sum it up, it had to be this one! It's from our Champagne Bar and I simply love the drama in the colours of this image. To get the full experience, it should be accompanied by an aria by Maria Callas and no less than a Balthazar bottle of Champagne along with great company. 
What is special about d'Angleterre Creations?
The d'Angleterre's love for flowers possesses the ability to lift the most beautiful ballroom, the most exquisite table setting or the most amazing suite and bring it to new aesthetic heights, creating a unique setting for a guest's unique experience — and that is quite special!
Are the flowers available only for hotel guests?
The flowers at the d'Angleterre have, until now, been reserved exclusively for hotel guests, who have made countless special requests over the years for bridal bouquets, table decorations, flowers for a special anniversaries and the like. With the recent opening of the d'Angleterre Creations flower studio to the public, everyone now has the possibility of taking the best of d'Angleterre home with them. 
What does d'Angleterre Creations offer?
d'Angleterre Creations offers seasonal flowers in dedicated branded flower boxes, luxurious blankets, exclusive Ladurée scented candles, unique vases and other specially selected home goods, as well as select items of décor and objects d'art.
Are there any specific future plans?
d'Angleterre Creations is a dynamic initiative, which will expand its offerings and services over the coming seasons. Currently, d'Angleterre Creations offers fresh flowers and items for in-store purchase, but in future seasons, it will be possible to buy flowers and objects online and order flowers for delivery.

Additional Info:
'Creations' is open from Tuesday to Friday 9am-4 and Saturday from 10am-5pm.
You can book the studio for cocktail parties and other small events.
You can enter d'Angleterre Creations from both the hotel and from Hovedvagtsgade.