Discover how Hotel Castel Rudnegg in Merano, Italy, introduces the term "Beauty Hotels", through a unique combination of history and detox dining
7 mins read
It is a fact that a great part of travellers wish to live a truly majestic holiday experience — especially when it resembles the essence of a different era. Historic buildings that have been converted into hotels are among the travellers' top choices since they are the perfect setting for unforgettable experiences. However, the question that rises, is whether a beautiful historic building is enough to win their love and loyalty, or if the hotel should take the whole experience a step forward.
The answer comes from the stunning castle-hotel in Merano, Italy: Hotel Castel Rundegg. Even though this amazing property is located within a building with a significant history, its creators have made sure to develop a unique wellbeing concept, that ranks the hotel among the most popular beauty hotels in Europe.
In order to better understand the story and background of Hotel Castel Rundegg (which could easily be part of the famous tale of "the Beauty and the Beast"), we contacted the property's manager, Mr David Kofler, who explained the hotel's special features and character.
First of all, which is the history behind Hotel Castel Rundegg?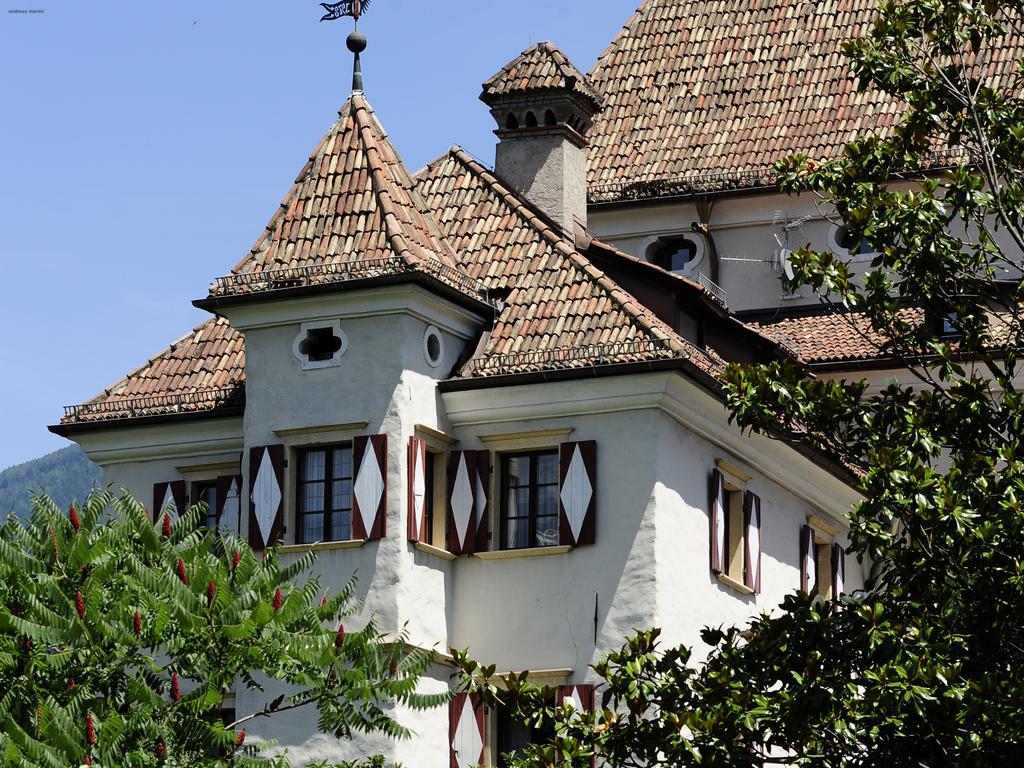 The building was most probably built around 1154, as a mansion for a noble family in the area. It appears that it had been a significant reference point for the destination, and our visitors seem to instantly capture the building's history and background. This is quite obvious from the overall hotel decoration, which has kept its original character on a very large scale — even the ceiling paintings from the first renovation have been preserved! In order to enhance our guests' contact with the hotel's history, we provide them with important and fascinating information upon their arrival, that gives them a first "taste" of their upcoming experience.
And how did the idea of transforming the castle into a hotel come up?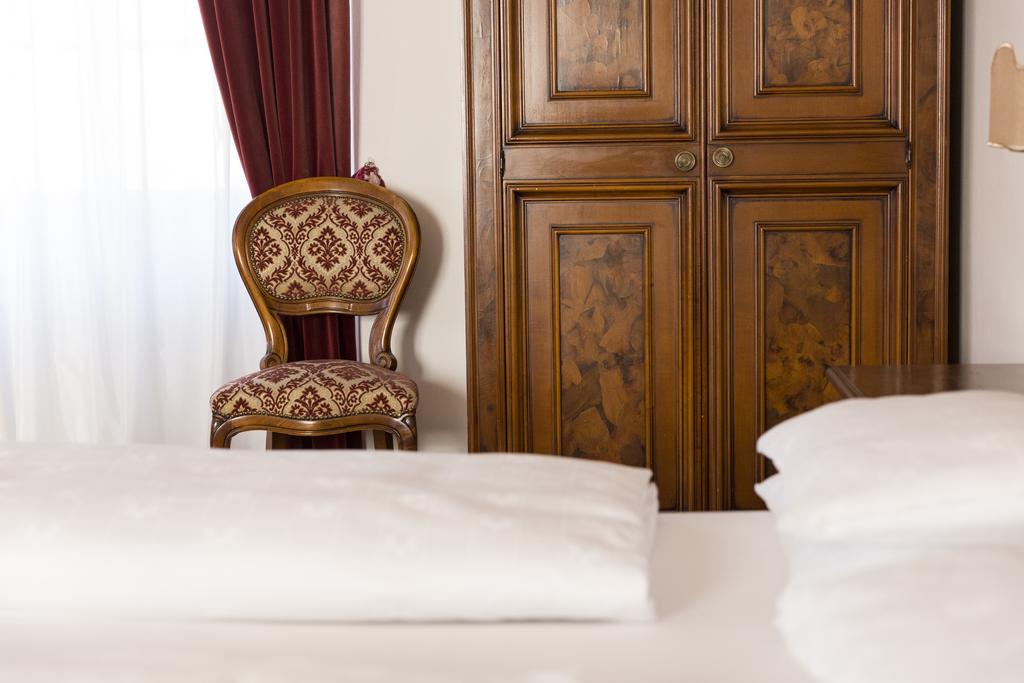 The castle has been operating as a hotel since 1979, with a major focus on beauty and well-being, as well as detox cuisine. After all, such a beautiful building can easily become the ideal setting for people who wish to refresh themselves and make a new start. As the years went by and the ownership changed several times, the hotel's character faded out. However, this is what we are now trying to dynamically bring back — and my involvement in the hotel management will help towards this effort.
So you are trying to offer an original experience focusing on detox nutrition, in addition to the building's history and background…
Exactly, and this is what makes us different. There are many visitors who would like to offer themselves a sense of wellbeing and relaxation, that focuses on the true essence of the experience. And what is a better place to do that, than a hotel that ensures well-being on all levels! After all, what is the meaning of a detox spa therapy, if the hotel does not offer detox dishes in its restaurant? Also, there is another significant part of our wellness travellers, who wish to lose some weight. For this reason, we have developed a highly qualified team and we are proud to offer special programmes that allow our guests to lose some unnecessary weight while enjoying a rich gastronomic experience.
This is, indeed, a very interesting point of view. In fact, we are talking about a complete pampering experience, which, in addition to relaxation, guarantees a benefit for the traveller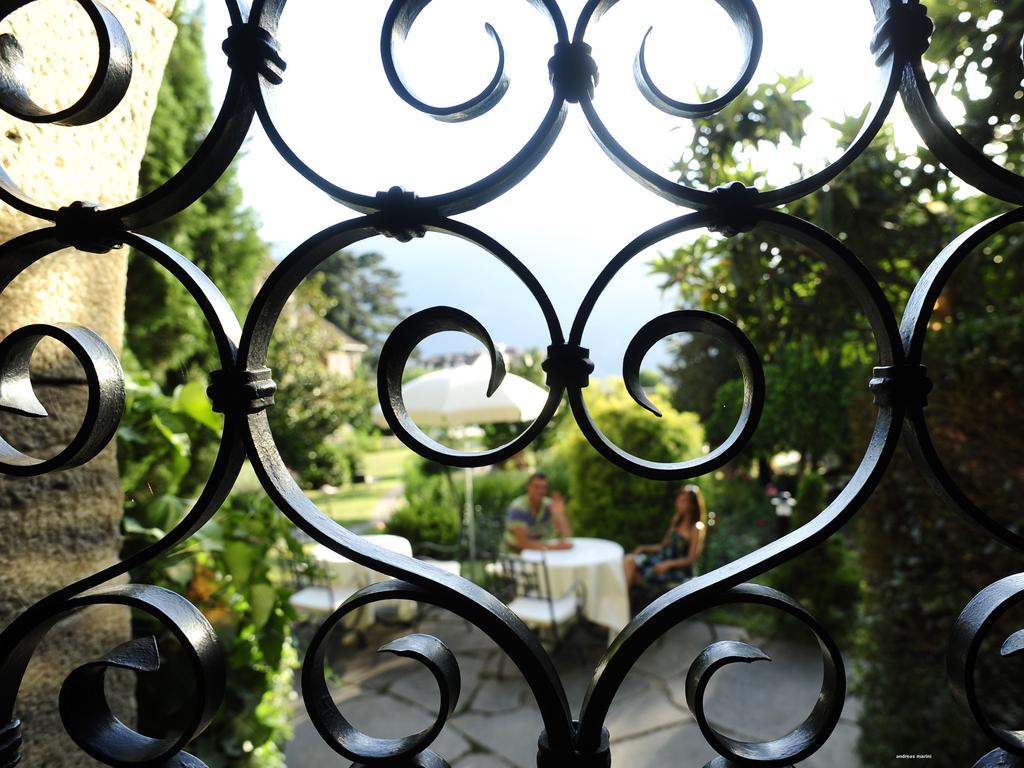 You are absolutely right. Nowadays, travellers have such limited time in their everyday lives, that think of their holidays as the ideal time to do something for themselves. But an important part of the ideal holidays is not to miss out on anything — particularly food, which is such a vital part of the overall experience. For this reason, we have made sure to have highly qualified chefs and nutritionists, that guarantee a complete experience for each one of our guests.
Food and dining is, indeed, a vital part of the experience. But does the hotel offer more wellbeing services?
Basically, the entire concept of Hotel Castel Rundegg has been developed around wellbeing. First of all, its impressive gardens that host the hotel's main restaurant and the natural environment surrounding the premises, speak on their own. Also, the spa services offered by the hotel enhance the experience. Finally, all the outdoor activities in the area (such as hiking and visiting the botanical garden), contribute to the traveller's complete relaxation.
Apart from the hotel's fascinating beauty and landscape, are there any other particular spots that stand out?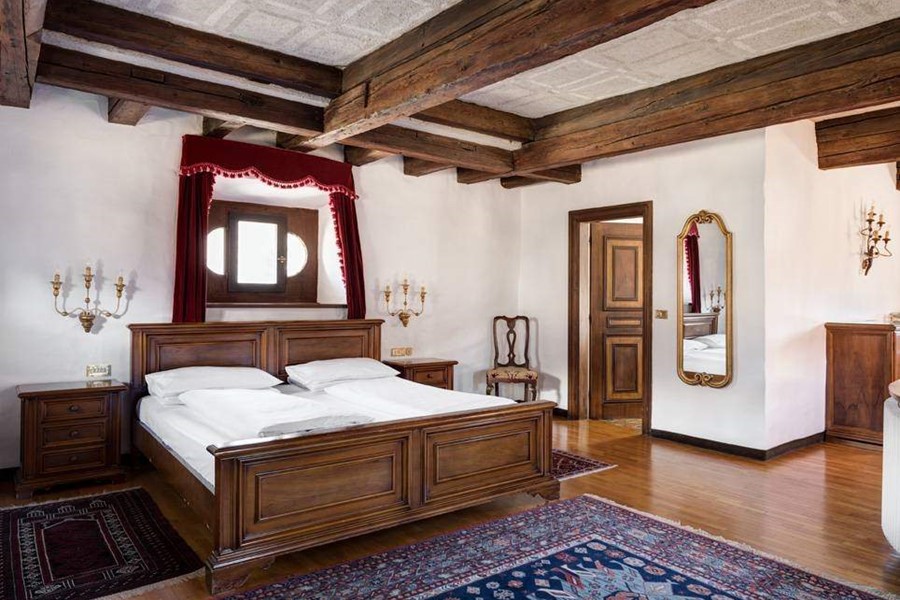 The park surrounding the hotel is one of my favourite spots since it offers a unique experience to our guests. However, my favourite spot inside the hotel is definitely the Towersuite, which can be reached by a spiral staircase. From up here, the guests can admire the impressive views through the typical narrow windows of a castle.
And one of our favourite questions: which is the most photographed spot in the hotel?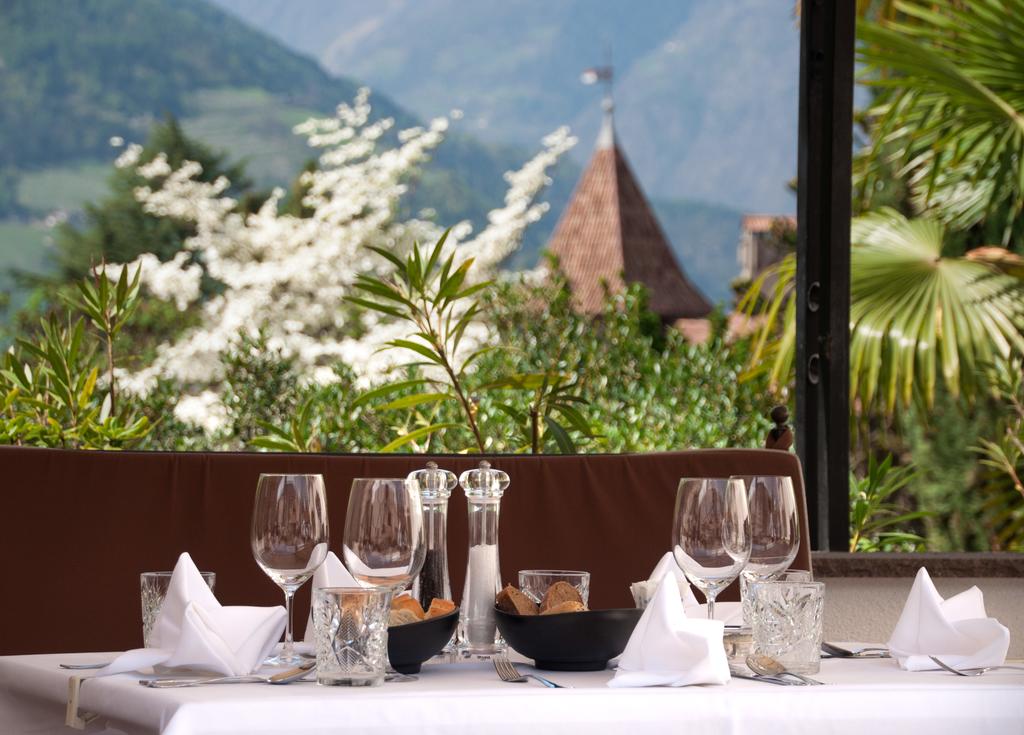 Me! I'm just kidding of course. Actually, it is very difficult to pick just one spot, since the hotel is unique at all levels and our travellers do not stop taking pictures of it! You can see pictures from our gardens up to our beautiful rooms. And if you start taking photos, it is really hard to stop! However, if I had to choose, I would say that our restaurant is a photographic highlight since it uniquely combines all of the hotel's features: natural landscape, wonderful architecture and excellent food!
That sounds like a perfect setting for a wedding! So, to finish our discussion, can you tell us which is the best period for someone to come to Merano and what are the top things to do or see in your town?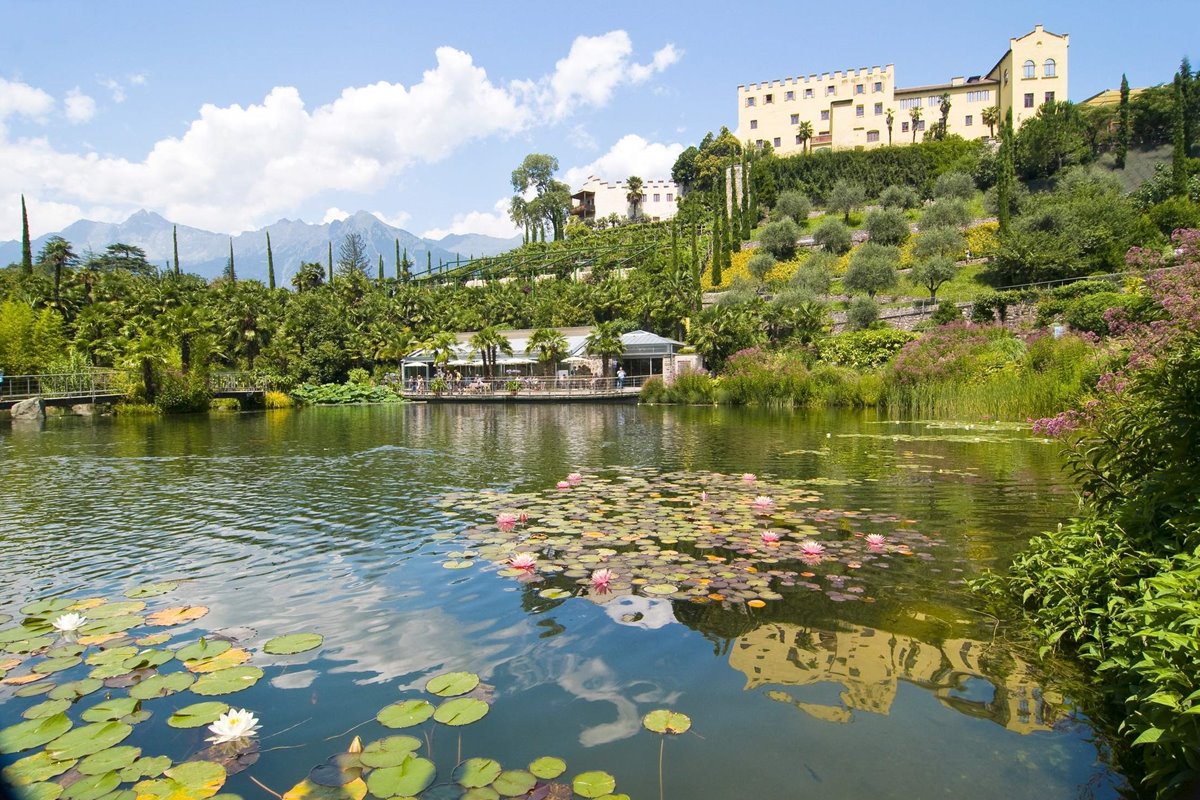 Regarding the weddings that you have mentioned, it is true that our hotel is ideal, especially if the couple takes advantage of our beautiful gardens as well! Given this fact, I would say that Spring is the best time to visit us since everything is so green and colourful. On the other hand, Merano is a truly beautiful destination that someone can visit all year round. Especially during Autumn, when the whole area looks like a painting or, even better, a romantic carte-postale!
Merano has always been a beloved place to visit due to its mild climate — especially after Sisi, the famous Empress of Austria started to come here. Several other famous people (like Franz Kafka and Paul Lazarsfeld) have also lived in the area. What you must definitely see during your stay here, is the beautiful Trauttmansdorff Castle and its amazing botanical gardens. The castle is just a few minutes walk from our hotel, so it is a great opportunity to walk through its lush gardens and explore its thousands of plants from all over the world!
Hotel Castel Rudnegg is one of Hotelier Academy's recommended hotels. You can find more details at  www.rundegg.com.