Read the story of The Emblem Hotel in Prague and see how this magnificent property in one of Europe's most popular city destinations, has managed to stand out among a constantly growing competition.
10 mins read
When travellers visit a city destination in Europe, one thing is for sure: they want to stay in one of the best hotels in the city centre so that they can feel the urban vibe at the optimum level. Naturally, the same thing happens in the stunning city of Prague, which has lately turned into a top city destination for couples, featuring numerous luxury and boutique hotels right in the city centre. As a matter of fact, the level of most hotels is so high, that makes it rather difficult for travellers to choose just the right one for them.
And here comes the unique case of an amazing boutique hotel, The Emblem Hotel Prague, that dares to be different. This outstanding property stands out for its differentiated way of communication, that includes a modern lifestyle experience for its guests, a welcoming pet-friendly mentality and a high focus on offering the ultimate level of service through an exceptional staff. And of course, all the above are housed in spectacular and excellently designed spaces, that highlight the fact that we are talking about a true boutique hotel, ready to offer authentic "boutique" experiences.
For all the above reasons — and much more — we are pleased to introduce Helena Valtrová, General Manager at the Emblem Hotel, who gave us the honour of answering all of our questions about the property's impressive story.
First of all, can you tell us a few words about yourself and your role in the Hotel?
My name is Helena Valtrová, and I am the General Manager and part of the family that owns and operates The Emblem Hotel.
We always like to begin our hotel stories by speaking about the hotel location. However, The Emblem Hotel doesn't have much to say about this; it is perfectly located right in the heart of the city! Do you believe this is something that affects your staff's great service, which is more than obvious in your hotel reviews?
We are so lucky to be located in the heart of Prague, right in the middle of all the historic sights, amazing restaurants, and shopping spots, yet tucked away on a quiet side street. This is definitely a huge positive for us, but I don't think it has any particular effect on our service. Since day one we've wanted our guests to feel comfortable not only in our hotel, but also in our city, and we make sure we go out of our way to make this happen. We want guests to feel like they are staying "with us" not "at us", which is why our motto is "your home-away-from-home in Prague".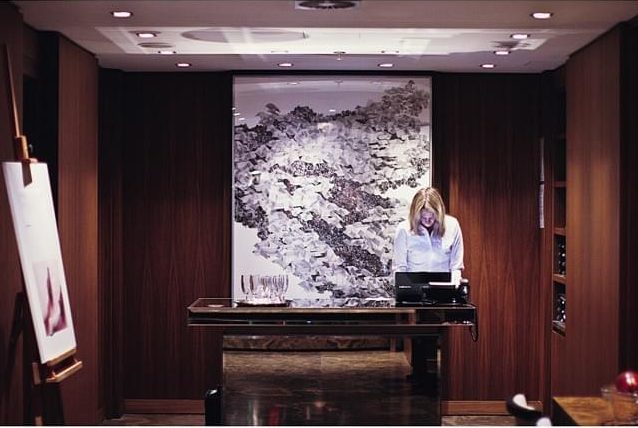 Indeed, high-level Hotel Staff is always the key to success for a property. However, it all starts with the correct management culture. And speaking about culture, I must say that the first thing I noticed when I visited your website, was this great picture of a dog. And I was really impressed, as it is clear that you loudly declare your pet-friendly character, a feature that instantly suggests that you are a modern hotel. Were you worried about the impact that such a strong image could potentially have?
I'm so happy you like Barney (the dog)! We've always done things a bit differently around here, which is reflected in our service, amenities, and even technology. We definitely think hotels need to keep up with the times just like every other industry, so we proudly display this. I'm not at all worried about the impact of portraying this goal. We want our guests to know that we truly care about modern hospitality.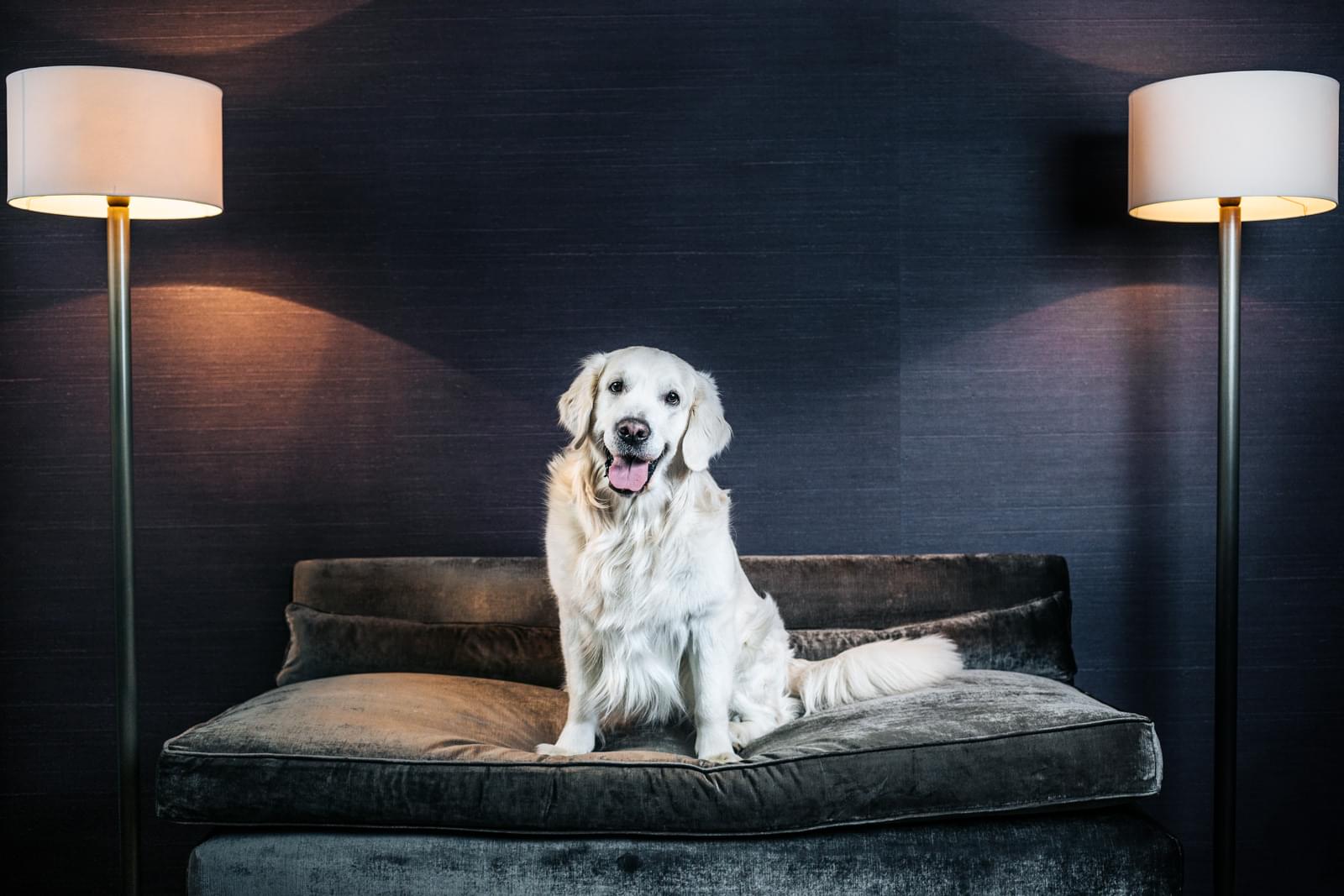 Going through your official photo shoot, we can clearly see that you mainly focus on the hotel's design and boutique character — something that seems like a statement. On the other hand, travellers build a "parallel" branding for your hotel through their social media, that captures life & experiences within the property. Do you believe this is something that attracts future guests?
I really do think it helps attract future guests. Obviously we are in love with the design of our hotel, but the whole Emblem experience is also something we've created and something that we continue to expand and explore. We absolutely love when our guests share their life at The Emblem with the world! It really makes us proud of what we do, and it encourages us to keep finding more awesome ways to connect with our guests.
Intense social media sharing by guests is something that only a few hoteliers in the world manage to succeed. In your case, this gives us the impression that your guests feel really comfortable staying at your hotel. Can you reveal some of the secrets that make your guests feel so happy to share their Emblem Stories online and make them part of your hotel history?
If you were to ask our Brand Manager Hannah, she would say to "always be authentic". Yes, we have our hashtag (#emblemprague), and we encourage guests to tag us/check-in/etc, but we don't push it. That's just not us. We put our focus on offering the things that make guests happy (whether it's our daily Happy Hours, rooftop Jacuzzi, special lounge Living Spaces, or unique extra services), and in return, we are always thrilled to see the response online. Even further, this allows us to authentically show everyone else what life really is like at The Emblem through guest-generated content. We just try to stay true to who and what we are!
Such a cosy hotel like Emblem seems to be the perfect place for events. And this is something that we can clearly see you also focus on since it is part of your official website's menu. What kind of events do you usually host and how are they connected with the city's culture?
One of our original ideological focuses was to be "a home for travellers and a haven for locals." Fitting into the fabric of this city is very important to us, and seeing as Prague has such a connection to the past and the future, we try to participate as much as we can in the conversation of enhancing the future while preserving and celebrating the past. We partner with a variety of institutions and companies here that reflect this desire. We have partners in art, fashion, sustainability, technology, and a variety of other fields, and any events that we offer will always be connected with something or someone that we love and want to share with both travellers and locals alike.
Now let's talk about one of our favourite topics here at Hotelier Academy: Food! Based on your social media pictures, it is rather clear that you offer excellent food at your restaurant. And if I were to stay at your Hotel, I would definitely want to dine at George Prime Steak, as this is something that most of your guests refer to as a "must do" in their reviews. What is different about this restaurant and why are the travellers so excited about it?
We chose to partner with George Prime Steak for the same reason we choose all of our other partners as mentioned before. It's about what they stand for. GPS truly cares about steaks, wines, cocktails, and especially the customer experience. I think people are excited to see a high quality, American-style steakhouse on the Prague food scene. (It was the very first restaurant to bring USDA Prime Steak to our city!) And I also think that the service goes above and beyond from the start to end of your experience.
Another thing that immediately caught my attention, is the fact that you manage to preserve the Hotel's boutique character inside your restaurant as well. Obviously, I am referring to the Private Foundation Room and the Captain's Table, that are both top choices for a more private & boutique dining experience. How do travellers use these special spots?
These are both exclusive dining rooms that locals or travellers can use for either a more intimate dining experience or meetings/work functions. The Captain's Table room has the advantages of being directly connected to the kitchen and of having an atmosphere that celebrates the wine and meat that GPS serves. It's definitely ideal if you want an interactive dining experience. The Private Foundation Room, on the other hand, is ideal for a more secluded dining experience. With a bit more space and direct access from the street, this room is perfect for groups who want more privacy and also for any personal or business functions.
All the above describe a perfectly defined boutique experience. Evidently, travellers expect nothing less than a unique boutique design concept for the Hotel. What was the main idea behind Emblem's design? Did you imagine that the final result would be so successful with your guests and host so many great traveller stories from around the world?
As I mentioned before, The Emblem's philosophy encourages the discussion of respecting Prague's past yet pushing ourselves forward into the future. With design inspiration ranging from the structuralism of the 1920's film Metropolis to Kepler's polygons and Tycho Brahe's astrological drawings, our team, with the help of interior designer Alison McNeil, created a unique atmosphere that combines the hotel's dedication to historic materials and classic details with simplicity and relatively young, untried talents. Whether it is the unique blue marble from Carrara, the couch from Vladimir Kagan, the graphic design talents of Filip Matejiček, or our contemporary art collection, we have assembled a team of some of the most gifted designers and artists to contribute to the ethos of making our space truly live within the community—within the Prague of now.
As with any design or space that you hold dear, you can only hope that your aesthetic and philosophy is shared with others. I hate to say it again, but we've been very lucky that we've found people that truly care about who we are and what we do! The Emblem Family continues to grow, and we couldn't be more thrilled about it.

A boutique end of story
The Emblem Hotel in Prague can be definitely described as a "boutique hotel success story", not only because of its design but mostly because of the boutique experience it has managed to offer to its guests. Travellers immediately feel the hotel's warm and stylish ambience and don't hesitate to share their moments through their social media, becoming part of the hotel story. And let's be honest; after reading about this exciting hotel, who wouldn't want to spend at least a couple of nights in one of Prague's best boutique city centre hotels?