Picking the "alternative" side of Santorini as its location, Santo Maris becomes a Hotel Review Case Study, launching a new trend in destination development
17 mins read
Landmark destinations with "trademark landscapes", like Santorini, tend to gather the most known hotels at popular spots and locations, which are combined with the destination's most stunning and recognizable images. One of the well-known examples of this is Santorini, where the "Caldera Syndrome" makes most travelers wish they could wake up on the island's breathtaking cliffs, overlooking one of the world's most spectacular views. Naturally, the hoteliers in the area have made huge investments over the past years, building the most iconic properties that fulfill the desires of travelers from all around the world. However, as there are two sides to every coin, a hotel built at a destination's famous part has to deal with huge competition among numerous other properties, that overcrowd the location and claim their market share.
As history has taught us, there is always a game-changer who comes to give a new perspective on how things should be done and introduce a new trend. In the case of Santorini, Santo Maris, a pure luxury 5-star resort in Oia, dared to make the difference and focus on the alternative side of things, giving the message that Santorini has much more to offer than just the Caldera views. Even though it is located in Oia, Santorini's most popular village, Santo Maris did not follow the mainstream road that most hotels follow (overlooking the volcano) but picked an alternative spot to build its experience. Despite the fact of not being on the Caldera, the hotel still faces the famous Santorini Sunset (one of the world's most popular ones), but from a different angle, that highlights the greatness of the falling sun into the deep blue waters of the Aegean Sea.
But what was the story behind this grand investment in an alternative location, that did not follow the "safe way" to the Santorinian Success Story? Hotelier Academy, digging deeper into the hotel's backstage that has created a new hotel development trend in the area, met Mr. Manos Borboudakis, General Manager at Santo Maris, and presents all the things that make this hotel a true case study that teaches global hoteliers how to think out of the box and achieve successful results through bold decisions.
 *Sponsored
Meet Manos Borboudakis, General Manager at Santo Maris 
Manos is occupied within the hospitality industry from the very first steps of his career. He has passed by a range of job positions that resulted in a thorough experience in the hospitality field that counts more than 15 years, despite the young of his age. Manos is part of Metaxa Hospitality Group family since 2005. He was appointed General Manager of Santo Maris Oia Luxury Suites & Spa in 2015, being the key member of the pre-opening team. He is frequently described as a determined, yet compassionate leader who has a keen affection on detail wishing to add perfection to the result of his team's work. What has set him apart, however, is his passion and devotion to people's improvement. Finally, he is a graduate of the School of Management & Economics, Department of Accounting, and has attended the postgraduate course «Environmental, Disaster, and Crisis Management Strategies», major in Disaster and Crisis Management of the National University of Athens.
Find Mr Borboudakis in LinkedIn
First of all, let's start by saying that Santo Maris is just a breath away from the heart of Oia, Santorini's most popular village. However, it was bravely positioned to look at the opposite direction, compared to most hotels in the area. How did you decide to build a hotel in this special location, and what was the idea behind it?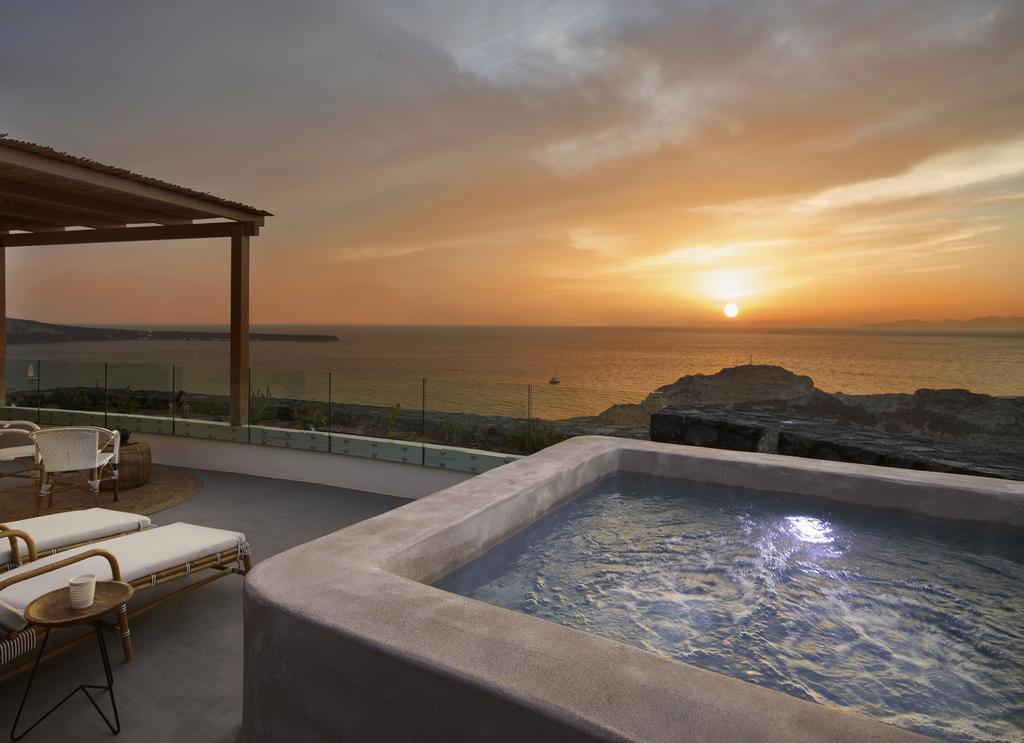 Back in 2015, Metaxa Hospitality Group initiated the construction of Santo Maris in an undeveloped area of such a coveted destination. Having envisioned the emerging need of the discerning travelers to explore the "secret" gems in well-known destinations, as well as wishing deeply to showcase further other aspects of Santorini rather than the typical "Caldera" views, our Group proceeded with the investment in a privileged – as it indeed proved to be – location.
The prime aim of our Group, during the conception of the Santo Maris project, was to create a premium and differentiated hospitality product comparing to the already existing properties of Oia, which would introduce a new concept to the hospitality experience of the destination.
We wished to create a concept of peaceful vacations in a coveted destination. Having taken advantage of the abundant space that the location offered us, Santo Maris was built with total respect towards the environment and the local architecture. The hotel's architectural concept resembles a Cycladic village making the guests feel that Santo Maris is the continuation of the village itself, thus offering a deep sense of relaxation. Specifically, we aimed to create an oasis of calm, space and privacy just a breath away from the beautiful sites of Oia village appealing to the easygoing discerning travelers that wish to truly relax on their vacations.
Last but not least, the breathtaking views to world-renown sunset of Oia that the orientation of the hotel offers are just the favorite part of our guests during their stay.
Is it difficult to promote a hotel located in a destination with such an intense landscape personality, such as Santorini, but without having its most "wanted" characteristic — i.e. the famous Caldera view? How do you handle this in your communication strategy?

Promoting a newly-built hotel located in an undeveloped, and thus unknown area for the travelers, was difficult at first. However, as we have envisioned from the beginning, travelers were indeed looking for a destination out-of-the-radar and vacation that truly allows them to unwind and relax. Consequently, the fact that we were positioned differently compared to other hotels in Santorini offered us a strong competitive advantage.
Regarding our communication strategy, from the very first moment, we were, in fact, clear that our hotel does not offer the typical Caldera views. On the other hand, we aimed to promote the privacy, the spacious areas, the exclusive sunset views of Santo Maris, as well as the unique design and architectural concept and our hospitality, which is actually what sets us apart.
In particular, what reflects our hospitality experience through our communication strategy in the best possible way, is our corporate slogan. Our slogan "Your own island" is the distillation of Santo Maris's philosophy. It embodies the promise that Santo Maris gives to its visitors and captures our commitment to making them feel unique in a unique destination. It aspires our guests to feel that both Santo Maris and Santorini island belong solely to them. It promises that in Santo Maris's impeccable premises our guests will experience an unforgettable stay and will enjoy superior quality service which is characterized by our Greek hospitality and generosity offered to them from "authentic", devoted, and highly qualified personnel. It communicates that Santo Maris is their retreat, their personal island of calm within the often over-crowded island of Santorini — and this what our guests are looking for.
To be honest, as much as I love Santorini, Caldera can become a bit tiring for a repeating visitor or even a first-time traveler who decides to stay longer on the island. Does your strategy target these audiences? And what is your message to first-time visitors in Santorini?

Santo Maris is a unique hotel offering a wide range of facilities, way above the standards of the destination of Oia. From its five outdoor pools to one of the largest Spa centres in Santorini and from its awarded Alios Ilios Restaurant to its two conceptual Bars, it is indeed "Your Own Island". While staying at Santo Maris, our guests feel completely serene and at the same time intrigued by the variety of facilities they have at their disposal. Therefore, Santo Maris itself invites its guests to relish more days its tranquil atmosphere and, in that way, our average stay period is longer than most of Santorini hotels.
Regarding the repeating guests, when it comes to our communication strategy, we do not promote holidays in Santorini as a once-in-a-lifetime experience. It is our strong belief that Santorini is a place of unique beauty that cannot just be in a traveler's bucket list, but rather it has the potentials to be their haven, the place where they return for joy and pleasure, the place where they create meaningful connections with the locals; and that is exactly what we are trying to achieve throughout the whole guest experience we offer. That said, I am glad to share that each year we observe a gradually increasing percentage of recurring visitors.
For the first-time visitors to Santorini island, we are trying to convey that here they can find their personal island of calm, "their own island" — regardless of how this is translated for each guest.
I guess that by targeting repeaters and long-stay travelers, as well as those who don't care so much about the island's most known feature, you must be focusing on providing an enhanced product. Which are the characteristics and facilities that make Santo Maris stand out as a must-stay hotel in Santorini?
Since its opening, Santo Maris was meant to be a premium hotel product. Our hotel is considered as a must-stay hotel for those who are bound by a desire and know-how for a high–quality and distinctive style, as here they can feel right at home and instantly be reassured that all their needs are met in a seamless experience.
Being inspired by the traditional architecture of Santorini, Santo Maris artfully combines the traditional with the minimal modern design, adding multi-ethnic touches that make the result unique at first sight.
Our guests are also enchanted by the suites and villas, which look more like a cottage house. The ample space of their suites truly gives our guests the freedom to relax and enjoy their holidays in privacy. The suites of Santo Maris allow an extra note of luxury, since they all feature their own spacious furnished verandas with heated jacuzzis, while there is a selection of suites with their own private pool.
Furthermore, Santo Maris's gastronomic outlets with an exclusive view of the sunset of Oia and flavors originating from the past but yet reinvented in a creative way, are a must-visit as well. Santo Maris also features one of the largest and most prestigious Spa centers on the island, which has won multiple awards and made it to the top of Europe in 2018, voted as Europe's Best Resort Spa by the World Spa Awards.
Finally, what truly makes Santo Maris a must-stay hotel in Oia is not the luxurious facilities, but the genuine philosophy of hospitality that our guests experience throughout their stay. Our employees are our greatest asset. They are all selected through an attentive procedure so that they will all have what we call a "hospitality–personality". Choosing personnel whose character is in line with our corporate culture and philosophy is what helps us achieve an exceptional service experience. This is why we treat all our guests with high–emotional sensitivity and empathy. These attributes make all our guests feel the attentiveness and the discretion, the sincere care, and the professionalism that characterizes Santo Maris, at all times.
Having a look at your reviews on TripAdvisor, I must state that I am thrilled by the amazing comments you receive, as well as by the way you respond. Your hotel is, actually, a Case Study. The detailed way that travelers describe their experience and the fully personalized responses by Antigoni, the Room Division Manager, highlight your amazing service and the relationship with your guests. Is this one of your secrets of success?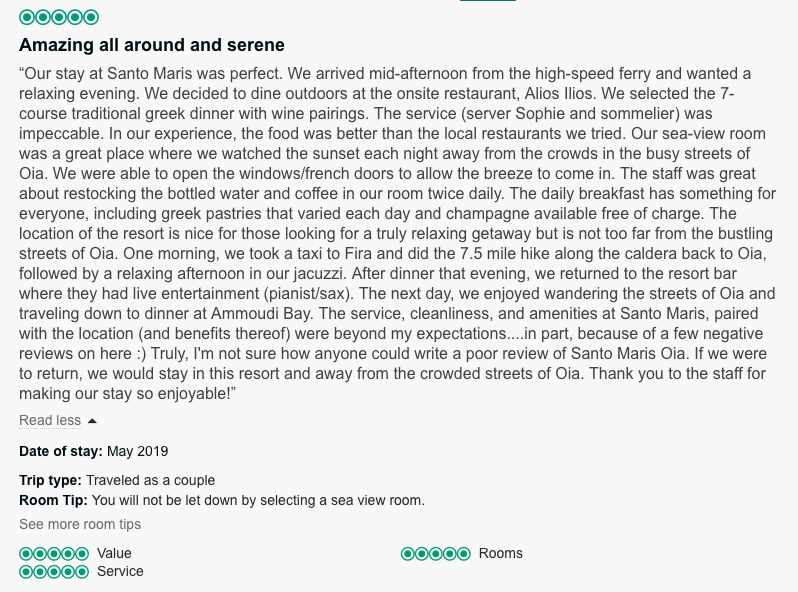 When we hear comments such as the above, we can only feel proud. It is our great joy to see that the personal relationship that we develop with our guests is recognized through digital reviewing channels, such as TripAdvisor, even after their departure. For us, this is an opportunity to receive our guests' feedback and thus constantly be in the process of improving our services.
Our secret of success can be found in the relationship that each one of our employees — from the front line to the managerial level – develops with our guests. Since the beginning of the Santo Maris project, we have had a strong belief that true luxury isn't anymore about high–end facilities, but about the meaningful relationships and the unique moments that you create for your guests. And that is why our guests experience their stay at Santo Maris as a highlight of their visit to Santorini, while they also feel so connected with us. Of course, the design of the services and the constant training of our personnel are the contributing factors to achieving this feeling of connection and trust for our guests.
As I have personal experience at your hotel, I can confirm that your staff is, indeed, amazing, and the way they interact with the guests is truly remarkable. And this is a personal reward for you, as a hotel's General Manager is always the person behind the high level of provided services. Do you believe that the experience you provide in your group's other properties, like, for example, in Crete, has brought a different and maybe more spontaneous way to treat your guests, that makes Santo Maris even more special?
The spontaneous way of service that you describe is what characterizes the zest of the Cretan and in general the Greek hospitality. At Metaxa Hospitality Group, people are in the epicentre of our philosophy, and that is reflected through the way we approach our guests. The experience that our guests live is characterized by authenticity and attention to detail. This philosophy is a strong characteristic of each person of our personnel, from the top-tier managers to the front-line and back-of-house employees. This specific trait of our personnel is cultivated through procedures that are developed by our Human Resources department as well as a very carefully designed recruitment policy.
To conclude, having been working in the hotels of our Group for over 14 years, I certainly have embraced this philosophy and enhanced it with the luxurious offerings that correspond to a five-star hotel. The result is a luxurious yet genuine hospitality experience.

Nikos S. Morantis visited Santo Maris and after experiencing the hotel and the destination, he created these questions from an insider view. During his stay, Nikos had also given an interview to Greek Travel Pages about "How to create a successful Tourism Startup".
Find Nikos Morantis on LinkedIn
Speaking about great service and excellent reviews, the Food & Wellness experience in Santo Maris collects many positive comments from your excited guests. What is the concept behind your hotel's culinary experience and what does "wellness treat" mean to you?

Our aim through the experiences that we provide to our guests is to showcase the unique traits of the local offerings, either we are referring to gastronomy or wellbeing.
The Santo Maris culinary experience is focused on Greek flavours and aromas that are presented creatively, from breakfast to dinner and from our homemade cocktails to our wine list. In general, Santo Maris features two main gastronomical outlets. For dinner, the al-fresco awarded Alios Ilios Restaurant, which means the sun that rises and sets to the sea, serves dishes inspired by a Greek Creative concept with magical views to the renown sunset of Oia. For all-day courses and handmade cocktails, the Akratos Poolside Bar, serves light dishes inspired by the Greek cuisine, from "gemista" to "plaki" with a view to the Aegean Sea, while it remains open till after the sunset to serve cocktails surprisingly mixed with Greek ingredients and distills.
The "wellness treat" is also very important to us since we are proud to feature one of the most coveted Spa centres in the island with the largest indoor heated pool and an array of facilities, such as hammam, sauna, outdoor gazebo, and even cryotherapy. Our goal is to approach wellness in a spherical way. Our spa services are designed in a way that can cater to the individual needs of each one of our guests.
Following Santo Maris's launch, we have seen several other, high-quality properties, being built in the broader area. Do you believe that you have introduced a new trend to the area? And what do you think will be your role in the area's evolution from now on?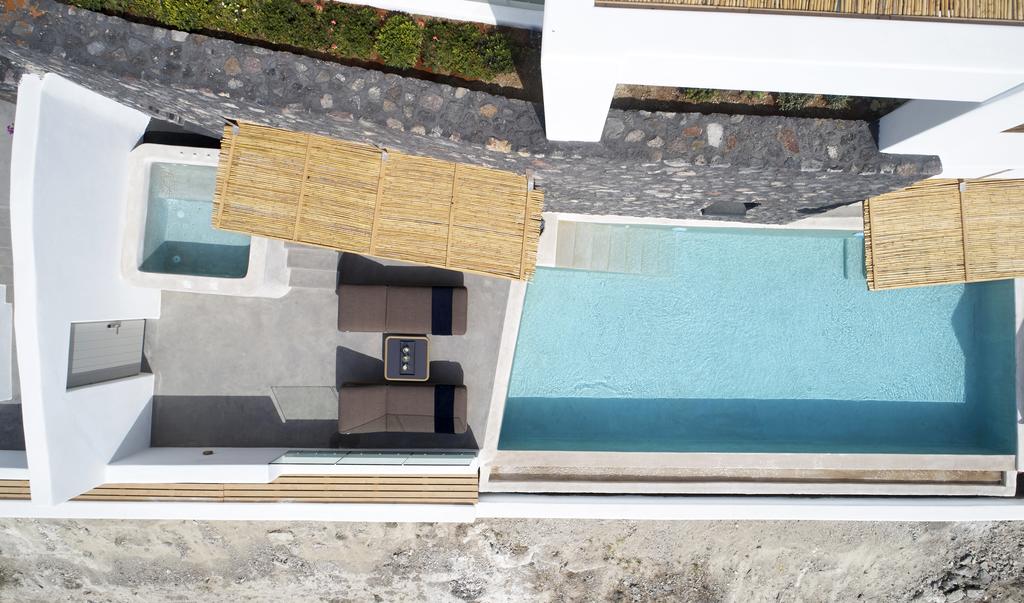 I wouldn't say that we have introduced a new trend, but rather provisioned the needs of the market and aimed to meet them. It is very significant for us that other high-quality properties are also investing in the surrounding area, as these new luxurious concepts mark the way for further development and healthy competition.
Santo Maris is a newly-build hotel and a new brand that will continue to strengthen and gain further awareness among discerning travellers. Our role will be to innovate through the design of new services that will keep on showcasing the human face of luxurious and quality hospitality.
 *Sponsored
Present your Hotel Story Article!
Do you want to highlight your property's unique character? Hotelier Academy Team can create a dedicated Hotel Story for your hotel that will showcase its USPs.
See here our Hotel Stories!
I am interested in creating a Hotel Story for my accommodation:
Otherwise, you can contact us directly at sales@hotelieracademy.org 
Last but not least, as more and more properties are created around your hotel, the area starts to become more competitive. What is your plan for standing out among this newly-built market and what is your forecast about Santorini tourism in the coming years?
As already mentioned, we believe that the creation of a local area of high-end properties certainly adds an advantage to the quality of the guests who are attracted to this particular part of the island, as it offers a new hospitality concept. In the future, we will continue to raise the standards of a personalized and authentic hospitality experience that will maintain its human character.
Finally, my belief is that Santorini will continue to grow in terms of infrastructure and luxurious properties, therefore it is necessary to continue to attract a high-quality level of travelers who come here to spend the most memorable and exciting holidays of their lives!