Learn how Nandini Jungle Resort & Spa has become a Luxury Experience Case Study that focuses on nature, local gastronomy and high quality service
13 mins read
It is a fact that numerous luxury hotels around the world, offer contemporary high-tech facilities that combine modern design with great aesthetics. But lately, the luxury trends in the hotelier market, seem to focus more on getting the travellers in direct touch with nature and adventure, and help them create unique memories, always preserving their convenience and high-quality holiday experience.
A hotelier in Bali is obviously totally aware of this fact! He has created a unique hotel in the heart of the Balinese Jungle and has turned it into an endless luxury facility, respecting the land's natural characteristics and richness. Nandini Jungle Resort & Spa in Bali, has become a must-visit hotel in Indonesia, thanks to its unique concept. For many travellers, it has even become an actual reason for visiting the destination, turning the hotel into a real attraction for modern luxury seekers.
But how did this amazing property in the centre of the jungle achieve to create a myth in the hospitality industry, preserving its high-quality service and without harming the natural environment? Wanting to learn everything behind the hotel's concept and philosophy, we contacted Imam Wahyudi, General Manager at Nandini Jungle Resort & Spa in Bali, and arranged the below fascinating interview, which gives answers to some really interesting questions about the property.
Let's start by introducing you to Hotelier Academy readers. Who is Imam Wahyudi and what is your position in Nandini Jungle Resort & Spa in Bali?
First of all, please allow me to welcome you all to our stunning resort in Bali! My name is Imam Wahyudi, and I'm the General Manager of Nandini Jungle Resort & Spa. As part of this fascinating property, I will be more than excited to answer all of your questions about our hotel.
Living in Bali and working in such a unique hotel in the heart of the Jungle, must be an experience itself. What are the highlights of working here and what is your opinion about with the hotel's family-run type of business?

I enjoy the variation that the hospitality industry offers. As a General Manager in such a unique hotel in the heart of the Jungle, I know that it's both challenging and rewarding, with every day being different. Through my position in the property, I have a real opportunity to make a difference to our customers and their experience, but also to our staff and their work satisfaction. Dealing with people, be it customers or staff; this can be most rewarding. I was given this unique opportunity, and I want to give back to my staff, by helping them develop and grow. My staff's success is indeed my success.
Besides, Nandini Jungle Resort & Spa is different as it is a small family-owned and -run company. Rather than having to deal with all the layers of bureaucracy often needed in International companies, I have a direct relationship with the owners, which makes decision making faster and our work more efficient. Things happen quickly and this gives fabulous opportunities that impact the business.
In the hotel industry, the success or failure of our businesses depends on service. Some properties (ours included), manage to deliver consistently higher levels of customer service.
Let's talk a little about the hotel's distance from the centre of Ubud, where most life and things-to-do are concentrated. I guess that the connection with the city centre is something that your guests also have in their minds since you mention in your website that the hotel offers transfers to and from Ubud throughout the day. On the other hand, you emphasize the fact that the hotel's "jungle experience" is truly complete. What are the main things that a traveller can do inside your hotel during their stay?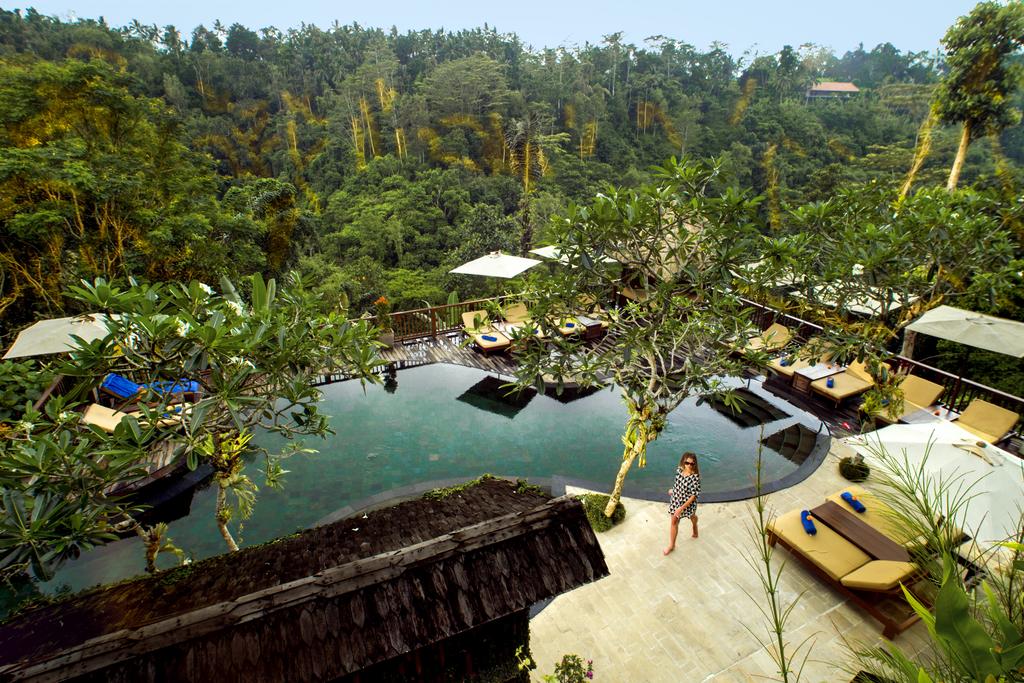 Nandini Jungle Resort & Spa is set deep within a beautiful jungle, with stunning views across the valley and offers a truly luxurious experience in a pure and natural environment. The resort has a wide range of facilities and activities to offer to the guest. Either travelling solo or as a couple, the guests can just enjoy resting in bed, sitting on a day-bed at their semi-outdoor living wooden patio (balcony), relaxing in the bath or enjoying the shower; all with unspoiled views. Individually air-conditioned for their comfort, the villas also have a flat-screen TV and DVD player to provide indoor entertainment.
The hotel features an infinity swimming pool excavated from the hillside and elevated 15 meters above the descending forested river beneath. It is a real heaven-like setting, where guests can relax after a day in excursion or just spend their time during their relaxing stay.
Moreover, our famous Spa On the River is the most exotic spa location a guest can dream of since they can enjoy a private venue within natural surroundings. The nearby natural spring waterfall, the natural breeze of the surrounding rainforest and the sound of running water from the cascades below, make this experience truly magical.
But in addition to all these, there are many more activities that we offer to our guests; from cooking classes to daily morning yoga and meditation sessions, village trekking to experience the daily life of the villagers or cycling around the village. From temple-hopping to yoga retreats, and even to learning a new art, get ready to uncover numerous choices in our magnificent resort that never fails to entertain.
I understand that being in the jungle can generate much more things to deal with, related to operation and housekeeping, compared to a hotel at a mainstream location. How do you achieve to offer such an amazing level of service, that makes travellers talk about it in their reviews? By the way, I really enjoyed a review in Trip Advisor, which mentioned that you have zero mosquitoes!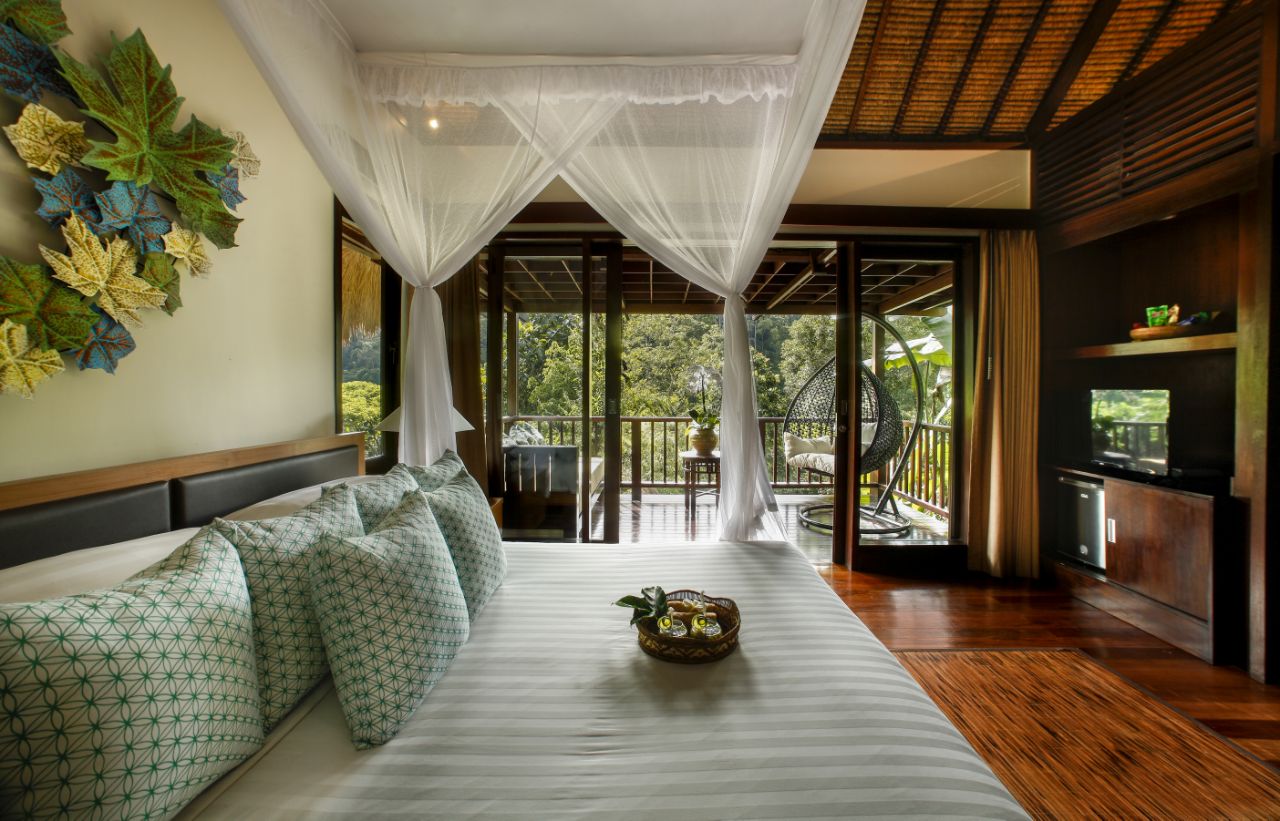 In the hotel industry, the success or failure of our businesses depends on service. Some properties (ours included), manage to deliver consistently higher levels of customer service. Why and how are we able to do this? I will try to answer these questions as we explore the fundamentals of customer service in our jungle-located hotel, compared to a hotel at a mainstream location. We are going through a very exciting time at Nandini Jungle Resort & Spa, particularly because of its extraordinary location. We keep investing to improve our product, whilst my team has nicely settled in with a clear focus on further developing the business. Training and development are among my main areas of focus, so we get the best from all of our staff, maximising their knowledge and skills.
Besides, guest service remains an integral part of delivering on our main marketing promise to our guests. Successful execution of this strategy depends on how well our staff can provide quality customer service, focusing on the importance of the "human element" in the guest experience. After all, our guests' experience becomes even more memorable, because of the high-quality interaction with our staff — something that our guests like to emphasize on in their reviews.
Indeed, one of our best slogans that our guests immediately recognize, is "Zero Mosquitos". This practically means that our guests can feel completely safe staying in the heart of the Jungle, and we try to convince our customers about this upon their arrival.
Balinese cuisine is one of the most famous in Asia. And I see that you absolutely honour this reputation in Wild Ginger, the hotel's main Restaurant, where you also offer cooking lessons. Looking at this amazing photo, I realize that this is definitely an experience every traveller would like to live. How can a guest take part in your cooking lessons and what is the procedure you follow?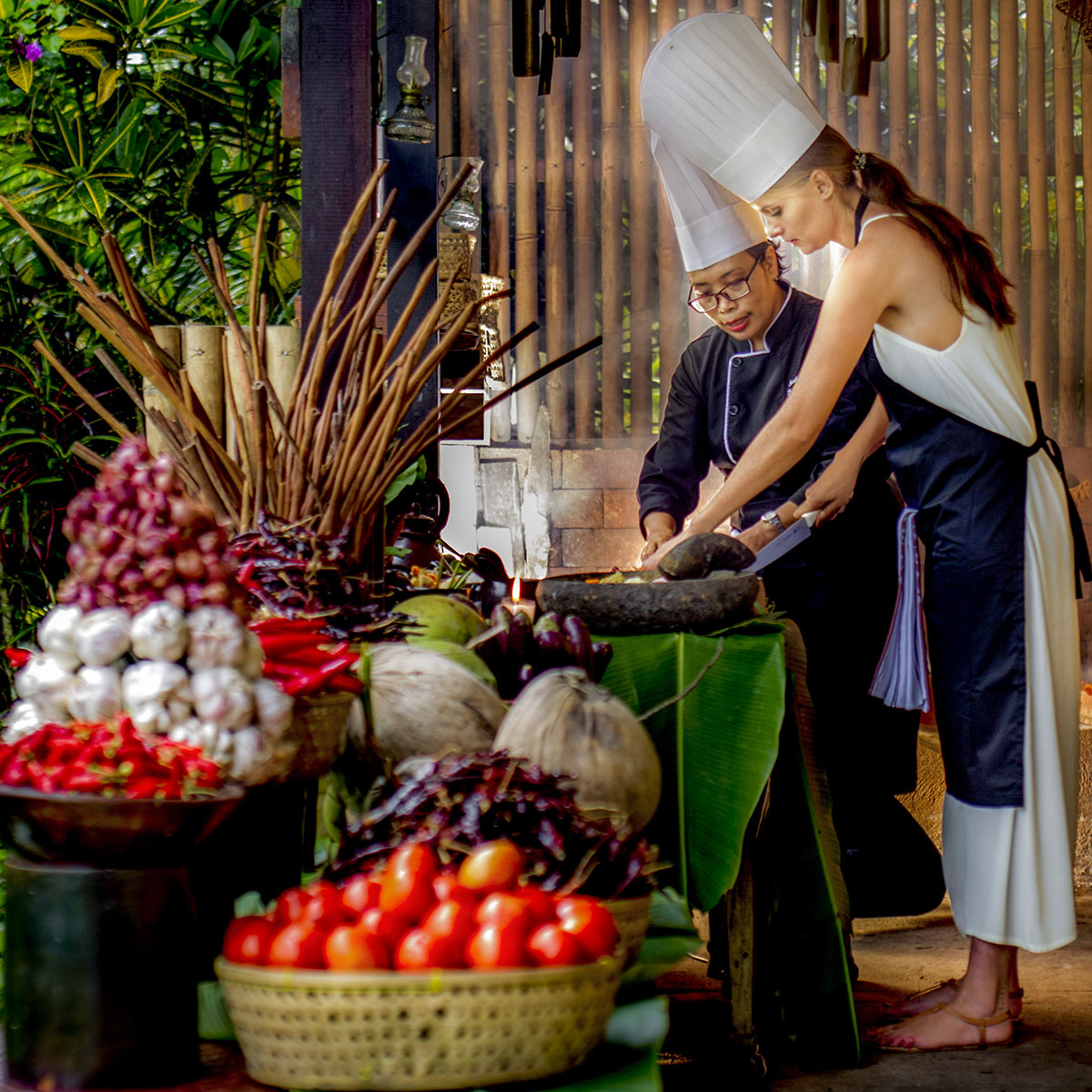 We offer our guests the chance to enjoy the culinary experiences that we create, by combining the finest local produce with the skills and expertise of our chefs. We are proud that we are able to provide and tempt our customers with the aromas, tastes and sensations of fine dining at its very best. A private cocktail party or a romantic dinner for two at Wild Ginger or on the deck of the exclusive outdoor Jacuzzi is something that can be arranged quite easily.
As you correctly mention in your question, one of the most popular activities at the resort is our popular cooking classes. Guests have the opportunity to learn about Bali's local cuisine and food culture during a hands-on cooking class at the resort. The course starts with a visit to the morning market and continues with the preparation of a variety of dishes under the guidance of our chef. Using recipes handed down through the generations, the guests are able to learn about authentic Balinese culture, try traditional preparation techniques, sample essential spices and feast on their creations. Our Chefs use fresh local organic products in their recipes, much of which is grown and harvested from the resort's own gardens!
When it comes to food in Nandini, I am pleased to say that our menu offers choices to all palettes, including an abundant choice of freshly squeezed juices that will energize the day. Imagine fine dining with butler service overlooking the valley from the privacy of your balcony or a picnic at a hidden location by the Ayung River, enjoying the serene sounds and view of the waterfalls. Both truly unforgettable dining experiences at Nandini Bali Jungle Resort & Spa!
Social media affects the way we communicate with our customers since they allow brands to act as people do
As far as I am concerned, even by just staying in one of your excellent "in the jungle" villas, relaxing, and enjoying the hotel's original Balinese cuisine, must be a unique experience itself. But digging deeper in the things a traveller can do related to the natural experience, we discovered the breathtaking, by-the-river "Sungai Spa", that could even become a reason for a guest to book your hotel! Can you tell us a little bit more about this great facility?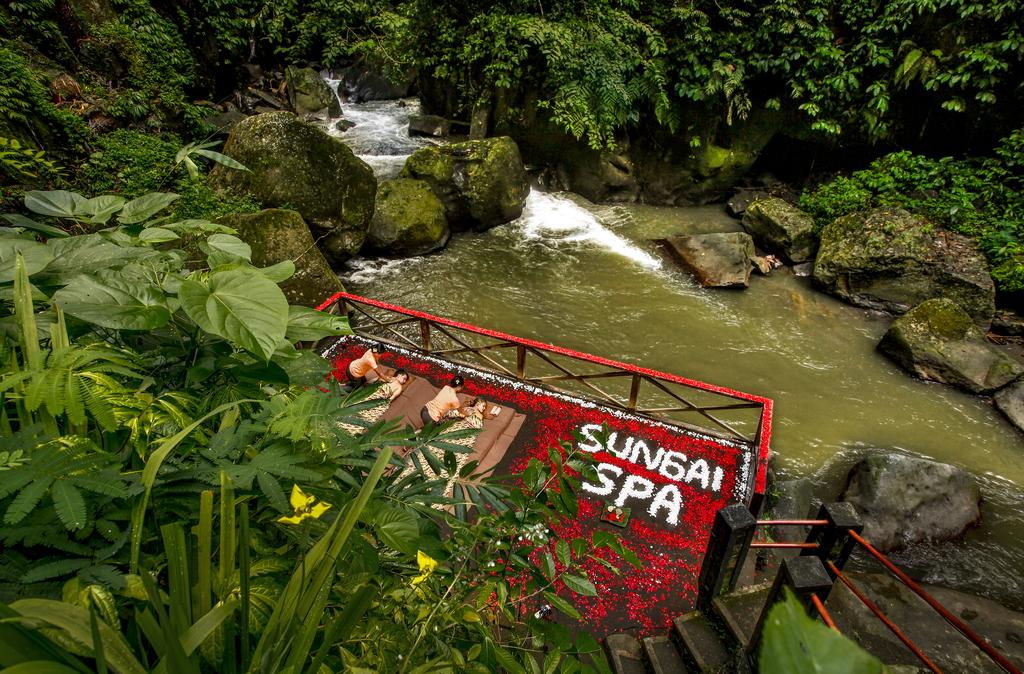 At Sungai Spa, we provide a wide selection of healing and soothing treatments, massages and Spa treatments that enhance our guests' well-being and bring refreshment into their body and mind. What is most fascinating about our Spa, is that the treatments are offered in nature. An early morning massage in Sungai Spa, will not only provide total relaxation through the exotic Balinese techniques but will also soothe your soul with the natural breeze of the surrounding rainforest and the sound of running water from the cascades below. Indulge in nature, pamper yourself and remove the stress of everyday life.
Going through your Social Media accounts, we realized that your Instagram Feed is an absolute bliss for current and upcoming travellers, as you share amazing moments from life within the resort. What is the impact of your social media accounts to your guests' experience and how do you come up and plan the content you create?
Social media is an essential piece of our business marketing strategy. Social platforms help us connect with our customers, increase our brand awareness, and boost our leads and sales.
Social media also affects the way we communicate with our customers since they allow brands to act as people do — something that is very important, as people like doing business with other people, and not with companies. Each post we make on a social media platform is an opportunity for customers to convert.
The strategy to create great content on our social media includes a constant update about the new trends, as well as a clear definition of our goals, through relevant publications and summarized with helpful documents and specific ideas. In addition, we do detailed research on our targeted audiences and always focus on our niche markets.
https://www.instagram.com/p/BpwCmuCB-pE/
After visiting your Website, we realised that lately, you focus more on producing original video material that presents the Jungle Experience of Nandini Jungle Resort and Spa, in a really fun and creative way. Personally, I really liked this video with the young lady, since it gave me a more direct and personalized touch regarding the hotel's presentation, as well as the conceptual promotion of Nandini in Wonderland New Year's Eve 2019, that I found really exciting and promising. Is Video making a new way of communicating with the hotel's possible guests?
If you want to set a specific goal related to your hotel business strategy and aim to increase engagement and traffic to your website and other marketing tools, then video is definitely a "must" in your marketing plan. Video is the most sought-after form of content on the Internet. Studies show that more and more people on the Internet are watching videos; as a matter of fact, in a few years, the majority of online content will be video! There are countless marketing studies that reveal the popularity and impact of video to a business. A recent one I came across, showed that 20% of a website users will read text while 80% will watch a video with the same content. This shows the importance of video in the hotelier industry — and not only and proves that video content is far more appealing and easier to consume than text. For all these reasons and using all possible video tools, we try to increase the engagement with our potential customers.
End of Story
Nandini Jungle Resort & Spa is definitely a game-changer in the luxury hotel industry since it focuses on creating unique experiences that are in total alignment with nature. Even by being in the heart of the jungle, the hotel manages to keep a really high quality of service, harmonically blending the guest experiences with the natural environment and the local culture. And that's the reason why Nandini Jungle Resort & Spa is now one of the top hotels to visit, at least once in your life!