Learn the secrets for Happy Villa Guests by "iWish Mykonos", one of the top Villa Companies in Europe's most "lifestyle" island
12 mins read
There is no doubt that Mykonos is one of the most luxurious destinations in the World, that hosts some of the most demanding and well-travelled guests. As a result, the Villa market in the island has grown really big and is continuously developing, presenting a vast competition that makes the decision of choosing the right Villa really difficult, both for travellers and travel agents.
But which are the criteria that travellers have in mind during their market research for the right place that will host the most dreamy and relaxing holidays of their lives? In order to answer this simple but very important question, we talked with the founder of "iWish Mykonos", Ms Olga Panagiotopoulou, who shared with us her view on "a Happy Villa Guest", through her experience of managing 12 stunning villas in the island of Mykonos.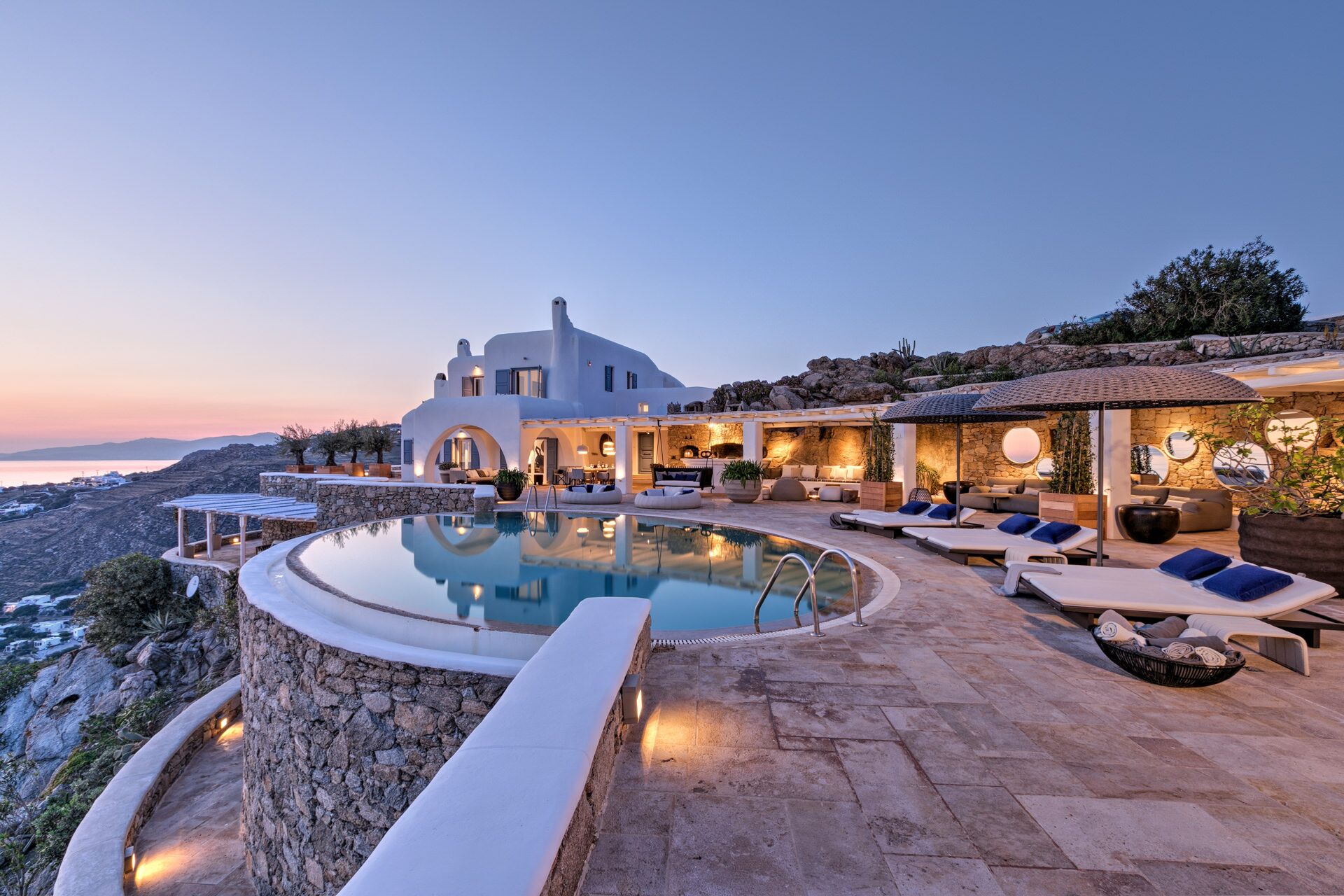 In addition to the Top Tips that Olga shared with Hotelier Academy, we will also present some real examples of "iWish Mykonos" Villas within the article, aiming to inspire the global Villa Owners and inform them about the latest trends in the industry. Moreover, these examples will showcase some really great ideas for the Travel Agents and the Travellers that follow Hotelier Academy.

 *Sponsored

Meet Olga from "iWish Mykonos"
Prior to launching her own business, Olga used to work in the hotelier industry for many years.
As a local, she has a really deep knowledge of the inside destination experience that shares with her guests.
She comes in personal contact with the guests, in order to have a clear view of their needs and better understand their mentality and wishes.
Follow Olga on LinkedIn and contact her directly for further collaboration with iWish Mykonos!
The main secret is to always know the type of each one of your Villa Guests and deeply understand their wishes
First of all, Olga, I would like to begin by thanking you for being open to share with Hotelier Academy the secrets of "iWish Mykonos" success and talk to us about "what makes a Villa Guest happy".  Can you tell us which are the types of Villa guests and what is their main "wish" on each occasion?

You are welcome, the pleasure is all mine!
We encounter all types of guests, as Mykonos is a truly unique island which caters to all kinds of tastes, but eventually what every guest expects is to feel special and unique, by enjoying a truly personalized experience.
We may have the pleasure to host families which, in their majority, favor villas instead of hotels due to their home feeling. They prefer properties in close proximity to beaches and restaurants, with open spaces and recreational areas for the children to play and gardens with large pools.
On the other hand, you've got the party crowds, mostly in their twenties and thirties, that visit Mykonos from all over the world for its dynamic nightlife. We suggest villas located near the town center and famous beach spots. If they wish to organize any events in the villas (for example bachelor or birthday parties), they ask for properties in areas where no neighbors will be disturbed, with large outdoor spaces and extra features such as an outdoor bar near the pool etc.
Another type of guest is the cultural explorer who visits the island for its rich history, culinary excellence and top attractions such as Delos, Little Venice, windmills, chapels and museums. To them we are hosts but also guides, suggesting and organizing tours according to their wishes: visits to places of interest, local cheese farms, local wine tasting etc.
We also accommodate couples in search of the perfect venue for their wedding and/or anniversary event: they wish to be listened to and cared for so that every little detail is flawlessly planned prior to their event, thus excellent organisation is of great importance. On romantic getaways, our guests wish for villas with privacy and sunset views and frequently ask for services such as massage treatments, couple activities, dinners for two etc.
Do you believe that travellers are aware of the fact that they belong to a specific "Villa Guest Type" or do companies like yours have to help them understand what they want and define their needs in an easier — and maybe more creative — way? Are the travellers open to sharing more about themselves, in order to receive the right service?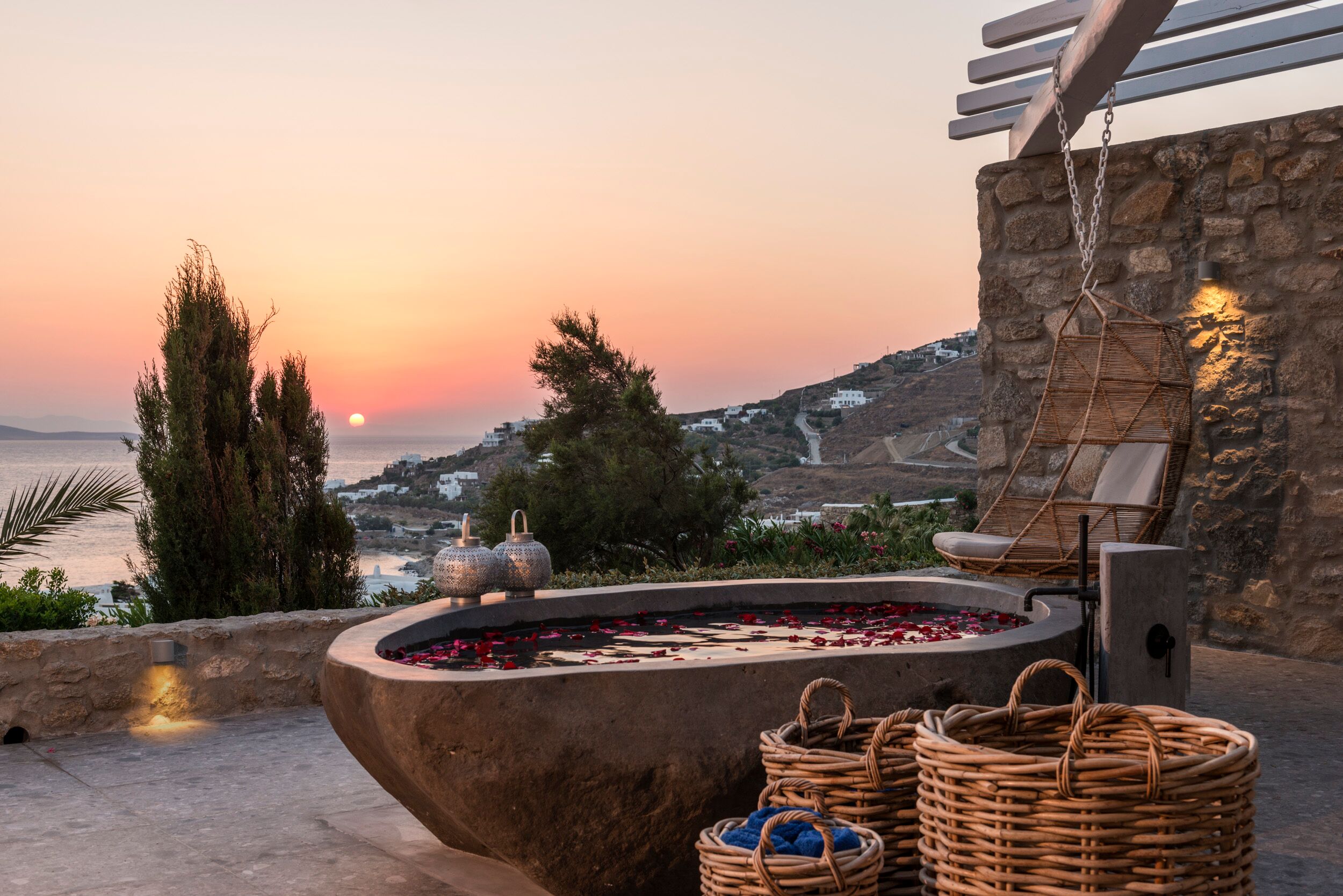 Yes, travellers are choosing Mykonos for its versatile identity and most of the times they are well aware of what they are looking for, but at the same time they grasp the opportunity to experience more than one of the island's many aspects. Our insight is valuable so as to find out what they want apart from the obvious and make personalized suggestions that will perfectly meet their individual needs. For this reason, we have also created our iWish Mykonos app which allows our guests to view numerous experiences and navigate through a great selection of ready-to-order services.
Isn't it easier to learn all about your guests and shape the proper level of service for each one of them, in collaboration with Travel Agents, that constitute the most common channel that villa guests use to book their villa? If yes, how do you work with them, in order to achieve this?

An agent's role is valuable in giving us the client's profile which is extremely helpful and of great importance, especially in case of repeating guests. We highly value their part in the industry and keep an extensive list of top agencies with whom we enjoy successful collaborations. On our end, we always take the time to explain to our partners in detail all characteristics of a property and aim for real time inspections so that they know every aspect of the product along with the way we promote it. In this way, they will be able to pick and suggest the best property to each client according to their needs.
A Villa for the event-lover type of travellers
It is very common to welcome guests travelling on the occasion of a special event, such as a birthday party, a wedding celebration etc. Naturally, a Villa is the best choice for hosting this type of trips and events. For example, if you have a traveller who is looking to organize a wedding or a special event such as an incentive trip or a family vacation, "Destiny Resort" is an ideal suggestion as it may host up to 32 guests in its 16 rooms with private bathrooms, and features among others a vast outdoor space, a professional Chef's kitchen and a chapel.
It is always a good idea to have diverse Villa options, based on Design & Experience
Which are the top features that make a Villa really stand out? Are there any special facilities that catch the guests' attention and how does "iWish Mykonos" work to support these when renovating or building a new property?

The most important feature of a villa is its privacy and exclusivity which gives our guests the feeling of being at home. Ideally, we are trying to achieve the perfect match between this exact feeling and the services/facilities which may be found in a hotel. Apart from the tasteful decoration, en-suite bedrooms, bathroom amenities, fully equipped kitchens and private pools which are some of the basic features of our villas, we try to incorporate additional facilities in our properties which will get guests' attention and best serve their needs by offering them experiences which go beyond just "living" in the villa.
Gyms, hammams and saunas are but a few of such facilities while every extra feature counts: great design, professional chef's kitchen, heated pool, massage room, Jacuzzi unit, BBQ, pool bar, smart home automations, entertainment room/playroom, high-speed internet – everything that may contribute in creating the most pleasing environment for our guests. Also, wheelchair accessible facilities are extremely important and often sought for. Every time we are in charge of building or renovating a property, we collaborate closely with our partners and strive to include as many of these features as we can.
Aside from design, is it true that travellers tend to look for Villas that offer more than just accommodation — such as a more particular experience like wellness facilities or even a themed stay? How can a Villa handle such requests?

Indeed, it's true, especially regarding wellness which has become increasingly important in recent years and has gone beyond the ideas of physical activity and relaxation. Apart from all comforts and amenities, the villa may come with high end facilities and a dedicated concierge team ready to cater to the clients' needs and organize from yoga sessions and massage treatments to hammam and sauna uses. Wellness must be integrated into all aspects of the guests stay: unique and luxurious architecture and decorative elements which soothe the eye and calm the mind are also ever more important.
Do you believe that the differentiated experiences a specific Villa offers, can be an asset for Villas located in not so central or popular locations? And are these experiences enough to keep travellers happy during their stay?
In our case, iWish villas are scattered all around the island and each location has its own loyal enthusiasts. Very popular locations can be noisy and overcrowded and many of our guests end up choosing our more secluded properties as the privacy and exclusivity they offer is exactly what they are looking for.
A Villa with a Wellness Concept
Having 11 different properties, "iWish Mykonos" decided to differentiate their products based on specific experiences their guests would like to live.
For example, in Amra Villa, a new meditation and wellness retreat concept was established, as the property's secluded location and direct connection with the local land, were the perfect characteristics. Having this as a given, the company's experts started to invest more in developing special wellness facilities, like the "Gym with a View" and the impressive marble hammam, and always presented the property highlighting its wellness facilities and features. Taking it even further, the "iWish Mykonos" experts brought together some of the most expertized chefs that focus on detox cuisine as well as several wellness experts, creating a complete Wellness product for Amra Villa.
Offer in-villa services similar to the ones a guest can find in Hotels, enhancing them with a real personal touch and careful curation
Which are the new needs of Villa Guests in terms of service? Do you believe that today's Villa guests demand more services similar to the ones they can get in a hotel?
Apart from breakfast, when booking a villa an increasing number of our guests request extra services which may not be easily offered in a hotel: private chef service, yoga sessions, massage treatments are but a few examples. Our villas come with a dedicated team of experienced staff ready to cater to all such requests, while our guests may also browse through a variety of additional services and experiences in our iWish Mykonos app and directly order them on their own.
Now let's talk about the in-villa Food Experience. Do you believe that breakfast becomes more and more necessary for travellers? In what ways does "I Wish Mykonos" handle its guests' culinary needs?

Breakfast is definitely one of the most requested services! What better way to start the day than a rich breakfast? We have designed our menu based on a great selection of breakfast choices in order to cater to all nutritional diets, vegetarian and vegan included, using locally sourced bio products.
Last but not least, can you tell us about the importance of the right concierge services for Villa guests? Can you explain why travellers who have chosen to spend their holidays in a more "private" way, require not only a high level of concierge services but also look for an enhanced personal touch?
An efficient concierge can take the overall villa experience on a different level. Our idea of the perfect concierge service goes beyond table bookings and transfer services: there is nothing more important to guests than feeling highly valued and truly special. This is not only achieved by a high level of concierge services, but by an approachable team who is individually accessible and listens, responds and cares for each and every guest according to their individual needs. Ultimately, hospitality is all about responsiveness!
The "I Wish Mykonos" App
Knowing well that Villa guests require privacy, but, at the same time, ask for high-level concierge services, the "iwish Mykonos" experts have created a special App which is actually a live service, through which the guests can have a 24/7 contact with the concierge team, getting immediate responses to any requirement they might have.
However, the App's most exciting part is the fact that it helps the Guests feel 100% like locals, through various services. For example, it offers them the opportunity of having food delivered to their villa from selected restaurants all around Mykonos.