An exclusive first look at the brand new Savoy Palace in Funchal Madeira, which introduces a fusion concept between business & leisure travel
12 mins read
When looking for your next holiday hotel, one thing is for sure: you seek for a place full of facilities that mean 'relaxation' and 'experience' to you — either within the hotel or in the surrounding destination. On the other hand, in the case of a business trip, you usually look for a hotel that will not only cover your "work needs", but will also become a leisure and fun spot for you and your colleagues, and transform your business trip into a bonding experience.
The creators of "Savoy Palace", an outstanding newly-built hotel in Funchal, Madeira, faced all the above challenges. The hotel's team aimed to create a meeting point for luxury travellers looking for the best hotel to stay in Madeira and business travellers organizing an event in Portugal. Savoy Palace introduces a whole new approach to the landscape of leisure & business hotels, mixing a top location with groundbreaking facilities and services, curated by a famous designer who gave a differentiated substance in the creation of this new property.
The management team of Savoy Palace reveals to Hotelier Academy all the secrets behind this new hotel arrival in Madeira, and Mr Ricardo Farinha, Chief Commercial Officer, discusses with Nikos S. Morantis about what to expect during the hotel's official opening.
*Sponsored

Meet Ricardo Farinha, Chief Commercial Officer at Savoy Palace
Ricardo works in the Strategy and Business Development Department at Grupo AFA, focusing his efforts mainly on Marketing and Corporate Development.
Since July 2017, Ricardo has held a seat on the Executive Committee of Savoy Hotels & Resorts (SHR) as Chief Commercial Officer. In this role, he oversees the integration and alignment between marketing, sales, revenue management, pricing, distribution channel management, customer service, brand management, communications, product development, service offering and corporate development, to drive business growth and market share for SHR.
Ricardo holds a BSc and an MSc in Civil Engineering with a concentration in Transportation and Urban Studies from the Instituto Superior Técnico. He has formal academic training in Public-Private Partnerships at the École Nationale des Ponts et Chaussées in Paris and graduated from Columbia Business School in New York with an MBA in Accounting and Real Estate
Find Mr. Farinha on LinkedIn
Let me start by telling you how amazed I was with Savoy Palace's project. It is impressing that you have paid attention to so many details while specifying this new hotel. How big procedure is it to create a new hotel in a popular destination like Madeira, and who are the people behind this amazing project?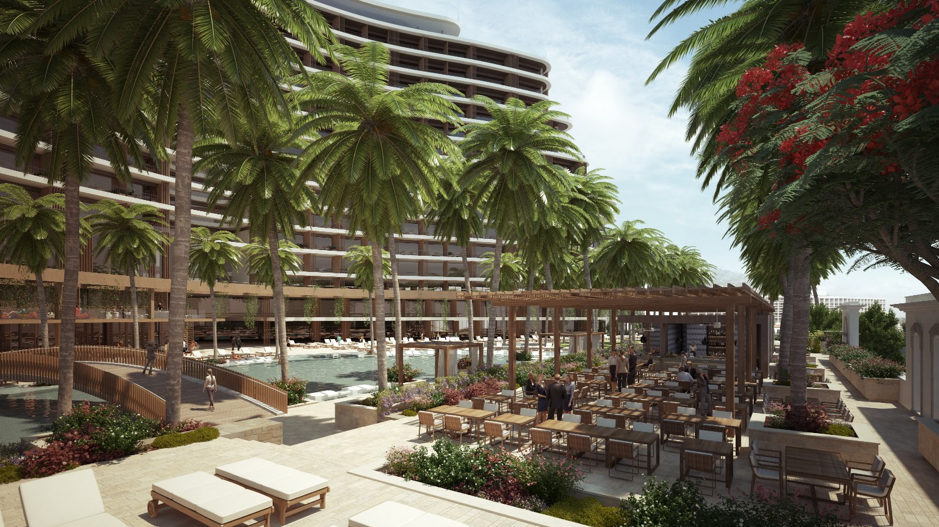 The project started 4 years ago and Savoy Palace is now in soft opening since July 1st. We have a group of talented professionals behind this project since the beginning. Our objective is to contribute to position Madeira island's hospitality for luxury travellers by offering a product with higher quality standards as well as differentiated services and facilities.
Saraiva & Associados architects did amazing work designing the building. Despite all the challenges, the result was superb and we have an infrastructure that combines comfort, functionality, security and aesthetics. It features a tropical but also traditional ambience. The award-winning interior designer Nini Andrade Silva, in partnership with RH+ Arquitectos, brought to the interiors all the details of the heritage and nature of Madeira.
Located in the heart of Funchal, the capital of Madeira, the hotel seems to undertake a great responsibility, as it will inevitably shape the area's landscape. Was this something that influenced your final decisions during the development of your new hotel?
Savoy Palace is located in a prime location in Funchal and it is well integrated into the landscape. This has been one of our main concerns. We have created a new neighbourhood and hub for the city. Close to shops and restaurants, the hotel comprises the regeneration of its beautiful surroundings. We are also building a commercial area around Savoy Palace and in part of it, we followed and paid tribute to the traditional architecture of the region. The goal is to extend the experience to the streets nearby, creating a neighbourhood where our guests and locals of Madeira can find several shops and services as well as public squares and gardens.
Another thing that caught my attention, is the fact that you have chosen a world-known designer, Ms Nini Andrade Silva, who has local roots. In my opinion, this was a key factor for creating a modern hotel that offers an authentic local experience. Which were the thoughts behind the hotel's design concept and how important is it to collaborate with a local Designer, for getting a spectacular final result?
First of all let me clarify that Nini Andrade Silva worked in consortium with RH+ Arquitectos, a local team of architects. Both of them have a comprehensive knowledge of the richness of the island and thus were instrumental to come up with the wonderful interior design at Savoy Palace. The hotel emphasizes the best Madeira has to offer.
The interiors of Savoy Palace are classic and timeless, influenced by the "Belle Époque", and bring together a number of elements: the exuberance of the surrounding landscape, the unique man-made environment, particularly the irrigation channels (the levadas) and old-tunnels (the furados), the excellence of Madeira's embroidery, the centuries-old art of wickerwork and the expertise involved in the production of our fortified Madeira wine. These unique features underline the metamorphosis between the conceptual inspiration and the finished interior design.
Working with designers who know the island ensures that the final result becomes a true local immersion by all visitors and highlights the uniqueness of the region.
Even though Madeira is among the top holiday destinations in Europe, we can see that the hotel is positioned as a contemporary business hotel, ready to cover the event & conference needs of even the most demanding professionals. And at the same time, the property is presented as a great leisure spot. In what ways will the hotel combine these two travel types and how will the property harmonically co-host both business travellers and holidaymakers in the stunning Island of Madeira?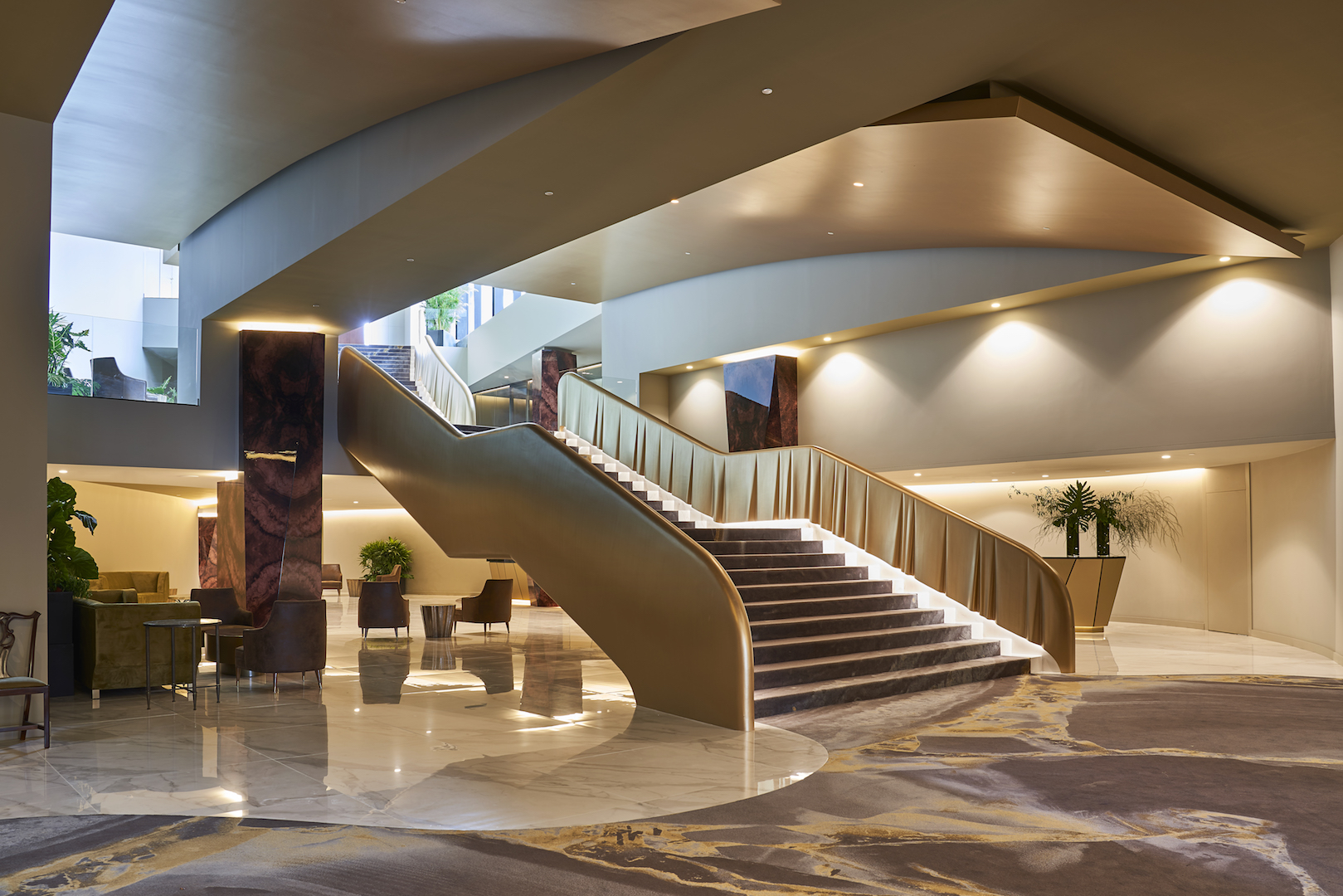 The facilities of Savoy Palace allow us to have the best of both worlds: business and leisure. We have established the differences in our business and leisure traveller segments and because of this, we are able to market these different segments with greater effectiveness.
For business travellers, hotel key location, fast wi-fi throughout the property, and business centre are just some of our strengths. Our conference centre even has a direct entrance from the outside and this will prevent participants in conferences and congresses from meeting with hotel guests.
Leisure guests enjoy a place that is perfectly adequate to spend some peaceful days by the pool, relaxing at the spa and experiencing the best of what our island has to offer. We offer a boutique hotel inside the main hotel and business and leisure guests certainly take advantage of that.
Having a closer look at Savoy Palace, it is obvious that we are not talking about a regular business hotel. Of course, you have specified some really great business facilities (for example, I really liked the special conference reception, something that is missing from most business hotels), however, what really stands out is the idea of creating a place where people can get together and enjoy business and pleasure at the same. It seems like you are trying to transform a business trip into a team-bonding experience! Was this something that came up after research about the new trends in the business travel market?
Yes, indeed. In fact, the word 'leisure' is the best, to sum-up our offer. The business travel segment has been changing and nowadays it is usual for companies to organize a conference and an incentive trip at the same time. Also, meeting and event attendees tend to take advantage of their business trips abroad and extend the stay at the hotel on their own for some leisure days.
Let's get back to the hotel grounds and talk about something that I find really exciting: the fact that you have "adults only" facilities (like the breathtaking rooftop swimming pool), as well as dedicated facilities for children. This is a great approach that indicates that Savoy Palace will be a property ready to host all audiences. Is this also a sign that your promotional campaign will focus on several levels and audiences? And what is the strategy behind that?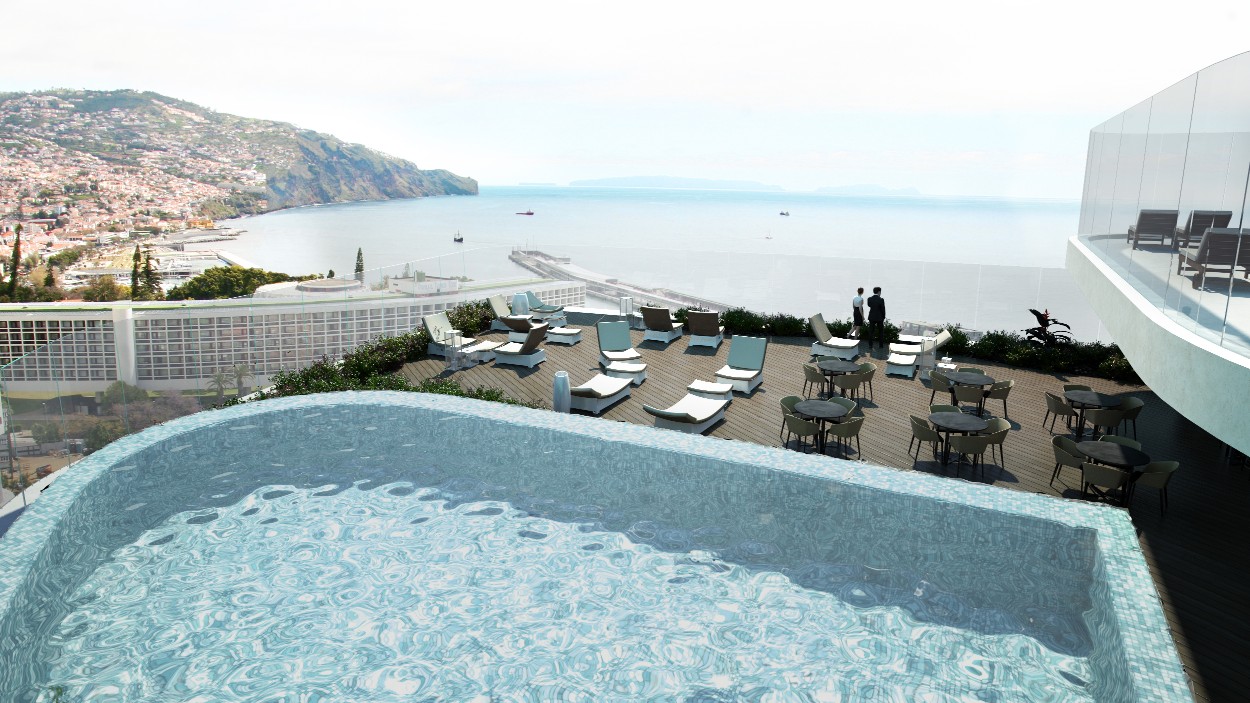 Savoy Palace is the ideal choice for the most discerning guests seeking relaxation and luxury with a perfect blend of refinement, modern comfort, and warm hospitality. The hotel facilities cater for different segments — more precisely leisure, MICE, wellness, each with specific requirements. Our strategy is, of course, to have a wider approach to the market and to each segment specifically highlighting our facilities, as we want to be considered an option when it comes to accommodating all necessities of the different traveller types. From family escapes, individual or couple retreats to business meetings, Savoy Palace will offer an unforgettable experience, both sophisticated and relaxing.
As a genuine food lover, I could not exclude from this Story the hotel's culinary experience. Among the numerous food facilities, I see that you are preparing several concepts for the restaurants. What was the idea behind these F&B outlets and what will be the differentiated experience each one will offer to your guests, regardless if they are leisure or business travellers?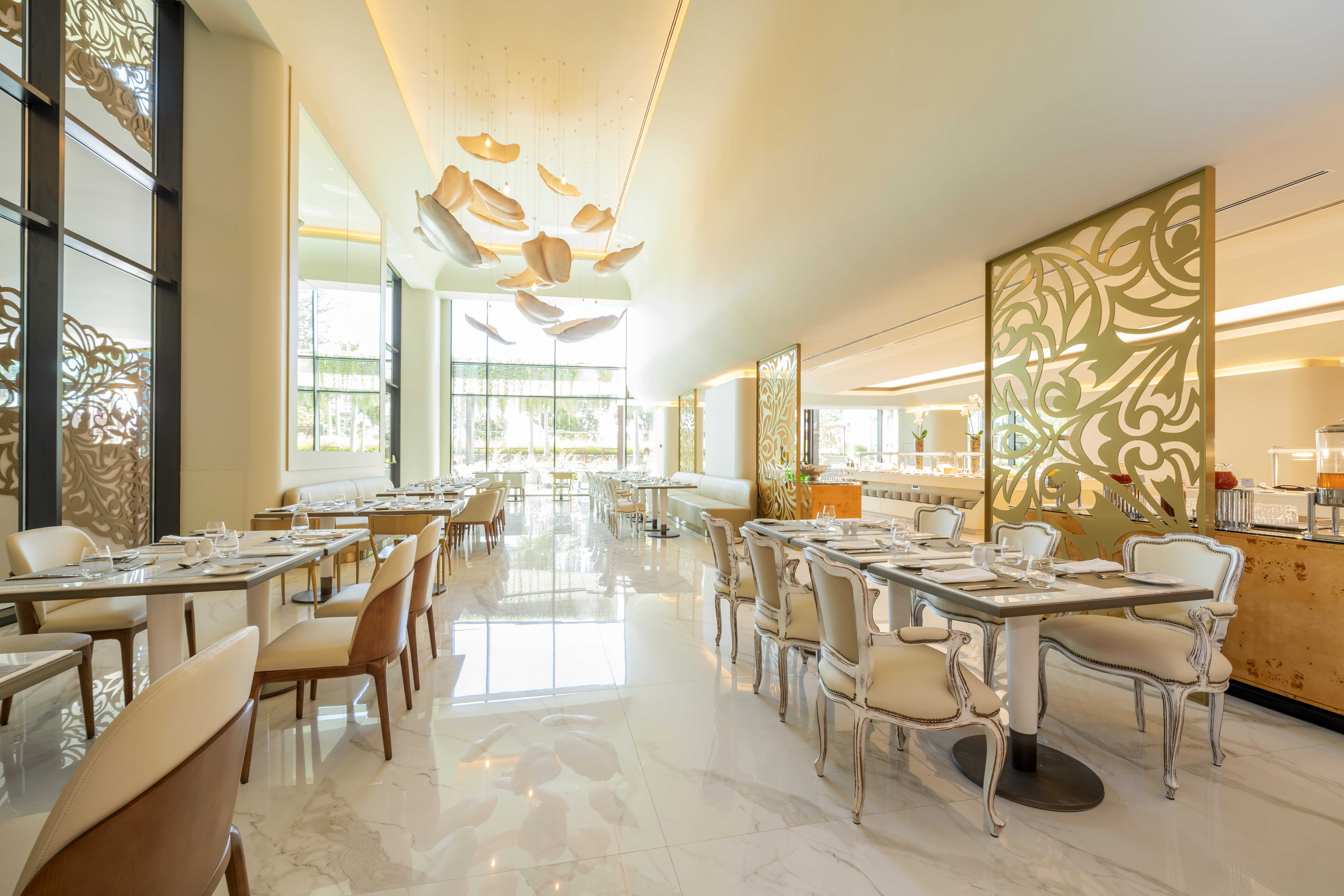 As for gastronomy, we will be a destination by itself, meaning the foodie guests can have a complete and differentiated experience. At Savoy Palace, the appetite for distinctive tastes and flavors will expand significantly for sure and whatever the preferences — sophisticated international cuisine, Mediterranean and Atlantic food, light meals, healthy snacks and tasty drinks, our guests will be very well served.
The outlets also blend bold, modern and historical styles. With different concepts the senses will definitely be elevated with gastronomic experiences at our restaurants and bars, more specifically at Orchidaceae and Hibiscus (our buffet restaurants), Alameda (main pool restaurant), Galáxia Skyfood and Skybar — located at the hotel rooftop. The entertainment bar, Vimes, the Lobby Lounge Bar & Cigars will allow our guests to enjoy a drink and chill out in a pleasant ambience.
Now let's focus on Wellness. By just a glance at your Spa design, it is more than clear that you plan on offering a holistic spa experience — something that is considered the future of the wellness market. How did you come up with this approach and how important is a wellness specialist's contribution to building an enhanced experience?
Our 3.100 sqm Laurea Spa, presents to our guests a sensational bouquet of massages, treatments and other relaxation experiences. It features 11 treatment rooms, sauna, Turkish bath, Jacuzzi, ice fountain, sensory showers and halo-therapy room. For all these, with focus on providing higher service quality, the contribution of a wellness specialist became essential and we partnered with Top Spa specialists who assisted us in order to create this unique spa with a botanical, natural and truly holistic approach.
Laurea Spa is the place to enjoy unique luxury emotions with world-class products. We have combined the brilliance of the natural skincare brand Sodashi – Sanskrit word for wholeness, purity and radiance, with the finest results and experiences, but also the powerful benefits of aromatherapy oils with the awarded spa experts – Aromatherapy Associates.
The celebrity facialist Linda Meredith Skincare is the perfect choice for the ultimate customization. The most unique combination of essential oils, vitamins and ingredients with the power of oxygen make their magic on a deep level for fast results. Also knowing that modern men aim to experience the best at a skin level, we joined forces with Gentleman's Tonic for deluxe skincare and with Vitaman, for the most important body needs. Hands and feet are to be pampered by Margaret Dabbs London, the best of medical with the best of beauty for effective results.
Before saying goodbye, we see that the travellers are already able to enjoy your amazing Pool Suites (my personal preference) since the beginning of July. This means that you must be already working really hard together with your hotel staff, in order to provide your high-end services. How exciting is this procedure and what do your first guests have to expect?
Pool suites are also my favourite rooms, with a more intimate environment. They are also unique in Madeira island and even in the mainland. However, I must add that all rooms and suites are very special, comfortable and exclusive. All guestrooms include balconies as well as distinct leisure and work areas against contemporary interiors with customized fabrics and made-to-measure furniture.
We have already welcomed the first guests to our Palace! Our team is fully dedicated and working very hard to create authentic and local immersion experiences. And the initial feedback we are receiving gives us all the strength and energy to work even harder, for truly creating the next hotel-landmark in Madeira!