Talking about Melter Hotel & Apartments in the heart of Nuremberg, Germany and discovering all the secrets that make its guests not only feel like home but also feel like locals!
12 mins read
A great part of a guest's experience in a foreign destination, especially a city one, is to be able to blend in with the locals and live their perspective for the city as well as their everyday habits. This is actually one of the main reasons why the whole 'individual apartments' concept has been so widely popular over the last decade or so.
However, as the years go by and the hospitality market changes and evolves, hotels and accommodation properties start to look for new ways of providing their services, that combine top-class sleep & accommodation with a contemporary approach of the city or destination they are located in.
Following this trend, Melter Hotel Apartments in Nuremberg, Germany, has created a living experience like no other: individual, self-catering apartments, within the shell of a hotel, right in the heart of the city, and adjoining one of the most popular gastronomy projects in the area. To tell us more about their concept, we contacted Mr. Omar Schmelzer, Owner and Managing Director at Melter Hotel & Apartments, who gave us some really fascinating answers to all of our questions.
 *Sponsored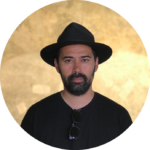 Meet Omar Schmelzer, Owner and Managing Director at Melter Hotel & Apartments
Omar Schmelzer was born in Franconia. He comes from a family of businesspeople, and since 2016 he has been an entrepreneur and connoisseur in the hospitality industry.
You can contact Mr Omar Schmelzer at info@melter.xyz
Omar, let's start this conversation and talk about your logo. It was the first thing that caught my attention when I came across your hotel on the Internet, and I know strongly believe that it completely represents your modern and contemporary approach, not only on design and decoration but also on the entire accommodation experience that you offer. Can you tell us a bit more about how the whole idea for the hotel started?
The direction we wanted to go was clear right from the start. We wanted to create an individual, standalone product with which we could identify 100% and stand out from the crowd. Our first aim was to design a kind of "Airbnb-Deluxe" – combining home comforts with a modern vibe in a listed building, paired with informal but personal service. Our guests love it, and we love being hosts!
Something that I found very interesting, is the fact that you use completely different images on your website and social media. Your website pictures are the more 'professional' and 'static' ones, while the images used on Facebook & Instagram are all about presenting the guest experience. Do you believe that this method helps potential guests get a 360º perspective of the property and decide easier to book your hotel?
Our pictures were taken by very different photographers, each of whom brought their own style with them, and we think this approach ties in neatly with our philosophy. On our website, we're looking to inform our guests. This is where they'll find general information about our rooms and the hotel neighbourhood. Our social media channels are more about trying to share the Melter vibe – and here we tend to use storytelling techniques. This strategy allows us to appeal to all the age-groups and demographics that make up our diverse client base at Melter.
When we first entered our room during our recent stay with you, we were excited to find a welcome note handwritten in Greek (by the lovely Marina, who had also checked us in). That was a really amazing personal touch and surely made our day. Do you always try to put such personal touches in your communication with your guests and how important do you think that is for their overall staying experience?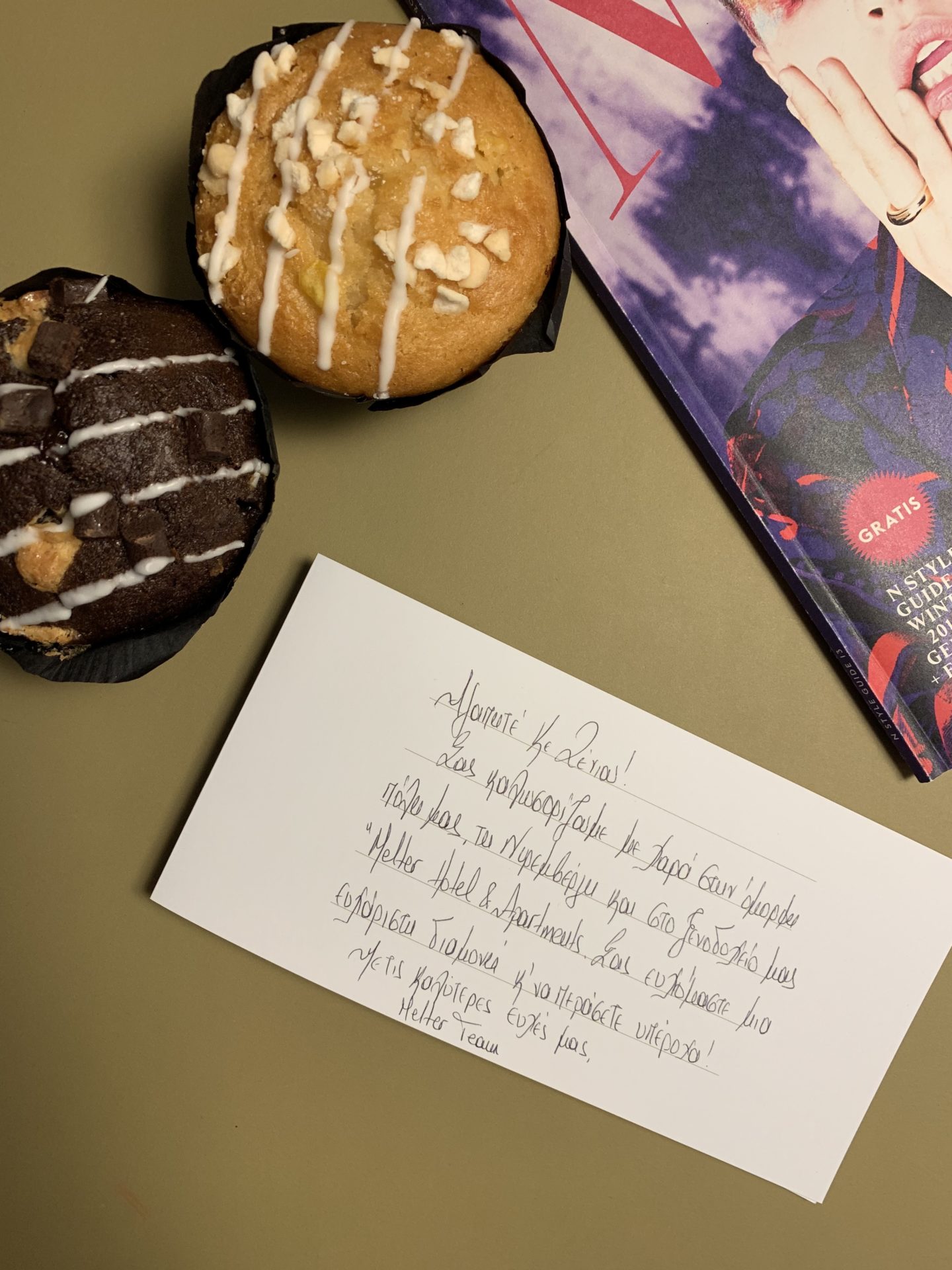 The personal touch is really important to us. It's how we differentiate ourselves from our competitors. And that's why all our rooms and apartments are individually conceived.
We want our guests to feel they can speak to us any time, build a personal relationship with us and forget about formalities. That's why our colleagues don't wear uniforms – they come dressed as they like, and that helps them relate to guests as individuals.
Our Melter family is a great mix of locals and people of different nationalities who enjoy spending time with each other even outside working hours.
We want our guests to feel good from the moment they step through the door at Melter. That means looking after each guest individually and recognising whether he or she wants recommendations and entertainment, or is just looking to switch off and relax after a hard day's work.
Now let's talk about food — my favourite topic! You have made a very clever collaboration with your next-door eatery, MONDO, and provide F&B services to your guests without having a restaurant of your own. Moreover, the fact that the place where guests can have a quick lunch or coffee is one of the city's popular places-to-be, surely makes them feel a living part of the city. Who came up with this idea and how does this whole approach work for the hotel so far? Are your guests enjoying this blend of services?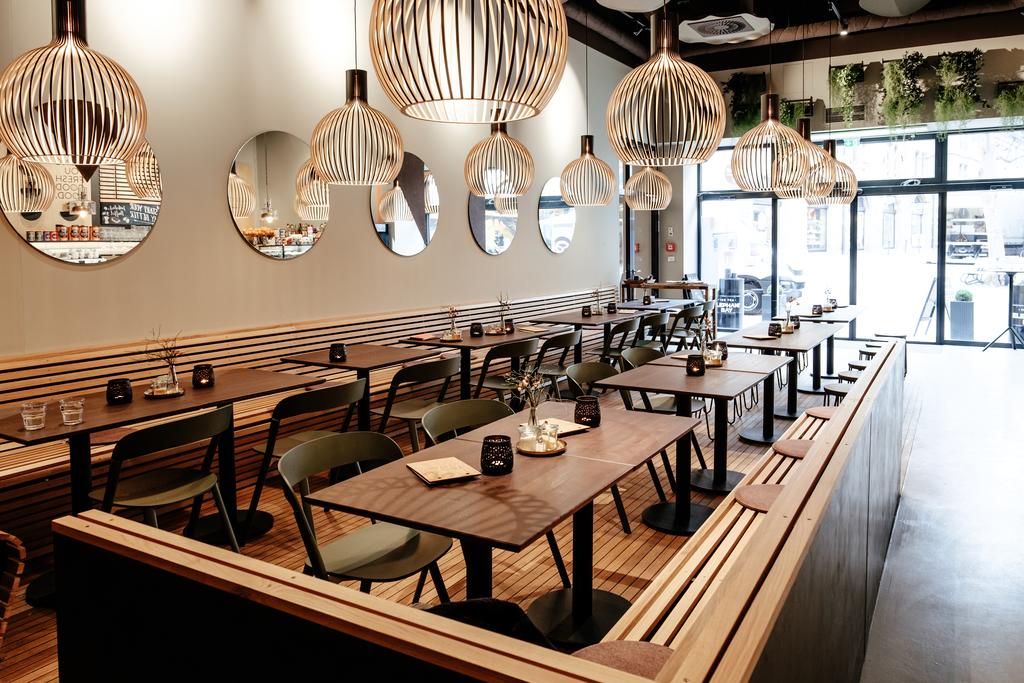 The first time I consciously experienced this concept was at the ACE Hotel in NYC a decade ago. It fascinated me how it worked. You didn't feel like a stranger in a "hotel aquarium", instead you felt part of it all straightaway – part of this new city you were staying in. I love watching people, and I love absorbing the vibe and the culture in that kind of space.
Your TripAdvisor reviews reveal that your hotel's two most popular aspects that generate the most positive reviews are breakfast and service. Let's take them one by one. Breakfast is served at MONDO, and it really is very rich and tasty. Does the hotel have an opinion on what is served during breakfast, ensuring that its guests receive the highest level of this service?
We work very closely with Mondo. We were involved right from the start in the creation of the breakfast concept. Mondo's openness and popularity with locals give our guests a totally different experience from that of the classic hotel breakfast. Instead, they're right there in the middle of the neighbourhood buzz – and that's exactly the feeling we want to convey. Without this kind of close partnership, there'd be a sense of distance that our guests would notice too. We're constantly sharing praise and criticism, and always trying to get better.
Now regarding your service and staff, it is clear that in addition to the very warm welcome and check-in, you also try really hard to provide to your guests everything they might need during their stay and also help them explore the city by recommending the best places to see, eat, have a drink etc. What other additional services do you offer to your guests and how important do you think it is for a hotel to have a well-informed concierge service?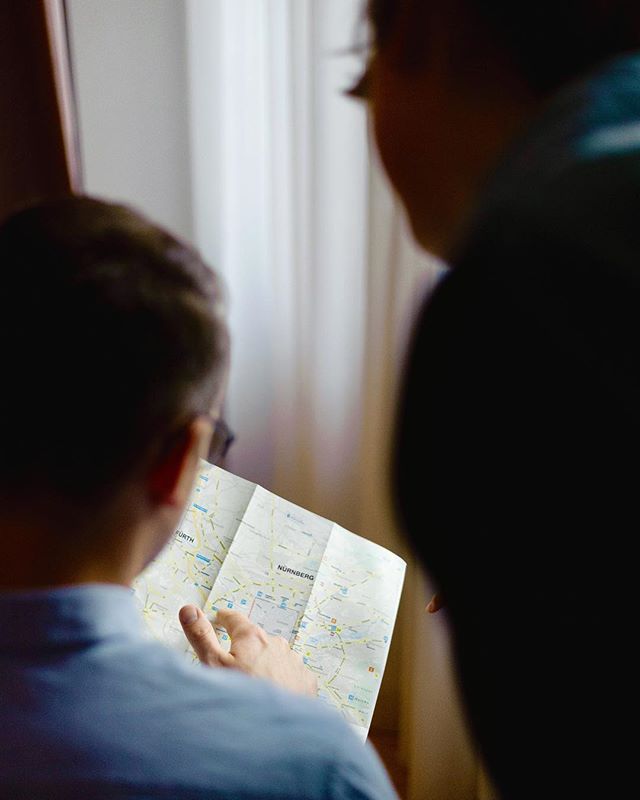 We want our guests to feel like they're at home here at Melter. We have many regulars who are here every week, and we respond to all individual requests. Our apartments are equipped to a good standard, but beyond that various extras are possible – from an iron and ironing board to a microwave, toaster or extra coathangers. Our culture of openness and helpful service make it easy to tailor guests' stays to their needs. We keep right up to date with news from the local restaurant scene, we know the city like the back of our hand, and that means we can give you some great insider tips.
Your rooms' design is, generally speaking, very fresh and modern, with simple lines, plain colours and distinctive pieces of art. However, I mostly want to talk about your bathrooms. It seems that you paid a lot of attention during their design since they are very comfortable and spacious. Was this something that you intended to achieve, knowing that bathrooms are the second most popular facility guests check out during their online research for hotels, right after the room/bed?
You're right that we paid particular attention to our bathrooms. We all agreed that there's nothing worse than small "cold" bathrooms. So we decided to fit all our rooms with spacious showers, we selected a local partner company called Retterspitz, and in so doing chose eco-friendly 1-litre shampoo bottles instead of disposable ones. The underfloor heating in all our bathrooms makes getting ready in the mornings a real pleasure!
In your overall communication, you pay a lot of attention to promoting your hotel to business travellers — you even have a set of dedicated photos showing people working inside your apartments. Is business a popular reason for visiting Nuremberg? How important is this target group for Melter and how do you manage to ensure your business guests' comfort and convenience?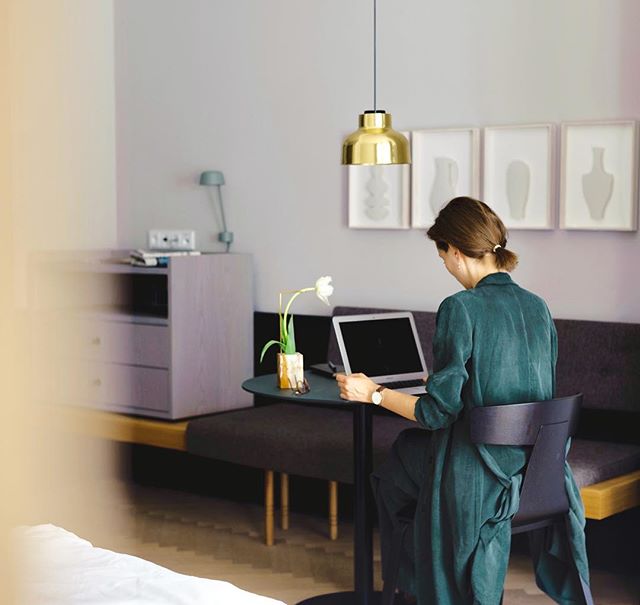 We have a nicely balanced mix of business and leisure travellers. As Nuremberg is a trade fair city and home to a number of big companies, we try to appeal to such guests in a targeted way. Business travellers who spend 100 nights a year in hotels want to feel good. Going out for breakfast and dinner every day can get tiring, so we offer business travellers an alternative – if they prefer, they can have a night in and cook in their own apartment. We also have a laundry room where guests can wash their clothes for free. And when they check out, some regular guests like to leave a bag of essentials with us so they don't have to carry it every week. But leisure travellers also appreciate our facilities. Being able to cook for themselves, explore Nuremberg from a resident's perspective and take advantage of the great location – all this makes us very attractive. Getting back to Melter is quick and easy, whether after a stroll around town or during a sightseeing tour – and that's a huge plus.
An unexpected facility in your hotel is your small (but adequately equipped) fitness room. Usually, properties with self-catering apartments do not offer such services, thus in your case, this seems to be a very strong asset. How do your guests react when they realize that they can do their regular work out while staying at your hotel? Do you believe that having this facility helps you get more bookings?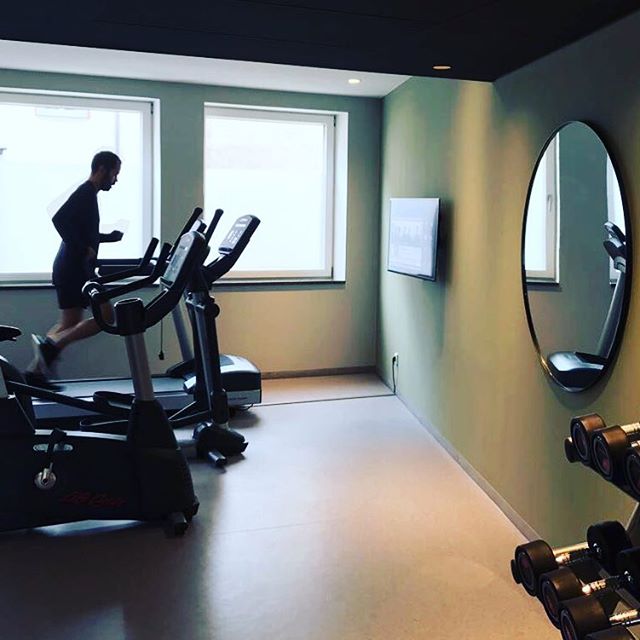 These days sport and fitness are a big part of our lives. Whether after work or a day exploring the city, fitness helps people to feel better and more balanced. We decided to have a fitness room because for many people it's crucial to their sense of wellbeing. Guests come to stay with us in the knowledge that – whatever the weather – they can have their daily workout here. The fitness room is popular with our visitors, and after work, in the evenings there's always something going on. Guests meet there, get to know each other on a personal level, and some of them even end up going for dinner together. Our fitness room is something we wouldn't want to be without.
And to end our lovely discussion, what would be the best period to visit Nuremberg (and, of course, stay at Melter), enjoying the city at its best and getting the true feeling of 'home away from home', which is one of your main mottoes?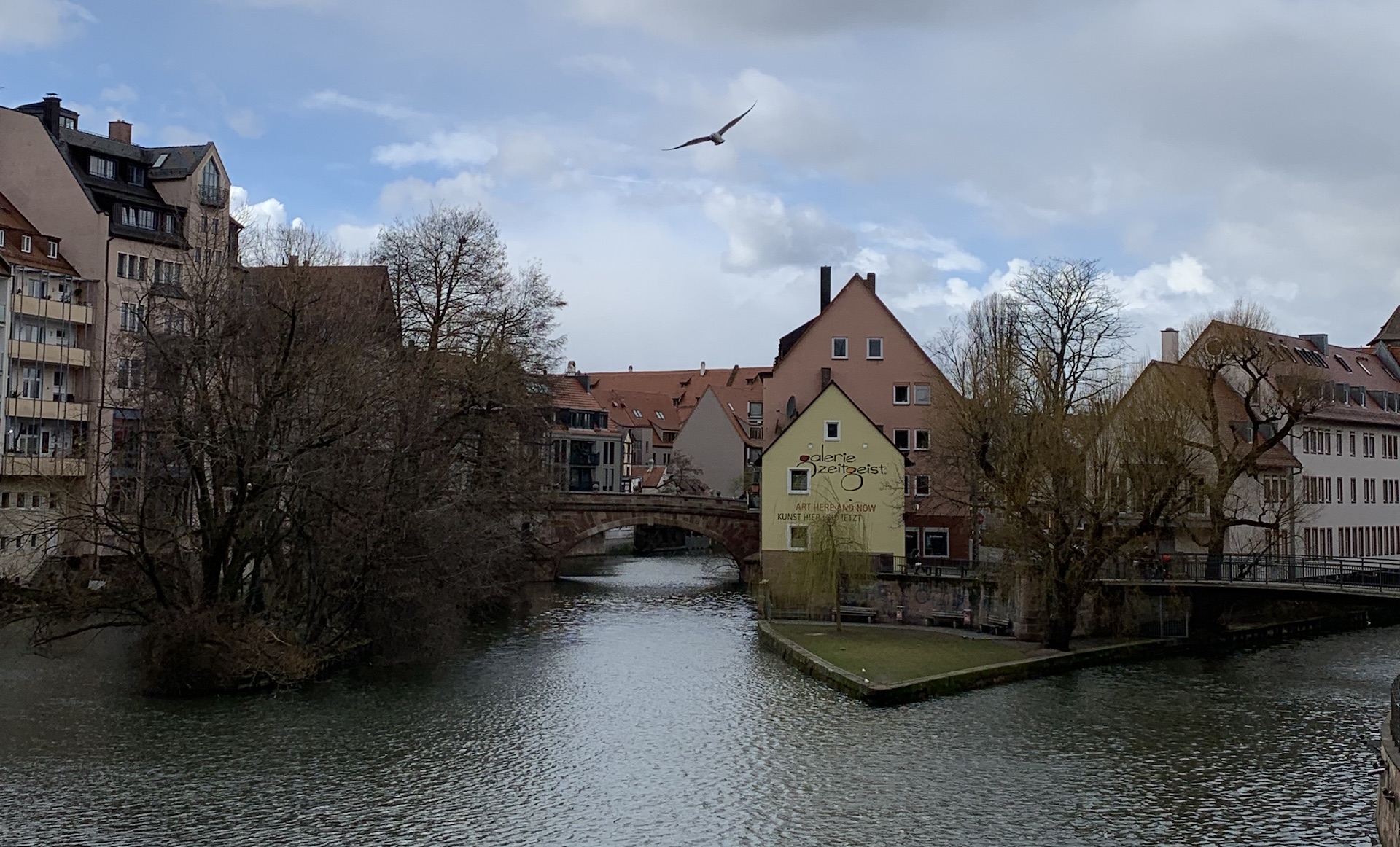 Every time of year has a magic of its own, so we wouldn't like to pick a particular period. Guests who come in the spring or summer can enjoy some fantastic events in Nuremberg. The Blue Night – The Long Night of Art and Culture – takes place each May, when Nuremberg's museums are open all night long and many cultural sites have events on. The highlight of the musical calendar is the Bardentreffen World Music Festival in July. Besides some famous artists on the big stages, you'll find artists performing on every street corner. It's a fabulous mix and there's truly something for everyone. But Nuremberg is also a great place to visit on a quiet weekend any time of year. Nuremberg is cosy, compact and distinct. A visit to the Old Town and the castle is always a rewarding experience. And there are lots to explore for those who are interested in recent history. Nuremberg's experiences in the Third Reich and the Second World War are still the subject of intensive research, and the Documentation Centre gives visitors a fascinating insight into the period. Of course, a visit to Nuremberg's world-famous Christmas Market is an absolute must. But our great location and public transport connections also make it easy to visit other smaller Christmas markets in the area. Nuremberg has a really special atmosphere in the time around Christmas, and we love helping our guests to make the most of it.