Discover the upcoming in-room technology that will not only facilitate your hotel chain's procedures, but also enhance the communication between the properties, and create a more efficient guest experience
7 mins read
As technology advances and further infiltrates the hospitality industry, and new smart hotels pop up every day, it has become quite clear that hoteliers need to step up their game and invest in new tech and tools to improve their guest experience.
Modern technology can nowadays streamline operations, automate processes, facilitate marketing procedures, improve cybersecurity, and provide comfort to the guests. All the perks of technology lead to more sustainable properties, giving hoteliers the time to invest in their hotel's more important services.
However, as technology constantly evolves, hoteliers need to be constantly updated on the new tools and technologies, so as to keep up with the trends and ensure a competitive product.
So, we decided to devote this article to three technologies that every modern hotel chain should invest in to bridge the gap of communication among the hotels of a hotel chain, and create an overall better and more efficient guest experience.
*Sponsored
SuitePad: The most efficient way to upgrade your room services
SuitePad is certainly the most efficient way to achieve room digitalization with a relatively moderate cost. SuitePad is a tablet, created with the needs of modern hoteliers in mind, featuring all the services of a modern tablet, as well as extra applications that enhance guest communication, reduce costs, and optimize processes, leading to higher sales revenue.
SuitePad's Digital Guest Directory is the ultimate in-room tool that combines the well-known guest registry with a travel guide, in-room entertainment, room service menu, and hotel shop. It's packed with an abundance of services that will facilitate hotel procedures and provide some extra comforts to guests like booking spa treatments, ordering room service, controlling daily room cleaning, late check-out, and more.
Of course, it also allows the hotel to easily communicate with its guest through push messages and PMS automation.
Cloud-based software that can be updated anytime and from any device, ensuring better communication between the properties
There are many hotels that, even nowadays, base their operation on old-fashioned procedures and excels, that require constant manual updates and maintenance. Hotel Chains are quite updated on the hotel techs they use; however, cloud-based software is still not that common.
Cloud-based software, whatsoever, can facilitate all hotel procedures, and help hotel departments communicate easier and more efficiently. At the same time, all data are made available and shared among the hotels in real-time, which results in more efficient communication between the properties.
Especially for hotels located in the same destination, where the option for booking-sharing is also available (like in the case of an overbooking, or so), this technology facilitates greatly the whole procedure as availability is readily available anytime for both properties.
Extra Tip! A quite popular technology that is based on cloud-based software is Remote Check-In. So, instead of completing the check-in at the lobby, you can complete it at the lounge (if not online), in a cozier setting through your iPad. This can easily become a signature experience of the entire hotel chain!
Smart & Modern In-Room Technology that create a home-like experience, shaping a more impactful brand identity
To ensure your brand's longevity, you must make sure that you follow the latest hotel trends. Smart, modern in-room technology is nowadays crucial for a pleasant guest experience, thus, including such technologies in your rooms can greatly enhance your chain's credibility and value.
At the same time, by doing so, you also form a common room identity, so travelers, who prefer your hotel chain often, will get familiar with your room services, and they soon think of them as part of your branding.
Among the in-room technologies that stand out and will have an impact on your hotel's room experience are Interactive TVs, Smart Thermostats, In-Room Tablets, Room Services Apps, while two currently developing trends that are predicted to skyrocket in the next years are Smart Bathrooms and Service Robots.
Extra Tip! In addition to the comforts of modern technology, it also provides valuable data on the guests' needs and likings, so that you can optimize your services and facilities to match better with your guests' needs.
*Sponsored
SuitePad: Words speak volumes, so we have gathered some quotes from people who use SuitePad
Natalia Chantzi, Owner & General Manager Avaton Luxury Hotel & Villas – "At Avaton Luxury Hotel & Villas, a proud member of Relais & Châteaux, we always try to find ways to increase guest communication in order to personalize our services and exceed guest expectations. Through the use of SuitePad tablets, we have managed to anticipate guest needs. Since we started using them, we have noticed that 30% of our room service orders take place through the tablets. The contemporary guest wants to make orders from the convenience of their bed or private pool while relaxing without having to speak on the phone while holding a menu, flipping through pages. With the SuitePad tablet, the guest can discover a whole world of activities, excursions, and experiences by letting us know about their preference at the touch of a button."
Athena Kaizer, a receptionist at the Perianth Hotel –
"SuitePad has enabled us to connect with the guests directly and offer them all the information they need to enjoy their stay in Athens".
Odysseas Stulidis, a waiter in the Perianth Hotel restaurant –
"SuitePad has made everyday tasks, such as ordering room service, much more simple for us and the guests and so much more efficient".
Beacon Technology for automation of the direct communication with the guests, for more efficient upselling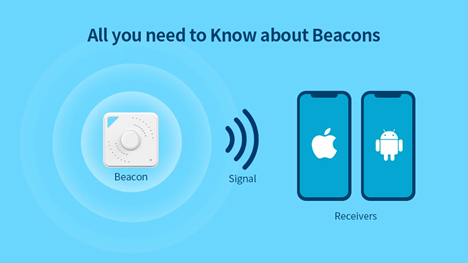 Photo Credits: MOKOBlue
This technology is quite new, and it was only recently introduced to the hospitality industry. Beacons are location-based sensors that can be placed anywhere through the property and send messages to the guests based on specific triggers.
A great practice would be, when the guest check-ins, to receive a special discount, or the option to upgrade their room at a discount. Another useful way that this technology could be used is when the guests arrive at their rooms when they can receive a special discount to the hotel restaurant or other facility (like the spa).
There are countless ways to implement this technology in a hotel, and a hotel chain could also utilize it to strengthen its brand identity. By creating standard templates that can be used in all hotels, all the properties instantly get a common point of reference.
Extra Tip! When it comes to hotel chains, and in the case of several hotels located in the same destination, a great trigger would be any time one of the hotels' guests is nearby a hotel of the same chain, a pop-up notification could be displayed with a discount on the hotel's restaurant, to promote upselling.
Concluding…
These are some of the in-hotel technologies that won't only enhance a hotel's guest experience, but, in the case of a hotel chain, will improve the communication between the properties and result in an overall better accommodation experience. Finally, we must mention that technology, by itself, is not sufficient to establish your brand identity. These technologies can make communication between the properties easier so that you can work on more important things such as the proper training of their staff, or upgrading the hotels' accommodation experience.