Learn how the appropriate signage can enhance guests' experience and how you can increase your hotel's sales through it!
8 mins read
Signage has always been one of the most important hotel features, decisively influencing travellers' experience. Proper signage can not only help travellers navigate inside the hotel, but also inform them of its services, such as the spa or restaurants. At the same time, a distinctive design can even enhance the brand identity of the accommodation.
However, very few hotels pay signage the necessary attention, which may not create a negative impression on the consumer, but does not promote further consumption within the accommodation, nor transforms signage into a comparative advantage.
Below we will examine how proper signage can enhance guest experience and how you can increase your hotel's sales through it. At the same time, we will provide you with some extra tips that can be applied to your own hotel and upgrade its signage in simple and creative ways!
Place signage boards indicating the location of your hotel at distinct points on the road, and ensure a proper size for your external signboard
There are two types of external signage. The first is the signage indicating the location of the hotel, including boards with directions to the hotel as well as its external signboard. And then there is the signage referring to the hotel's external infrastructure, which is mainly found at resorts and Villa Complexes.
As for the signs indicating the location of the hotel, they must be clearly visible on the road, with proper flow. Regular repairs should also be made.
Especially, if your hotel is in a remote area such as a village in the countryside, there should be adequate signs to the hotel from at least one nearby town. In this way, you make it easier for travellers to find you, which results in a positive first impression.
Your main external signboard, on the other hand, should be clearly visible, and of the appropriate size. Of course, you should do not exclude the possibility of creating a selfie spot where the signboard is placed, which can push more social interaction from your guests.
*Sponsored

With over 50 years of experience in specifying and designing signboards, Bratti is one of the best fit companies to handle your hotel signage, delivering a result that is completely in tune with its character.
Recently launching Bratti Hotel Signage Service, Bratti offers a full range of services and products catering to every type of hotel, from small boutique hotels to large beach resorts.
Contact us to learn how you can promote your company in Hotelier Academy
Place adequate signage for your infrastructure in all common used areas, from the reception to the lounge.
One of the most important steps that will boost upselling in your hotel is to have each outlet well marked in all common used areas of your accommodation.
A usual misconception in most hotels is to place signboards either just at the outlets' entrance or even, only at the reception. Thus, customers end up not being informed about the available services, and therefore not using them.
For this reason, you should ensure that you have placed enough signboards indicating your service in all common used areas – from the reception to the lounge or even on the exterior spaces of your hotel when it comes to a resort. This will ensure that visitors are fully informed of the available services, significantly increasing their chances of using them.
Add an interactive map of the hotel to your reception, where travellers can be informed of all hotel facilities and their location. Add to this map some clever tips that will arouse their interest.
Ensure that hallway signage is visible and understandable, as for a digital touch, opt for digital signboards
Although it may seem odd, hallway signage plays a key role in creating a familiar feeling for the visitor, so it should be given the utmost attention during its specification.
Hallway signage should be clear and understandable, as visitors should easily find their room number. In city-hotels, all signboards should start from the elevator, while in resorts, directions should begin from the reception itself.
An essential step to keep in mind if you offer a coffee or ironing machine on the floor is to indicate them using a distinct and understandable symbol on the signboards.
Of course, if you want to give a digital touch to your corridors, you can also use digital signage, which will not only give your hotel a more modern look but also facilitate the operational part of Housekeeping.
Add clever tips on the main hallway signboards to get travellers to try a recipe in your restaurant, a signature breakfast dish, or a special spa treat.
*Sponsored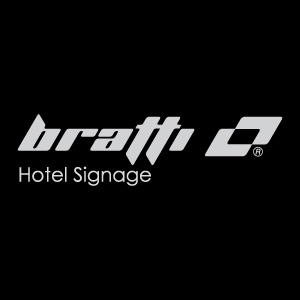 Bratti's digital room signboards can give a modern touch to your hotel's corridors, without extra installation costs.
Some of their key features are:
They are entirely manufactured by Bratti, allowing them to adapt to whatever design you have chosen for your hotel.
In addition to the room number, they also offer useful information about Operation with lights: Do Not Disturb (Red), Available for Cleaning (Green).
They can easily be connected to the host system via WiFi and a dedicated server installed at the reception, freeing up space from unnecessary cabling.
Contact us to learn how you can promote your company in Hotelier Academy
Place enough signboards to the restaurant areas, and more specifically, to your buffet sections in order to make them more distinguishable to guests
Restaurant signage has been an issue we have covered several times in recent years, and of course, it would be a great omission not to mention it in this article. Mostly it relates to the buffet-style restaurant experience, where there is a strong need to guide customers to a delicious meal without the need for a menu or waiter.
At the first meal of the day, the breakfast, which is usually served at a buffet, sections should be clear and marked properly, so that guests do not need to search for the product they want. At the same time, hoteliers should pay attention to product signs, as they should be fully informative. Of course, letters must be legible and of appropriate size.
The above tips apply to all buffet meals, including lunch and dinner.
Use special signage at the reception indicating the uniqueness of your breakfast, such as a healthy corner or a dish, in order to keep your guests interested. At the elevator, you can also display the rush hours of your breakfast buffet using special signage!
Make sure your guests can easily move around the spa area through signs for all spa facilities, such as Hammam, Jacuzzi, Massage Rooms, Swimming Pools etc.
Another facility that needs special signage is the spa. Spa usually consists of a range of services such as indoor/outdoor pools, massage rooms, Jacuzzi, Hammam, Fitness Center, which shape the wellness experience of your hotel.
This means that guests should be able to move around the spa area on their own and not get lost in the maze. Therefore, hoteliers should make sure that all facilities are clearly marked and signboards can easily guide travellers to all spa services.
By enabling guests to move around the spa area, you significantly reduce operating costs and increase guests' satisfaction.
Conclusion
Finally, we would like to emphasize that all signboards inside and outside the hotel should be fully in line with its design and be considered part of the space in which they are located. This will enhance the 'homie' feeling of visitors, and make them feel more comfortable!
Which of the above do you apply to your hotel? Or, if you do something extra, let us know and we may add it to our list in the future.