Upgrade your visitors' experience with unique items that can only be found in your hotel shop
9 mins read
Professionals in the world of luxury hotels have already recognized lifestyle services as a sector with enormous growth potential. The luxurious suites, the sophisticated concierge, the impressive spa, the sophisticated restaurant, offer an unforgettable stay, however what everyone is looking for is the "wow" effect.
By incorporating an upgraded shop/boutique into their range of services, many hoteliers have discovered both a new source of profit and a source of pleasure for their customers. Passing by and shopping from the hotel shop of the accommodation in which they stay, guests 'extend' their experience to a certain degree, as they retain memories through the objects they purchased, long after their departure. This is why the trend of in-hotel shopping is growing rapidly in the hospitality industry around the world, bringing with it huge interest and new prospects for increased profits.
Greece, as a top tourist destination with some of the best tourist products in the world, is also a pioneer in this area, presenting unique and well thought out in-hotel shops in a large number of accommodations. Below, we have collected some very interesting hotel shops that have caught our attention:
HOTEL GRANDE BRETAGNE, ATHENS – GB CORNER GIFTS & FLAVORS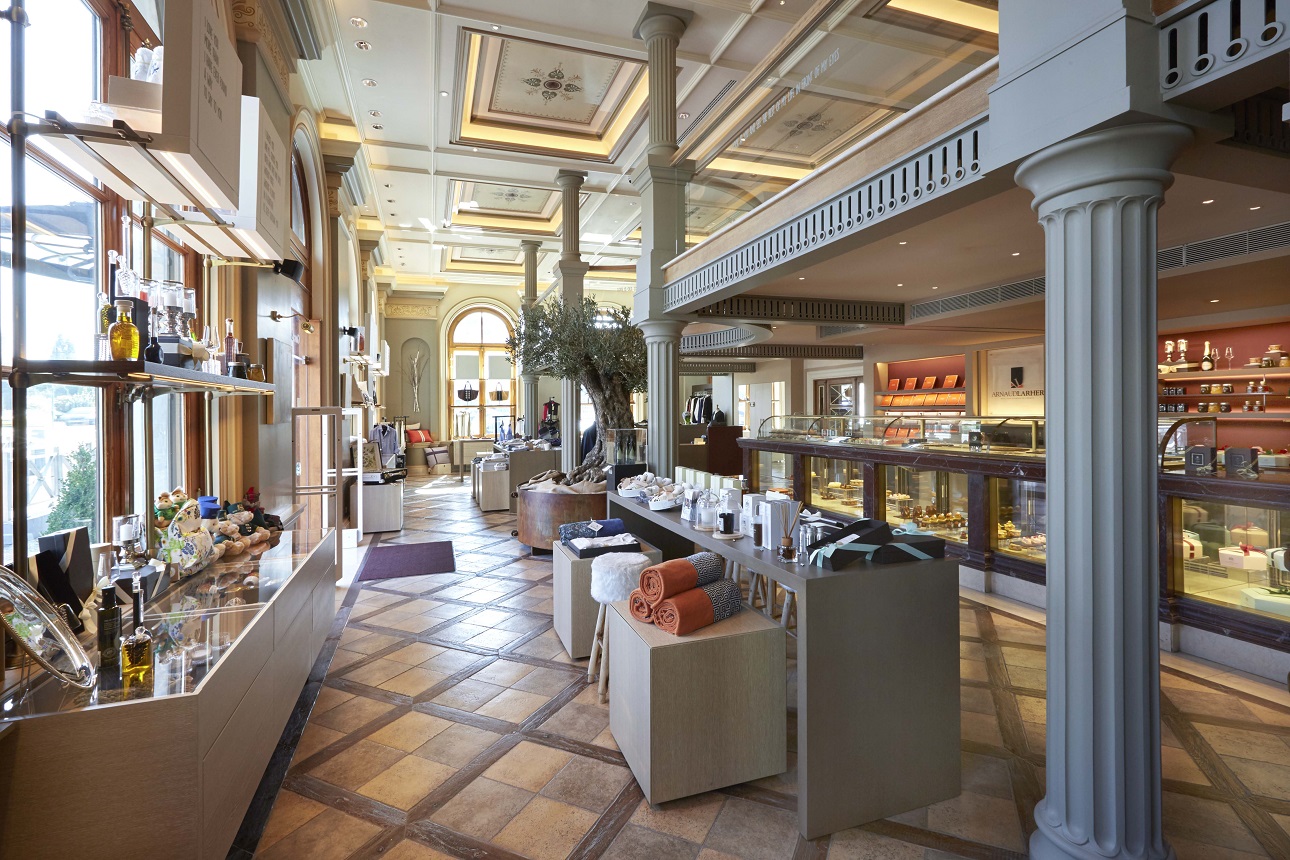 The legendary Grande Bretagne with its boutique and sweet creations by pâtissier Arnaud Larher, is the favorite shopping spot of the Athenians and visitors of the Greek capital.
"Where the store is now, there used to be a well-known restaurant. When the need for change emerged – and after thorough research – our team came up with the idea of creating a concept store where our customers would be able to find not only a rich selection of local products and unique sweets, but also one of the best fashion collections, with handpicked brands, "says Christina Papathanasiou, Director of Public Relations.
Hence, creations of Zeus & Dione and Brunello Cucinelli, as well as numerous other companies, have found a new home at the most famous "corner of Athens", in the heart of Europe's most historic city, for an ultimate shopping experience every season of the year. Recently, and at the request of its customers, the hotel has created grandebretagnestore.com to serve online shopping as well!
POSEIDONIO, SPETSES – MAGEIA BOUTIQUE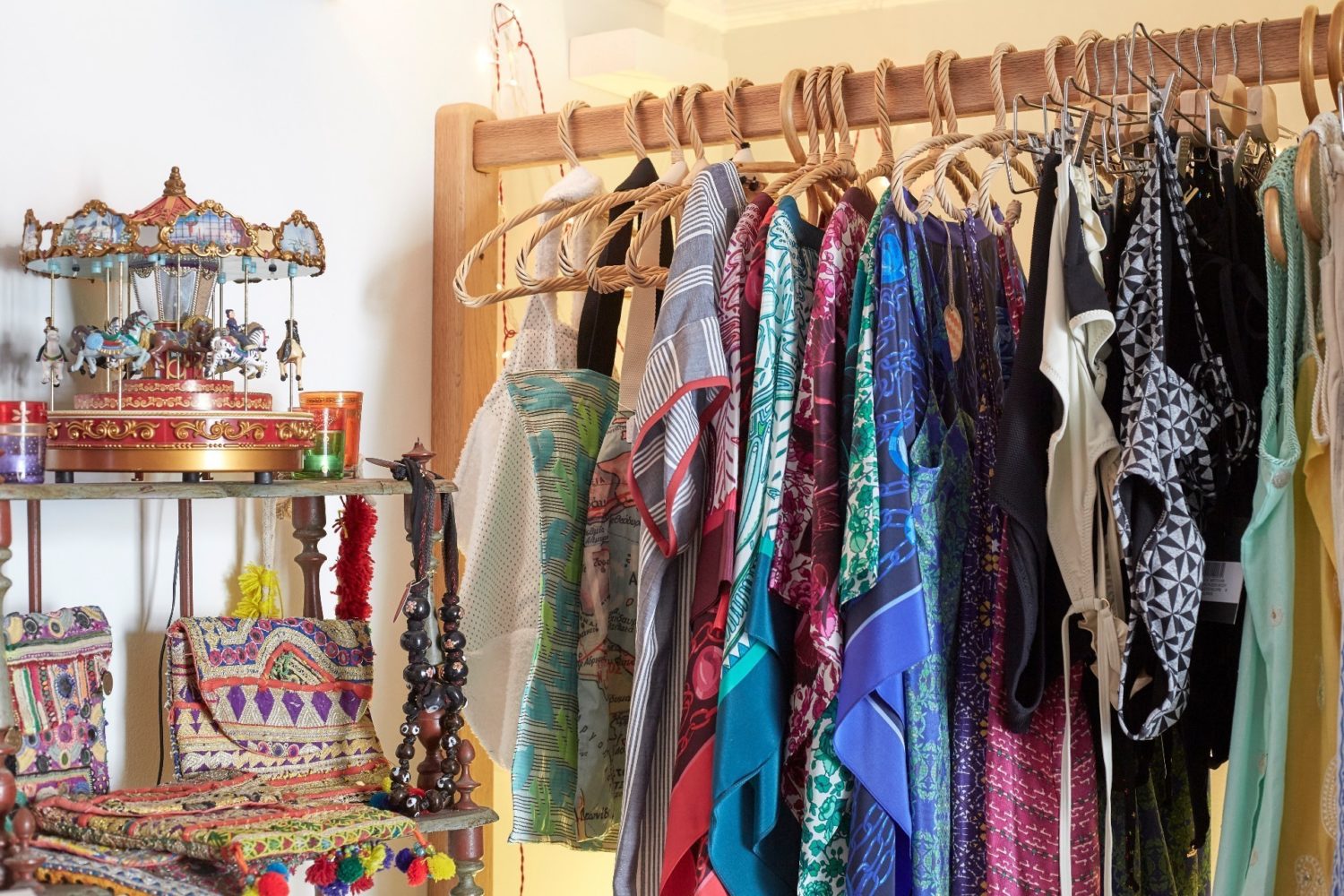 Mageia Boutique has been going for the last five years hand in hand with the reputation of the popular "Poseidonio" hotel in Spetses. The outstanding creations of renowned jewelry designer Ileana Makri stand out in contemporary designs inspired by classic Greek elements. She is, after all, behind the original idea and choice of space, while her sister Myrto manages the boutique with great success and confirms its reputation as a "must-visit concept store" every year. A dazzling selection of clothing and accessories (Ellie Rassia Swimwear, Suzusan, Faye Chatzi, Mario Schwab, Raquel Allegra) attracts every specialized eye. In addition, Alexandra Kotzamani's artwork adorns the space and awaits guests to admire it and choose.
PATMOS AKTIS, PATMOS – AMMOS BOUTIQUE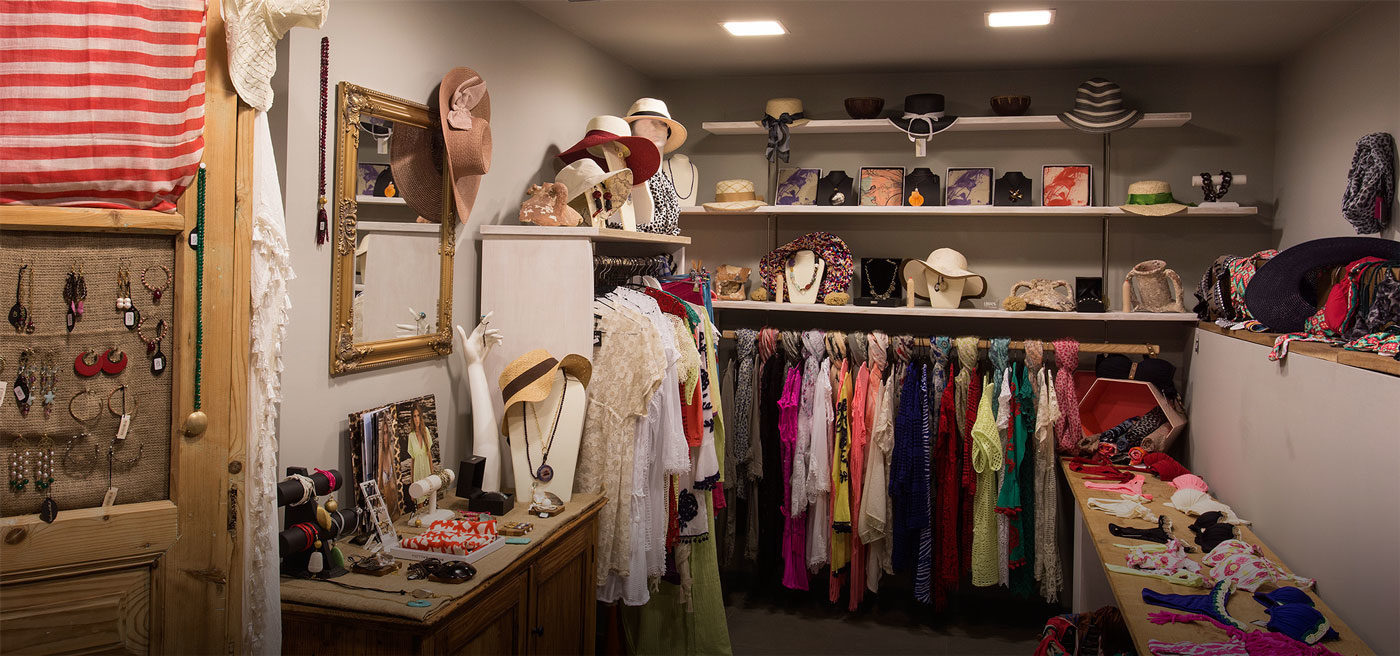 It started as a small shop where you could find everything you needed for your summer vacation to evolve in 2018 into a high-end hotel shop: Patmos Aktis' store now boasts Greek fashion on the island of Patmos.
Ammos was born to remind everyone of the Greek summer. It offers a wide variety of swimwear by Greek designers such as Stefania Frangista and Zuha Swimwear, sandals inspired by ancient Greece and the Greek islands (Esiot sandals, Most Chic sandals), Megeiasou wicker bags, authentic Savapile hats, striking nεnε kaftans, scarves, clothes and beach towels (Sun of a Beach & Pearl and Caviar) but also a remarkable collection of jewelry (Honor jewelry, Thanos One Off). Every visit to the boutique is like a small interesting journey into the world of upcoming Greek fashion, where contemporary trends are combined with local influences, elements of mythology, History and the personal background of each designer.
DEXAMENES, PELOPONNESE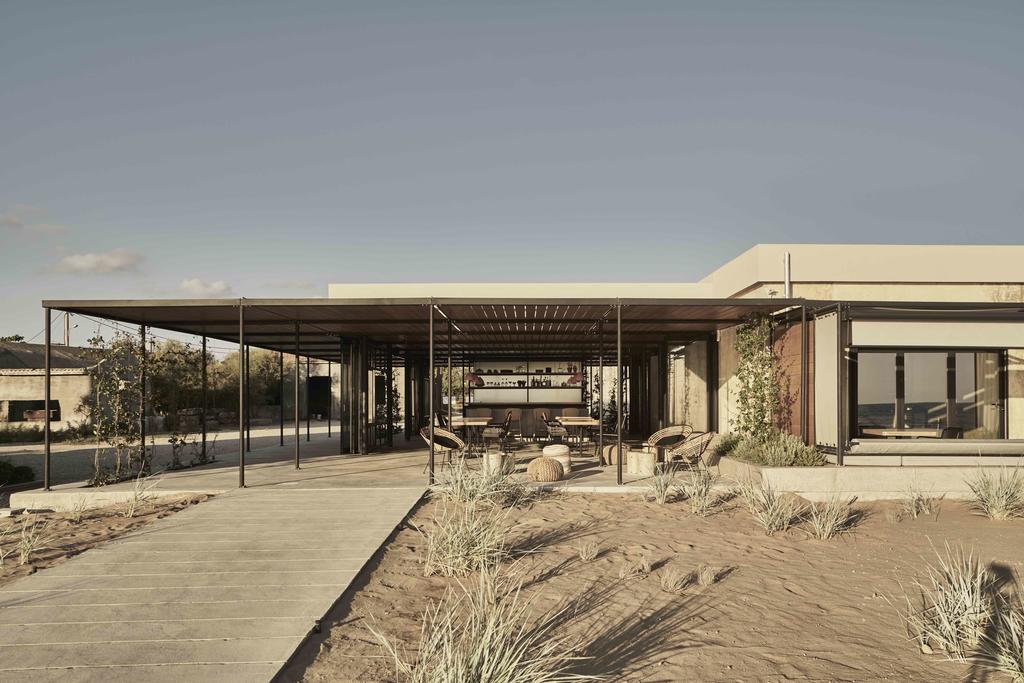 Member of Design Hotels of the World, Dexamenes is a post-war winery that has literally transformed itself into a luxury resort on one of the most authentic beaches of Western Peloponnese.
The very enthusiastic General Manager of the hotel, Nikos Karaflos, spoke to us about working with his wife, Rallou Katsari, a jewelery designer who launched the hotel's concept store in June 2019 to enable their customers to enrich their, already unique, experience.
"The boutique is the first thing customers see, as it plays a strategic role in the lobby. Therefore, the lounge becomes a lively place for visitors throughout the day, as well as the outside guests of the restaurant who come to dine at Dexamenes. "
Brands are chosen more by preference rather than commercial criteria and that is what makes the difference. This is the case for a team with taste, well aware of what it has to offer. Chose products are of high quality (Rho foods, Olympic Terra), high aesthetics (Someday bags, candles by Earl of East London, notebooks by Katerina Kotsona) and exclusive (jewelery by Rallou Katsari, ceramics by Despina Xenaki). In addition, linen garments from Greece and unique sculptures (handmade ceramic spittoons by Despina Charitonidi and Panos Profitis) complete the boutique.
BEACH HOUSE ANTIPAROS, ANTIPAROS – PETIT TIPOTA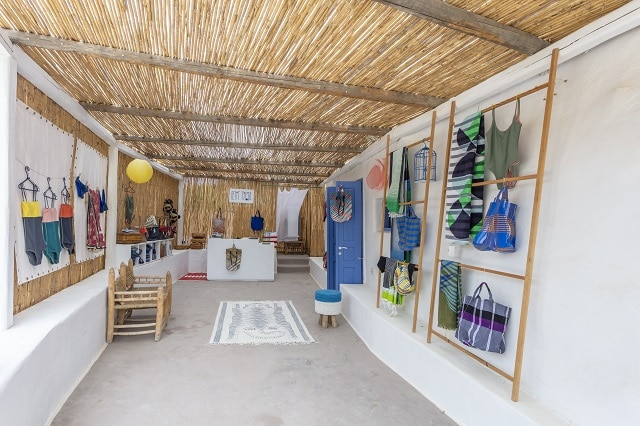 A "Little Nothing" at Beach House Antiparos, where you can find real treasures. A small concept store on the beach, which looks funny as an idea! And yet, for some years it's been a favorite part of chic Greeks, Hollywood stars and all fashionistas visiting the island. The owner is from Paris, but has been living on Antiparos and Athens in recent years, even representing Greece with some of the store's brands.
She selects each piece with extra care from specific French and other brands: Inouitoosh's colorful accessories, sexy Calarena swimsuits from Corsica, Diega and Mare di Latte women's kaftans and dresses, Izipizi's "easy" sunglasses, and Dragon bags, are just some of them. Each year, her well-trained "eye" will unearth small miracles, difficult to find elsewhere. The surrounding here is special. Trendy inflatables of The Nice Fleet swing by the sea breeze and Pierre's men's swimsuits from Sicily hang on ropes as if they were freshly washed. The setting has a warm atmosphere and a humorous touch while the project is thankful to both visitors and suppliers!
KATIKIES RESORTS – MO's FASHION BOUTIQUE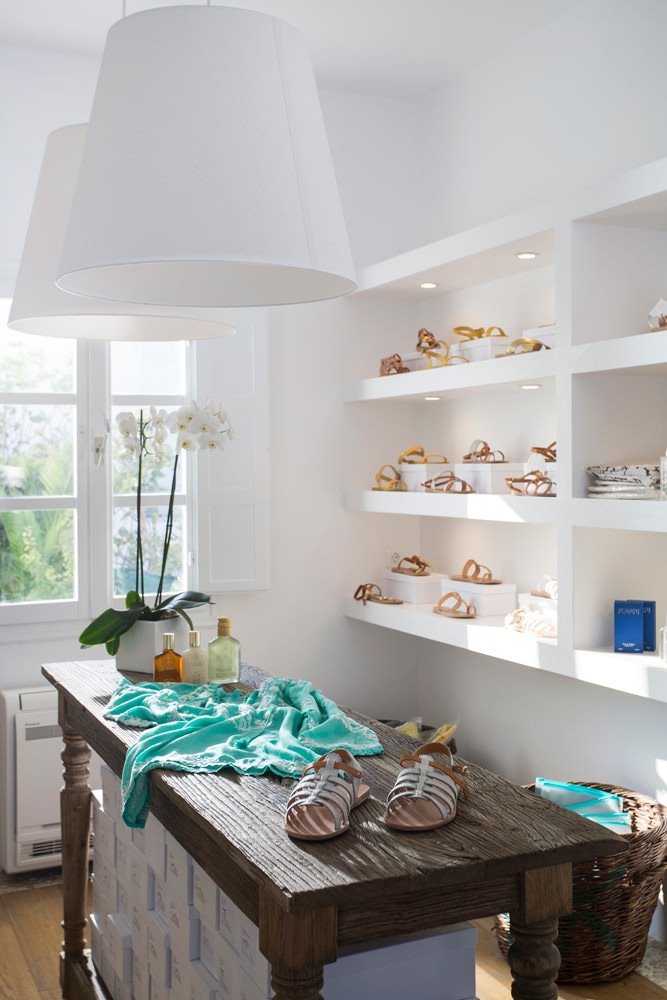 The eight Katikies compounds in Santorini and Mykonos are probably one of the most impressive luxury hotels in the Cyclades. Three of them offer a special hotel shop for visitors – Katikies Santorini, Kirini Santorini and Katikies Mykonos. Two more are due to open soon within the group's new members, Katikies Garden and Nikki Beach.
"The boutique is a way to provide hotel guests with everything they need without having to go out of their dream places," the business manager told us.
In Santorini travellers can find Greek fashion companies such as the famous Ancient Greek Sandals and Marina Vernikos creations, while the Mykonos boutique gives a more colorful aesthetic, with brands such as Melissa Odabash, Vitamine swimwear, Agua Bendita, Marieta's Fantasy sandals and Pin- Up beachwear, as well as the exclusive St. Barth's line of sun, body and massage products.
BELVEDERE, MYKONOS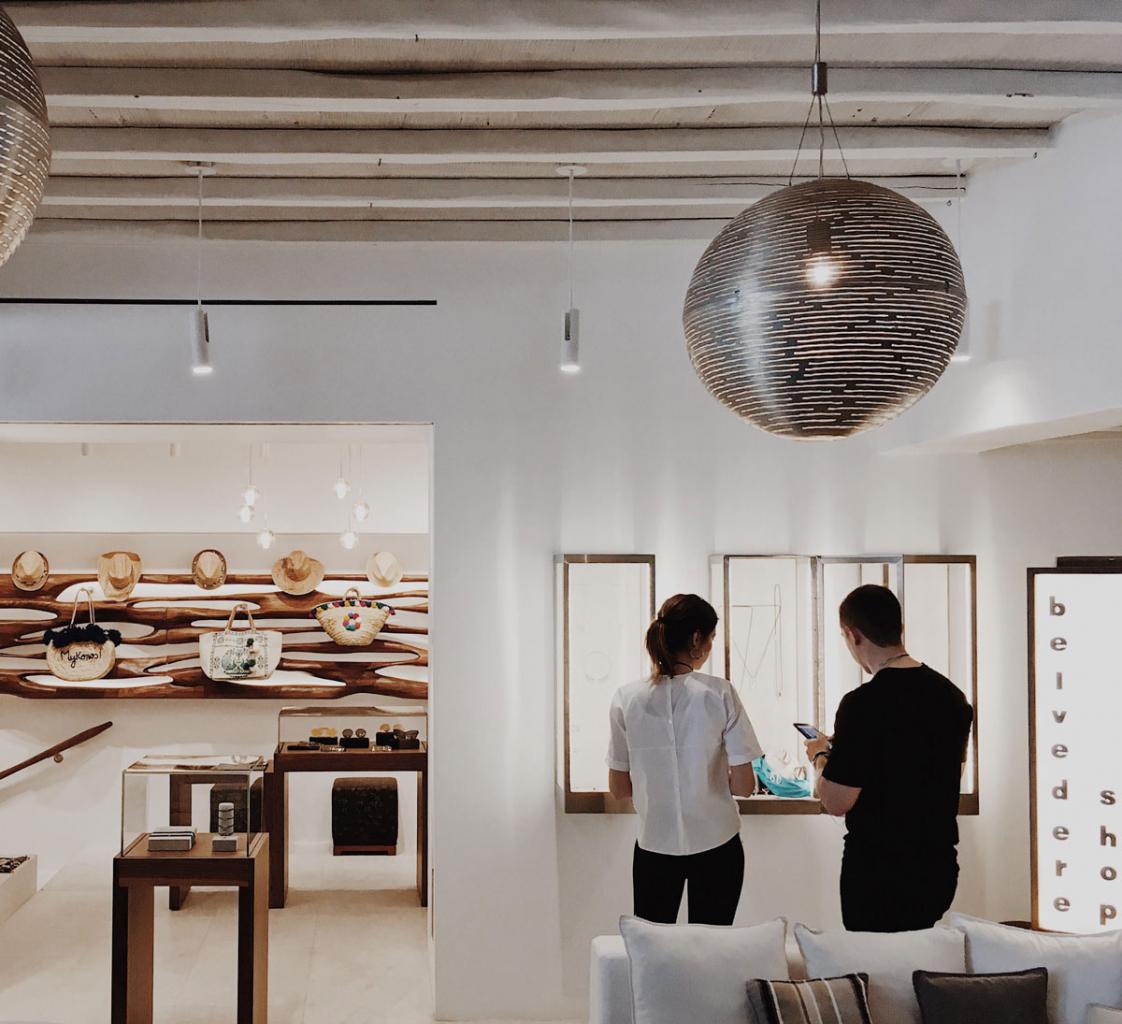 The family-run hotel, which has evolved into a true myth, was one of the first luxury hotels to realize that having a retail shop is just as important as having a spa. A high-quality fashion destination within the hotel premises, Belvedere's boutique can easily tailor your look to the island and enhance your poolside appearance.
Decoration items and accessories are combined with a handpicked collection of Greek designers' clothing and jewelry, such as Diane Kordas, Zeus + Dione, Ancient Kallo, Themis Z, Kois Optics, and a strictly chosen range of overseas brands, adapted to the island's spirit (Muzungu Sisters, Solid & Striped). Indicating the success of the boutique, Eugenia Niarchou decides in 2015 to open her own exclusive store for her creations within the family-run hotel. Venyx, derived from the words Venus and Onyx, now dominates the lovely Belvedere lobby.
EAGLES PALACE, HALKIDIKI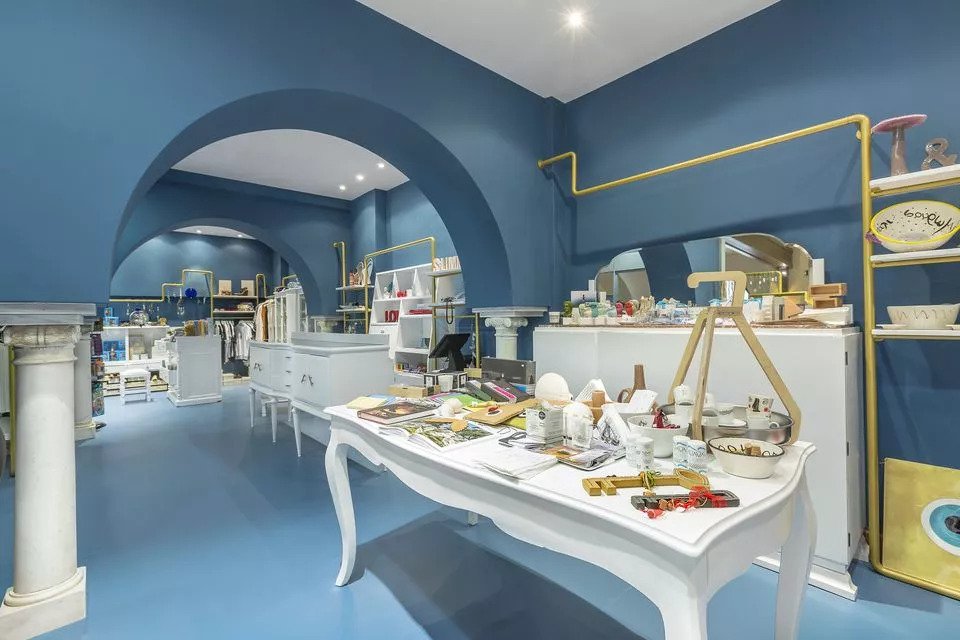 As the hotel is 4 kilometers away from the nearest settlement, the Eagles Palace team decided in the 1980s to open a shop inside the complex so that their guests could find the essentials without having to leave the area. After the success of the project, a second one followed, and then a third. The first boutique is located at the hotel reception. The second, which is by the sea, offers all the beach essentials while the third has exclusively Greek brands, where visitors can find everything from sunscreen to designer clothes made in Greece.
Within its 200sqm you will find a variety of souvenirs with references to Greece (Sophia enjoythinking, Ploos design), along with gorgeous Greek jewelry (Vally Kontidis, Ilias Lalaounis, Elena Votsi), accessories and clothes (Ancient Kallos, Ellis Geo, Zeus and Dus , Ancient Greek Sandals, Kyma)
Conclusion
Hoteliers, realizing the benefits of capitalizing one of their hotel spaces by setting up a shop in it, embrace the many opportunities for growth and creation in the hotel retail segment. It is an industry that, especially in recent years, has seen enormous growth worldwide. Travellers are increasingly inclined to buy items and souvenirs from the hotels in which they reside (be they clothes, fragrance space, shower gel/shampoo from the amenities of their rooms, up to pillows and mattresses in which slept!). Therefore, a modern and up-to-date hotelier should in no way overlook this tendency, making sure that it is optimally integrated into his business.