A collection with the 10 Spa Hotels around the world whose upgraded wellness services help them stand out from the competition and elevate their visitors' experience
17 mins read
The wellness sector is one of the most recent and significantly dynamic global trends in the hotel business. This new trend does not apply only to hotels with Spa facilities but mostly to properties that provide a holistic wellness and rejuvenation experience. Nonetheless, and as a key part of a Wellness Hotel experience continues to be the on-site facilities and services, hotels around the world seem to be increasingly investing towards this direction — always having in mind to find ways of boosting the overall wellness experience in their premises.
Τhe truly upgraded Spa services in a property, manage to cover a wide range of physical, mental, and detoxifying treatments aligned with the entire hotel environment. In this hotel collection, we highlight the 10 best Spa Hotels from around the world that have indeed managed to succeed this, providing wellness services that play a key role in their overall guests' experience. The Wellness mentality in these properties is so special, that convinces the travellers to opt for a relaxing and refreshing stay!
Throughout the article, you will be able to find Smart Tips that you can adapt and customize to your property, laying the foundations for a special Wellness Hotel that will enhance your guests' overall staying experience!
The Retreat at Blue Lagoon, Iceland
Surrounded by black lava stones the hotel offers unique and relaxing experiences based on the area's natural wealth
Retreat at Blue Lagoon promises powerful experiences based on the natural wealth and peculiarity of the country known as the 'land of fire and ice'. The hotel managers know very well how to convey this experience to their guests. The complex is located in a volcanic area surrounded by black lava stones that draw geothermal energy from the bottom of the earth, utilizing it in the building's modern and minimal facilities but also in the resort's geothermal waters.
During the winter months, the visit to the resort is a true once-in-a-lifetime experience, as the outside temperature can be -5°C but the geothermal waters of the blue lake can reach up to 38°C. The hotel's suites have breathtaking views over the area's lunar landscape and the blue lake that seems to emerge through a layer of mist that is created due to the large temperature difference.
In addition to visiting the Blue Lake, guests can enjoy complete wellness packages such as detox therapy with seaweed and salts, an in-water bar offering refreshing drinks, a relaxing massage in the water, a facial cleansing and toning mask bar, a sauna, and a steam room. The resort also has a store where visitors can find, among others, products containing geothermal seawater, seaweed, and minerals for their skincare back home.
A great part of any hotel stay is food, hence the resort has three amazing luxury restaurants: Moss, Lava & Spa, all with stunning views. The various facilities and services in the complex are fully organized and the visitors do not need to bring anything extra with them. The Hotel Management offers specially designed shared or private changing rooms (depending on the reservation package), toiletries, bath amenities, and amenities for the Spa.
Four Seasons Resort Bali at Sayan, Indonesia
A hotel in complete harmony with the environment aims to the guests' physical and mental well-being through outdoor activities.
Four Seasons Resort Bali is situated within the lush tropical valleys of the Ayung River in Bali, one of Indonesia's most renowned islands, where relaxation and wildlife have a dominant role during the guests' stay.
The hotel facilities have been developed in such a way as to not disturb the tropical vegetation of the area and provide harmonized and environmentally friendly services. The whole experience of the visitors during their stay is based on their physical and mental well-being. In addition to the on-site fitness center, guests can also enjoy outdoor activities such as paddle biking, private rafting, and cooking lessons based on local herbs & herbal products under the chef's guidance.
Throughout their stay, guests absorb all the Balinese experience the island has to offer, without having to leave the resort.
Make use of the natural characteristics and elements of your area as well as its natural wealth, and align your hotel services with the surrounding environment. This way, your clients will be able to enjoy local hospitality at the maximum level. At the same time, your hotel will benefit from the use of natural resources, saving money and adopting a more eco-friendly character!
The Datai Langkawi, Malaysia 
A physical activity center that delivers "fauna and flora" lessons to its guests
The Datai is situated on the island of Langkawi, Malaysia, amongst a wilderness of primeval mountains and a 10-million-year-old virgin rain forest with rich flora and fauna. The hotel's philosophy is to incorporate the natural wealth of the area, which makes the visitors feel like the 'kings of the jungle', away from the modern city's stressful rhythms.
All rooms are carefully decorated with materials that respect the environment and feature a well-equipped bathroom that reminds of a Spa area. The hotel boasts also a set of private pool villas that overlook the rain forest or the sea, as well as a wide range of wellness and outdoor activities. An imposing swimming pool dominates the central part of the resort, which makes swimming a real pleasure. Some of the activities that the hotel offers include cooking lessons, sailing, yoga, pilates, mountain biking, and a fitness room.
There is also an on-site physical activity center that informs you about the area's flora and fauna. Well-established marine physiologists and biologists will guide you across the area, allowing you to get to know many of the area's animals and mammals, enjoy bird watching, visit the butterfly park, and much more. The resort features two tennis courts as well as the award-winning 18-hole golf course designed by the legendary Ernie Els, that will captivate you with its beauty as it is located between the ancient rain forest and the emerald-green waters of the Andaman Sea.
The Spa area is surrounded by the sounds and beauty of the rain forest, making it an ideal spot for the visitor's physical and mental health. Well-known therapists Bastien Gonzalez and Phyto5 promise to offer high-end wellness services such as hand, body & foot care, aromatherapy, and herbal remedies, within a natural environment designed to rejuvenate and create a balanced internal and external world.
Create specialized sports venues or activity centers to differentiate yourself from the market, targeting an audience that will select you for these very specific services
Marina Bay Sands, Singapore 
Yoga classes overlooking the sunrise in the heart of Singapore.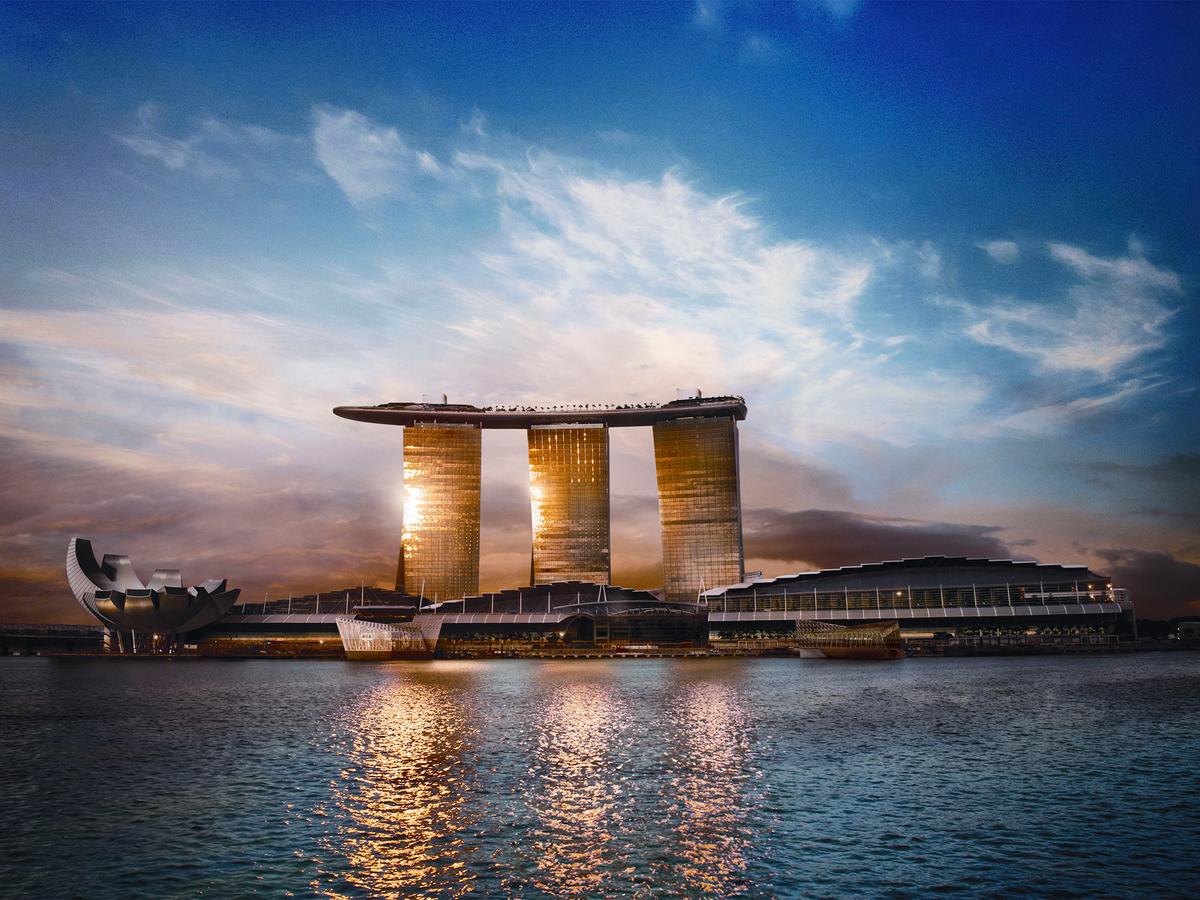 An architectural masterpiece dominates the center of Singapore, which needs no special recommendations. A property that has dominated the world of social networks and has become a major tourism industry reference, conquering the title of a unique iconic hotel. Marina Bay Sands is a resort that combines the ultimate traveler experience within a building that has it all. The property consists of three skyscrapers, shopping malls, casinos, VIP services, impressive Singapore-style restaurants and bars, and a boat-like observation deck, with the world's largest infinity pool situated 150m above sea level.
However, the true relaxation and rejuvenation lies in the wellness services provided by the hotel at Banyan Tree Spa & Banyan Tree Fitness Club. Banyan Tree Spa offers a set of carefully designed treatments that will please every guest. Therapists will welcome you with a foot massage while you enjoy your herbal refreshing drink. Then, and after choosing among Thai, Balinese, Indian, and other body and mind treatments, you will relax and feel like a "king watching over his city" from the 55th floor of Marina Bay Sands.
The Banyan Tree Fitness Club is a state-of-the-art gym with unparalleled city views. In addition to the state-of-the-art exercise equipment, the gym provides a heated swimming pool, sauna, steam room, and personal trainers. Yoga classes have a different 'air' at this imposing Singapore Hotel, since they take place in the morning hours at SkyPark Observation Deck 150m high above sea level, overlooking the sunrise.
Having said the above, it is no surprise that Marina Bay Sands has won the title of "Singapore's Best Spa 2018", among other awards.
Take advantage of your hotel's view and tailor your wellness treatments so that the visitors can enjoy them in front of your unique landscape rather than in a dark wellness room at the basement! This way, you are more likely to convert your customers into advertisers for your very special Spa facilities!
Aqua Dome 4 Sterne Superior Hotel & Tirol Therme Längenfeld, Austria
Ski, relaxation and thermal baths in one of the most awarded hotels in Austria.
Aqua Dome, located in the Tyrol area in the Austrian Alps, features one of the largest and most impressive wellness centers in European winter destinations, combining ski and relaxation. Hotel guests have access to Spa services that span across a vast area of 22.000 square meters!
Thermal baths, float-in thermal pools, conical towers, saunas, wellness and detox treatments, fitness & aerobic exercise, massages, facials, hairdressers, high-end gastronomic restaurants; everything in this hotel is surrounded by snowy mountains, forming the perfect scenery for your most relaxing holidays ever. The hotel's Spa offers wellness packages ranging from a few hours to a full day, as well as after-work relaxation packages.
Extra Info: At night, the surroundings are amazingly lit and the setting becomes particularly romantic and perfect for a relaxing swim in the thermal pools under the moonlight. Every Friday, the wellness center operates until midnight, offering romantic moments to its coupled guests.
The hotel has rightly received several awards in recent years, among which are the "World's Best Mineral & Hot Spring Spa", the "Austria's Leading Spa Resort" and, of course, TripAdvisor's "Certificate of Excellence".
Design spaces that will transform your Spa services into a unique experience for your visitors. The more special and impressive your facilities are, the more likely are your visitors to promote your services on their social media, thereby enhancing the dynamics of your hotel Spa!
Create an impressive concept!
Destsetters' most Premium Service, which specifies dynamic Hotel Concepts for new (under development) hotels or for properties undergoing a complete renovation. The service's main goal, is to create hotels that will stand out from their competitors and have increased profitability perspectives.
In close collaboration with selected Concept Makers, Destsetters develops a detailed brief/manual about the new concept, that helps all the third-party collaborators (Architects, Interior Designers, Marketeers etc) to better understand the property's vision, make a better budget management, and create a final product with enhanced competitive advantages.
Learn More
If you are interested in creating a unique photo concept for your hotel, you can contact directly Mr. Zenios Zeniou at zenios@destsetters.com
Ananda In The Himalayas, India 
Traditional architecture and nature combined in one of the most luxurious Spa resorts in the world.
At the foot of the Himalayas, just beyond India's Rishikesh, lies Ananda, an oasis of wellness and rejuvenation that combines India's traditional architecture with nature. International health experts guide you across a journey full of yoga tips and sessions to restore your balance and harmonize your energy.
Ananda has been described as one of the most luxurious spa resorts in the world, with private sessions and tailor-made services that suit the needs and desires of every visitor. The travelers can choose among a wide range of wellness therapies such as meditation, yoga, Ayurveda, Rasayana, organic cuisine, detoxifying body and mind remedies, stress management, Pranayama, Ventana Talks, Reiki, cooking classes, hydrotherapy, sauna, chilled pool, and Kneipp Foot Bath hydrotherapy.
The on-site fitness center includes counseling and evaluation, body composition analysis, and personal training. Inside the hotel's suites, the guests can enjoy an aromatic relaxation bath in their hot tub or swim in their private pool overlooking the surrounding nature.
Layana Resort & Spa, Thailand 
A refuge of relaxation, well-being and health treatments ispired form the East and the West.
Layana Resort & Spa in Krabi Town in southern Thailand is a fascinating resort that hosts the award-winning Linger Longer Spa, a relaxation refuge that offers East and West health treatments as well as beauty and massage treatments aimed at restoring the visitors' inner harmony and beauty welfare.
Set amongst an idyllic garden, the Linger Longer Spa is equipped with six air-conditioned indoor treatment rooms, two outdoor foot massage rooms, a hydromassage pool, Salt Spa treatments and, of course, a sauna. Some of the treatments include traditional Thai massage, aromatherapy, scrubs, wraps, body treatments, and facials, which are performed by trained staff and specialized therapists. The visitors can choose among wellness packages that last for a few hours to all-day wellness packages, which include activities aiming to reduce stress and increase relaxation, such as yoga classes, meditation, and personal training under the supervision of specialized trainers.
The resort has been awarded several times for its wellness services and luxurious Spa facilities. Some of the property's awards include 'Thailand's Luxury Hotel 2019', 'Asia's Leading Wellness Resort 2017' and 'Luxury Spa Awards 2017'.
Six Senses Ninh Van Bay, Vietnam
The 6 pillars of wellness offered through smart technologies.
Six Senses Ninh Van Bay is located in a unique location overlooking the sea and it offers luxurious and spacious villas with private pools and wellness services at the hotel's award-winning Six Sense Spa. The spectacular rock formations, the white sand beach, the backdrop with the towering mountains, and the fact that the resort can only be reached from the water, create a paradise landscape.
Here, the wellness services are fully personalized with the use of smart technologies. Moreover, the hotel's specially trained staff aim to cover all the 6 pillars of wellness: Sleep, Food, Spa treatments, Movement, Awareness, and Culture. Through the hotel's services, the guests enjoy a healthier lifestyle, nutrition, sleep, and fitness programs. They can also request some of the hotel's unique treatments such as Vietnamese massage, meditation, yoga, manicure-pedicure, bio-detoxification, and even detoxification treatments, special diet, and exercise programs, depending on the needs of each visitor.
Song Saa Private Island, Cambodia
A private island in Cambodia that offers its guests a wide range of wellness services, detoxing and nutrition therapies.
Song Saa Private Island, situated at the Koh Rong Archipelago of Cambodia, features tropical reefs, magnificent sunset views, and private white-sand beaches, and promises unique experiences to its visitors.
This is an ideal place for relaxation and well-being on a private island, where the main philosophy is to provide the visitors with all the experiences and services they need, without having to leave the island. The visitors can tour Cambodia's first private marine reserve, and enjoy activities such as fitness, snorkeling, scuba diving, and sea kayaking, within a lush area full of hidden bays and paradise beaches, overlooking the sunset.
Wellness services include Facial & Body Spa, Inner Wellness & Spiritual Therapies such as Manipura & Karuna, Kaya massage, private yoga, meditation, seafood dipping, Buddhist 'blessing' performed by monks in the local pagoda gravel, facial flora treatment, and bath therapy rituals. The visitors are also able to make detoxification and nutrition therapies, combining healthy eating with physical activity, under the guidance of specialized therapists. In the public areas, you will find an infinity pool overlooking the ocean, restaurants, bars, and a private beach where you can arrange a private romantic meal.
Lily Beach Resort and Spa, Maldives
Combining well-being, relaxation and exercise in Maldives.
The exotic Maldives are dominated by many remarkable resorts with luxurious services that make a traveler's visit unforgettable and relaxing. We have highlighted Lily Beach Resort and Spa for the variety of luxurious wellness and services it provides to its guests. Villas with private pools and Jacuzzis, restaurants and bars, swimming pools, a diving center, fitness center, tennis courts, water sports, SUP, snorkeling, and a sports complex including table tennis, beach volleyball, billiards, and a tennis court, are only some of the facilities provided at the hotel.
In addition to all the above, the hotel offers also group programs such as Zumba, Yoga, Segway island exploration, as well as physical health pool exercises. Water Tamara Spa treatments will seduce the travelers and guide them through the Spa's services, the magnificent views of the Indian Ocean, and the glass floor overlooking the underwater world.
Inside the hotel villas, the guests can enjoy some of Tamara Spa's in-room services, including a sauna, a hot tub, and manicure-pedicure services. The Lily Beach Resort's top Spa facilities have managed to win the "World Luxury Spa 2017" award.
Extra Info:  All the products used in the various Spa treatments can be also found in the on-site hotel shop, allowing the guests to continue pampering themselves even after their vacation.
Create an in-hotel boutique shop selling your Spa products as well as everyday-use items that carry your logo and signature, and cover your clients' needs even after the end of their visit. Selling your products can help you build long-lasting relationships of trust, a strong brand name, and, at the same time, more income!
Conclusion
Going through the excellent hotel examples we have chosen, makes it clear that the wellness services offered within accommodation properties have been significantly upgraded compared to previous years. These services usually include (in addition to a classic Spa or facial treatment), many different therapies either for the guests' physical well-being or their inner and mental health.
Most of the properties that have been awarded or distinguished for their wellness services have one thing in common: the harmony of their premises with the surrounding nature, that allows them to take advantage of their area's local natural wealth. Even if your property is located in an urban environment and benefiting from nature seems rather difficult, you can easily focus on other criteria that will differentiate your property from the market. Services like personal sessions and body analysis will help your visitors achieve a better lifestyle and diet habits after their stay, or aim for specialized activities and services, that will provide truly unforgettable experiences!