Read 5 smart tips in order to create the perfect hotel wellness experience and achieve greater growth
11 mins read
Also covered by skift, Hotel Gyms' steady popularity has made them a travel trend that's hard to ignore. Gyms are now among the top and most searched hotel facilities that travelers look out for before booking. However, very few hoteliers pay hotel gyms the required attention, frequently facing them as a means to reach a 5-stars classification.
This leads to the creation of non-customer-friendly gyms, created with the minimum requirements, neglecting their use as an additional source of income. This is about to change, though, as an increasing number of travelers are becoming interested in hotel gyms, ranking them among the top hotel facilities of 2020. Due to the pandemic, there has been a significant recession in travellers' hotel gym searches, as lockdowns have also made it very difficult to travel and visit hotels. Also, according to the new reality that the traveller has to face in the middle of a pandemic, he will hardly choose to work out in a shared gym. Therefore, you should explore other possibilities for gym facilities in your hotel, such as e.g. in-room fitness to attract more travellers to your hotel!
The statistics development has started to change with the entry of 2021, and now the keyword "hotel gym" has started to become a trend in Google searches for 2021, in a recent survey we conducted on Google Trends, related keywords such as best hotel gyms, and hotel fitness center, respectively are constantly increasing their dynamics with the advent of the new year. So, let's discover the five steps to a successful hotel fitness experience, and, a few extra tips from our team.
Ensure proper lighting throughout the gym, minimal and modern design for the equipment, and, given the circumstances, a nice view for the visitors to bask on
The first step to a complete fitness experience is specifying the design and location of the gym. Hotel Gyms must be properly lit, therefore, it's advised to build them above ground and equip them with floor-to-ceiling windows that let inside as much natural light as possible. Hotel Gyms must also be spacious; Never go with the minimum space requirements. 
The view is also very important. On one hand, city hotels can choose to build their gym on the last floors, so that the visitors can bask on the city view while exercising. On the other hand, countryside hotels are quite easier to design, as they offer plenty of spots with nice countryside views. Given the circumstances, some resorts can also include gym equipment in an outdoor area, further promoting interaction with nature and wellbeing.
Of course, we understand that many of you may have already built your gym underground or you are space-limited. Actually, there are plenty of things to do to enhance your guests' gym experience, even if it's underground. Below, you will find the three most commonly used methods:
Lighting must be as natural as possible: Do not use ceiling lights, but use hidden led lights that share the lighting to the area evenly. To take it a step further, you can even use lights that mimic daylight.
Mirrors are your best friend: Use floor-to-ceiling mirrors as their reflection of light further lightens up the area. At the same time, they add depth to the area, making the gym look much more spacious.
Make it part of your concept (& design): Make the disadvantage, an advantage that travelers will anticipate to experience. Decorate your gym with natural materials like rocks and earthy colors that will feel more natural for an underground gym. It's not just an underground gym, it's your cave-like fitness station.
Naturally, the equipment's design must also be taken into consideration. The gym equipment must be sleek and modern, adding another flair of luxury to the gym area.
*Sponsored

How Technogym's state-of-art equipment can further enhance the design of your gym area and increase your trustworthiness to fitness travelers?
Collaborating with more than 16,000 hotels and cruises worldwide, Technogym has created an array of hotel solutions that enhance the wellness experience within the hotel grounds. Technogym's state-of-art equipment has created an uproar in the fitness community due to its innovative approach to fitness and exercising. But how can they help you create the best gym area for your hotel?
Modern Design signed by an Italian Artist: Technogym's gym equipment is signed by the Italian designer Antonio Citterio, who has added to the equipment a sleek, modern touch, that further enhances the gym's overall ambiance (they are like jewels!).
Innovative Technology for a "smarter" experience: All treadmills and bikes feature o-led screens through which, users can stream their favorite tv shows and movies while performing their exercise. And, it's all available through Technogym's special application!
Ergonomic & Efficient: The equipment's minimal and ergonomic design greatly reduces the time that the housekeeping needs to clean it, while it's space-efficient, maximizing the experience even in small gym areas.
Contact us to learn how you can promote your company in Hotelier Academy
Specify a complete Cardio Experience within the hotel, as it's one of the most popular fitness activities. Don't suffice on the gym facilities, but also create various experiences around the hotel that further enhance the cardio experience
Let's now proceed to the core of your hotel's Fitness Experience – Cardio. Cardiovascular exercise, also called aerobic exercise, is one of the most common types of exercise, performed by both women and men. Most of your visitors will be interested in this type of exercise, so specifying a cardio experience within your hotel ensures the satisfaction of a large percentage of your visitors – even if you do not have a gym.
Even if your hotel's construction and layout do not support a designated gym area, you can and should include cardio equipment on a dedicated, and most preferable pre-designed, spot at your hotel's common areas. Just make sure that the "cardio-spot" is found in front of a window that allows travelers to enjoy the view while exercising. This way, they will feel much more comfortable, as they will be able to escape to the landscape before them.
Of course, you don't have to limit yourself to the hotel grounds. Specify a series of outdoor activities that include cardio-activity like running in the woods, cardio-sessions on a beautiful hotel spot (hotel rooftop or in nature) or jogging to the most popular sights nearby.
Fancy Hotel Idea: Transform your meeting rooms into a dynamic business environment with Wellness Ball – Active Sitting. In addition to super practical, these balls promote a better posture, while, giving a more fun and friendly tone to the meeting's atmosphere.
In-Room Exercising: Use easy-to-store equipment in your hotel rooms, and, larger gym machines like treadmills and bikes only at the larger rooms. Make sure that they are as far away from the bed as possible
According to the latest fitness trends, hotels should include gym equipment in their room facilities as well, something that is especially convenient for travelers interested in working out but lacking the necessary time to hit the gym – for example, business travelers or parents with young children. But what type of gym equipment should you include in a room and which rooms should offer such equipment?
First and foremost, free weights. Free weights can be easily stored without taking too much space, making them a perfect option for all kinds of rooms. However, if you plan to include larger equipment like bikes and treadmills, the rooms must be of a certain size, in order not to look too small and downgrade the guest experience.
Prefer to include the gym equipment as far as possible from the bed. For example, you can include larger equipment in the suite's separate living room, preferably next to a window overlooking the exterior view!
Fancy Hotel Idea: Offer to your guests a personalized fitness experience by creating an in-room gym-kit that includes all the necessary equipment for them to perform their workout in their room.
*Sponsored
Technogym Wellness Suite: Create the Perfect Room Setting for Fitness Travellers
Wellness Room and Wellness Suite, Technogym's most important hotel innovations, create the ultimate in-room fitness experience that's personalized to the travelers' needs. Both rooms feature modern gym equipment from the Home, Personal and Artis Lines which are widely popular for their ability to transform even the smallest gym area into a modern and sleek fitness center for exercise.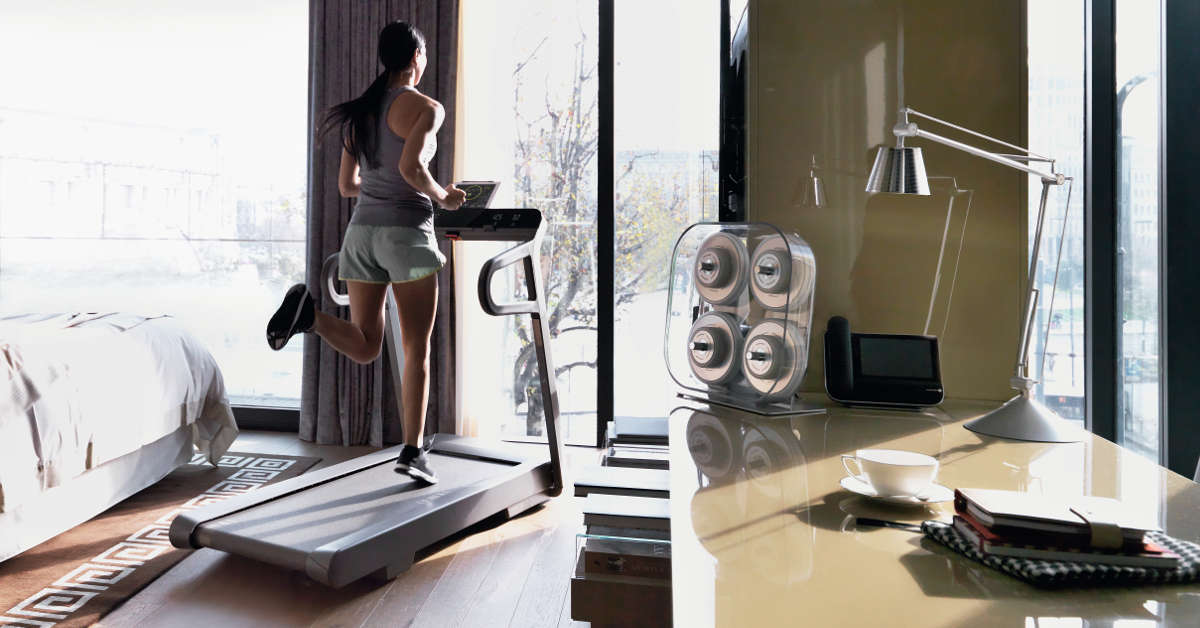 Technogym Suggests: Create thematic rooms based on the travellers fitness interest. You can create special rooms for runners (equipped with treadmills), or special rooms for riders (equipped with in-room bikes). 
Of course, Technogym has not neglected smaller rooms, offering two additional hotel solutions, which are both affordable and with zero space requirements, the Wellness A La Carte and Wellness on Demand. Wellness A La Carte is a special wellness menu that Technogym creates tailor-made for the hotel with an assortment of wellness accessories like a training ball, weights, and the pad, which, guests can request to bring in their rooms. Wellness on Demand, on the other hand, is a diversity of multimedia tools and videos that will make your hotel guests feel like they have their own in-room personal trainer.
Contact us to learn how you can promote your company in Hotelier Academy
Create a customized Detox Cuisine Menu, and make it available at the spa, in the room, and the hotel's restaurants. Also, add a healthy corner to your breakfast, as well as detox cocktails at your bars!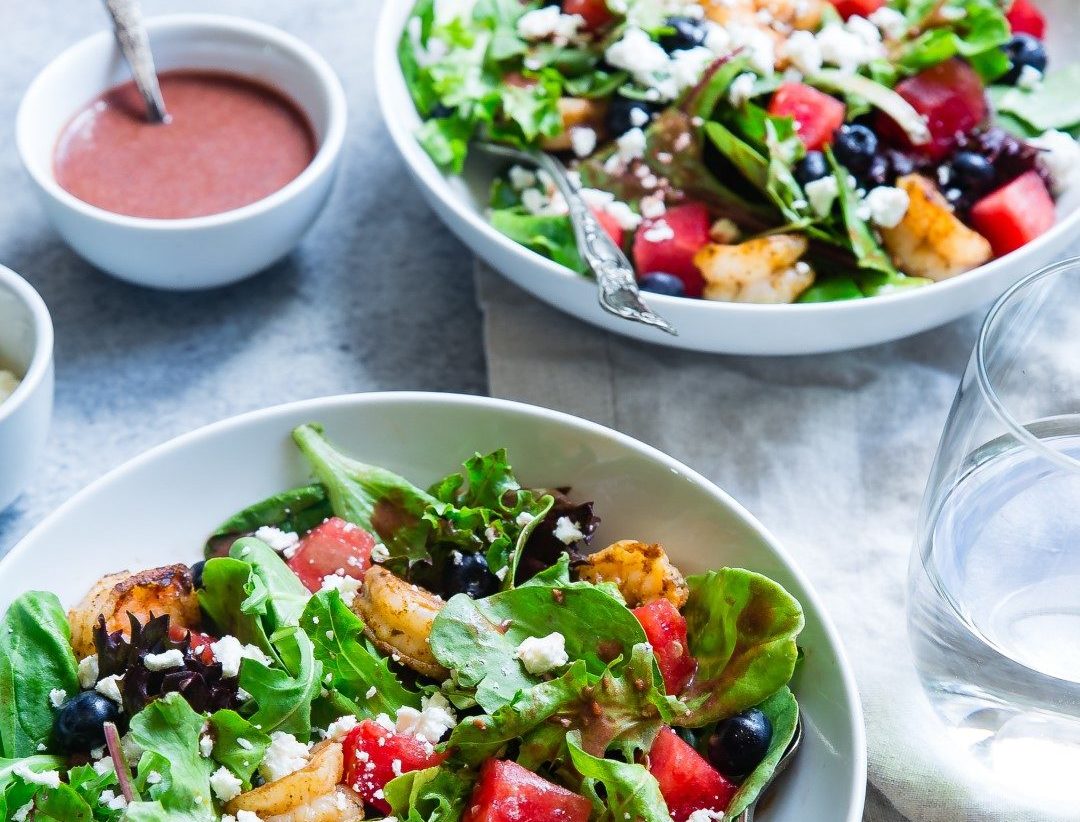 There is not a better way to enhance the fitness experience within the hotel rather than a good detox/calorie-free menu. The first meal that requires your attention is breakfast. Make sure to include several healthy options, like a super-food corner, which will be a great addition to your buffet breakfast, positively surprising all hotel guests (even those who are not interested in the fitness experience).
We also recommend not only include an assortment of low-calorie recipes in your restaurant's menu but also create a special detox menu with healthy snacks and detox juices/teas, which will be available in the hotel's spa area and rooms. For a dose of fun in your hotel's fitness experience, you can even create some signature detox cocktails to spice things up.
Use your Fitness Experience to drive more travellers to your hotel, by making it part of your brand identity. Create a marketing campaign with targeted photos highlighting the fitness experience, special articles in third-party media, and Google campaigns.
You can use your hotel's fitness experience to boost your overall bookings. First and foremost, you can create targeted photography that highlights your gym facilities and the wellness experience within the hotel. For even greater results, you can also use short-length videos. Of course, creating the content means nothing without the necessary distribution.
Use your photo material to enhance your OTA profiles, while also create a special section on your website with all the available content (photos and information). You can also publish sponsored posts to travel blogs related to health and fitness. And, last but not least, Google is your best friend (once again), so you can create several Google campaigns that target these audiences at a very low cost.
Fancy Hotel Idea: Create a special Wellness Area in the hotel where guests can relax and stretch in their everyday clothes. You can call it the fitness lounge of your hotel – we are sure, they will love it!
These are the major key points to shape the perfect fitness experience, either you own a 5* Resort or a Small Boutique Hotel. And, never forget that consistency is key to success. Even if you follow the above tips, you will have to make sure that your hotel's gym equipment is properly maintained every year, so as to preserve the premium experience through the years!