Which are the key communication channels that will help your Front Desk effectively communicate with your guests, and how to use them? Let's find out!
11 mins read
It's nowadays widely known and accepted that the next step of hospitality leans towards personalization. To achieve, whatsoever, a high level of personalized services, constant yet premium communication with the guests must be preserved. Thankfully, technology has made it easier for hoteliers to communicate with their guests, as there are nowadays numerous ways to directly contact them, from social media to location-based notifications.
The methods of communication should be mainly based on the stage of the booking, which could be the pre-booking, pre-arrival, during the stay, and after check-out. The communication channels that you may use for each stage may vary, although several of the channels that we will mention below are used for more than one stage. For this article, we decided to focus on the "During Stay" phase and the communication channels that you may use during a guest's stay at the hotel.
Which are the main communication channels for a Hotel?
Before going through the available channels, we must first understand the definition of a communication channel. Communication channels are tools that allow Front Desk to communicate with the guest directly or indirectly. Some examples of hotel communication channels should be:
Phone
E-mails
Direct Messaging Applications (such as Viber, Messenger, WhatsApp etc.)
Social Media (Facebook, Instagram, etc.)
Live Chat and Chatbots.
Beacons
However, before going through the most popular guest-communication channels, there are first steps that need to be taken. Specifying your communication strategy is the most crucial step, as you should be able to answer the below questions before setting up the rest: 
What type of messages would you like to communicate to your guests?
Which services/facilities you would like to promote through your communication?
What kind of adjustments you should be able to do on unique occasions? (for example, a client who has booked the most luxurious room will receive a message about a premium massage instead of a standard massage).
After you have answered all the above and have set up your strategy, you may now begin setting up the channels that you would like to communicate your messages through. So, let's proceed to our article's main topic and discover the most important direct communication channels to use to communicate with your guests.
#tip: Ensure that your hotel features a high-speed internet connection in every corner of the property, as it will also have a huge impact on your communication with your guests, who might not be able to receive your messages without proper internet connection!
#1. Phone – The Direct Communication Channel that Guests love to hate!
Phone communication is still a thing, even today. This channel provides direct communication with the Front Desk, so it's only natural for many guests to prefer it. It's also crucial for any kind of emergency, so, even if more channels arise through the years, phone communication will remain a standard choice.
In the USA, landline communication is required by law, and there are many other countries with a similar law. Nevertheless, as it's the oldest, most common, and direct means of communication with the hotel's guests, all hoteliers are familiar with it. But, there is a catch. The phone provides a way of communication for the guest but not for the hotel.
It's a great way to respond to guests' requests, however, Front Desk can certainly not use it for Upselling.
Tip: Prefer modern phone devices that match your hotel's aesthetics and style instead of going for the typical ones. If your hotel concept is vintage and retro, don't be afraid to use old-style phone devices as well. Although, when going for that option, make sure to also include at least one modern phone device with a keyboard for better accessibility.
*Sponsored
SuitePad: The most efficient way to communicate with your hotel's guest
SuitePad is certainly one of the most efficient ways to achieve room digitalization. SuitePad is a tablet, created with the needs of modern hoteliers in mind, featuring all the services of a modern tablet, as well as extra applications that enhance guest communication, reduce costs, and optimize processes, leading to higher sales revenue.
SuitePad automates guest communications and helps you directly "speak" with your hotel's guests and inform them about new offers, promote your other services and facilities, guide them through the area's events, and provide valuable information that will greatly enhance their overall stay. The best part is that you can achieve all that through push messages and automation, so it's also beneficial for your hotel's economy.
Of course, it also allows the hotel to easily communicate with its guest through push messages and PMS automation.
#2. In-Room Tablets provide the most modern solution to direct communication during the guest's stay, as well as functionality.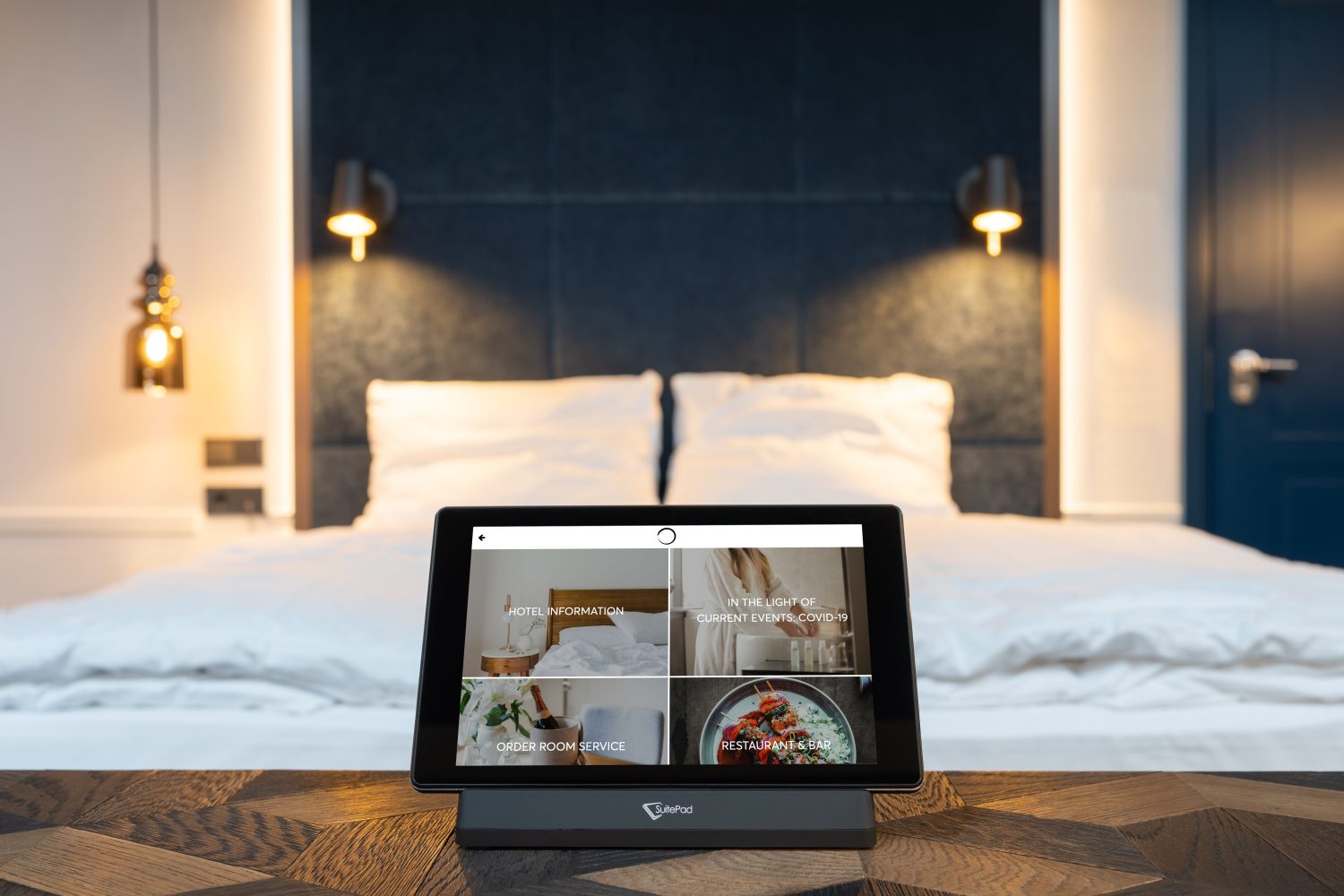 When it comes to direct communication, in-room tablets are definitely the most upcoming and promising channel of communication with your guests. There are several reasons for tablets to be considered so special, and some of which are:
Wow Factor — Even if most guests nowadays own a modern smartphone, providing them with a tablet will most certainly impress them.
Valuable Data — If you pick the right tablet for your hotel, you will also be able to gather all sorts of valuable data from the most popular drink to other preferences that your guests might have and adjust your services accordingly.
Multiple Functions — A room tablet can work as an ordering system, a spa reservation system, provide information about the property and its facilities, promote offers, events, or even give the option for a room upgrade.
Sustainability — Finally, we could not but mention that tablets also enhance your property's sustainability as they reduce paperwork significantly.
#3. Newsletter & mail-list
Emails as a means of communication offer several advantages, especially in recent years, with the creation of mailing lists and targeted e-mail marketing. Through appropriate techniques and tools, hoteliers have at their disposal a powerful tool that, if used wisely, can build relationships of trust, urging upselling and converting guests to repeaters.
E-mails are usually used prior to the guest's arrival but they are equally useful during the guest's stay. Nowadays, we all check our e-mails once in a while, even when on vacations, so automating some e-mails during the guest's stay is very important. The e-mails' main goal should be to inform and encourage visiting other hotel facilities or promote specific offers or room upgrade discounts. The main goal of this communication channel is to promote upselling.
Extra Tip: Make sure that your Online Booking Engine and PMS both offer E-mail automation features so that you can schedule automated e-mails based on specific triggers like for example upon the guest's check-in!
*Sponsored
How does SuitePad help Hotels look more eco-friendly and promote Room Service as a key feature for their upselling policy?
SuitePad is a company that provides in-room concierge tablets with built-in high-level software that facilitates your in-hotel communication with your guests. But how does this technology help you reduce costs while being more eco-friendly?
No More Printed Material: The SuitePad tablet solution replaces the use of room directories, menus, and promotional material with high-level digital information. The use of technology in the hotel's room service can also boost your in-hotel sales and promote a more eco-friendly status.
Promote in-dining Sales: Being in line with the new global hospitality trend that invites guests to "stay in", follow health protocols, and maintain social distancing, it is important to boost your in-room dining sales.
Guest Room Tablet Buyers Guide: The data presented in SuitePad's latest Guest Room Tablet Buyers Guide, give an exclusive insight into the latest trends in guest room tablets and key benefits of this technology, that hoteliers may not be aware of. Hotels can apply those findings in their Room Service Upselling methods.
SuiteCast: This new feature transforms existing hotel TVs into modern entertainment systems. Therefore, hotels can maximize their guests' in-room experience, and make them feel like home.
#4. WhatsApp / Viber communication applications
WhatsApp and Viber have grown huge, and it's high time they were introduced to the hospitality industry as well. As people get more and more familiar with direct messaging, instead of calling, giving them the option to contact you through these applications is a huge relief for many.
Once again, you will be able to create and schedule automated messages that you can send during the guests' stay so as to increase your upselling and promote offers. However, these direct communication applications can also be used to cater to requests, and solve any issues that might arise during the guests' stay (less important issues that might not require immediate attention).
Tip: In Greece, Viber is more widespread, but WhatsApp is more popular worldwide. To choose the application that best suits your audience and integrate it into your communication channels, make sure to study which applications are used in your guests' home countries!
*Sponsored
This is a Free Educational Article made with the contribution of SuitePad
Hotelier Academy publishes educational articles with the contribution of hospitality brands like SuitePad, which support the production of free content for the Hotelier Community. Being one of the top Hotel Technology Brands in the field of in-hotel communication, SuitePad sponsored this article that presents smart ideas for boosting your hotel room service sales, increasing your overall revenue.
Contact us to learn how you can promote your company in Hotelier Academy
#5. Hotel Website & Live Chat
Your website is one of the most important communication channels, that impacts your hotel's performance and affects every stage of booking. A modern, user and mobile-friendly website plays an important role in all stages of communication.
Now, this channel might not be as important as the ones mentioned above, however, if specified properly, it can greatly enhance your visitors' stay. One possible way to make your website valuable for your hotel guests during their stay is by converting it into a semi-guide of the destination.
You may add some of the most important places near the hotel that travelers should visit during their stay, and provide Chatbots to answer typical questions providing information about those places like distance from the hotel, working hours, more details about their product/services, etc.
Summing Up…
Every customer is unique and requires a different approach to stay satisfied. A different communication channel might be used by a boutique hotel for customers aged 18-35 than an all-inclusive family hotel for customers aged 35-50.
Do not forget that a satisfied customer is also a loyal customer. To achieve this and get the best results, it is necessary to invest in new technological models. Research and development is a necessary component for a business to move forward and be constantly updated.
In conclusion, we must emphasize that whichever channel you choose to communicate with your customers, you should always make sure that all rules of compliance with the General Data Protection Regulation (GDPR) are observed, before sending any emails, offers, or direct messages. And, don't forget to keep a 'measure' in your communication, as messaging abuse comes with the risk of tiring your audience, leading to the opposite results.