Read the Selfie Hotel Story of Colombo Courtyard that tells us all about its eco-friendly concept and hotel favorites!
5 mins read
Colombo Courtyard is a boutique hotel located in Colombo, Sri Lanka! We liked the eco-friendly living and sustainable design of the hotel, which is certified as a "Carbon Neutral Hotel" and was voted as "Luxury Green Hotel – Indian Ocean 2014" at the World Luxury Hotel Awards. So, we contacted Miss Victoria Powell, Sales Executive of Colombo Courtyard for a sincere Q&A and real-time photos captured with her phone!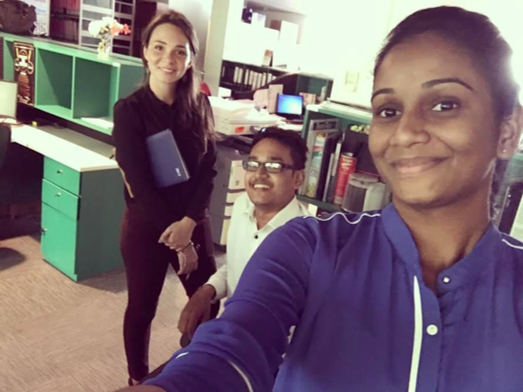 What is your role in Colombo Courtyard and what characterizes you as a professional?
I like to think I wear many hats at Colombo Courtyard. I am currently handling the sales department, but I started with reservations, then moved on to front office, public relations, business development, with a little bit of event planning on the side! Working at a boutique hotel is always interesting because you have the opportunity to see multiple sides of the way a business operates. I chose this photo of myself with our marketing and graphic design team!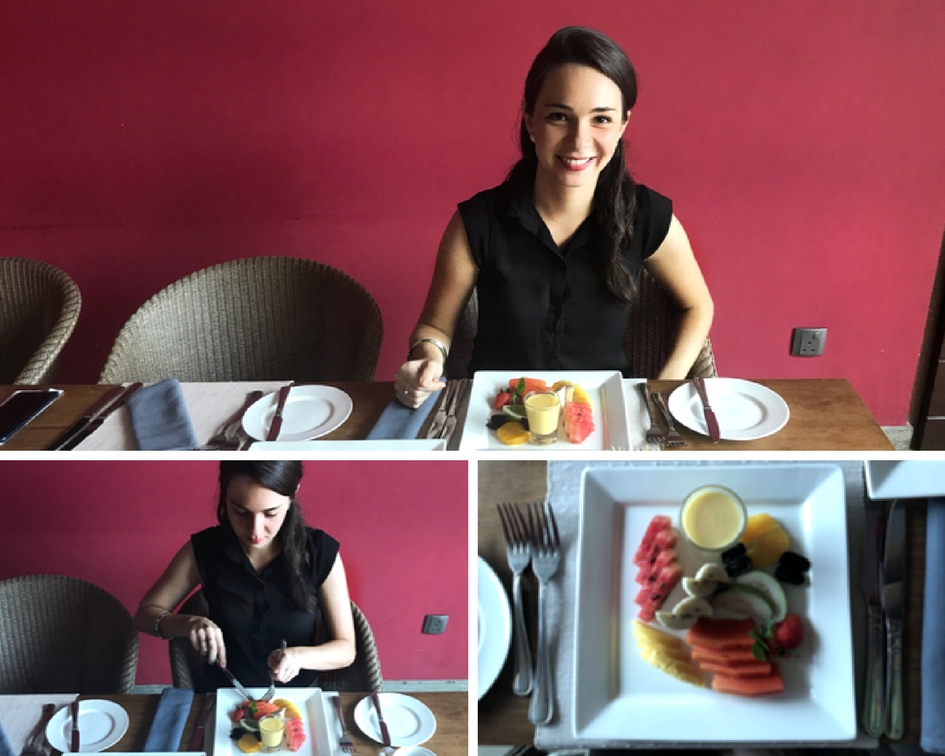 What is your favourite recipe or product in your hotel's breakfast?
I love Sri Lanka because of all of the tropical fruits at your doorstep. I would recommend the Sri Lankan breakfast at our Scarlet Room, because you get to try the hot & spicy fish curries, coconut sambol with your choice of milk rice, coconut roti, or string hoppers, with a beautiful platter of fresh tropical fruits.
Which room is your favourite and why?
I've always loved our Suites. Not a single one of our 32 rooms is the same, and I personally have always loved our Suite number 214. It's spacious and bright, with a lovely view of the pool and the big trees outside the window. But my favorite part of the room would have to the gigantic jacuzzi tub and washroom!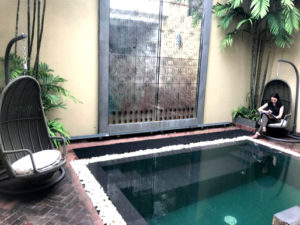 Any favourite design object like a furniture for example?
A fun fact is that our hotel is one of the first Carbon Neutral certified hotels in all 
of SouthEast Asia. The hotel was designed with lots of upcycled materials like tractor seats, old bricks, newspapers turned into wicker chairs (yes, really) and used bicycle parts turned into art! You will never find a tree made out of bicycle parts that stretches from the Lobby all the way up to the stairwell to the 3rd floor anywhere else in Sri Lanka! Our prized local sculptor Prageeth Manohansa made this creative piece of work just for Colombo Courtyard and decorated the hotel with many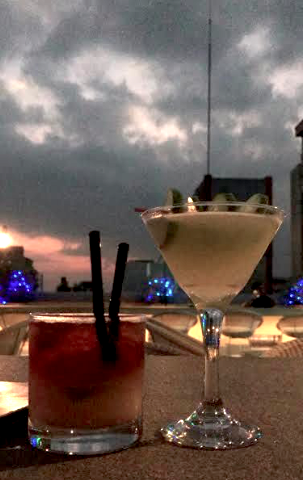 sculptures made from old bicycle parts.
Which is the best view from the hotel?
Cloud Cafe- our rooftop restaurant and bar is an excellent place to relax and have a drink while the sun is setting. We have a daily happy hour from 5.30-7.30, where lots of the after- office crowd comes to socialize, have a drink, and listen to live music on a Friday. Also, a beautiful place to watch the sun go down.
If you could point out a specific dish for us to try at your restaurant which one would it be?
I wanted to share a photo of our Tagliatelle Alla Cremadi Gamberi, which is a pasta with cream sauce, salmon, prawn, and mushroom. We have a great selection of Italian and mediterranean dishes at the Amber Poolside restaurant. I personally love anything with pasta and seafood. Enjoying your lunch by the pool, surrounded by bamboo trees doesn't hurt either.
What can I find in Colombo Courtyard that I can't find anywhere else?
A little- known fact is that, while we have a library, we also have a hidden stack of vintage NatGeo magazines in our Corea House. It's tucked away in a small part of the hotel, so very few guests happen upon it. But when they do, they're blown away by the collection of old magazines.
Most photographed hotel spot and why you believe it is loved by your guests?
I took this photo at the plunge-pool, because it's always such a photogenic spot for our guests. It has a very 'mediterranean' vibe, and I think lots of people like to take photos of them reading or lounging in one of our swinging chairs. We have even had a wedding ceremony take place in this part of the hotel where the guests stood around the jacuzzi and watched the couple get married next to the plunge pool surrounded by trees. It's a beautiful and intimate location.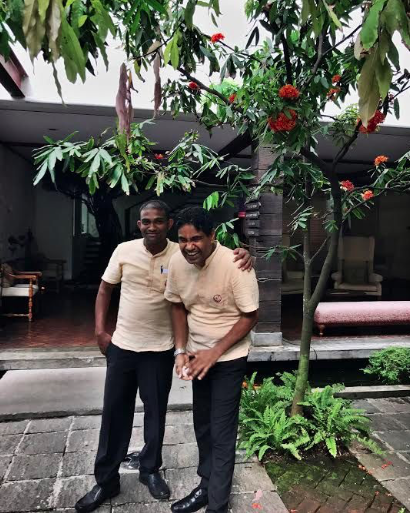 And the best period to visit your hotel?
I personally think the best time to visit Colombo Courtyard is during the "winter" months of November through February. While it's nowhere near cold, the weather is great, and the nearby beaches are in full swing. Colombo Courtyard is the perfect headquarters for your trip around the beautiful island, because you can make day trips to major cities like the ancient city of Kandy, or the beach town of Galle and return to your oasis in Colombo Courtyard. I chose this photo of our excellent members of the concierge- Gayan and Mohammed, because no matter what time of the year you visit, they make sure you feel comfortable and at home here at our hotel.