When a hotel met an art gallery... Apricot Hotel was born! Have a look at the result, which is much better than you could ever imagine!
7 mins read
Apricot Hotel is a luxurious property located in the centre of Hanoi, right on the edge of Hoan Kiem Lake, and the first hotel in Vietnam, that combines art with hospitality. The uniqueness of this hotel (and the topic we discuss in this article), is the fact it hosts an art gallery, featuring original artwork, made by Vietnam's most popular artists.
We contacted Ms Phuong Nam Nguyen, the Hotel's General Manager, who answered all our questions regarding Apricot Hotel: the idea behind its concept, how it was created, and much more!
What is your role in Apricot hotel and what characterizes you as a professional?
I am Apricot Hotel's current General Manager. Having continuously worked in the hospitality industry for 20 years, I perceive myself as a passionate and dedicated professional who's always at our guests' needs.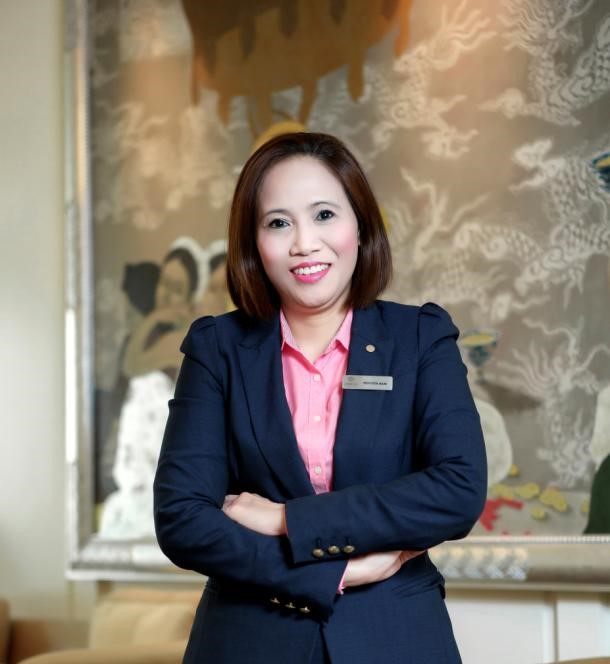 How do guests react to your hotel's concept?
By the moment our guests set their foot in the hotel's lobby, they often feel overwhelmed by the colonial and Parisian design with a strong artistic vibe, that comes from the various valuable paintings of feudatory period displayed and a signature sculpture in the centre.
The hotel's unique concept plays a big role in introducing an authentic Vietnamese experience to international guests, as well as promoting the creativity and innovation of local artists. Most of the times, we get questions from our guests about the origin of the artists behind each artwork. We are delighted that our guests share the same passion and love with us regarding the country's art & heritage.
Could you tell us how the gallery idea was born?
The story begins from the reputable Apricot Gallery, located in a central street of the Old Quarter, whose owner is a well-known art collector in Vietnam. The long-stand Apricot Gallery was famous for its huge collection of artworks from Vietnam leading artists, as well as for its successful exhibitions. Later, the Gallery's owner used his passion for Vietnamese art, culture, and heritage to build Apricot Hotel, with the vision to share his love with international travelers, visitors, and residents.
In 2015, Apricot Hotel was the first living art gallery that came to life in the form of a luxury hotel in Hanoi. Celebrating the country's finest artists and honoring local art and heritage, the hotel takes pride in cultivating a truly local identity. Apricot Hotel is the only hotel in Hanoi that introduces refined Vietnamese touches and authentic experiences to its guests.
Your favorite object or painting?
I believe that the object that has well captured the attention of our guests is the giant painting of a royal family from the feudatory period, made by artist Bui Huu Hung. What makes this artwork stand out from the rest, are the details that were made with real gold plates. More priceless classic, elegant paintings of Vietnam's past made by the same artist, can be found at Apricot Hotel lobby and restaurants.
But.. what about the food?! Do you have any favorite recipe or product in your hotel's breakfast?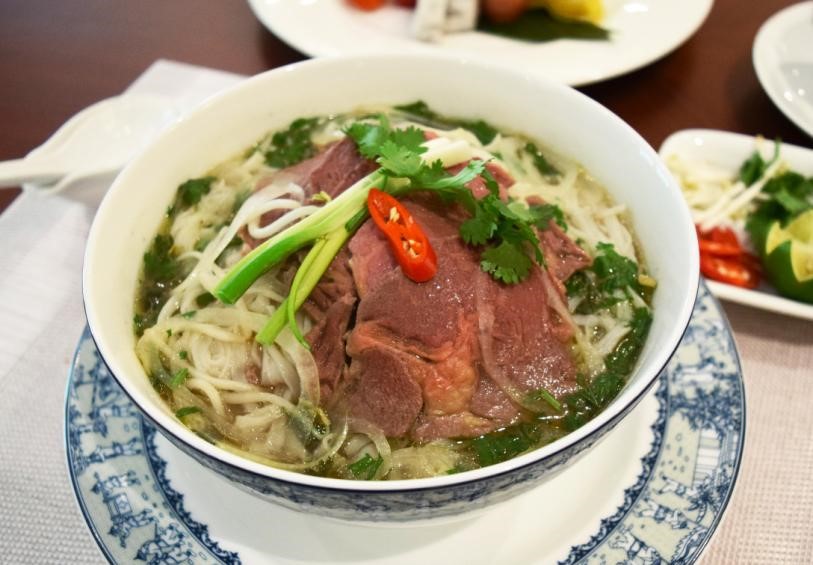 Although our breakfast buffet serves a wide range of high-quality food, from Western to Asian tastes, I really love the traditional Hanoi's speciality: "Pho", rice noodles with beef or chicken. Having started as a street food from small vendors, "Pho" has become a signature in Hanoi's cuisine, as well as a national dish that represents Vietnamese culture. Here at Apricot Hotel, our Head Chef was able to bring back the original taste of the old days of our childhood: the sweetness that comes purely from meat and bones, seasoned with traditional ingredients only and finished with fresh vegetables and limes from local farms.
If you could point out a specific dish for us to try at your restaurant, which one would it be?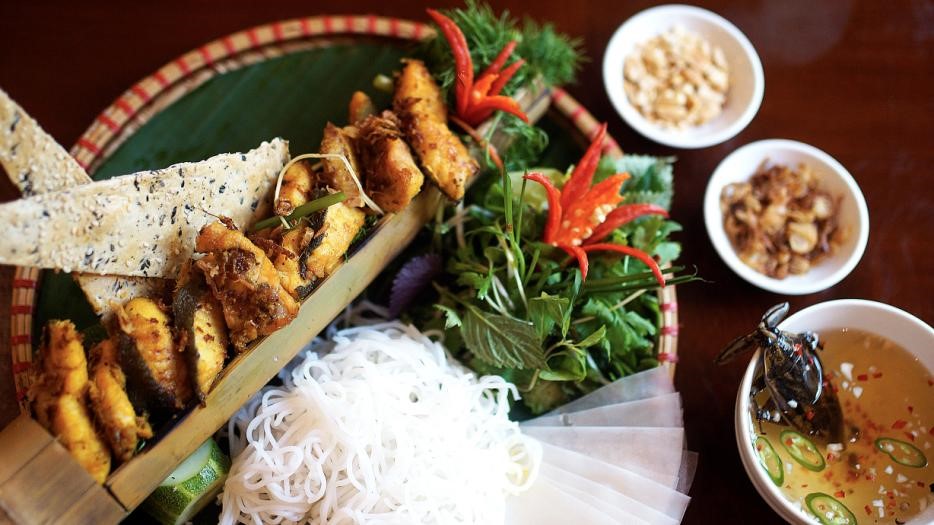 Hanoi special Grilled Catfish on Bamboo, also called "Cha Ca" in Vietnamese, is definitely the highlight of local specialities in our a la carte menu. While presenting an authentic flavour of Vietnam, this dish also demonstrates a very interesting dining habit of the locals. Fresh catfish is slightly marinated with local spices and herbs, grilled in a bamboo tube that originates from the northern mountainous region. The grilled fish was rich in taste with a special fragrant from natural bamboo, served with fresh rice noodles, herbs and a special dipping sauce from Belostomatid.
Please, tell us more about the hotel. Which room is your favorite and why?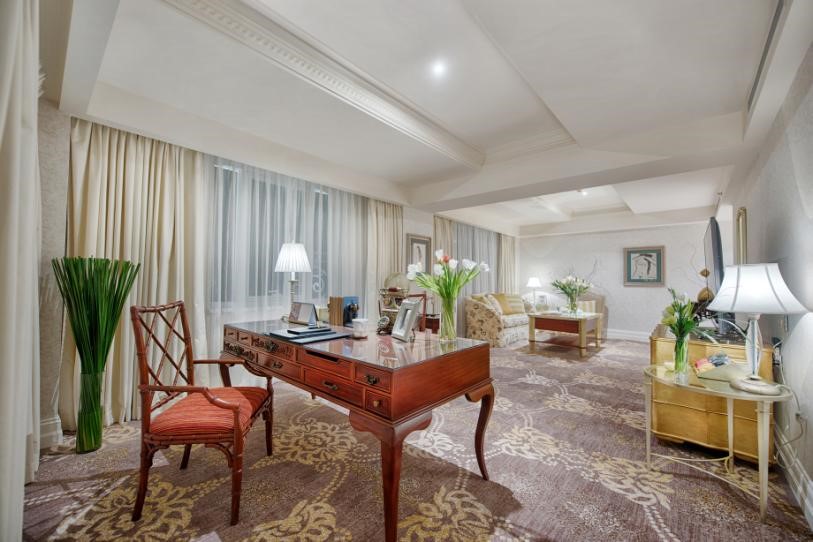 I personally choose Masterpiece Suite as my most favourite room in the hotel, not only because of its upper level of luxury, but also thanks to the subtle touch found in the design, arrangement and small details in the room's facilities.
Representing Apricot's optimum level of luxury accommodation, the grand Masterpiece Suite offers probably the best views in the city. These genuine Masterpieces possess a milieu of luxury, tranquillity and all the refined essences that define the truly fine art of living. A small and green garden looking out to Hoan Kiem Lake is our utmost treatment to those who seek tranquillity and relaxation in the city centre.
Which is the best view from the hotel?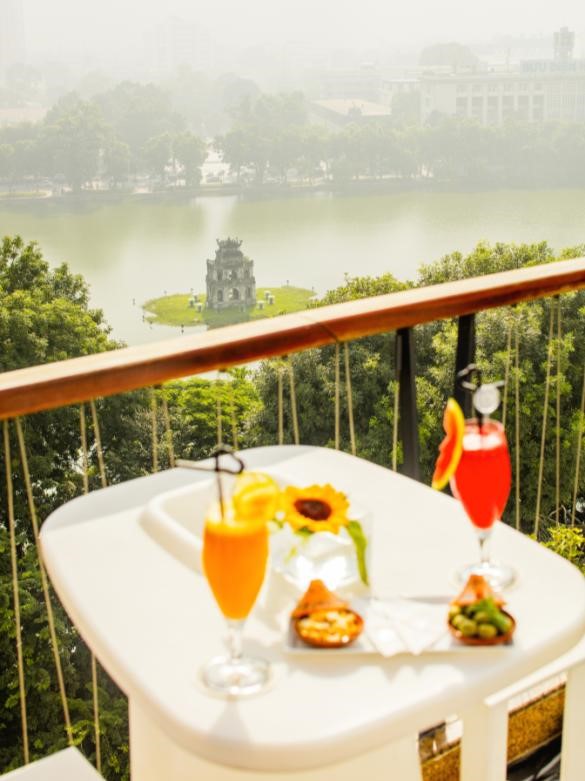 Thanks to our prime location right next to Hoan Kiem Lake, Apricot Hotel is the only place in Hanoi that presents a splendid, sweeping view of the lake from above. Whether you 're enjoying a fine cocktail in the rooftop bar, working on some basic exercise in our fitness centre or relaxing in our Library, you may always revel in the legendary view of Hoan Kiem Lake that can be found from nowhere else!
What can I find in Apricot Hotel that I can't find anywhere else?
Apart from the unique artistic concept, a strong sense of art is also present throughout our hotel: from the refined dining spaces to the trendy rooftop bar, Apricot Hotel offers the epitome of entertainment and artistic living.
Name 3 places around the hotel that a traveler should visit.
With its prime location right on the side of Hoan Kiem Lake and next to the famous Old Quarter, Apricot Hotel offers its guests various choices of popular tourist attractions within walking distance. The below are must-visits for first timers:
Weekend pedestrian street around Hoan Kiem Lake: open from Friday night through Sunday, this pedestrian street is the locals' latest favorite spot on weekend, thanks to the various traditional games and activities taking place along its route, as well as its urban scenery.
St. Joseph Cathedral: located within 100m from Apricot Hotel, this is a Roman Catholic cathedral inaugurated in 1886 with a similar design to the architecture of Notre Dame Cathedral in Paris.
The Old Quarter: Guests can explore the old streets that have more than a thousand years old history. The Old Quarter features unique classical characteristics of Hanoi through the locals' daily life, tight and narrow streets and houses, souvenir shops of many kinds and tasty traditional food.
And the best period to visit your hotel?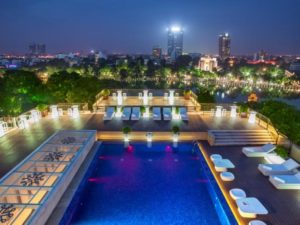 During spring, which spans from February to April, the weather is warm with occasional cooler days. The natural green of the city is an amazing scenery for international guests to enjoy a casual walk, outing day in the sun or strolling down the city.