This is the Hotel Story of Aonang Phu Petra Resort, an amazing hotel located in front of a panoramic mountain view on Aonang Beach in Krabi, Thailand. The personalized experience in this hotel starts from the moment the traveller sets foot in its beautiful lobby and extends to nearly every aspect of the traveller's stay.
4 mins read
We contacted Mr. Nattakorn, Sales, Marketing, and Deputy Front Office Manager at Aonang Phu Petra Resort, and asked him a few questions about the hotel and the features that make it really special. We also asked for a selection of relevant photos, snapped by his mobile phone right on the spot. These photos help us get the true feeling of visiting the hotel, almost in real time!
What is your role in Aonang Phu Petra Resort and what characterizes you as a professional?
I am the Sales, Marketing, and Deputy Front Office Manager. I have been in the hotel industry for 10 years and knowing how to get bookings and meet guests' satisfaction is my specialty.
Where was this photo taken?
This photo was taken in the lobby. I love this photo because our open-air lobby is the perfect setting for our warm Thai style welcome, along with our receptionist's smile!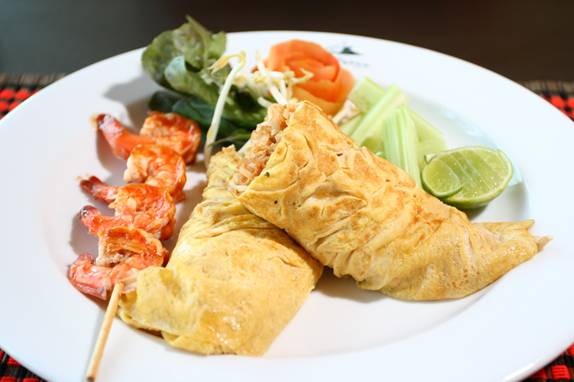 Your favorite recipe or product in your hotel's breakfast?
Pad Thai known also as Thai Noddles! A rice noodle dish, stir-fried with eggs and tofu, fish sauce, dried shrimp, veggies and more flavors that create a treat you must try when visiting Aonang Phu Petra Resort!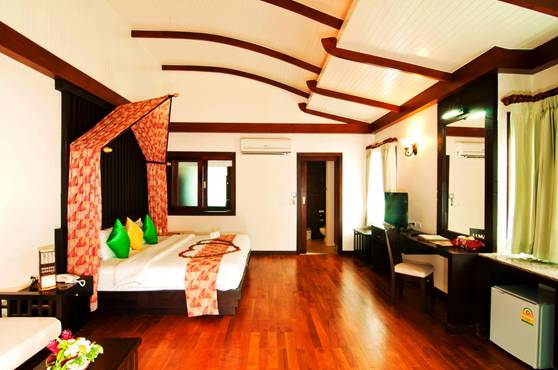 Which room is your favorite and why?
Glorioy Hillside Villa. This is our standard room and it is spacious and suitable for families or couples. The reason I like it, is because of the way these rooms are decorated. Each room is unique in design, creating a feeling of relaxation and comfort. Earth tone furniture has its own design identity, while a touch of nature is created with the half-outdoor bathrooms, which are neatly decorated with genuine Krabi's handicraft, art and materials! This aesthetic fascinates our guests and makes their stay valuable and unforgettable.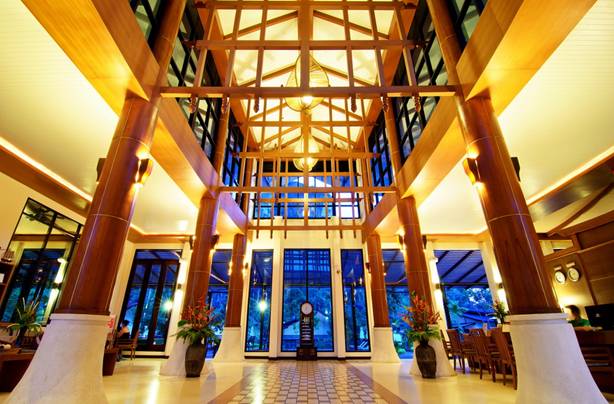 Any favourite design object like a furniture for example?
My favorite design detail is in the lobby and it's the 'boat construction' of the building, with its board jointing details. This part of the hotel is inspired by the local architectural structure scrupulously and is delicately blended with the boat building construction. The lighting highlights and plays with the dimensions of the construction, creating playful shadows and underlining the genuineness of the materials. Yet, luxury and elegance shines through, and signifies the warm greeting and welcoming spirit of people in Krabi.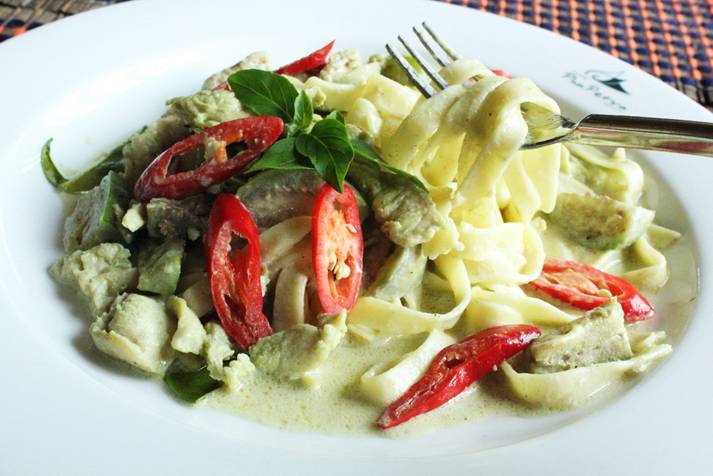 If you could point out a specific dish for us to try at your restaurant which one would it be?
You must try Green Curry Spaghetti and you will not regret it!
What can I find in Aonang Phu Petra Resort that I can't find anywhere else?
At Aonang Phu Petra Resort, apart from excellent and caring services that guests can anticipate, they will be surprised with our data and internal operation that we use to take care of our guests' little details and to create a set of "Beyond Expectation Services". We do not only know their birthdays and preferences, but we also learn their lifestyle and characteristics to create special services for everyone. For example, our menu is designed to match each guest's preferences, as we have a range of different menus and will offer only the one that will match the traveller's needs. As for the wellness part, we create special full spa courses for them to choose, such as a health course, a stress lessening course, relaxing courses and so on, with our well-trained and the best in Aonang area masseuse! Lastly, a little extra service is offering homemade cookies and Thai herb juices to our guests, upon their arrival.
Name 3 places around the hotel that a traveller should visit!
Phi Phi Island, Railay Beach and the Tiger Cave Temple!
And the best period to visit your hotel?
The best period would definitely be from January to May.