Read how Mari Kristin Beach Hotel in Hersonissos, Crete managed to upgrade to a 4-star property while keeping its family-run feeling alive
9 mins read
Family-run hotels are special for many reasons. They combine friendly and cosy service with a touch of history and connection. They make customers feel like family friends as much as welcomed guests. And they offer a more authentic, traditional experience that enhances the guests' stay. But, they are not exempt from renovation needs nor wider hotel trends, as this story highlights.
The Mari Kristin Beach Hotel is a classic example of a family-run hotel located in Hersonissos, Crete where three generations of the same family continue to operate the property.
After more than 30 years of successfully welcoming guests, the Mastorakis family decided to carry out an extensive renovation, both internally and externally. Their objective was clear — an upgrade from a 3-star to a 4-star property, making sure to maintain and enhance the family-run characteristics and qualities that their guests love so much.
For this Hotel Story, we contacted Ms Maria Mastoraki, who shares with us how the hotel's family-run qualities were at the heart of the hotel's renovation.
*Sponsored
We asked Destsetters one of the top hotel concept strategy companies to comment on what impressed them about the renovation at Mari Kristin Beach Hotel.
The upgrade took into account the wishes and desires of previous customers. They used feedback from customers to inform their decision-making process while ensuring the renovation was fit for years to come.
The Mari Kristin Beach Hotel shows that family-run doesn't have to mean old-fashioned – the upgrade of the hotel showcases design and style which brings out a family feeling. They carefully redesigned spaces and injected the family's personality.
The family still plays an active role in the running of the hotel. You will see them in the property adding to a sense of family history and continuity, making guests feel welcome at every possible opportunity.
The Mari Kristin created an upgraded dining experience – the open plan restaurant and kitchen decorated with utensils, jars of spices and herbs create a home from home feel. Guests can also watch the chef preparing Greek dishes – a Greek Masterchef moment every day.
The property makes use of the long warm Greek summers. The renovation brings the inside of the restaurant/bar, outside. An improved pool area with Jacuzzi corner and plenty of places for guests to lounge further add to the family-run vibe – relax and put your feet up.
Can you tell us a bit about the hotel's past?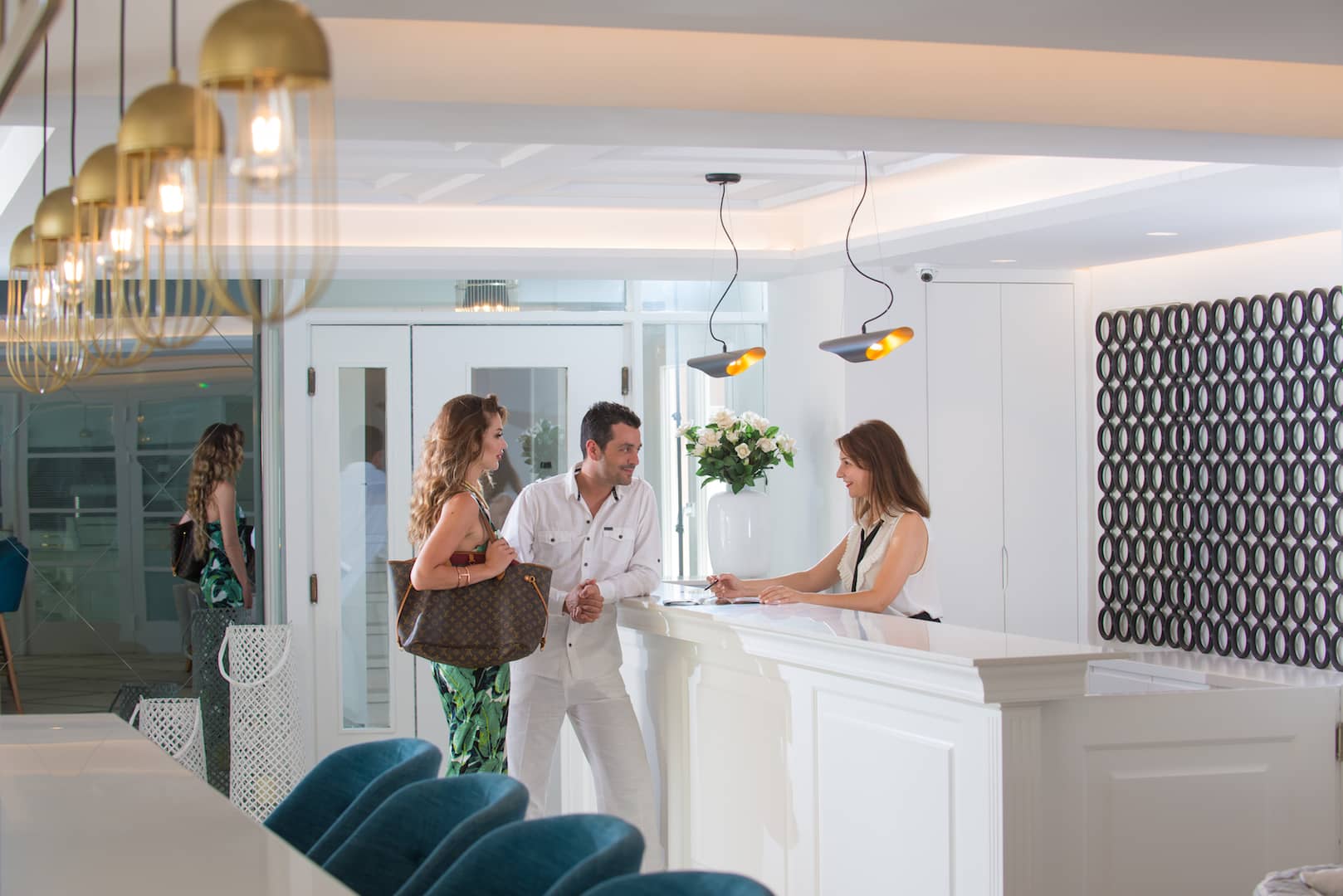 The hotel welcomed its first guests over 30 years ago, in 1984 to be precise. With just 20 rooms, my parents, Giorgos Mastorakis and Zaklin Cariano, decided to leap into the world of tourism and opened a small and friendly hotel. Since then, the hotel has grown to 72 rooms. Ever since its opening, the Mari Kristin Beach Hotel has stuck to its roots and celebrated its family-run philosophy. Today, my sister and I run the hotel with the help of our children and our mother. Three generations actively help create our unique family-run feel.
I see that you have many repeaters at the hotel. What did your guests say about the hotel before the renovation? How did their comments help you decide on what changes you would make?
We have many repeating guests who have been visiting the hotel for years. As a family-run hotel, our guests always commented on our friendly and cosy atmosphere. We base our philosophy on the Greek word "filoxenia", which means Hospitality.
In recent years, some guests commented about the age and décor of the hotel. Our customers made us realize it was time to upgrade the hotel and give it a total makeover. However, they wanted us to stay true to our values, family-run feeling, friendliness and cosiness — and I believe we achieved this in the renovation.
What were your main reasons for upgrading the hotel from 3-star to 4-star?
We wanted to give our customers an upgraded experience. Our objective was to create a stylish hotel with excellent service that met all the requirements of a 4-star hotel. Most importantly, however, we wanted to ensure we kept the family-run tradition at the heart of the hotel.
What changes did you make in the renovation and what do your guests like the most?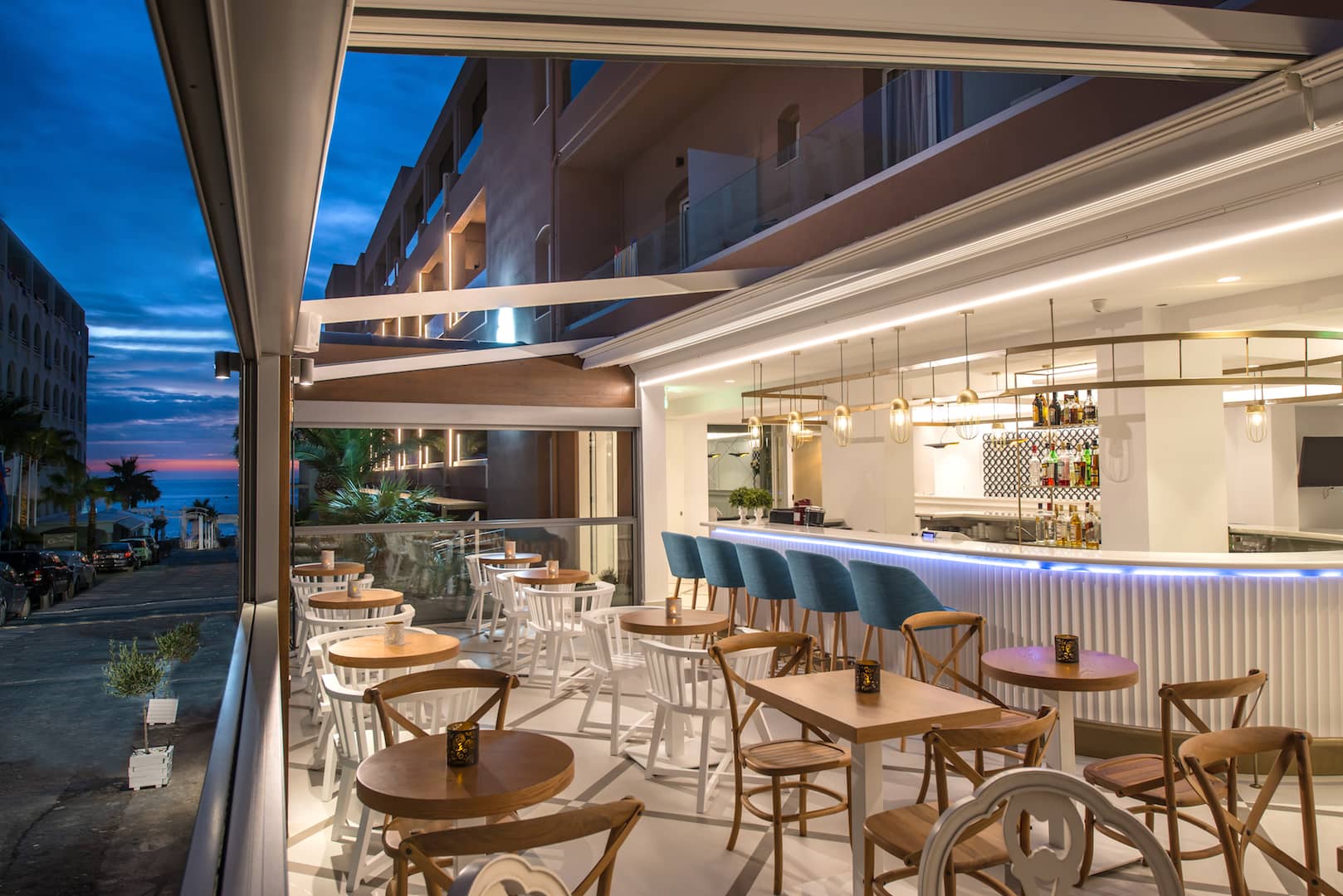 We renovated the whole hotel internally and externally. We painted the exterior of the hotel with tones of terracotta. Together with the special lighting, it makes the hotel stand out from all the other buildings in Hersonissos. The public spaces are exceptional now. One of our guests' favourite spots is the newly renovated bar/restaurant which boasts an open ceiling and frontage. Our customers enjoy their breakfast in a bright place under the blue Cretan sky. At night, they enjoy their dinner or cocktails under the stars listening to jazz or artistic music. The setting is very romantic.
The decision to have an open ceiling throughout the restaurant and the bar was undoubtedly the best change we made — something that our guests seems to enjoy very much!
It's clear that you focused on the style and decoration of the bedrooms in the upgrade. How did you put your family's personality into the rooms?
Our style and decoration can be characterized as "modern romantic" with influences from Provence, in Southern France, where my mother comes from. We wanted to keep the decoration and style light and bright and incorporate some modern touches and comfort. We invested a lot in comfortable mattresses, towels and bathroom accessories.
What other changes did you make regarding your service or facilities to provide an upgraded experience?
We upgraded the pool and added a Jacuzzi corner. Customers spend a lot of time outside, so we provide lots of spaces for them to relax on sunbeds, lounge chairs, and day beds.
Our restaurant area now has an open plan cooking area where guests can watch our chef cooking Greek dishes. We also increased staff numbers in housekeeping. The Reception and bar are now open 24 hours a day. Early Breakfast and Late Dinner are also available.
The hotel has a specific 'home from home' feel. What did you do to enhance this home-like feeling throughout the hotel during the renovation and what is the guests' feedback?
We've always treated our customers as if they are our friends. This has been my parents' philosophy for over 30 years. The renovation allowed us to enrich this homely feel even further. The open ceiling and the earthy colours with an emphasis on natural materials give an incredible feeling of relaxation and freedom. We created warm and cosy rooms, the type that you feel instantly comfortable in. On the food side, we opened up the restaurant and bar, added an open kitchen and created a welcoming space for our guests. With the renovation of the restaurant and buffet, we wanted to give our guests the feeling that they are at a friendly house party gathering — where they can chat, laugh, have great food and feel absolutely relaxed.
The impressions we receive from our customers are very encouraging indeed. Customers arrive with a smile on their face and leave with a farewell handshake or hug. Our future plans is to welcome them with a spoon sweet (Greek homemade dessert) made by my mother.
Positive hotel dining experience contributes massively to overall guest satisfaction. Can you tell us about the changes you made to your food and beverage spaces and menus to create an upgraded experience?
We take food and the whole dining experience very seriously at the hotel. Guests start their day with a Greek breakfast which includes many Greek and Cretan products.
Our chef uses Mediterranean and Cretan flavours on the lunch and dinner menu. We've seen how popular the open kitchen is and we are now preparing a book that will include all of our Greek dishes and their recipes. My mother still enjoys preparing treats for our guests and will often be seen in the kitchen making traditional chocolate and orange pies.
Finally, we also have a remarkable list of Greek and Cretan wines that always complement the dishes of the day.
I see you promote yourself as "the friendliest hotel in Hersonissos". How do you deliver on this promise?
Our philosophy is to have delighted customers who will want to return year after year. Without a doubt, the most critical aspect of our hotel is the team. Every member of staff plays a huge part in making us the friendliest hotel in Hersonissos, and this is our ultimate goal. Family values are at the heart of everything we do, and we believe this is how we maintain our hotel as the friendliest hotel in Hersonissos.
Finally, as a family-run property, how do you create that intimate feeling that others find challenging to provide?
Quite simply, we treat our customers as close friends not only in the hotel but by helping them make the most of their holidays outside the hotel. Whether that's a beach recommendation, tips on how to avoid the crowds at Knossos or the best places to go hiking, our local and in-depth knowledge of the island is something that gives us the edge. And the best thing of all, we love to do it!
…And a few final words from Hotelier Academy
No matter its style or the number of its loyal customers, renovation is essential for every hotel that wants to maintain and improve its position in the market. What the Mari Kristin Beach Hotel did, however, was to ensure they didn't lose their identity in the process. Conversely, they actually strengthened their identity as a family-run hotel and offered better accommodation, services and facilities. All of these changes are improving customer satisfaction and ultimately putting the Mari Kristin Beach hotel firmly back on the Hersonissos hotel scene.