A Hotel Story featuring the famous Lady in Red of Kempinski.
4 mins read
The Lady in Red is an innovative feature by Kempinski Hotels, launched in 2009, within the context of providing the most personal and upgraded service. Dressed in an all-red outfit, the Lady in Red is an iconic Kempinski brand ambassador, present in each property, and always at the guests' disposal for making their stay unique and memorable.
We contacted the Lady in Red at Siam Kempinski Hotel Bangkok, Miss Jirapatsorn Jantranikul, and asked to learn more about her role and the unique service she provides.
How would you describe your job as a Lady in Red?

A characteristic of a Lady in Red is to go out of her way to understand each guest's individual needs and craft memorable experiences with a personal touch throughout their stay.
How was the Lady in Red concept born?
Kempinski created and launched the unique Lady in Red concept in 2009, in an expression of the company's innovative spirit as a pioneering European luxury hotelier company, offering a truly personalised luxury guest experience.
What is your favourite part about being a Lady in Red?
Working on my Interpersonal skills with many kinds of guests coming from various cultures is an invaluable experience for me.
A memory of a guest story that you can't forget?
I once had the chance to take care of a VIP guest who came to Bangkok to do ''Gamete intrafallopian transfer" and select the gender of her kid. I took care of her during her stay and after she got a boy as she wished, she sent a picture of the baby to me, as we still keep in contact until today.
How do guests perceive the 'Lady in Red' figure, during their stay? 
The Lady in Red is instantly recognizable due to her red attire, lightly interpreted in each destination to reflect the local culture and traditions. Guests can easily spot the Lady in Red at each hotel's lobby and she will be promptly available for any assistance required.
What is the secret of being a successful lady in Red? 
I would say that to be a successful Lady in Red, each one of us has to provide her services from the heart. Being a Lady in Red means to take care of the guests in the same way as one would look after any member of their family. Hence, I always trained my team to provide the best of services to all guests, as if they were their close relatives.
Now let me ask you about Siam Kempinski Hotel Bangkok. Which room is your favourite and why?
I personally like the Duplex Cabana room because it offers extra privacy since the bedroom is located on the 2nd floor. At the same time, you can have a small party with your family and friends in the living room, which is located downstairs and offers a direct pool access, so everyone can easily enjoy the pool.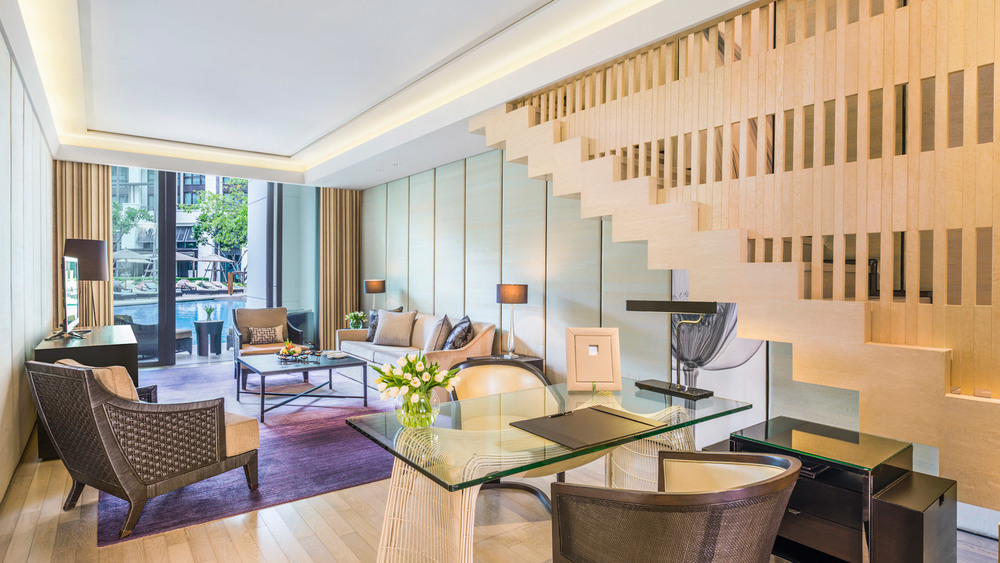 Any favourite design object, like a furniture for example?
Personally, I am fascinated by all the art pieces in the hotel. In each piece, the artists convey meanings that refer or relate to Buddhism. Besides the art pieces in the hotel, our flower arrangement in the lobby is also one of my favorite touches.
If you could point out a specific dish for us to try at your restaurant, which one would it be?
A must-try dish is certainly the signature dish called "Frozen red curry with Lobster salad", which you can enjoy at our renowned Sra Bua by Kiin Kiin restaurant. Sra Bua is a modern Thai restaurant with the Michelin-starred chef Henrik Yde Andersen as a consultant chef.
Which is the best view from the hotel?
I usually recommend our guests to spend their time at our pool bar, the Rotunda, which features an oasis-like atmosphere and ambience! This setting offers a resort-like experience in Bangkok's city center, making guests feel relaxed and tranquil.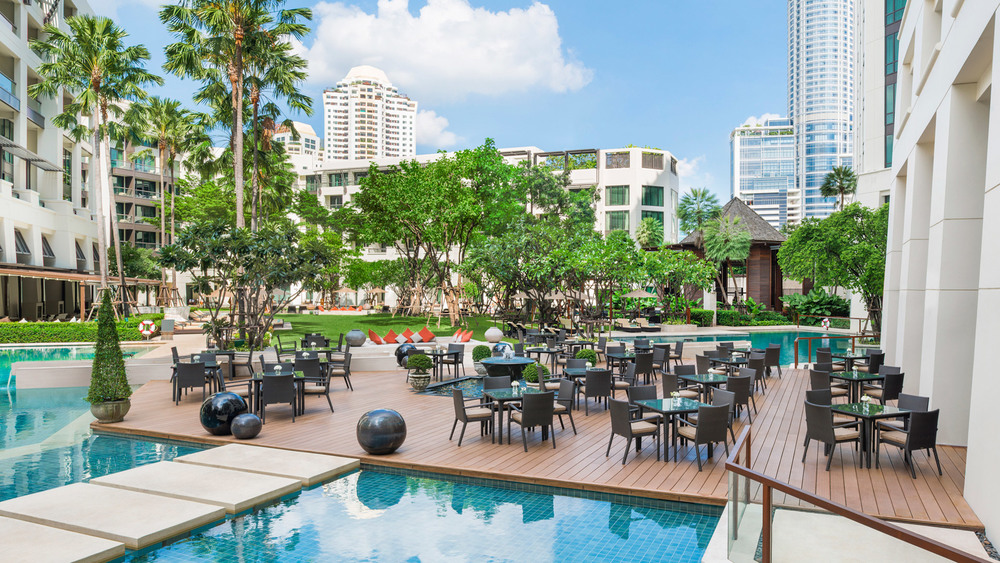 What can I find in Siam Kempinski Hotel Bangkok that I can not find anywhere else?
What is unique about our hotel is the combination of different and valuable aspects. Siam Kempinski Hotel Bangkok is located in the heart of Bangkok's premier shopping and entertainment district and within easy reach of the BTS Skytrain at the Siam Interchange Station. Plus, the hotel offers an oasis in the city with a lush green garden and a gorgeous free-form swimming pool, while it is the only hotel in Bangkok that offers rooms with direct pool access.