Read the story of the Assistant Manager of the luxury Aurelio Hotel & Chalet, located in the exclusive ski resort of Lech, in Austria's Arlberg region.
5 mins read
What is your role at the Aurelio Lech and what characterizes you as a professional?
My current job description says I am Assistant Manager responsible for Sales, Marketing, Front Office, PR and Events. I really like the fact that I have a lot of responsibilities and a broad field of tasks because it makes every day exciting and challenging. The great advantage of working in a small boutique hotel is that you can experience so many departments at the same time. I think the most important task is to support and motivate the team and of course to ensure that our guests are happy. People notice that I love the Aurelio and my job – and in my opinion it is so important to identify yourself with what you do.
My favorite Hotel spot
My favorite spot is the hotel bar, called Licca Lounge. This cozy living room feels like a home away from home. Here you can enjoy a coffee, a light lunch, a cake in the afternoon or a drink in the evening at the open fireplace.
My favorite breakfast
I am a big fan of breakfast basics such as bread, honey, yogurt and some sweet pastries. And what´s better than to start the day with some fresh orange juice and cappuccino (my choice with almond milk). If you like omelet, you should order it with local mushrooms – our chefs collect them by themselves! But most impressive is the breakfast view – isn´t this just amazing?
My favorite room
My favorite room is #103. I think most people would choose our suites with 110m² but I prefer this cozy deluxe double room.
The photographs of the mountains (by Tim Hall) seem like big windows and you literally feel like sleeping on the mountain. The wooden walls still emit a wonderful scent although the Aurelio opened 9 years ago.
When you wake up in this room in winter you can hear the early skiers – as slopes directly pass by.
This picture shows room #103´s view from the balcony. I could sit there for hours watching mountains and breath-taking nature.
Favourite design objects & furniture
One of the very special things at the Aurelio is our chalet. It is a wooden house with 8 bedrooms, its own SPA area with indoor pool, chimney room, dining room, library and private butler. The chalet is underground connected with the hotel and therefore we can offer all 5-star services to chalet guests as well. From outside, the chalet looks more like a simple, wooden house – but inside it is very cozy, has decent luxury with highest quality materials and alpine charm. Once a guest told me whenever he is staying at the Aurelio he prefers bad weather to have a reason for not leaving the house – and I totally agree!
My personal dish recommendation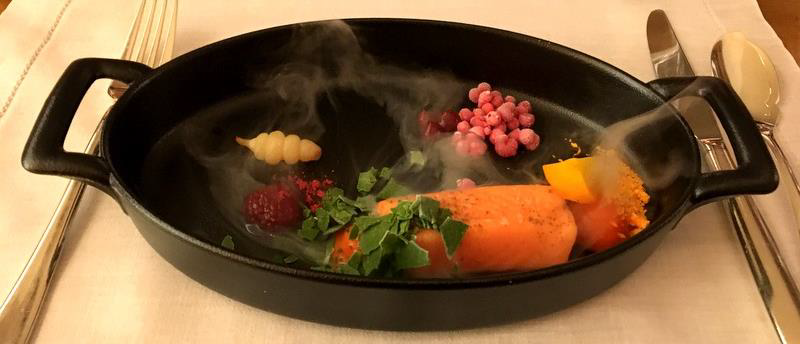 My personal recommendation is the salmon trout which we get from the local fish pond in Zug. It is served with carrot and raspberries. Local products are very important in our restaurant and we are trying to obtain most of our products from the area.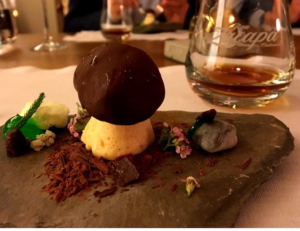 But what is a meal without a dessert? Our signature dessert called Forest and Meadow is something you should definitely try. The mushroom is made of mushroom flavoured ice cream – sounds funny but is my absolute highlight and soo delicious! Look at all the amazing details. The mushrooms for the ice cream are hand picked by our chefs in the forests of Lech – isn´t that fantastic?
Which is the best view from the hotel?

This question depends pretty much on summer or winter. In summer I would prefer the view from the Aurelio Chalet´s terrace – you see the surrounding mountains, green fields and the cute village of Lech. In wintertime, I would definitely choose the other direction for my favorite view. There you can see the iconic Omeshorn mountain – such a majestic and beautiful mountain. Anyway, wherever you look in summer or winter – you see green or snow-covered mountains and you feel the special atmosphere of
the mountain village, Lech. But convince yourself with the pictures.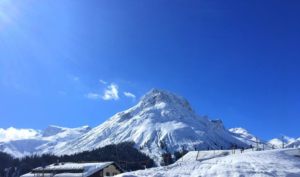 What can I find in Aurelio Lech that I can't find anywhere else?
Have you ever been to a five-star superior hotel with alpacas in its garden? This is definitely unique in a hotel. They are super cute and a big attraction for our guests and people from Lech (not only the children!).
For me personally, they are very important because they can perfectly calm me down and their funny faces always make me smile. We even use their wool to produce pullover, hats, and scarfs which can be purchased at the Aurelio.

3 places around the hotel that a traveler should visit
Take a cable car to "Rüfikopf" – and enjoy the amazing view overlooking the surrounding mountains. You feel like you are so close to the sky!
To enjoy Austrian food in a traditional cosy hut you should have a dinner at Bodenalpe (in summer) or Hus8 (in winter).
They both have a kind of simple but really good food and the atmosphere is very
authentic (traditional music and waiters wearing classic alpine dresses).
For the best pizza and drinks in a relaxed atmosphere with friends go to Schneggarei – my favorite everyday place in Lech.
The best period to visit the Aurelio
In my opinion, the best time to visit the Aurelio is the month of March. There is plenty of snow but it is not too cold anymore – days are getting longer and the sun is shining all day long. After skiing, you can
enjoy a drink in the sun and get tanned. I also really like Lech in summer and would highly recommend the month of July. It is warm during the day but getting cooler during the night so that you always get a good night of sleep.