HOST 2019: learn how to grow your business with the most upcoming event for rentalpreneurs and hosts of 2019
6 mins read
Since the advent of Airbnb, rentalpreneurs (holiday property/properties renters) have become a big industry, whose value is expected to rise to $170 billion by 2020. The market's high potential and desperate need for coordination triggered the creation of HOST,  the very first event for the rentalpreneurs and holiday rental community.
HOST started with the vision to become the leading event in Europe for rentalpreneurs and Holiday Rental Operators, giving them the opportunity to attend workshops curated by revenue-driving experts from huge companies like Google, Marriott, Expedia, and HomeAway.
Of course, this is not an event just for rentalpreneurs and hosts, but also for vacation rentals, holiday villas, small to medium hospitality, big hospitality, and hotels. So far so good, but you might be wondering by now "what am I going to get out all of this?".
 *Sponsored
Terrapinn: events that inspire and transform business
Over 30 years now, Terrapinn uses its global footprint to bring innovators, disrupters, and change agents together, highlighting technology, strategy, and personalities that bring change in the way the world does business. The world-leading events aim to share knowledge and expertise in various fields, from the solar and renewables in Africa to the payments and e-commerce in Asia.
Up so far, Terrapinn has curated 557 events in 195 countries, with 25,972 speakers and 30,33 sponsors – and these numbers are steadily rising. The attendees' number exceeds 232,771. You can check out more information about the events by taking a look at Terrapinn's website. If you are interested in organizing an event, you can contact Terrapinn at enquiry.uk@terrapinn.com
Contact us to learn how you can promote your company in Hotelier Academy
Learn how to grow your business from the industry's PROs
HOST 2019 is expected to feature 200 incredible speakers, a 100-stand exhibition, 5 conference theatres, and a start-up zone. It's also expected to be visited by 2,000+ high-quality attendees of the industry, which could become valuable assets for your company. This is surely a huge number considering that it's the first time that this event takes place, and we are currently 2 months before its opening date.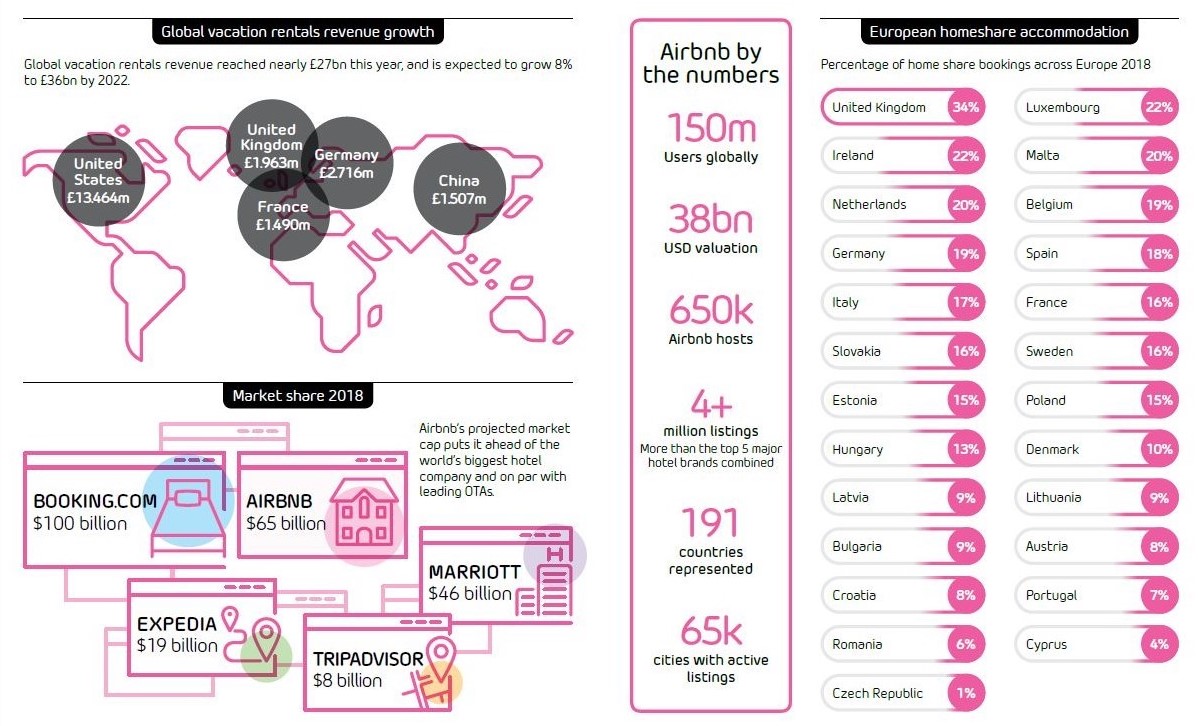 The type of knowledge that you will receive at HOST is diverse, as the fair covers a broad spectrum of topics. More importantly, you will:
Access and learn to deploy the latest technologies
Form new partnerships
Evaluate solutions, providers, and suppliers
Foster innovation and new ideas
Discover and promote start-up technology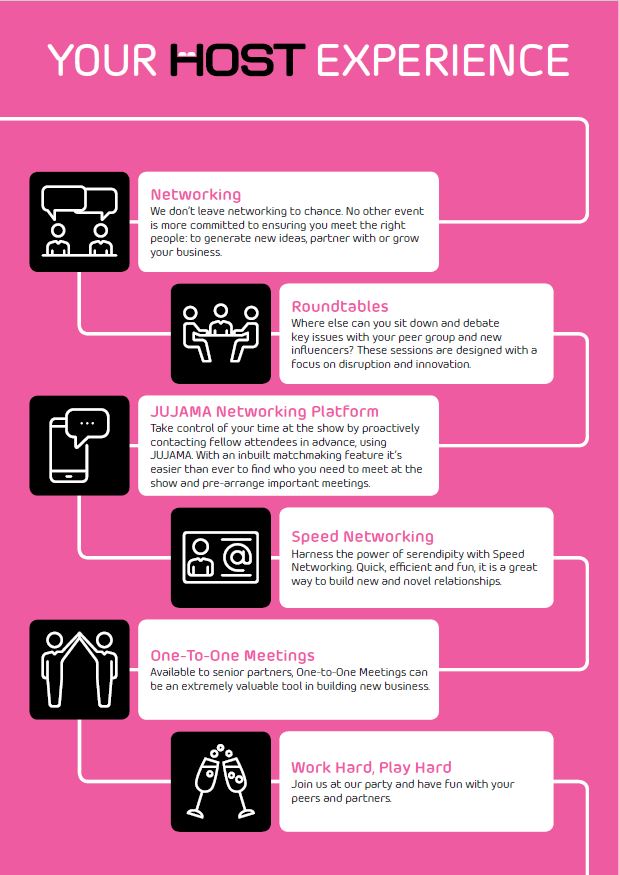 200+ high-end presentations delivered in 5 themed theatres

Two action-packed days are to be expected, as more than 200 high-end presentations will take place at the five specially-themed theatres. The presentations will fall under the categories:
Business strategy and growth
Technology and innovation
Marketing
Distribution and sales
Regulation, finance and tax
Business partnerships

At the Business Strategy and Growth theatre, specialists will analyze the market's dynamic and insights from Europe and North America. How large hotel groups affect the party and the ways that property consultants can add value to your product. Of course, the market's dynamic and potential will also be given the required attention.
At the Technology and Innovation section, you will be introduced to new technologies and innovations and discover how they can affect your business. You will learn how to use big data and analytics so as to take the best course of action for your company. Moreover, you will learn about Interactive websites, cloud-based turnkey management systems, automated revenue optimization software, home automation systems, and customer verification systems.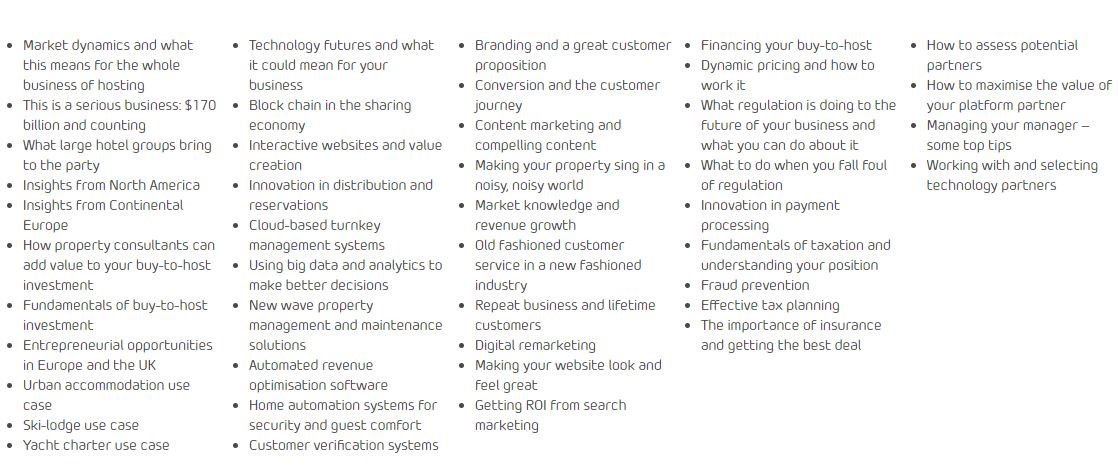 At the Marketing, Distribution, and Sales sections, you will learn all the hot details about branding and customer proposition. How to make your property stand out from the competition, and how to create the right content marketing strategy that will target the right customers. Customer service, Digital Marketing, Search Marketing, and Website Creation will be also analyzed through the events.
The Regulation, Finance, and Tax presentations will give you a rough idea on taxation, and how regulations can affect the future of your business. These extremely important presentations will provide you with valuable financing solutions, teach you how to plan your tax effectively, and avoid potential frauds.

Business Partnerships presentations will help you maximize the value of your partners, as well as give you pro tips on how to handle your managers. You will also learn how to assess potential partnerships as well as work with selected technology partners.
As you may have already realized, this event is information-packed and it's impossible for a person to attend all those presentations, or even process all this information. Arranging a work trip with your company's managers related to these fields will help you take advantage of all the information that you are going to receive through this amazing event.
Start-Up Zone: Brand Awareness, Funding, and Networking for Innovative Technology Companies
The Start-Up Zone is the perfect stage for start-ups as it's a melting pot of investors searching for their next 'unicorn', global media who are looking to cover their next story, and companies searching for partnerships and acquisitions. There are only 20 spots available, for which HOST's professional team chooses how they will be covered.
Of course, the networking does not happen only during the event, but as soon as you complete your registration at the HOST app. There, you can chat with potential leads and arrange special meetings with important partners. Are you a start-up and want to participate in the zone? We highly recommend you complete the application form found at this link, and you might be the one special who is chosen for this year's Start-Up Zone!
HOST 2019: When, Where & How to Get Tickets
HOST will take place in the fashionable Islington, and more precisely, at the Business Design Centre, the most stylish exhibition centre in the UK. The event will be held for two days, October 31 2019 to November 1 2019 (Thursday-Friday). As the venue is found in the heart of Islington, it's easily accessible from Central London by public transport.
EXTRA TIP
For your convenience, though, you can stay at the nearby 4* Hilton London – Angel Islington, which offers discounted rates for HOST attendees and it's less than 5 minutes' walk to the venue. There is not an entrance fee to the event, and you can get your free tickets by here: