Through its Guest Reviews, Andersen Boutique Hotel in Copenhagen manages to present a set of fascinating experiences that excite its future guests and convince them that this is the right hotel to book!
13 mins read
Reading hotel reviews is one of the most common traveller procedures before completing a booking. Through the reviews, travellers can get an immediate glance of the experience they should expect to live during their stay at the hotel, written by a previous guest. Active review readers have developed an "advanced intelligence" that helps them understand the real value of each review and, after reading several, to have an accurate opinion about the quality of each hotel. Evidently, reviews, and especially in popular platforms like TripAdvisor as well as in the several OTAs, remain a strong factor in the decision-making procedure.
While making online research for a trip to Denmark and going through hotels with exceptional reviews, a small boutique hotel in Copenhagen, Andersen Boutique Hotel, immediately caught my attention. And it was not only the hotel's high ranking that made it attractive but also the perfectly described experience within the hotel as well as the active 'dialogue' between the guests and the property in the various reviews and replies. For Andersen Boutique Hotel, reviews are not simply a deal maker, but also a proven imprint of the property's value and quality: as often named by its guests, this is "The Friendliest Hotel Ever"! 
The reviews of this promising boutique hotel did not only convince me to stay there but also shaped my "hotel itinerary", since, through the other guests' descriptions, I knew exactly the experiences I wanted and expected to live during my stay. So, even before confirming the reservation, I was fully aware of the daily Free Wine Hour, I decided to book directly with the hotel in order to benefit from the 24-hour concept, and finally I was eager to confirm my support to sustainable travelling, by accepting to exchange a housekeeping-free day with a free bike rental for a day. As it is clear, these facts manage to transform the hotel reviews into a real guide to exceptional hotel service and experience. In the following pleasant talk with Ms Karen Nedergaard, Owner at Andersen Boutique Hotel, we will dig deeper into the back story of this fresh and innovative accommodation approach.
 *Sponsored

Meet Karen Nedergaard, Owner at Andersen Boutique Hotel
Ms Karen Nedergaard is the Owner and Manager of two hotels in Copenhagen: ABSALON HOTEL and ANDERSEN BOUTIQUE HOTEL, located on the same street.
ANDERSEN BOUTIQUE HOTEL operates since April 2012, while on May 1, 2015, she opened a completely new and totally renovated ABSALON HOTEL
Ms Nedergaard is the mastermind behind the innovative and successful CONCEPT24, based on which the guest may keep the room for 24 hours no matter the time of arrival.
Her hotels have won the 'Best Place to Work in Denmark' award for 2018.

The strongest values of Ms Nedergaard's hotels are home, caring, honesty, helpful, hospitality and excellent service, all of which are reflected in the hotels' daily operation, as well as their employees' mentality and approach.
Find Ms Nedergaard in LinkedIn
First of all, I have to admit that after reading your reviews on TripAdvisor, I was so impressed by your hotel that I instantly wanted to visit Andersen Boutique Hotel and, most importantly, I knew exactly what I wanted to do during my stay there! Is this amazing result something you had planned or did it occur naturally?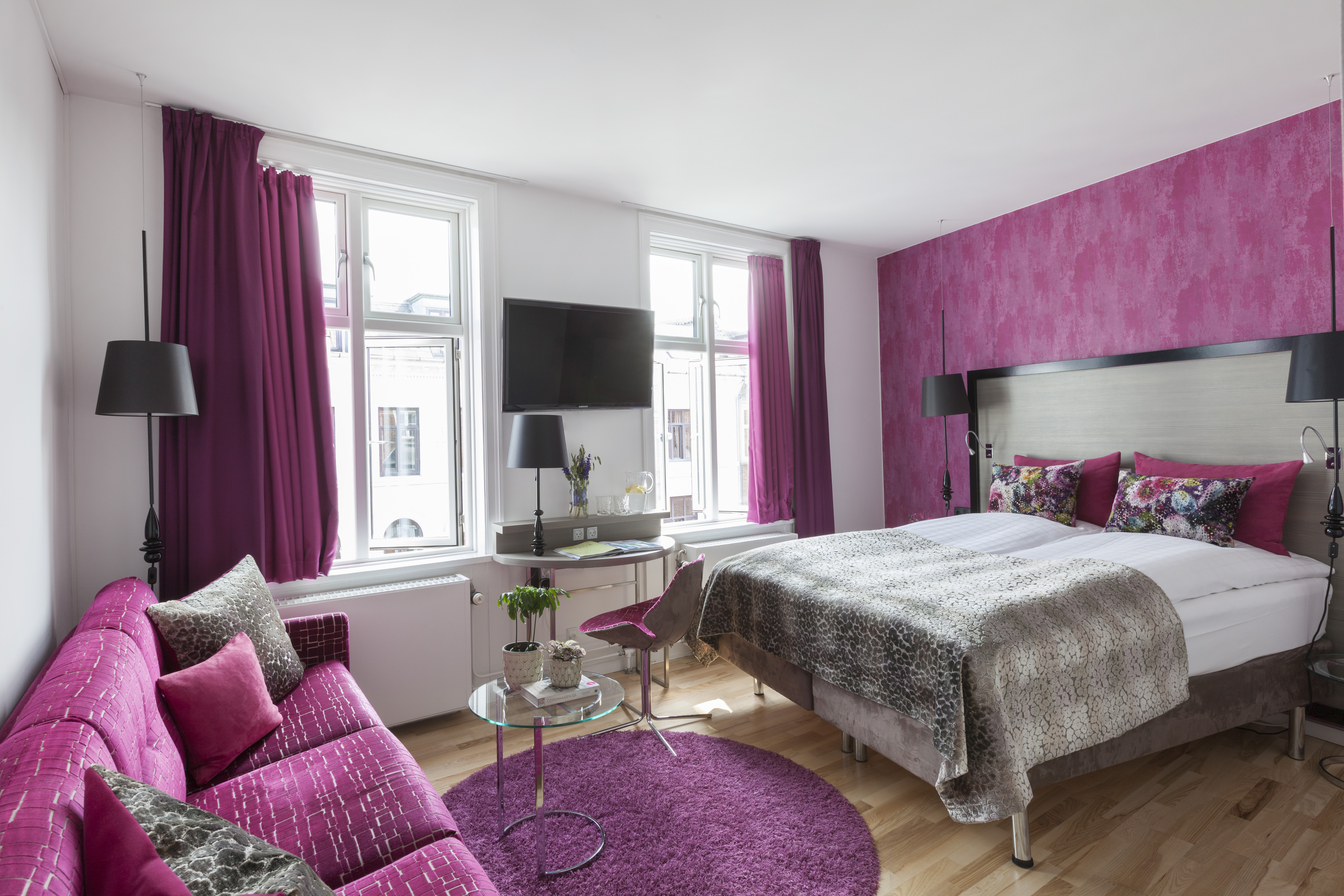 We work very hard to make our guests happy and shape an unforgettable set of experiences during their stay, which will be then reflected in their good reviews on the various channels and platform. We always listen to our guests and try hard to improve based on their comments and feedback. This is one of the reasons why we are constantly updating and renovating Andersen Hotel, aiming to remain always fresh and up-to-date. A recent example was the addition of A/C to all rooms, a decision that was taken based on the number of guest reviews that requested this feature.
I think that this was the first time that I read a hotel's reviews and then went to the property's official website in order to find out more about the things that the travellers mentioned in their comments. That was the point when I realized that you keep a really low-profile in your identity, even though you do offer a rich and unique experience. Is this low-profile approach intentional and combined with the hotel's overall human-oriented attitude?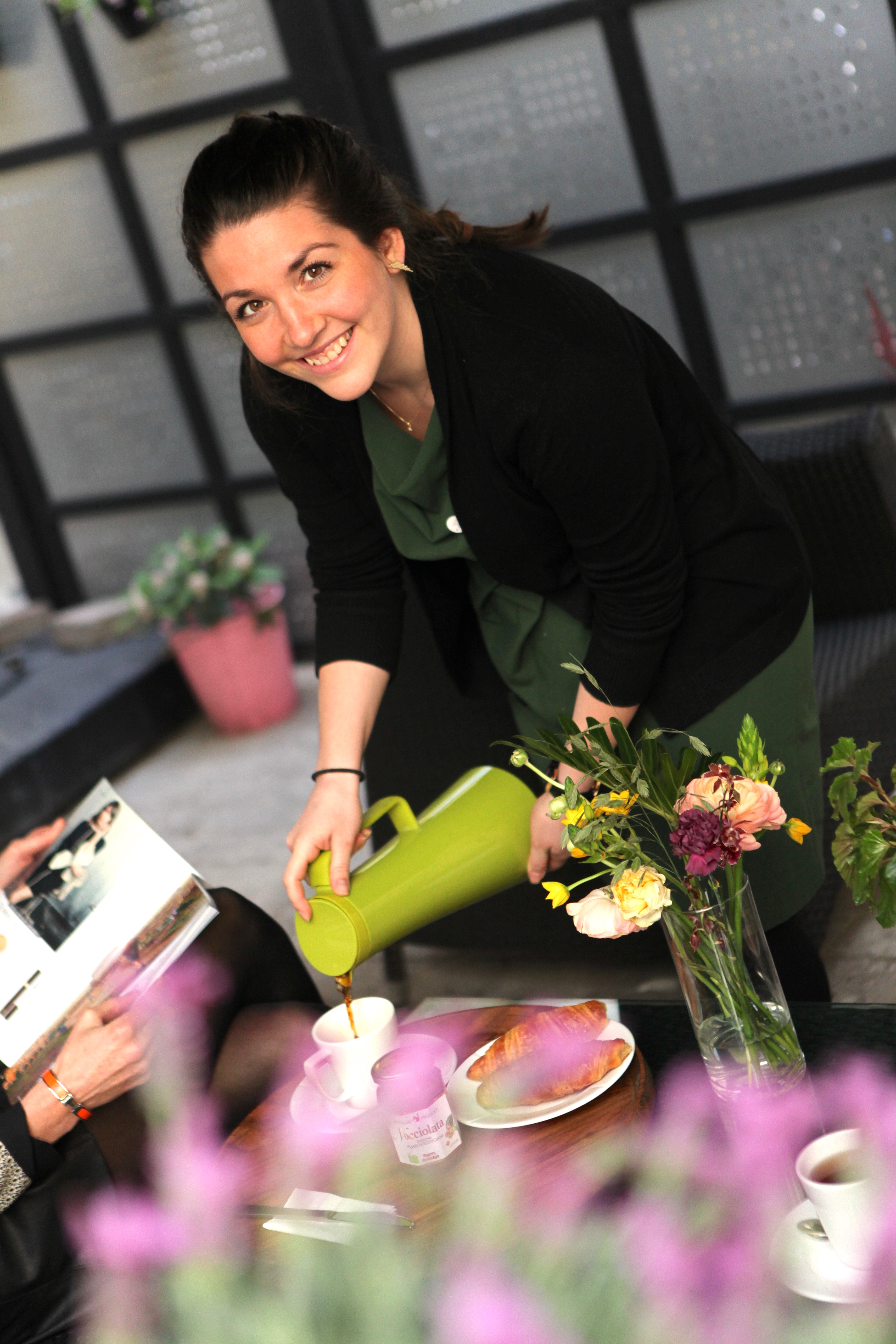 Interesting observation. As you know, our website is only one of many places where our guests can seek information about Andersen Hotel. We try to keep it updated but in a form of simplicity and easy-to-find information. After all, as you correctly mention, our travellers speak on our behalf, through their many positive reviews, where they are kind enough to describe their experiences and memories! What we do try to achieve through our website, is to always encourage our guests to book directly, in order to receive the various benefits we provide.
As your reviews have managed to become a real guide to your hotel experience, I want to name a few ideas that I have spotted through them: The "Concept 24" for travellers who book directly, the "Eco-Friendly Housekeeping Exchange" and, of course, the daily "Free Wine Hour". In my opinion, all the above are brilliant and inspiring ideas that show what hospitality should be all about. Can you tell us a bit more about these features as well as how you inform your guests about them? Do they usually ask for them during check-in?
As I have already stated, we always try to encourage all our guests to book directly, so that they can benefit from the various perks we are offering. The one we are most proud of is, indeed, CONCEPT24, which allows our guests to keep the room for 24 hours, without any additional cost. For example, if a guest check-in at 18:00, then they are allowed to keep the room until 18:00 the next day, and are not obliged to check-out at 12:00 like most hotels. This had proved to be very successful among our guests!
The second feature you mention, CONCEPTGreen, provides a gift to our guests in case they decide to skip cleaning of their room for one day. Among other gifts, we also give a 24-hour bike rental — which is something very convenient in a city like Copenhagen.
And as for the Free Wine Hour, you can imagine why our guests are excited by this service, which also manages to bring additional income to our hotel.
Let's talk a bit more about the daily Free Wine Hour. It is really amazing that almost more than 50% of your reviews make a reference to this service, making it one of the top experiences in Andersen Boutique Hotel. And I am pretty sure that what excites the guests more in not the free wine per se, but the opportunity to mix and socialize with the other hotel guests. Do you agree with this? Also, how is this excellent service combined with the Honest Bar as well as your "discount vouchers" for the bar opposite the hotel?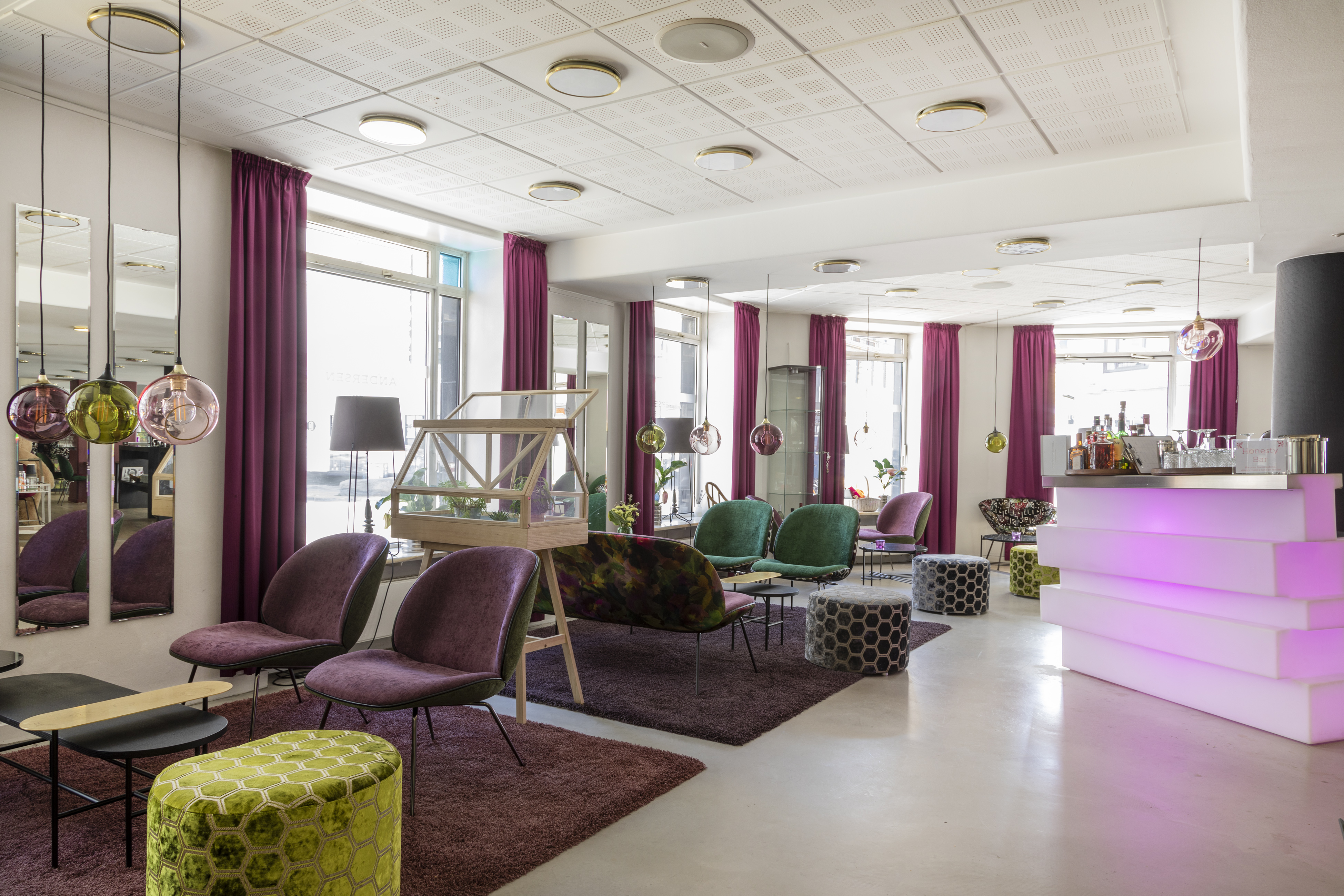 The Wine Hour is actually our greatest chance to pass the meaning of "Hygge" to our guests, and allow them to experience the real Danish way of living. "Hygge" is an integral part of the Danish lifestyle, and it actually means the joy, contentment and well-being feeling that derives from enjoying the simple things in life. There is not a single word in English that can translate "Hygge", so we try to make our guests live it in order to understand it!
To get back to our Wine Hour, yes, this is actually a very popular service among our guests. We always try to organize various activities during the event, in order to enhance the whole experience even more. In addition to the magazines and board games we have in the lobby, we sometimes ask our guests to knit scarfs for the homeless (which is very fun and popular), while last month we even had a Molton Brown Pop-Up shop during Wine-Hour.
Regarding the last part of your question, as Wine Hour lasts only for 1 hour, there is not a problem with the Honesty Bar. After all, we value good experience higher than drinks revenue, hence the Bar voucher for Absalon Bar continues to be very successful and popular among our guests.
Now let's focus on your amazing (as it appears to be) staff! I have two questions here: Firstly, can you tell us how you have managed to achieve such spectacular comments about the people who work in your hotel, which marks a huge success for your hotel? And my second question, what is your procedure of choosing and training your staff in order to ensure their excellent impact on your hotel's reputation?
Being a family-owned hotel, I am actually part of the third generation that runs our hotels. This whole tradition creates an ambience that is definitely difficult to copy. We know well that our staff is our most valuable asset, so we have to take care of each other. Our culture is an important part of our strategy, as is the constant communication between us and all the staff members. And this is why we use an app for all our internal communication. Moreover, we have a system that allows us to send cheers to our colleagues, encouraging their effort and their work even more. In a few words, we try to involve our staff as much as possible in our strategy, purpose, and innovation. We also encourage and motivate our staff to improve their social presence — e.g. by arranging events and giving them special discounts in our bar. Really, we are so team-oriented, that I wouldn't be able to name one staff member that stands out if someone asked me to!
 *Sponsored
Present your Hotel Story Article!
Do you want to highlight your accommodation's unique character? Hotelier Academy Team can create a dedicated Hotel Story for your accommodation that will showcase its USPs.
See here our Hotel Stories!
I am interested in creating a Hotel Story for my accommodation:
Otherwise, you can contact us directly at sales@hotelieracademy.org 
In addition to the many positive reviews, another positive surprise was also the hotel's responses, that provided valuable information as well. For example, that was the way in which I found out that that you have won the "Great place to work" prize for smaller companies, as well as "Denmark's Best Workplace for Young People under the age of 25" award.  Also, I realized that you don't follow specific and repetitive reply formats, but answer every time in a direct and original way. Who made the decision of following this method? And how do you manage to achieve and maintain these amazing results?
I'm really happy to hear your comments on this! The truth is that when we opened Andersen Boutique Hotel back in 2012, I overtook the personal task of answering all TripAdvisor reviews personally, one by one. Of course, after answering around 700 reviews, I realized that this is something that consumes a lot of time and I should better use my time on other tasks. But in no way did I want to stop the personal approach on all of our replies, so I am excited to say that today, our talented and dedicated staff is doing an excellent job in this field!
Your hotel seems to be really special, however, you don't miss out on the basics as well, where you also manage to stand out. For example, your breakfast seems to be really good as well as your overall design. Moreover, your hotel features some excellent details, such as the "Original Scent", that gives to the property a unique existence. How do you plan on keeping your whole approach fresh over the next years and maintaining the sense of a 'young' ambience both for your new guests as well as your repeaters?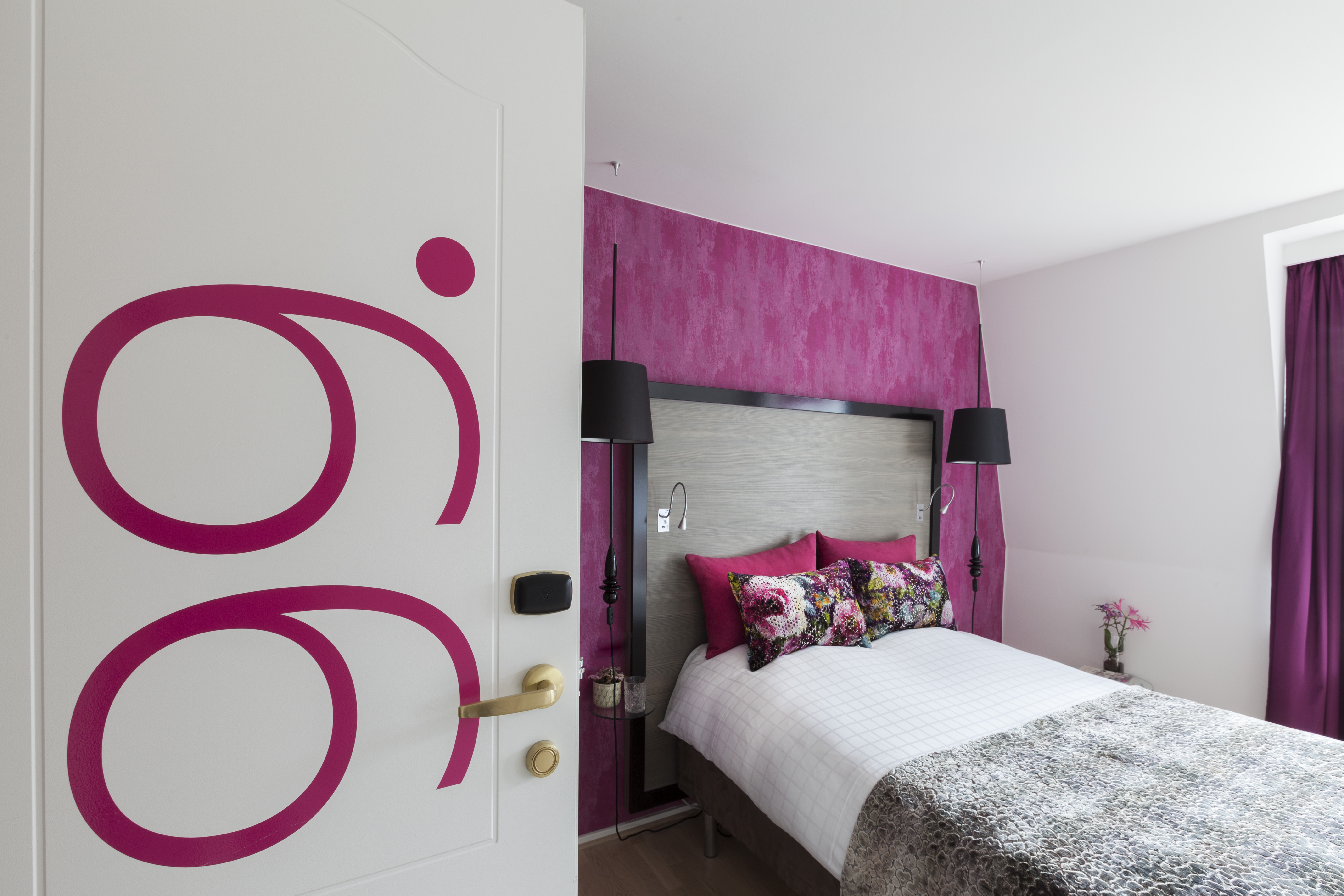 Keeping a fresh and up-to-date approach, is, indeed, a tough job. I personally travel a lot trying to get inspiration and new ideas, in order to be always ahead of the market trends. We often renovate the various spaces in our hotel and try to give a modern approach to the experience, not only through the design and furniture but also through the small details, like the breakfast or the distinctive scent, as you correctly mention.
At this period, we are trying to move towards a more Scandinavian look, emphasising more on Danish Design. As a result, we have already decided to renovate our lobby this winter and build a small fitness room. So when you come to visit us, we will be more than excited to welcome you to all of our newest facilities and offer you the most memorable experiences in Copenhagen!
Final thoughts
After my discussion with Andersen Boutique Hotel and having learned a lot from this lovely property, I dare to say that this great hotel story could definitely be analyzed as a successful Case Study of Experience, that we would love to meet more often in the hospitality industry. Leaving the technology-digital part aside, Andersen Boutique Hotel is all about people and comfort; and this is something that definitely makes its guests happy and willing to share their experiences with other travellers!