The Dharmawangsa Jakarta, a 5* property in the famous Indonesian city, teaches how Social Media can help a hotel shape a modern character and reach new and dynamic travel audiences
13 mins read
In all-time classic destinations around the world, which have been very popular over the past decades, it is more than common to meet excellent 5* hotels, that have a more 'classic' and 'old-school luxury' style. These properties usually offer the highest level of services and facilities, since their many years of experience in the luxury accommodation industry, have helped them develop valuable expertise in the field.
Making a complete renovation of such property demands, naturally, a huge investment. And, in most cases, changing a classic hotel's concept and design character can lead to the opposite results, as it could create a brand new property that needs to be positioned in the market all over again. However, no matter how romantic and enchanting an 'old-school luxury' hotel is, it definitely needs to make use of all the contemporary tools and methods (particularly the online ones), in order to underline its fresh and modern character and reach new dynamic audiences.
This is the case of The Dharmawangsa Jakarta Hotel, a beautiful 5* property in Indonesia, inspired by Indonesian Art, Tradition, and Culture. Despite the fact that the hotel's high-end design follows a more classic style, its approach on the use of Social Media is by far exemplary and showcases the right and most efficient use of these valuable tools for the modern Hotelier. To tell us more about the hotel's Social Media approach as well as to give us more information regarding its story and philosophy, we contacted Ms Novi Samodro, General Manager at The Dharmawangsa Jakarta with a set of interesting questions.
 *Sponsored

Meet "Novi Samodro", "General Manager" at The Dharmawangsa Jakarta

Ms Novi Samodro graduated from Hotel Management Course at College of Canyon in the USA and National Hotel Institute of Tourism in Bandung, West Java majoring in Bakery and Pastry Production.
With her strong passion in Sales & Marketing background as well as her broad knowledge of the luxury hotel business, she has an impressive 27 years experience in some of the most prestigious International five-star chain hotels, such as Four Seasons, Intercontinental, Hilton and Shangri-La.
She joined The Dharmawangsa as Director of Sales & Marketing in July 2011.
She quickly progressed to Asst. Managing Director in January 2015 and was finally promoted to General Manager in August 2017, as she had reached an outstanding performance with her leadership.
For more information, please contact directly: reservation@the-dharmawangsa.com
First of all, please allow me to thank you for sharing with us the story and background of your exciting property. Can you tell us when the hotel first opened and give us an idea of how it evolved over the years?
View this post on Instagram
The Dharmawangsa Jakarta was officially opened to public on 1st December 1997. It is located in the prestigious area of Kebayoran Baru, for which the idea of creation was conceived by the Dutch Colonial Government in the early 40s, along the lines of a "garden city" concept, very popular in Europe at that time. At The Dharmawangsa Jakarta, we create a residential atmosphere to allow visitors and guests to forget about any commercial, managerial, and political activities and to relax and enjoy a peaceful atmosphere within a greenery area.
We always work on building the hotel's reputation as a five-star luxury business which offers a legendary Indonesian luxury experience. The hotel is largely inspired by Indonesian art and culture presented in a modern way of living, and offer a high-end personalized service while maintaining its position amongst the great hotels in Indonesia — and especially Jakarta.
A first look at your website, reveals that the whole property reflects the local Indonesian culture in every aspect — from its high-end classic design to its many dining options and its awarded Spa. Why did you choose to create a hotel inspired by local Indonesian art & culture? Do you believe that this decision helps the hotel attract more visitors?
View this post on Instagram
At The Dharmawangsa, we represent the Indonesian heritage and culture in the form of scale, function and utility. We have chosen a timeless architectural design where the hotel has been the epitome of classic Javanese style. Here, the art of gracious living is a blend of subtle sophistication and elegant intimacy, where guests are received as honoured visitors to a spacious and private residence. This makes us a unique Indonesian five-star luxury hotel and has helped us to attract more guests and visitors. Most of our guests come for business purposes, but once they are inside the hotel, they immediately get the feeling of an intimate and resort-style hotel at the same time.
The hotel's entire design approach can be described as 'classic', with beautiful wooden furniture, rich fabrics, and, of course, local Indonesian elements. What is the feedback you receive from your guests? Do they like and appreciate this all-time luxurious style, which is so different than today's many minimal and modern-style hotels around the world?
View this post on Instagram
Our guests feel that our hotel feels like home. Its ambience is truly homey, intimate and serene. It gives them a peaceful and calm mindset which is in such a great contrast with the bustling metropolis city of Jakarta. Unlike other five star hotels in Jakarta, our hotel's design concept has created a tall, mostly glass-window building. Our hotel is running as a business hotel with a concept that feels like a resort boutique hotel. We are talking about the true meaning of the term 'business with pleasure'.
People also comment on our architectural design, saying that it is elegant and timeless. Our guests really appreciate the authenticity and strong personality of The Dharmawangsa's concept and style. It is very Indonesian yet at the same time modern, following the lifestyle of contemporary living.
During my research about your hotel, I came across your social media accounts — and particularly, your Instagram profile. And to be honest, I was immediately impressed by the way you handle these very modern means of communication. Was this something the hotel chose to do or did you collaborate with a marketing & communication company that helped you develop this particular communication style? 
Thank you for your compliment. We are really excited to receive your positive feedback, as we don't really collaborate with any marketing or communication companies to handle our marketing digital platform — or, in this case, our Instagram profile. As the world changes, people's daily lifestyle changes as well. We try to follow the new trends of digital marketing on Instagram, without forgetting our strongest characteristics and personality: The Dharmawangsa's style which is classic, elegant, and modern at the same time. When our team initially began setting up our Digital Marketing strategy platform, I remember that they strictly followed our hotel's core value, "C.I.T.R.A.". C.I.T.R.A, which means "image" in English, is an abbreviation of the words Caring, Integrity, Team Work, Respectability and Accountability. And these key points are something you can actually see being reflected in our hotel images, product and services.
In addition to your regular posts (that reveal a completely different character compared to the professional photos used in your website), what caught my attention was your Instagram stories. They are an excellent example of how stories can make use of their 'sharing the moment' character and communicate the hotel's backstage moments, the staff's efforts and the true feeling and atmosphere of staying in the property. How do your followers react to these stories?
They react positively by leaving us feedback in the form of positive compliments and quick reactions to our stories. We are excited that our stories help us build real-time communication with our guests — either they are past guests or potential future ones.
What is also very interesting is the frequency of your tagged posts — i.e. posts shared by your guests. And the most popular images they share, present your swimming pools and your food! Do you encourage them to share their photos in any particular way or do they simply love your facilities and service and feel the need of sharing them with their friends and families?
We encourage our guests to share their experiences by creating dedicated hashtags on Instagram: #thedharmawangsa and #kemewahanindonesia — something that we announce on our Instagram bio. To maintain our high levels of interaction and engagement with the audience, we continuously check on Instagram posts that use our dedicated hashtags or our geolocation and then leave feedback on them, through a comment or a quick reaction. For some insta-worthy pictures, we ask the guests' permission and re-post the pictures with credits and tags to each guest's personal Instagram account.
In your saved Highlights on Instagram, I also saw a series of past stories that showcase the local gastronomy, not only inside your hotel but also around the city. It looks like a virtual 'culinary tour' of the destination! This, in addition to the many restaurants in your hotel, reveal that you pay a lot of attention to the guests' dining experience. How important do you think food is in the guests' overall travel experience and how do you manage to offer an upgraded service through your restaurants?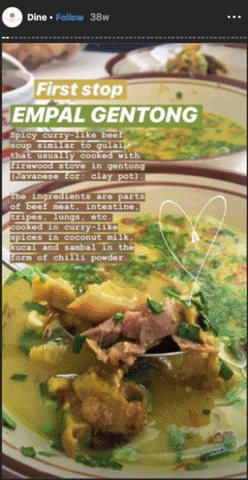 An impressive dining experience is very important for our guests, particularly our clientele profile. We strive to keep the authentic taste of each cuisine, whether it is Indonesian, Asian or Western so that our guests feel like they are at home enjoying their family's home-cooking. Our Executive Chef, Felix Budisetiawan, together with our culinary team, pour their expertise in creating and presenting a five-star dining experience in Jakarta by only using the finest ingredients in their food creation.
And since food is always one of Hotelier Academy's beloved topics, can you share with us your favourite restaurant at the hotel as well as your favourite dish — the one that no guest should miss trying during their stay?
Definitely, I love our oxtail soup at the Jakarta Restaurant. It is a 'must-try' dish that you absolutely have to savour when you are staying with us!
In addition to your fascinating restaurants, your Wellness centre is also one of your 'strong cards'. The various photos we see online, showcase that your Spa facilities have direct communication with the surrounding nature. This is very important since Wellness must always be connected with nature, natural light, fresh air etc. What is your most popular Wellness facility? Do your guests prefer to take a relaxing massage, swim in your outdoor and indoor pool or use your quite extended fitness room?
Most of our guests love our outdoor swimming pool surrounded by lush gardens, where they can still hear birds chirping in the morning. They say that this experience reminds them of Bali, instead of the business city of Jakarta. They also love our Bimasena Signature Massage at our Bimasena Spa. It follows the authentic Indonesian massage technique, that begins on the feet and incorporates the entire body, combining pressure and homemade oils that lead to a complete relaxation process.
We also have some Indonesian inspired Spa treatments, such as "Kusuk Batak'  from North Sumatera, 'Tangas Betawi' from Jakarta, and "Batimung Borneo" from Kalimantan. These special treatments make our Bimasena Spa distinguish from other five-star hotel spas. We are one of the few five-star luxury hotels in Jakarta who provide a big indoor pool with an infinity concept overlooking our lush gardens. This is where our corporate guests love to swim early in the morning, before going to their work or meetings.
Another aspect that seems to be very important for The Dharmawangsa Jakarta, is business and events — and most specifically weddings. How important is this sector for the hotel's total revenue? And also, can you tell us a bit more about the Bimasena Membership program and explain how it works?
View this post on Instagram
Private or social events including Weddings and Incentives in Jakarta have a very important role in the hotel's total revenue and business. Traditionally, Indonesians love to celebrate their wedding with family, friends, and even more distant relatives, on a big scale that usually includes around 500 – 2,000 invitees.
On the other hand, our Bimasena Private Club with its Bimasena membership program provides special privileges to its members for using our hotel facilities. But it is not only a membership. Our Bimasena Club is also a part of the mining and energy society in the area. Nowadays, Bimasena private club is also a place where prominent Indonesians like to exchange information and insights, as a part of business networking and lobbying.
Talking about all of these aspects in your hotel, with the many restaurants, spa, swimming pools, meeting rooms and so on, it's hard to realize that you have managed to be considered an Eco Hotel! How did you achieve this and how important do think it is for your overall communication and positioning?
View this post on Instagram
Becoming an Ecological Green Hotel was a long process that made us who we are today. It is our dream as well as our grand desire to contribute to saving our mother earth. And we are happy and proud to see that more and more of our guests show their interest and support to our program by participating in our various activities during their stay with us. Aside from that, becoming an ecological green hotel has also helped us in enhancing our corporate and brand values to the public, and especially our clients.
MORE PHOTOS OF THE DHARMAWANGSA JAKARTA